Awesome new video created by "virt"
Artist: virt (Jake Kaufman)
Song: Retro City Rampage Theme
It's Retro City Rampage: The Soundtrack! The tracks from the video game are heading to your headphones!
Download this track at: retrocityrampage.com
On Oct 2, 2010 Toronto held host to one of the largest and longest outdoor chiptune shows ever.
"'Pleasure Construct' by Nullsleep, performed September 4 at Koenji High as part of the Blip Festival Tokyo concert event.
Nullsleep is the alias of Jeremiah Johnson, an electronic musician whose style could best be described as post-cyberpunk: a combination of distorted synthpop, electro, and industrial produced with repurposed low-bit electronics. His approach embraces the politics of appropriation, leveraged limitations, destructive process and data corruption. The result is a wall of digital noise driven by a heavy beat, expanding and collapsing in a series of glitches and drones emanating from cheap plastic devices. In 1999 Nullsleep cofounded 8bitpeoples, a collective of artists interested in the audio-visual aesthetics of early home computers and video game consoles. He has since released a number of recordings through 8bitpeoples, Astralwerks, Aniplex and others. Based in New York City, Nullsleep has performed over 150 shows throughout North America, Europe and Asia, including successful world tours in 2006 and 2009.
Composers of Independent Games Play Blip Festival Tokyo:
indiegames.com/​blog/​2010/​09/​indie_game_composers_play_blip.html"
Although some months old I haven´t seen it until now, but it is a very good coverage of the chip music scene
The Engadget Show: Inside chiptunes and 8-bit visuals
The NES Chip Collection is now available as an Ableton Live Pack with SK1 Drums bonus!
Ableton Live NES Pack $20
Product Info:
Do you want to make chip tunes? Or integrate the sound of the Nintendo NES into your music? You do not have to buy the NES or mess around old gear and software that doesnt quite emulate that natural sound 8 bit sound. These are profesionally recorded samples at 24 bit 96khz bit rate directly from the NES output on the back of the machine. People will actually think you have an NES with midi. Every Square wave, Sine, Noise, and even 8-bit percussive samples.
8 Bit Drum WAVE sound files
Bonus SK1 Drums
NES Square Waves files
The NES Sine wave
Individual NES Noise WAVE files with integrated refill patch!
Custom NES FX WAVES Files
Ableton Live Project
**Once paypal checkout is complete you will be taken to the download link. This offer for Ableton Live is only availably by clicking the Buy It Now button above.
The NES pack is also available in other formats (Reason Refill, Multiformat sf2/gig) by entering our the download store.
A live chip tunes performance treat:
i decided to create a patch in pure data for my live chiptune performance. i wanted to trigger effects & receive visual feedback on the arduinome to avoid having to look at my laptop. sorry for the slightly rubbish audio/video sync drift. i'm still working on getting that more accurate on linux.
Very cool 4 KILOBYTE demo from Offence for the Commodore C64.

The effects are tightly synced to the audio, which didn't come through very well thanks to YouTube being poop. So download it for your C64 and test it on the real thing.
What seems to be quite impressive is that the creator of the demo (who assumed the roles of coder, graphician and musician) started doing stuff for the C64 only one year ago. Impressive!
Ever heard of chip tunes in Malaysia? Neither have I..
Documentary that covers the south-east Asian scene of chipmusic, a very interesting one if you ask me. You have the input of interesting people that you are not used to hear, for example Ikuma, from a totally different point of view to American or European counterparts. Some footage is "obtained"  but most is shot by these young aspiring artists and enthusiasts.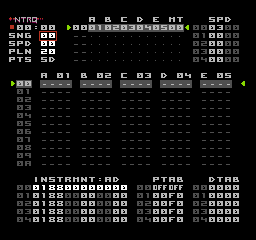 Mr. Baldwin has updated NTRQ to 1.6. New Features include:
Pattern Cloning

Something you should probably be aware of: I had to modify the NTRQ file format slightly to accommodate the clone/purge feature. This means that from V1.6 onwards, older .sav files will not be compatible. However, starting with V1.6, if you load up NTRQ with an older .sav file it will be automatically upgraded to V1.6 data format. The same also applies to the NSF outputter. It has been updated for V1.6 too and is not compatible with older .sav files. To re-output your old .sav files as NSF you need to first "load" and "save" them (however that happens on your platform of choice) with V1.6 (onwards) first.

DPCM Changes

Funnily enough, I'd been working on the changes to DPCM before I was talked into releasing the cloning feature. As such it's still in a state of flux somewhat but the changes so far definitely make DPCM usage better (or at least more interesting )
Listen and download  the new album from Steelberry Clones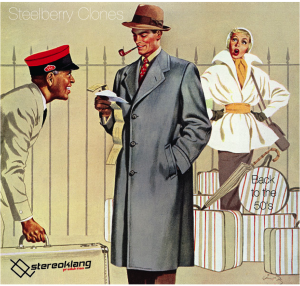 Chopping up and being brutal on those old classic 50's songs this is a new take on electrofying
So if you enjoy synthpop, bit tunes, 8bit, and electro you will love these up tempo songs
Not since Silicon Teens in the mid 80's any serious attempts has been made to electrify the old classics. Telex made a Rock around the clock version as well, but the 1950's library is far larger than that. The foundations of rock music are in rock and roll, which originated in the United States during the late 1940s and early 1950s, and quickly spread to much of the rest of the world. Its immediate origins lay in a mixing together of various popular musical genres of the time, including rhythm and blues, gospel music, and country and western. In 1951, Cleveland, Ohio disc jockey Alan Freed began playing rhythm and blues music for a multi-racial audience, and is credited with first using the phrase "rock and roll" to describe the music.
There is much debate as to what should be considered the first rock and roll record. One leading contender is "Rocket 88" by Jackie Brenston and his Delta Cats, recorded by Sam Phillips for Sun Records in 1951. Four years later, Bill Haley's "Rock Around the Clock" (1955) became the first rock and roll song to top Billboard magazine's main sales and airplay charts, and opened the door worldwide for this new wave of popular culture.