Another work-in-progress demo of the Dave Smith Instruments Mono Evolver Keyboard, the Moog Sub 37 Tribute Edition synth, and the Korg Wavedrum Global Edition. Recorded into Ableton Live 9 Suite with additional Piano track played using the Ableton Push controller.
Video shot with the Fujifilm X-E1 camera. Edited in Final Cut Pro X. Atomic blast footage is from a public domain film found at the Prelinger Archive.
Audio only version of this song can be found at – https://soundcloud.com/genshi/untitle…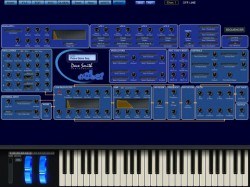 SoundTower has introduced Evolver Editor, a dedicated iPad patch editor for the Dave Smith Instruments Evolver synthesizer.
Evolver Sound Editor is an editor and sound development tool, created specifically for Dave Smith Instruments Evolver synthesizer.
Evolver Sound Editor displays all Evolver Program parameters in a single graphical interface. 
Features:
Real time editing of all Evolver parameters
Program Bank manager
Load/Save of Program Banks
Transmitting and receiving of Program Bank data
Sequencer editor
Resizable on-screen keyboard
Direct USB/MIDI connection with Apple iPad Camera Adapter
Wireless connection possible using MIDI network
Magnified editing panels
The Evolver Sound Editor is available for US $24.99 in the App Store.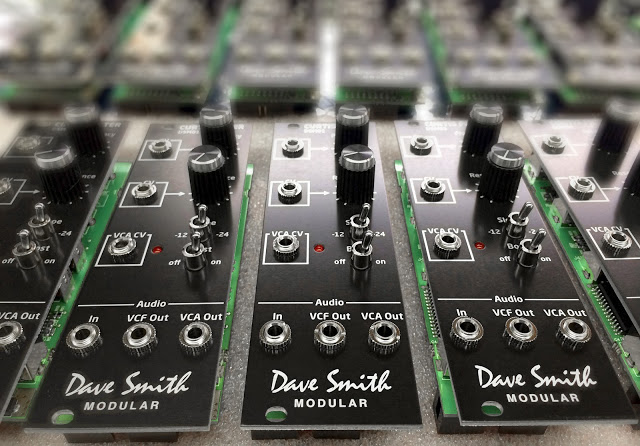 Dave Smith Instruments today began shipping the DSM01 Curtis Filter module, their first product for modular synthesizers. The module takes its name from the filter chip originally designed by the late Doug Curtis, which has been an integral part of the sound of Dave Smith's instruments from the classic Sequential Circuits Prophet-5, all the way up to recent synths such as the Evolver, Mopho, Prophet '08, and Prophet 12.

The DSM01 features a switchable 2/4-pole, resonant low-pass filter, as well as its own VCA. It is a standard 8HP wide, Eurorack-format device with interconnections made using 3.5 mm phone jacks. A carefully designed set of inputs and parameters allows voltage control of filter frequency and resonance. Filter slope is selectable between -12 dB and -24 dB. The module's VCA features two separate outputs for the filter—one pre-VCA and the other, post-VCA. A unique feature of the filter is a Boost function that introduces harmonic distortion into the signal for more aggressive coloration.

"Having the widest tonal palette possible has always been the goal for modular users," said Smith. "This product is our first—but significant—contribution to that world. We wanted to give modular users easy, affordable access to the classic Curtis filter sound, which I've always found very versatile and expressive." The Curtis sound has often been described as saturated, brash, and powerful, and has also been fundamental to such vintage instruments as the Oberheim Xpander, Rhodes Chroma and Polaris, and Elka Synthex.

"The DSM01 packs a lot of sound-shaping power into a small package. We think modular users are going to get a lot of sonic mileage out of it," said Smith.

The DSM01 Curtis Filter module is available now with a MAP of $179.
Background video description:
I was able to spend a couple days with the new Dave Smith Instruments Pro 2. Here's a small sample of what's to come.
Carson from Dave Smith Instruments presents the Pro 2 synthesizer, at the Summer NAMM 2014 show in Nashville, TN. Enjoy the demo, then click the link above for even more on the Pro 2 synth!
Background video description:
A song I did by Multitracking a DSi Mopho. All sounds from the Mopho. I also used the Mopho as carrier signal on my Vocoder Syntovox 222 & on my Banshee Rocktron Talk Box. Long Live the Mopho!!!
Music & lyrics composed by Val Solo 2014
Keyboard Magazine takes us on a tour around the DSI booth at SNAMM
Dave Smith Instruments asked INHALT to return to the sound design world and join a stellar team to create some of the patches for their upcoming super synth: the Pro 2.
"Since we're avid and long time users of the Pro One, the name alone peaked our curiosities. Once we got the absolutely stunning synth back to our studio, we were blown away not just by the raw sound quality of the new voice architecture, but also by the sheer number of possible control options. If there is a synth out there that is truly the best of all worlds and that is almost intentionally designed to sit right in the middle of a full studio set up, it most certainly is the Pro 2. 4 CV outputs (that can be used as gate outputs too), 4 CV ins, audio input, dual MIDI outputs … it's exactly the kind of thinking a professional studio and live musician would employ in synth design.
As a sound designer, what was most interesting was the arrangement of the new filters. Not only do both the SSM and SEM inspired analog filters sound fantastic on their own, but they can be used together to create very complex effects. Since their routing (serial, meaning one filter into the other, or parallel, meaning both filters running together) is completely user assignable and modulatable (all parameters regarding the filter can be accessed via the modulation matrix and modulated by pretty much anything) incredibly rich and complex effects can be created. The first patch (first string sound you hear in this video) takes full advantage of this new architecture to create a very sophisticated and distinct jet phasing effect.
The same tonal integrity can be found on the digital delays. This time around there is a new BBD style analog modeling delay that is warm and lush. When combined with delay time modulation from an LFO, an extremely rich chorus effect results. I might also mention that the audio input itself is of very high quality and presents a clean and full bodied pre amplifier stage that just sounds good. The last two sounds in the video use this input with a bass guitar.
Absolutely no external fx or sequencing were used when recording this demo of our patches for the factory bank. Everything you hear was done with the internal sequencer, live playing, and employing the abundant set of controls on board the Pro 2. Also, these are all single patches, so no multitracking was involved. The sounds were tracked via a Precision 8 mic pre using both outputs from the Pro 2 and straight into a Digidesign 192 IO feeding Pro Tools HD."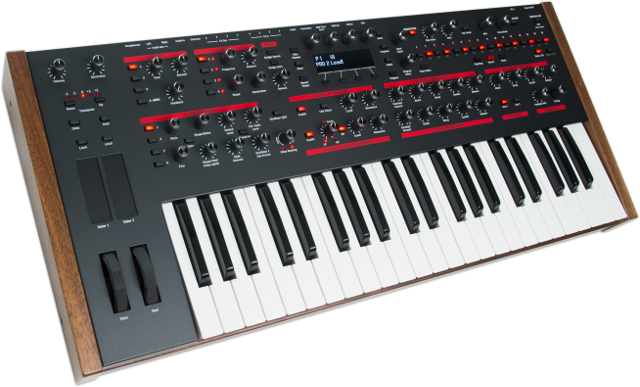 Dave Smith Instruments has introduced the Pro 2, an all-new, feature-rich monophonic synthesizer. "We really raised the bar with this one," said Smith. "As synth geeks, we asked ourselves what our ultimate mono synth would be. Then we built it."
A hybrid instrument, the Pro 2 features four digital oscillators (plus sub-oscillator) with superwaves and newly-designed, dual analog filters inspired by classic designs. The filters (one low-pass and one state-variable) can be run in series or parallel, with the state-variable filter providing low-pass, notch, high-pass, and band-pass modes. Oscillators can be routed in pairs to either filter for a variety of tonal possibilities. "Our new analog filter design gives the Pro 2 a depth and presence that's immediately recognizable," said Smith. "It has a sound all its own—distinctly different from our other instruments such as the Prophet 12."
The full-featured multitrack step sequencer operates in 32 x 8, or 16 x 16 mode and allows real-time input. It can sync to external MIDI clock and can also be driven by an external audio input. Sequences can control not only oscillator pitch, but any parameter in the Pro 2's extensive modulation matrix. It supports both rests and variable-length sequences.
Another notable feature of the Pro 2 is its 4 rear-panel control voltage inputs and outputs, which make it compatible with modular synths. The control voltages can be assigned and routed from within the modulation matrix and can run at audio rates for extreme modulation effects. "A primary goal was to make the Pro 2 as open-ended and flexible as possible," said Smith. "The four control voltage ins and outs really open up a world of interfacing possibilities with other gear. You could almost call the Pro 2 our own mini-modular."
Smith says that the surprises don't end there: "A very cool bonus features is that even though we designed it primarily as a very powerful mono synth, it's actually 4-voice paraphonic—you can play 4 notes simultaneously, if you want to. Add in the super saws, and you've got a very big sound." In paraphonic operation, the 4 individual voices share a common filter and envelopes. Paraphony has gained popularity in recent years and was found in such vintage instruments as the ARP 2600 and ARP Odyssey, which were duophonic.
The feature set of the Pro 2 is rounded out with a multimode arpeggiator; 4 stereo, multi-tap delays with analog modeling; 4 LFOs; tuned feedback; analog distortion; Character controls with sound sculpting options such as Drive, Hack, Decimation, Girth, and Air; and extensive modulation possibilities. The LFOs, delay, and arpeggiator can be synced to either the internal clock or an external MIDI clock. Two programmable position- and pressure-sensitive touch sliders and pitch and mod wheels provide nuanced control over live performance.
"Right now there's a trend of reissuing classic synths from the past. People have been asking for a reissue of the old Sequential Pro-One for quite a while. But as a synth designer, I'm happiest creating new instruments—synths that with every iteration put more power and better sounds into the hands of musicians. The Pro 2 is light years beyond the Pro-One in every way. It's the most powerful mono synth I've ever made. You've got to keep moving forward."
The Pro 2 will be available late July of 2014 with a US MAP of $1,999
DSI picture text:
The big announcement is coming soon! Here's one more photo to hold you over.