Roger dropped by the office to give us a sneak peek of his great LinnStrument prototype. The LinnStrument is triggering our Prophet 12 Module prototype as the sound source. This is not the final design or form factor of the LinnStrument, but it was fun to see it in action and play around with it. It is extremely intuitive and expressive. Can't wait for the production model!
More info here: http://www.rogerlinndesign.com/previe…

The heart of LinnStrument is a pressure-sensitive multi-touch surface scanned at high speed and resolution. Each touch is sensed in three dimensions with loudness controlled by pressure, pitch controlled by left-right movement and timbre controlled by forward-backward movement. We call this 3D Note Expression. It's also polyphonic, with these three dimensions captured independently and simultaneously for all fingers. With this level of subtle control, you'll find little use for envelope generators or LFOs because your finger movements do a better job of controlling a note's envelope, vibrato, pitch slides, tremolo, bends and other musical gestures, just like on acoustic instruments. And because these three dimensions are sensed for each finger simultaneously, you can do things like performing a string quartet with four fingers.
Background video description:
I tried to make poly moog sound that YMO prof. Sakamoto used to use it.
Prophet 12 has a lot of special functions.
Especially the oscillator sound is good for vintage strings!
If you are not satisfied with your virtual analog synth to make vintage strings sound, I recommend to use Prophet 12 to you!!
That's really great and maniac sound.
I really LOVE this machine.
坂本教授が使ってたPolymoogのサウンドに挑戦しました。
Prophet12は、特殊な機能が沢山あり、特にオシレータがヴィンテージ系のスト
­リングスサウンドにもってこい!
もしヴィンテージ系のストリングスサウンドを作るのに手持ちのヴァーチャルアナログシ­ンセで満足できなかったら、Prophet12をお勧めしまする!!
まじですごいマニアなサウンドですよん、ぼくはこのマシンLoveです。
nicolai maruhama
Background video description:
Autumn is on his way…
Wind and rain here on the North Netherlands coast … Its better to stay at home and make some music on the rhythm of the rain …
I try to make a special groovebeat with the powerful MD, best you can listen with a headphone for perfect stereo.
I play the Mopho (desktop) with the keys form the PEK and I make a sound on the great Radias.
I bought the Radias a few days ago, its a powerful dream-synth in newest condition and hardly used

Soon more with the Radias…
Enjoy and grtz
FREELANDERRIDE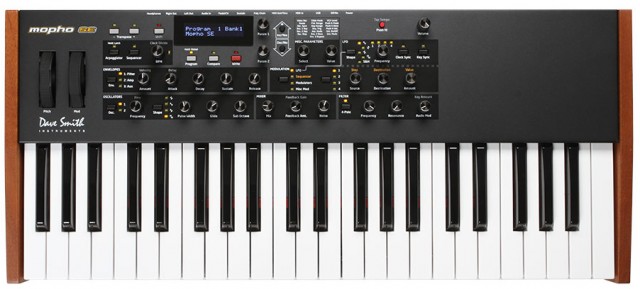 Dave Smith Instruments today introduced the Mopho SE – a new take on their monophonic Mopho synthesizer.The Mopho SE is based on the same architecture as the Mopho Keyboard, but it's been updated with a larger 44-note keyboard and design that's closer to the Prophet synths than the original Mopho.
The Mopho SE
The Mopho SE voice is composed of two analog oscillators, two sub octave generators, selectable 2- or 4-pole famed Curtis low-pass filter, three 5-stage envelope generators, four LFOs, a re-latchable arpeggiator, and a 16 x 4 step sequencer. Its voice also comes packed with 20 modulation sources and almost 50 destinations.
The SE's full sized 44-note semi-weighted keyboard has aftertouch and velocity sensitivity. The sturdy full sized pitch and mod wheels are freely assignable.
You can expand the Mopho SE's polyphony using it's Poly Chain port. Mopho, Tetra, and Prophet '08 can all be connected to the SE to increase its voice count.
Features:
100% analog signal path
Two oscillators capable of producing sawtooth, triangle, saw/triangle, and variable pulse width square waves, with hard sync
Two sub-octave generators (one octave below oscillator 1 and two octaves below oscillator 2)
One classic Curtis low-pass filter (switchable 2- or 4-pole) with audio rate modulation, self-oscillating in 4-pole mode
Analog VCA
Three envelope generators (ADSR plus delay)
Feedback loop with programmable level and gain
White noise generator
4 LFOs
Gated 16 x 4 step sequencer (one sequence per program)
Arpeggiator
Glide (portamento): separate rates per oscillator
Full-sized, 44-note (F to C), semi-weighted keyboard action with velocity and aftertouch
Full-sized modulation wheel and spring-loaded pitch wheel
Fully programmable with 3 banks of 128 user programs (384 total)
I/O
USB type B receptacle
MIDI In, Out/Thru, and Poly Chain
Left and Right audio outputs: 1/4″ phone jack (unbalanced)
Audio Input: 1/4″ phone jack (unbalanced)
Sustain pedal input (accepts normally on or off momentary footswitch with 1/4″ phone plug)
Expression pedal/control voltage (3.3 VDC max.) input (1/4″ TRS phone jack)
Headphone output: 1/4″ TRS stereo phone jack
Physical Specs
Dimensions: approximately 25.2″ L x 11.1″ W x 3.6″ H (64 cm x 28.2 cm x 9.1 cm)
Weight: 13.25 Lbs
Included
Power supply for 100V ? 240V AC operation
Operation manual
Free downloadable software editor for Mac OS and Windows
Pricing and Availability:
The Mopho SE is priced at $949 and is expected to ship at the end of October.
No effects added. Tempest stereo outputs to USB audio interface into ableton
This video takes a look at using the Dave Smith Instruments Tempest drum machine as a 6-voice polyphonic synth module.
The DSI Tempest is based on analog voices tailored to percussion, but the drum machine has a lot of synthesis capabilities that go beyond traditional drum synth sounds, as this video demonstrates.
Tetra has multiple personalities. It is a four-voice, analog poly synth, a sort of "mini Prophet." It's a four-part, multitimbral synth with separate outputs, essentially four Mophos in one very compact box. And it's a voice expander for other Tetras or the Prophet '08.
Bass Station II is an analogue mono-synth based on the classic original Bass Station but re-worked for the 21st century. It has two filters, two oscillators plus a third sub-oscillator, patch save and a fully analogue effects section. Add a step sequencer, arpeggiator, full sized keys and a powerful modulation section and you have the makings of a synth that is built for bass, but capable of so much more.
Enjoy
Affordable, fully programmable poly synth with a 100% analog signal path.
Classic, real analog sound—including legendary Curtis analog low-pass filter.
Four-part multitimbral capability with four separate outputs.
Combo Mode for huge unison patches, stacked sequences, and "modular-style" poly sounds.
Expandable: poly chain with other Tetras, Prophet '08, and Mopho for expanded polyphony
Just 7.9″ x 5″ (20.07 cm x 12.7 cm).
Free editor for Mac OS and Windows.
Tetra Product description:
Tetra is our next-generation analog poly synth. Tetra takes the award-winning sound and features of Mopho, multiplies them by four, and packs them in a box less than half an inch larger!
Tetra has multiple personalities. It is a four-voice, analog poly synth, a sort of "mini Prophet." It's a four-part, multitimbral synth with separate outputs, essentially four Mophos in one very compact box. And it's a voice expander for other Tetras or the Prophet '08.
Outside the Box
Physically, Tetra is similar to Mopho, with four assignable parameter controls per program and a row of controls dedicated to the most commonly used performance parameters. All of the parameters can be accessed from the front panel and Tetra is fully programmable. A free, downloadable editor is available for Mac OS and Windows to facilitate more comprehensive tweaking.
Most of the rotary controls are detented encoders, but Cutoff and Resonance are potentiometers, allowing full sweeps with a single turn. The Push It button is a manual trigger to play notes and latch sequences on without the need for a MIDI controller.
Audio is output in mono, stereo, or per voice, via the four audio output jacks. There is also a headphone out. MIDI communication is by standard MIDI in and out jacks or USB. Poly Chain Out is a special, dedicated MIDI output to chain multiple instruments for increased polyphony.
Under the Hood
The voice architecture is based on the Prophet '08, but with the addition of a sub-octave generator for each oscillator and a fully programmable feedback loop for each voice. That breaks down to two DCOs, a resonant low-pass filter, three DADSR envelope generators, four LFOS, deep modulation routing, an arpeggiator, and a 16 x 4 analog-style step sequencer per voice. Feedback is capable of producing effects ranging from mild distortion to fairly extreme harmonic instability. (That's a good thing.) The possibilities are nearly endless. And the audio signal path is 100% analog.
Tetra a la Mode
In Program Mode, Tetra is a four-voice, polyphonic synthesizer with four banks of 128 programs. As with the Prophet '08, each program contains two layers—each layer is essentially a separate patch—that can be used to create keyboard splits or stacked sounds. Banks 1 and 2 are the Prophet '08 factory programs; banks 3 and 4 are a combination of Mopho and new programs.
In Combo Mode, a different program can be assigned to each of the four voices. Combos can be used for mammoth unison patches or for triggering up to four different 16 x 4 sequences—each with its own program—simultaneously. Combos can also be used to create "modular-style" polyphonic patches, where each voice plays a different program, with a slight variation on the same sound or even a drastically different sound.
In Multi Mode, Tetra becomes a multitimbral sound module capable of playing four monophonic parts on four MIDI channels, with separate outputs for each voice. Coupled with a MIDI sequencer and DAW, Tetra can play complex arrangements or analog drum parts with each part individually processed and recorded to its own track.
This One Goes to 12…and 16
Up to four Tetras can be poly chained for eight, twelve, or sixteen voices total. When used with a Prophet '08, up to two Tetras can be poly chained for a maximum of sixteen voices. In addition, the Prophet's front panel controls map directly to almost all of Tetra's parameters, so the Prophet acts as a programmer and control surface. And a Mopho can be connected to Tetra's Poly Chain Out for five-voice operation.
Dave Smith & Analog four "Analog Home"
Just a programmed sequence with the Tempest master (home)CLOCK. The Poly Evolver, Mopho X4 are following. Slim Phatty doing some ambient leads.
Enjoy and dutch Grtz from the Netherlands !
Nine Inch Nails "Came Back Haunted" covered live on the Dave Smith Instruments Tempest Drum Machine. Stereo Line out of the Tempest, single take, no post processing.