A direct clone of the Arp 1601 sequencer.
Added an LFO which has a clock sync input. The LFO is based on Electric Druid's work.
A quick and dirty demo. Excuse some of the language…
A demonstration of some of the sounds available from the legendary Wasp synthesiser.
The Wasp is a quirky little synthesizer that, despite its toyish look, is a quality instrument capable of fun and funky analog sounds. It really is black and yellow too, just like the insect it is named after. Probably its most distinguishing feature is the 2-octave keyboard which uses non-moving touch-sensitive keys. The flat little keys are sensitive only to your electro-static touch. It's a nifty technology for 1978, but in reality they are unreliable and difficult to play. Other unique touches include a little speaker built-in to the synth and EDP's own pre-MIDI connector ports for linking it to other Wasps and EDP gear.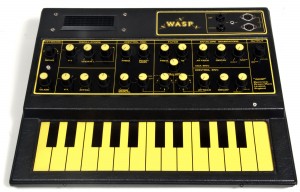 A look under the hood, however, reveals some nice surprises. The WASP is monophonic and powered by two digital oscillators supported by analog filters, envelopes and controls. This makes it one of the earliest compact digital/analog hybrid mono-synths, and it sounds great! The Wasp offers flexible subtractive synthesis. It's pretty easy to dial up some cool bass, synth, and other classic monophonic sounds. Its designer, Chris Hugget, also designed the Oxford Synthesizer Company's venerable OSCar Synthesizer.
Later versions of the Wasp included the Wasp Deluxe (released 1979) which had all the features of the original plus a standard 3-octave keyboard, wood panels, an oscillator mixer, an external audio-input, a larger built-in speaker, and battery operation. It was definitely redesigned for the practical musician. There was also the Wasp Special (released 1981) which also came with wood panels, a black and gold color scheme, and an internal power supply, but no built-in speaker and a return to the 2-octave touch-sensitive keyboard design. EDP also produced a heavily modified Wasp that was built into a guitar-form called the Keytar. It had a 2-octave keyboard with transpose and portamento buttons on the neck. However, only two Keytars were ever made as far as we know.
The rest of EDP's wild world of synthesis includes the Spider, a 252-note step, or 84-note real time digital sequencer designed to control the Wasp. The Caterpillar which is a 3-octave master keyboard for controlling up to four inter-connected Wasps played polyphonically. The Gnat which is a smaller, single-oscillator version of the Wasp that could also be linked to another Wasp to form a makeshift triple-oscillator synth playable from either keyboard (the Gnat also came in three versions similar to the Standard, Special and Deluxe models of the Wasp). All EDP instruments could be inter-connected via their own pre-MIDI style connection interface. While the Wasp and it's fellow insects may seem quirky and even toy-like, their sound, technology, flexibility and portability make them surprisingly good instruments that can still be found in use today.
.
Demo of the Korg DW-8000, Programmable Digital Waveform Synthesizer from 1985
Take Korg's first digitally controlled analog synth hybrid (DW-6000) two steps higher and you get the more popular DW-8000. Sound is digitally generated from the DWGS (Digital Waveform Generator System) and has been doubled from 8 sampled digital waveforms to 16 simple analog to complex digital waveforms. The DW-8000 has 8 voice polyphony in two modes, or one monophonic mode with all eight voices stacked. The analog VCF resonant filter and VCA both have independent ADBSSR envelopes. Parameters can be altered in real time via a single programmable slider. There are 64 presets that can be reprogrammed by the user.
In comparison to the DW-6000, the DW-8000 expanded to 8 notes polyphony, 16 sampled waveforms, a velocity sensitive keyboard with programmable aftertouch, auto-bend, a simple arpeggiator and a digital delay unit. The Digital Delay was an astonishing goody for the time, offering up to 512ms delay, phasing, flanging, chorusing and other time effects. Both the Arpeggiator, Auto-Bend and Digital Delay make this synth an inspiring and great sounding machine to use for great 303 basslines, techno and house bass and synth sounds and more! The EX-8000 (pictured above) is a rackmount version of the DW-8000. Several 3rd-party developers offered expansion boards for the DW-8000 providing up to 1024 presets, layered sounds, keyboard splits and Sample+Hold for the LFO.
Miles from Sonic Sense Pro Audio demonstrates some of the little known features and functions of Roland's new Aira TR-8 drum machine.
For more demos,comparisons, and tutorials, visit sonicsense.com/blog
A look at the new Roland Aira TR-8 Rhythm Performer, their new drum machine, modeled on the classic Roland TR-808 and TR-909 drum machines, video details below:
A review and demonstration of Roland's new Aira TR-8 Rhythm Performer. www.SonicSense.com

For more information, visit our resource center: http://bit.ly/1fklpfv
Preorder AIRA now: http://bit.ly/1d5wjlb
Browse our website: http://www.SonicSense.com
Sonic Sense takes a look at an early prototype of the Roland Aira System 1 Plug-Out Synthesizer.
Features:
Four oscillators
Oscillator colors create continuous waveform changes from simple to complex
All parameters can be controlled with physical knobs and sliders with LED indicators
Advanced arpeggiator with Scatter function
Scatter jog dial offers 10 different phrase variations with dynamic, real-time control over 10 stages of depth
-12 dB and -24 dB filter types with independent high-pass filters
Tone knob for easy tonal balancing
Crusher knob for modern edge
Integrated delay and reverb effects
Tempo syncing for LFO and delay
Innovative thin keyboard with 25 normal-sized keys
The Roland AIRA System-1 is priced at US $599
All sounds come from the Commodore 64 Stereo Synthesizer, containing two 6581-SID chips. External EQ, delay and reverb added. Built by Björn Engstrand and Robert Engstrand.
Build your own one here:
http://www.ucapps.de
Just a short demonstration of a 1960's Stylophone using the camera audio and then line out audio. These early models have no volume control and a vibrato that sounds more akin to pulse width modulation. Plus they are much bassier via line out than the speaker due to a passive low pass filter over the output. I have it for sale in my Etsy shop here:
www.etsy.com/uk/shop/SymetriColour
As an addition to the TR8 review I managed to get hold of an original TR808.
I must say that after using the TR8 – its not at all intuitive to use – hence the rather simple demo.
Second attempt on using the Manikin Schrittmacher step sequencer.
I created (very easy, without reading the user manual lol) 4 sequences and assigned to each one a MIDI channel to send it to Virus Ti2 2 in multi mode. Easy to remove or to silent the steps.
Many thanks to Dragos Manea (owner of the Schrittmacher).
More on http://www.albaecstasy.ro