Miles from Sonic Sense Pro Audio demonstrates some of the little known features and functions of Roland's new Aira TR-8 drum machine.
For more demos,comparisons, and tutorials, visit sonicsense.com/blog
A look at the new Roland Aira TR-8 Rhythm Performer, their new drum machine, modeled on the classic Roland TR-808 and TR-909 drum machines, video details below:
A review and demonstration of Roland's new Aira TR-8 Rhythm Performer. www.SonicSense.com

For more information, visit our resource center: http://bit.ly/1fklpfv
Preorder AIRA now: http://bit.ly/1d5wjlb
Browse our website: http://www.SonicSense.com
Sonic Sense takes a look at an early prototype of the Roland Aira System 1 Plug-Out Synthesizer.
Features:
Four oscillators
Oscillator colors create continuous waveform changes from simple to complex
All parameters can be controlled with physical knobs and sliders with LED indicators
Advanced arpeggiator with Scatter function
Scatter jog dial offers 10 different phrase variations with dynamic, real-time control over 10 stages of depth
-12 dB and -24 dB filter types with independent high-pass filters
Tone knob for easy tonal balancing
Crusher knob for modern edge
Integrated delay and reverb effects
Tempo syncing for LFO and delay
Innovative thin keyboard with 25 normal-sized keys
The Roland AIRA System-1 is priced at US $599
All sounds come from the Commodore 64 Stereo Synthesizer, containing two 6581-SID chips. External EQ, delay and reverb added. Built by Björn Engstrand and Robert Engstrand.
Build your own one here:
http://www.ucapps.de
Just a short demonstration of a 1960's Stylophone using the camera audio and then line out audio. These early models have no volume control and a vibrato that sounds more akin to pulse width modulation. Plus they are much bassier via line out than the speaker due to a passive low pass filter over the output. I have it for sale in my Etsy shop here:
www.etsy.com/uk/shop/SymetriColour
As an addition to the TR8 review I managed to get hold of an original TR808.
I must say that after using the TR8 – its not at all intuitive to use – hence the rather simple demo.
Second attempt on using the Manikin Schrittmacher step sequencer.
I created (very easy, without reading the user manual lol) 4 sequences and assigned to each one a MIDI channel to send it to Virus Ti2 2 in multi mode. Easy to remove or to silent the steps.
Many thanks to Dragos Manea (owner of the Schrittmacher).
More on http://www.albaecstasy.ro
Frédéric Meslin of Waldorf Music gives us an overview of the Pulse 2. The second part of this video features direct audio in from the Pulse 2
Here's a presentation of the new Roland FA-08 at the NAMM Show 2014.
The Jupiter-8 was Roland's first truly professional analog synthesizer. The Jupiter-8 features 16 rich analog oscillators at 2 per voice, eight voice polyphony and easy programming! At eight voices you can get some pretty thick analog sounds. Easy and intuitive programming via front panel sliders, knobs and buttons for all your tweaking needs. The legacy of the Jupiter synthesizers is due to their unique voice architecture and design, creating sounds that were so unreal and amazing that they have to be heard! No other synths in the world can create analog sounds as cool and authentic as these.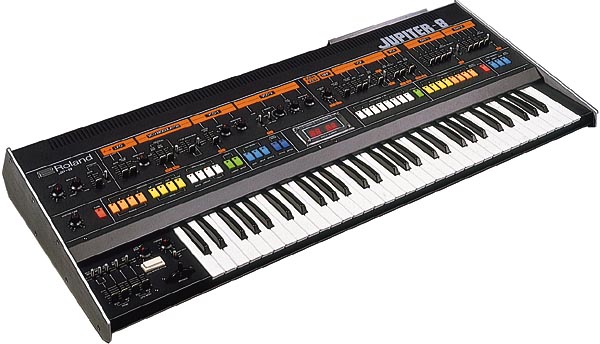 The Jupiter-8 was the biggest and fattest of them all (Jupiters and Junos)! It was one of the first synths to allow its keyboard to be split and layered – it's eight voices of trance heaven! Cross-mod, oscillator sync, a great LFO and a classic arpeggiator are also on-board. There's also a killer resonant analog low pass filter, same as the Juno-6 / 60, with the added option of choosing 2-pole (12 dB/oct) or 4-pole (24 dB/oct) modes as well as a separate high-pass filter. Unfortunately for the earlier models, tuning was very unstable but that seemed to be resolved in later models. Unlike its smaller counterpart, the Jupiter-6, the Jup 8 does not feature MIDI, only Roland's DCB sync can be found on some models. However, MIDI retro-kit's are available from various companies. Patch presets can store keyboard splits, arpeggiator settings, voice assign mode, hold, portamento and modulation settings.