Just a short demonstration of a 1960′s Stylophone using the camera audio and then line out audio. These early models have no volume control and a vibrato that sounds more akin to pulse width modulation. Plus they are much bassier via line out than the speaker due to a passive low pass filter over the output. I have it for sale in my Etsy shop here:
www.etsy.com/uk/shop/SymetriColour
As an addition to the TR8 review I managed to get hold of an original TR808.
I must say that after using the TR8 – its not at all intuitive to use – hence the rather simple demo.
Second attempt on using the Manikin Schrittmacher step sequencer.
I created (very easy, without reading the user manual lol) 4 sequences and assigned to each one a MIDI channel to send it to Virus Ti2 2 in multi mode. Easy to remove or to silent the steps.
Many thanks to Dragos Manea (owner of the Schrittmacher).
More on http://www.albaecstasy.ro
Frédéric Meslin of Waldorf Music gives us an overview of the Pulse 2. The second part of this video features direct audio in from the Pulse 2
Here's a presentation of the new Roland FA-08 at the NAMM Show 2014.
The Jupiter-8 was Roland's first truly professional analog synthesizer. The Jupiter-8 features 16 rich analog oscillators at 2 per voice, eight voice polyphony and easy programming! At eight voices you can get some pretty thick analog sounds. Easy and intuitive programming via front panel sliders, knobs and buttons for all your tweaking needs. The legacy of the Jupiter synthesizers is due to their unique voice architecture and design, creating sounds that were so unreal and amazing that they have to be heard! No other synths in the world can create analog sounds as cool and authentic as these.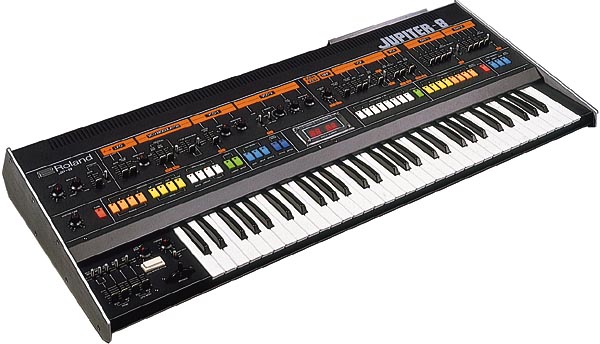 The Jupiter-8 was the biggest and fattest of them all (Jupiters and Junos)! It was one of the first synths to allow its keyboard to be split and layered – it's eight voices of trance heaven! Cross-mod, oscillator sync, a great LFO and a classic arpeggiator are also on-board. There's also a killer resonant analog low pass filter, same as the Juno-6 / 60, with the added option of choosing 2-pole (12 dB/oct) or 4-pole (24 dB/oct) modes as well as a separate high-pass filter. Unfortunately for the earlier models, tuning was very unstable but that seemed to be resolved in later models. Unlike its smaller counterpart, the Jupiter-6, the Jup 8 does not feature MIDI, only Roland's DCB sync can be found on some models. However, MIDI retro-kit's are available from various companies. Patch presets can store keyboard splits, arpeggiator settings, voice assign mode, hold, portamento and modulation settings.
Fantastic and very versatile drum machine from developer Alexander Smith.
https://itunes.apple.com/app/id698024…
STIX is a powerful 16 channel (8×2 voices) sampling synthesizer and sequencer.
Check out Audio and Video demos + download the user manual from our webstite now:
http://twisted-electrons.com/apps/stix/
Each kit features no less than 200 parameters that are controllable in real-time via touch or MIDI.
STIX is also a 8 channel 16 step drum sequencer with recording functionality. The sequencer's 8 patterns can be chained into songs in Track Mode.
Up to 100 Preset Kits can be stored and the 8 drum modules can be performed on the pads throughout the app's modes.
STIX also features Audiobus compatibility!
The MICRO is beeing treated with ext Cotoff Trigger Seqencer Doepfer A.-155. In Sync with the internal sequencer + Modular Kick..
http://livingston-eliptik.bandcamp.com/ https://soundcloud.com/herdmusic
One Yamaha TX81z in performance mode (8 sounds max on keyboard). No Fx, no mastering. Drumkit is composed of basics presets sounds. Heavier bassdrum can be made with editing.
Sequence via computer
Yet another FM synthesizer from Yamaha, this one comes in a compact, multitimbral, 1-unit rackmount module and is basically a key-less version of the DX-11. It has far more professional features than its relative, the FB-01. The TX81Z features great FM type synth sounds similar also to the DX-21 and DX-27. It's still not as good as the classic DX-7, but it's an inexpensive source of those sounds with lots of programmability. Eight voice polyphony, 128 preset sounds, 32 user and lots of functions hidden behind 11 push buttons.
The TX81Z features a new ability to use waveforms other than just a sine wave. There are eight voices that can be split, layered and detuned. Also onboard are pseudo-effects including delay and reverb. These features can be stored as performance setups. The effects are simply envelope and re-triggering effects. The TX81Z works great as a sound-module for any live or studio production. It's got a wider range of sounds than the DX-7, may not be quite as warm or 'classic' sounding, but at its low price and with the excellent MIDI implementation it makes a great alternative or backup synth for percussive, punchy FM synth sounds.
Moog's Source was their first to offer patch memory storage as well as some other new features. It boasted 16 memory locations so you could finally save and recall your synth patches. A casette-tape jack was also implemented to transfer your patches to and from an external tape and free up the on-board memory for additional new patches. But in an effort to modernize with the eighties, the Moog had replaced all buttons, knobs and sliders with flat-panel membrane buttons and a single data-wheel assignment format. At the time, this may have seemed far-out, but in all actuality it is the Source's downfall.
Parameters are edited not with hands-on sliders and knobs but by assigning a selected parameter to the dedicated data wheel. This is very tedious and does not allow for true hands-on tweaking during performances nor can you adjust different parameters simultaneously or while playing. These days, the membrane buttons don't always seem to work quite right either. However, those famous monophonic Moog sounds are still inside this synth which has two fat analog oscillators and the legendary 24 dB Moog filter.