Night Café is taken from the forthcoming album English Electric.
Pre-order on iTunes here: http://smarturl.it/iTunesEE
Pre-order physical copies here: http://omd.firebrandstore.com/
'A Tooth For An Eye' from The Knife's forthcoming album 'Shaking The Habitual' released on 8/9 April. Available to pre order here: http://theknife.net/shaking-the-habitual
'A Tooth For An Eye' deconstructs images of maleness, power and leadership. Who are the people we trust as our leaders and why? What do we have to learn from those we consider inferior? In a sport setting where one would traditionally consider a group of men as powerful and in charge, an unexpected leader emerges. A child enters and allows the men to let go of their hierarchies, machismo and fear of intimacy, as they follow her into a dance. Their lack of expertise and vulnerability shines through as they perform the choreography. Amateurs and skilled dancers alike express joy and a sense of freedom; There is no prestige in their performance. The child is powerful, tough and sweet all at once, roaring "I'm telling you stories, trust me". There is no shame in her girliness, rather she possesses knowledge that the men lost a long time ago.
Music: 'A Tooth For An Eye' by The Knife taken from the album 'Shaking The Habitual'
Dir. Roxy Farhat & Kakan Hermansson
DOP: Aida Chehrehgosha
Editing: Roxy Farhat
Choreography: Sepidar Hosseini & Iwa Herdensjö
Get the lyrics to Changeling, the first song premièred from Alison Moyet's new album, the minutes and download the track for free via http://alisonmoyet.com
The new album from Indochine was released this week and we must say that they are returning in grace

Music video by Indochine performing Memoria. (P) 2012 Sony Music Entertainment France
« Memoria » – clip officiel
Téléchargez 'Memoria' sur iTunes : http://bit.ly/TLlix2
1er Extrait de « Black City Parade », nouvel album sortie le 11 février 2013
'Full Of Fire' a short film by Marit Östberg*.
Music by The Knife
As we've previously reported, Swedish electronic pop/not-pop duo The Knife are set to release their long-awaited follow-up to 2006's acclaimed Silent Shout, entitled Shaking The Habitual, on 8th April. Now the official video has been released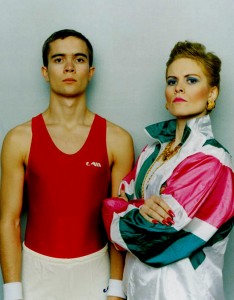 This April The Knife release their first studio album since Silent Shout seven years ago. The album, Shaking The Habitual, is now available to pre-order in the below formats:
2x CD: http://smarturl.it/sth2cd – Digipack Includes cartoon by Liv Strömquist and a lyric poster by Studio SM/Martin Falck.
3x 12″ Vinyl: http://smarturl.it/sthvinyl – 180g heavyweight, gatefold edition with CD. Also includes the cartoon and lyric poster.
iTunes Download: http://smarturl.it/sthitunes – Includes an instant download of Full Of Fire and digital booklet.
All formats also available on the Rabid Records Store: http://www.rabidrecordsstore.com/
More information at http://theknife.net
*Marit Östberg is a filmmaker and visual artist, based in Stockholm and Berlin. Her works are often focused on images of queer bodies and sexualities. She sees her work in a wider context of feminist fights and histories and her visual world has been described as uncompromising. Uncompromisingly current. Uncompromisingly sexy. Uncompromisingly political.
"The film 'Full of Fire' started to grow as an embryo in the song´s lines 'Who looks after my story'. Who takes care of our stories when the big history, written by straight rich white men, erase the complexity of human´s lives, desires and conditions? The film 'Full of Fire' consists of a network of fates, fears, cravings, longings, losses, and promises. Fates that at first sight seem isolated from each other, but if we pay attention, we can see that everything essentially moves into each other. Our lives are intertwined and our eyes on each other, our sounds and smells, mean something. Our actions create reality, we create each other. We are never faceless, not even in the most grey anonymous streets of the city. We will never stop being responsible, being extensions, of one another. We will never stop longing for each other, and for something else."
– Marit Östberg
The Girl & The Robot.
From the cd single "Silence*Borderline".
Full tracklist:
01. Silence
02. Borderline
03. Another Love (Robot Girl-C=64 Version — Honey/Welle: Erdball)
04. Never Ever ( Remix — File Not Found)
05. Please Stay (Remix — Hertzinfarkt)
06. Prayer (Remix — Brideshead)
07. Silence (Remix — Frederik Wiberg)
08. Borderline (Remix — Brideshead)
Fottage composed, filmed and edited by wickholm.com
This is a special New Year's track for you from Metroland.
If you like it, feel free to show the band your appreciation with a donation. Happy New Year to you!
Released 31 December 2012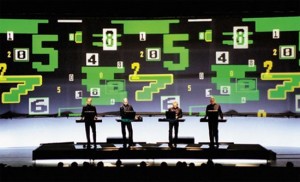 Following on from Laibach's incredible Retro Monumental Avant-Garde performance in the Tate Modern Turbine Hall earlier this year, we are thrilled and excited to announce that Kraftwerk are to play the venue between February 4th and 16th 2013. The band will be performing an album every night as part of the KRAFTWERK – THE CATALOGUE 1 2 3 4 5 6 7 8 series, previously seen in New York and Dusseldorf.
Chris Dercon, director of the Tate Modern, said: "As a former power station, Tate Modern's Turbine Hall is an ideal venue for Kraftwerk's explorations of technology, energy and rhythm. Bringing together music, video and performance, these events will be true gesamtkunstwerk – a total work of art."
Tickets – priced at £60 per show – go on sale next Wednesday, December 12 at 7:30 am. You will be able to buy them exclusively here.
FEBRUARY 2013
Wed 6 – Autobahn (1974)
Thu 7 – Radio-Activity (1975)
Fri 8 – Trans Europe Express (1977)
Sat 9 – The Man-Machine (1978)
Mon 11 – Computer World (1981)
Tue 12 – Techno Pop (1986)
Wed 13 – The Mix (1991)
Thu 14 – Tour de France (2003)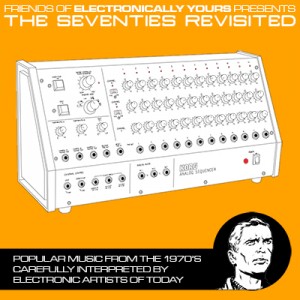 As reported on earlier, the electronica project 'Electronically Yours', is now being covered across several leading electronic music magazines, below are a couple of links, and if you are in Sweden on Dec 15th make sure to watch their live performance at ElectriXmas

It is a secret group on Facebook called Electronically Yours that has released an album featuring classic 70′s songs and remixed to fit an electronic audience of the 21st century. And it is not an anonymous bunch of musicians on this album – among the secret members you will find Joakim Montelius (Covenant) under his alter ego Tectonic Knights, Eddie Bengtsson with PAGE, Diskodiktator, computer and Steelberry Clones, to name but a few.
Side-Line reports:
You might know, or might not know that Joakim Montelius (Covenant) is a member of a secret society called Electronically Yours, a bunch of (mostly) Swedish geeks and electronic music aficionados. Some are famous, some are merely notorious. A few of them are both.
Sinzine reports:
Joakim Montelius (Covenant) and others featured on charity compilation 'Friends of Electronically Yours – The Seventies Revisited'
And for those of you who know Swedish there are two more in depth articles at HD and Zero Music Magazine:
http://hd.se/noje/2012/12/04/facebook-forenade-15-musiker/
Page, Diskodiktator, Compute, Covenant-Joakim och ett flertal andra kreativa artister på en och samma skiva? Elektroniska nytolkningar av sjuttiotalshits från bland andra Deep Purple, Sweet, Neil Young och Curtis Mayfield? Ett välgörenhetsprojekt som stöder världens barn? Samlingen Friends of Electronically Yours – The Seventies Revisited sprudlar av nytänkande och värmer frusna hjärtan i vinterkylan. Zero har pratat med Facebookgruppen bakom verket.
http://www.zeromagazine.nu/art.asp?id=359
Listen to snippets of the full length album by clicking the album cover in the right hand column >>>>>>>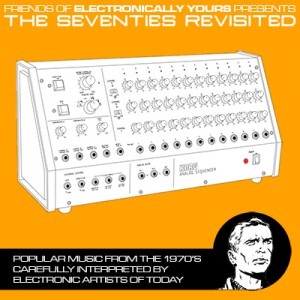 Right before Christmas a new and extremely rare electronic music album has hit the shelves.
It is a secret group on Facebook called Electronically Yours that has released an album featuring classic 70's songs and remixed to fit an electronic audience of the 21st century. And it is not an anonymous bunch of musicians on this album – among the secret members you will find Joakim Montelius (Covenant) under his alter ego Tectonic Knights, Eddie Bengtsson with PAGE, Diskodiktator, computer and Steelberry Clones, to name but a few. To provide you with the right feeling of the album we give you Joakim's post on the official Covenant Facebook page below, and if you are in Sweden on December 15th you can see Electronically Yours live on stage at ElectriXmas
Message from Joakim from Covenant:
So. X-mas is saved. See, I'm a member of a secret society called Electronically Yours. We are a bunch of (mostly) Swedish geeks and electronic music aficionados. Some are famous, some are merely notorious. A few of us are both. A while back the Chairman of this obscure virtual tribe had an idea. A whim, actually, but through the means of great secrecy, clever masterminding, as well as gullible people willing to accept an unknown, non-negotiable missio

n from which there was no way to back out, the whim has now turned into the fulfilment of a rather daring project.

The idea was to turn a bunch of great '70s hits by artists as diverse as Sweet, Slade, Hot Chocolate, Tom Jones, Curtis Mayfield and Deep Purple into modern, electronic interpretations. The results baffled us all. So we decided to make an album out of it and release it as a non-profit project and all proceeds will be given away to the Swedish charity "Musikhjälpen".

And that's why X-mas is saved: you get a great album (and I do not say that just because I'm on it as my alter ego Tectonic Knights, it really is an amazing collection of songs) PLUS a very large part of the money you pay for it goes to help people in dire need of it. That's what I call a win-win arrangement.

You can hear snippets of the tracks and also a link to the webshop where you can pick up one of the remaining copies of the strictly limited CDs here:
Audio demo from the new album below:
Track listing:
MrDoonut – "If You Want Me To Stay"
Diskodiktator – "You Could've Been A Lady"
alphaKenny-1 – "Silver Machine"
Independent State – "Strange Kind Of Woman"
Counterfeit – "He's Gonna Step On You Again"
Arachnophobias – "16 Tons"
compute – "Goodbye"
DJ Man-Machine – "Do You Wanna Dance"
Den där killen – "Heart Of Gold"
Clark Gable – "Action"
Dvala – "Metal Guru"
Steelberry Clones – "Superfly"
Page – "Coz I Luv You"
Tectonic Knights – "She's A Lady"
Angaudlinn – "If You Want Me To Stay"