The official video to the track "Closing My Heart" from Kite, taken from the EP "IV".
Nice quirky synth sounds from Ellen Alien, enjoy
Artist: Ellen Allien
Title: Take Me Out
Title Album: Galactic Horse
Release Date: 23.03.2012
Label: BPitch Control
Comp: Pfadfinderei
DOP: Lisa Wassmann
Cut: Annikki
Dancer: Elsa Loy
Year: 2012
Length: 03:35
LC: 11753
CAT NR.: BPC248
ISRC: DEAE6-12-10224
EAN VIDEO: 4050486076774
Genre: House, Electronic
Nationality: German
Music produced by: Ellen Allien, co-produced by Skinnerbox
Composer: Ellen Allien
Vocals written and performed by: Ellen Allien
published by BPitch Control Music Publishing
under courtesy of BPitch Control
Taken from the single "GALACTIC HORSE" (BPC248)
www.bpitchcontrol.de
BPC Webshop
https://www.bpitchcontrol.de/market/browse?search=galactic+horse
The electropop/EBM project Ayria with Jennifer Parkin behind its pedals is back with the brand new single "Hunger".
The track is the first sound from her upcoming new studio album "Plastic Makes Perfect", which is the first new material to be released since the album "Hearts For Bullets" from 2008.
Instead of letting her fans wait for the full album, Jennifer decided to release the "Hunger" track immediately as a standalone download from both her Bandcamp site and from iTunes.
On the Bandcamp site you can immediately download the 1-track in your choice of MP3 320, FLAC, or just about any other format you could possibly desire. The digital album includes extra goodies: handwritten lyrics, the high rez cover art and the original photo from the cover.
All proceedings from the sale will go into production costs, as well as funding an upcoming video shoot for the "Hunger" song.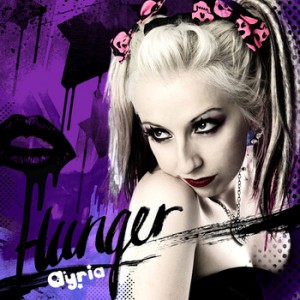 Here's a new video featuring Japanese electro pop group Battery Operated, famous for only using instruments powered by batteries, such as the Nintendo DS:
We are having a release party for our first album "Battery Operated: Girls Only." Come see us throwing ultimate electronic tunes with our nintendo DS!! We are a group of female music composers exclusively uses the battery operated electronic musical instruments, such as KORG DS-10, KORG M01, monotron, monotribe, kaosillator, mini-KP, microKORG, and so on, to make music.

Official Website: 
‪http://denchikudoushiki.web.fc2.com/‬
SoundCloud:
 ‪http://soundcloud.com/battery-operated‬
David Morales and Roisin Murphy – Golden Era (Official Video)
Buy the single here: http://goo.gl/YzC6H
David Morales and Roisin Murphy – Golden Era (Official Video) from Ultra Music
Ultra Music
http://www.ultramusic.com
Here's a nice teaser from The Sound of Arrows new album called "Hypnerotomachia Poliphili"
Enjoy
This is the new official video for Cinemascape's single "Night Vision", from their debut album "The Falling Impossible" which is re-released on April 6. The video was directed by Cinemascape and Henrik Palm.
The debut single from the forthcoming album 'Orkney: Symphony of The Magnetic North'.
http://www.facebook.com/themagneticnorth
http://www.twitter.com/magneticgonorth
http://www.symphonyofthemagneticnorth.com
Director/Editor/Animation: Tal Rosner
DOP: Adam Woodhall
Lighting Designer: Zoe Spurr
Stylist: Hannah Birchall
Make-up Artist: Portia Graham
Hair: Hiro Hirata
Grading: Sonny Sheridan at The Farm
Producer: Tal Rosner
With thanks to Jack Clough
Taken from the forthcoming album "Cretinism"
Video shot by Elina Kasesalu, Evert Palmets and Indrek Kasesalu
Edited by Elina Kasesalu
"A huge thank you to Elina, Evert, Indrek and Fred!
If You like it, share it with your friends and spread the good word, thanx in advance!"
Forgotten Sunrise brings you negative music for positive results…stay in touch:
http://www.forgottensunrise.com
The second single from the debut album "A long wait beneath the snow". Visit www.facebook.com/e.fitger for more music.
Music video for the song "Anticulture" taken from the album "Deworlded".
Video filmed and edited by Michael Dickinson at Slimelight, London 2012.
INERTIA WEBSITE
www.inertia.gs