To Ableton with love I guess hehe
Hitler learn about bitwig studio – info on the new DAW we reported on yesterday:
Bitwig Studio is a multi-platform music-creation system for production, performance and DJing, with a focus on flexible editing tools and a super-fast workflow.
"Cool vintage portable, ruining "Sleepwalk" by Santo & Johnny. Laughter/background vocals by the kids."
This apparently emerged in 1977: Simply great! Listen to your own favourites and play to them. A masterpiece of a time where mothers were happy and children were creative!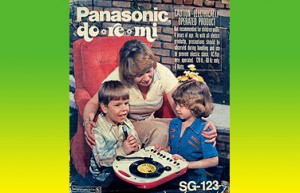 Via WTE
Wearable DJ Quality Drum Machine Thumps out Sweet Digital Rhythms
This fully-playable t-shirt based drum machine lets you make complex beats with ease while strolling down the boulevards of funky-town. Not only do you get 9 different drum kits at your disposal, you can create your own drum loops just like a professional drum machine. Simply tap the drum pads on the front of the shirt to create a rhythm. Once your loop is created, layer additional beats on top to build up a complex rhythm. You can make loops up to 3 minutes long and you've got unlimited tracks to play with.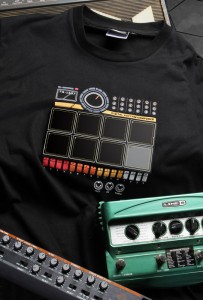 The ThinkGeek GeekLab™ boffins have done their best to cram as much amazing musical functionality into one shirt than ever before. With a little practice you can make amazing dynamic beats that evolve as you add layers of sound. Watch the video below to see exactly what we mean.
Product Features
Real Working Wearable Drum Machine & Looper
9 Different Drum Kits with 7 professional grade drum sounds each

ROCK DRUMS
RETRO 808
DISCOTEK
TECHNO PUNK
CLASSIC JAZZ
BASS INVADERZ
CHIPTUNE
ZAPF DINGBEATS
SCRATCHY

Records and Loops Your Rhythms
Record loops up to 3 minutes in length
Create a loop, then build and layer beats on top with unlimited tracks
Amazing 7-voices (you can actually hit all 7 drum pads at once)
Mix and match sounds from the different built-in drum kits in one loop
Working mini amp clips on your belt and goes to 11
Built-in analog audio output jack
Exclusive product invented and designed by ThinkGeek (Patent Pending)
Fully washable. Electronics and drum pads easily remove from shirt.
Requires 4 x AA Batteries (not included)
The touching, terrifying, and turbulent story behind Pugs Luv Beats, the brand new music game for iPhone and iPad from Lucky Frame! Find out more at http://www.luckyframe.co.uk/pugsluvbeats
Have fun….I guess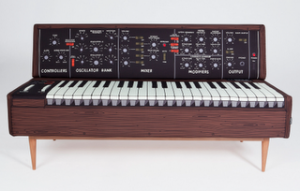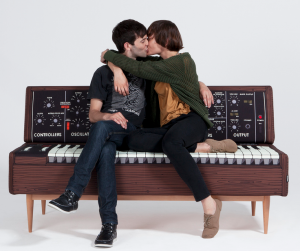 See http://bassling.blogspot.com/search/label/park%20remix%20… for detail on this project to remix parks within Leeton for the centenary of the town.
"Here's the result of my visit to the park that's at the heart of Leeton and the setting for many town events, like the upcoming Light Up Leeton concert for Christmas. I've stuck to the playground here though. "
Ritornell's business cards are inspired by the project's live show. The improvised concerts evoke a lively atmosphere by the combination of filigree electronics with playful timbres of diverse acoustic instruments and utensils such as egg whisks, toilet brushes, chopsticks or sewing needles. As an integral part of their set list, Ritornell invites the audience to bring along their private musicboxes. Arranged in a big circle, the players' speed of turning levers is conducted: the results are as shimmering as you would expect.
Katharina Hölzl designed very special business cards to recreate this playful sonic universe. With the aid of laser assisted milling, nine micro compositions consisting of circles, triangles and Ritornell's contact information were applied onto a long musicbox paper stripe. Before handing out the cards to interested adressees, each individual subdivision is played back via an especially designed musical box – thus providing every business card receiver with a tailor made musical experience.
Pictures and information:
richard.ritornell.at/​index.php?show=musicbox_cards&w=1
What if you would be able to generate music by the simple act of riding your bike? This project started with that question. We have build the first prototype and thanks to Jeffry Sol and Vincent Beijersbergen we were able to do so in a month. And yes it was pretty difficult, but loads of fun…. the idea is pretty simple; basicly, a wheel and dynamo work the same way as a record player. But it was not as easy as it looks. First, we had to come up with a solution for the wheels; how can we change the records? The forfork was blocking the wheel. That's why we changed a 30 year old bike into a lefty bike; and build a construction that would still support the weight and would be strong enough for people to ride on it. The biggest challenge of all was to make sure that the needles would stick to the record and follow the grooves, without skipping too much. Therefor we bought two vertical record players and took them apart, to see how they worked. Also; we wanted our bike to be as low tech as possible; that's why the only "extra" energy we used was a 9 volt battery to support the amplifier. In order for the records to run smoothly, we also had to change the crank of the bike and the chain. After that, we build our own horn, to have some extra volume, and we sprayed the whole bike black. We had some sponsors like bikestores, handy people and DJ's and that's how our dream in progress turned out to be real… Here's to the crazy ones; thank you guys, you rock. – Merel, Pieter and Liat
Caught this funny video on my G-Reader this morning.