At KVR a nice article has been posted covering the history of the DAW and how it all began, below is a quick excerpt from the article and some snapshots: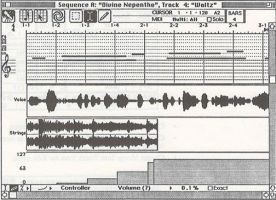 "In 1986 Opcode was the leader in patch librarian and MIDI interface sales so we had a pretty good idea of the size of the market and how fast it was growing, but we had a problem with our sequencer. Although we had loyal and passionate customers we were #3 behind both Performer from MOTU and Mastertracks from Passport in terms of sales. We believed we could change this by reinventing our sequencer and incorporating both a list view like Performer and a graphic piano roll view like Mastertracks. The primary editing windows were linked in such a way that the user could easily move back and forth to match the type of editing they were doing. The commands were set up to optimize the strengths of each type of editing. Whenever you made a change on one window it was automatically updated in the other, saving time and effort when you switched between views. There was a powerful strip chart feature in the graphic window where you could edit note parameters like Velocity and Pitch Bend, which hadn't been done at the time.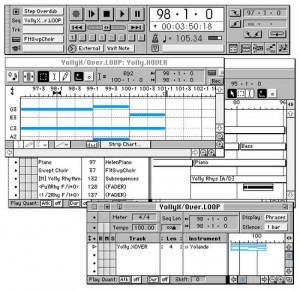 Like Opcode with our MIDI interfaces, Digidesign was the market leader in hard disk recording hardware with both their Sound Tools product, which connected to the Mac through SCSI, and their lower cost NuBus Audiomedia card, which was designed for the fast growing 'multimedia' market. As they moved more into hard disk recording their primary competition was New England Digital. NED was marketing an extremely expensive system called the Post Pro. Though they were interested in the high-end market Digi knew that they didn't yet have the feature set to appeal to post production customers so they were looking for ways to broaden their market beyond sound designers."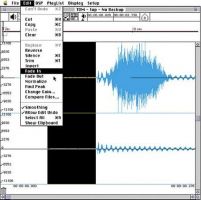 http://www.youtube.com/watch?v=Btg_1kV3-4E
A look at the new role of personal computers in making music. Products demonstrated include Super Jam from Blue Ribbon Soundworks, Encore for Windows from Passport Designs, EZ Vision and Studio Vision from Opcode Systems, and the Miracle Piano. The show incudes visits to the Stanford Center for Computer Research in Music and Acoustics and the annual National Association of Music Merchants (NAMM) convention is Los Angeles. Originally broadcast in 1992.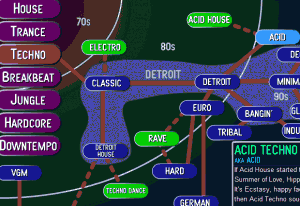 To get the answers to these questions and to learn more about electronic music all you have to do is pay a visit to Ishkur's Guide to Electronic Music.
Ishkur's Guide to Electronic Music is a free to use website. Basically it is exactly what its name suggests: a guide that will help you understand electronic music better. On the site's homepage you will find a tutorial that will detail the history of electronic music and the equipment used to create the music. Apart from that tutorial you also have various subgenres of electronic music listed on the left pane of the site. Click on any subgenre and its music samples will be presented on the right.
Features:
Learn more about electronic music online.
Interactive guide to electronic music.
Details the subgenres of electronic music.
Lets you listen to many popular electronic music songs.
Songs are categorized decade-wise.
Visit: techno.org/electronic-music-guide
A close minded sampling of tracks showcasing the history and development of electronic music over the past 50 years. For my senior project, "The History of Electronic Music."
http://www.youtube.com/watch?v=EC64dQWRAvg
Via R41N570RM