I can't say I am circuit bending guy myself, but it is pretty nice to get this insight to the world of circuit bending in all its aspects.
Circuit bending is the creative customization of the circuits within electronic devices such as low voltage, battery-powered guitar effects, children's toys and small digital synthesizers to create new musical or visual instruments and sound generators.
Emphasizing spontaneity and randomness, the techniques of circuit bending have been commonly associated with noise music, though many more conventional contemporary musicians and musical groups have been known to experiment with "bent" instruments. Circuit bending usually involves dismantling the machine and adding components such as switches and potentiometers that alter the circuit.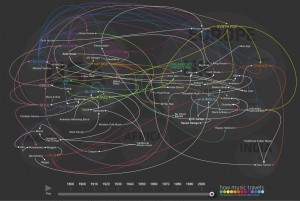 Click to enlarge
Provides a pretty decent overview on the evolution of electronic music and its roots. For those who wants to know more on the subject there are loads of books, check out this link for example:
http://www.amazon.com/Electronic-Music-Pioneers-Ben-Kettlewell/dp/1931140170
"We were fortunate to have Herb Deutsch join us for Moog Fest 2010 in Asheville, North Carolina. In this video, Herb shares his thoughts on the events that led to the birth of the Minimoog." Background: Deutsch had assembled a theremin based on Moog's design in 1962 and in November, 1963 he introduced himself to Moog at a music-education conference in Rochester, NY. In 1964 Moog and Deutsch started investigating the possibilities of a new instrument to aid composers. Deutsch has been credited with the keyboard interface of the Moog. He composed the first piece ever for the Moog ("Jazz Images – A Worksong and Blues) and performed early Moog concerts at The Town Hall and The Museum of Modern Art in New York (1969's Jazz in the Garden.
This is a nice initiative well worth supporting. Formally known as: MODULAR: The Documentary, the film is currently in production, directed by Robert Fantinatto, original score by SOLVENT. This is the extended promo video and features some of the east coast participants such as Morton Subotnick, Sean McBride (Martial Canterel) and Jason Amm (Solvent). The film is still in production with a west coast shooting block coming up, along with European locations.
We are currently raising funds to complete the film, please visit:
http://www.indiegogo.com/I-Dream-of-Wires?a=269090&i=addr
There are some great incentives for even modest contributions.
To keep up to date on the production visit:
http://www.facebook.com/pages/Modular-the-documentary/106157466146310
This rare video from the late 1990s features Terrence Parker, Mike Huckaby, Juan Atkins, Ritchie Hawtin, Derrick May, Kevin Saunderson, Carl Craig, Rolando, Jeff Woodward, Gary Koral, Josh Glazer, Jon Ozias, Theorem, DJ Dunebugg, (with special cameo appearances by Mike Grant, Brian Bonds, Don Waxmaster D Smooth, Hugh C, and Todd Weston).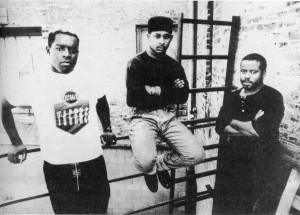 Detroit techno music was originally thought of as a subset to Chicago's early style of house. However, some critics believe that the Detroit techno movement was an adjunct to house music, named for the new style of music played at a Chicago nightclub called "The Warehouse". Although producers in both cities used the same hardware and even collaborated on projects and remixes together, Detroiters traded the choir-friendly vocals of House for metallic clicks, robotic voices and repetitive hooks reminiscent of an automotive assembly line. Many of the early techno tracks had futuristic or robotic themes, although a notable exception to this trend was a single by Derrick May under his pseudonym Rhythim Is Rhythim, called Strings of Life. This vibrant dancefloor anthem was filled with rich synthetic string arrangements and took the underground music scene by storm in May 1987. With subtle differences between the genres, clubs in both cities included Detroit techno and Chicago house tracks in their playlists without objection from patrons (or much notice by non-audiophiles).
The three individuals most closely associated with the birth of Detroit techno as a genre are Juan Atkins, Kevin Saunderson and Derrick May, also known as the "Belleville Three". The three, who were high school friends from Belleville, Michigan, created electronic music tracks in their basement(s). Eventually, they were in demand at local dance clubs, thanks in part to seminal Detroit radio personality The Electrifying Mojo. Ironically, Derrick May once described Detroit techno music as being a "complete mistake…like George Clinton and Kraftwerk caught in an elevator, with only a sequencer to keep them company.
You can't talk about electronic music without mentioning Detroit. That's why in the second edition of Real Scenes, RA and Bench went to the city which birthed the genre we now call techno.
Detroit has always had a creative streak, due in large part to the boom and subsequent bust of the auto industry. Quite simply, Detroit is a city of extremes, and its music reflects that. These days, Detroit's importance in the global electronic music scene is often referred to in the past tense. When we visited the city, though, we found a number of artists with their eyes (and ears) firmly set towards the future. After our time in the Motor City, it's clear to us that Detroit will endure and innovate for years to come.
Visit the feature page on RA: residentadvisor.net/​feature.aspx?1382
Reformat the Planet (RTP) is a feature length documentary which delves into the movement known as chip music, a vibrant underground scene based around creating new, original music using obsolete video game hardware. Familiar devices such as the Nintendo Game Boy and Nintendo Entertainment System are pushed in new directions with startling results.
This version of Reformat the Planet is tailored specifically for Youtube with all new annotations. If you have never watched the film before you may want to turn them off for the first viewing.
Reformat the Planet is available to purchase on DVD from 2 Player Productions at-
http://shop.indieblitz.com/2player
This all new 2 disc set features remastered picture and audio as well as tons of bonus features.
DISC 1: REFORMAT THE PLANET:
All new Director's Cut of Reformat the Planet
Commentary track with the Filmmakers
Additional Interviews
Deleted Scenes
Trailers
DISC 2: REFORMAT THE PLANET 1.5:
All new documentary short RTP 1.5
Commentary track with the Filmmakers
Music videos
Conversations feat. Johan Kotlinkski, Peter Swimm, and David Sugar
Chip music tutorials feat. Glomag and Bit Shifter
Plus a full color 16-page collector's booklet featuring photos and all new essays from critics and noted members of the chip community.
Slices – Pioneers Of Electronic Music Vol. 1 – Richie Hawtin. The 70 min documentary features an extensive archive of unreleased photos, video and interviews.
The launch of this DVD special series, Slices – Pioneers of Electronic Music celebrates in detail the life and work of prominent artists or "pioneers" in the global electronic music scene. The first edition is a documentary film based on electronic producer, performer and industry icon, Richie Hawtin. The film draws from the important stages and events in Richie Hawtin's personal and artistic life, revealing the journey of an introverted and transplanted computerminded teen that develops by way of Detroit's radio and records fueled by pure driven passion into a successful techno-entrepreneur and global DJ entertainer. Assembling an extensive archive of both new and un-released photos, video and exclusive interviews, the film provides an extraordinary insight into the life and career of one of the most successful activists in techno history: Richie Hawtin.
Chamberlin is ancient sampler! It used 1950's latest technology Magnetic Tape for sound recording (sampling).
It has 8 tracks (Sound Effects, Trumpet, Flute, Cello, Organ, Violin, Female voice, Organ) and has stereo output.
from My synthesizer photo library.
Created using the Stupeflix Youtube App
Follow the life of the Minimoog Synthesizer from its inception through its prolific contributions to poplular music throughout the last 4 decades.
In this first installment documenting the journey of the Minimoog synth through the 1970's, we explore the musicians and the people that were instrumental in bringing the instrument to prominence. We also sit with one of Moog Music's earliest engineers, Bill Hemsath, who recalls the process of the Minimoog's birth and sheds some light on what sets the Moog synthesizer apart from other analog synths.