Radio DJ Paul Gambaccini interviews the members of Depeche Mode at home and in the studio in this exclusive documentary footage from 1993 for From The Vaults on The Warner Sound.
From The Vaults is the weekly unveiling of the documentaries, interviews, and performances unearthed from the Warner library.
Subscribe to The Warner Sound:
http://goo.gl/8LzoM
New teaser from the "I dream of wires" electronic music documentary that is in the makings:
Canada holds a significant place in the history of electronic instrument development: from the ground-breaking inventions of Hugh Le Caine in the 1940s to the innovations at the University of Toronto's Electronic Music Lab in the 1960s. Recently, Canada has again come to play a significant role with the modern day resurgence of modular synthesizers; it is home to two highly respected manufacturers: Modcan, founded by Toronto's Bruce Duncan, was the first company to reintroduce modular synthesizers to the post-MIDI marketplace, and Intellijel, founded by Vancouver's Danjel Van Tijn, is one of the fastest growing and most respected lines of Eurorack synthesizer modules.
For more info on Modcan, visit: modcan.com
For more info on Intellijel, visit: intellijel.com
Music/sound: Jason Amm (Solvent), Bruce Duncan (Modcan), Danjel Van Tijn (Intellijel), John Elliot (Emeralds)
Catch I DREAM OF WIRES' showcase at Mutek Montreal 2012: Saturday June 2 @ Satosphere, with live performances, all incorporating modular synthesizers, by Sealey/Greenspan/Lanza (Orphx/Junior Boys), Keith Fullerton Whitman (Kranky/Editions Mego), Solvent (Ghostly International/Suction Records), Clark (Warp Records), and Container (Spectrum Spools).
I DREAM OF WIRES is a forthcoming documentary film about the history and resurgence of modular synthesizers. The film is currently in production. This is the 5th in a series of extended interviews, which will be produced and released in various formats throughout the production, and following the release, of the film. I DREAM OF WIRES extended interview segments are sponsored by MATRIXSYNTH (m.matrixsynth.com).
For info on the film: facebook.com/idreamofwiresdocumentary
Another snippet from the soon to be released "I dream of wires" synth documentary:
In April 2012, the I Dream of Wires team stopped by the studio of legendary Detroit techno producer Carl Craig, to discuss his electronic music influences and production experiences, including his recent interest in eurorack modular synthesis. Craig's experiments in modular synthesis are best heard on 2010's "Modular Pursuits" 12-inch, released under his No Boundaries alias.
For more info on Carl Craig: carlcraig.net
Music, used with permission from Planet E (planet-e.net):
"Desire" by 69
"Pursuit 1", "Pursuit 2", "Pursuit 3" by No Boundaries.
I DREAM OF WIRES is a forthcoming documentary film about the history and resurgence of modular synthesizers. The film is currently in production. This is the 4th in a series of extended interviews, which will be produced and released in various formats throughout the production, and following the release, of the film.
Not completely new, but we seemed to have missed it:
An interview with the great man himself, taken from the documentary 'Totally Wired'. Dieter talks about the inspiration for the A100 series, his collaborations with Kraftwerk, and the future of modular. Unmissable!
'Totally Wired' is available on DVD from amazon.com
Thomas Dolby Explains Synthesizers on Kid's Show
When Farkas buys a robot to help him get rid of the musicians of Faffner Hall on Make a New Sound Day, the gang borrows some parts from the robot to construct a synthesizer so they can make all kinds of new sounds. Fughetta doesn't understand how a synthesizer works so the Wild Impressario turns to his best source, Thomas Dolby, to explain it to her.
http://vimeo.com/37393905
Just in time for their new tour in the states that we have reported on earlier this week, this new video documentary appears. Mkae sure to check it out.
Enjoy 😀
For fans of krautrock, drone, ambient, and electronic music, Kraftwerk and the Electronic Revolution is a fascinating history of how some of the most influential music of our times emerged from the boredom and hopelessness of 1960s Germany. The filmmakers take the subtitle of their movie very seriously, and they want to crawl back to find the Big Bang of cultural influences that would make something as innovative as Kraftwerk possible. It's not an unimportant question, since the ideas the electronic musical collective would establish in their 1970s output would influence everyone from glam rockers like David Bowie and Brian Eno to early hip-hop pioneers and New Wave bands like Duran Duran, and on into today, where techno and arty experimentalists like Radiohead still borrow from the German group's bag of tricks. Even wuss-rockers Coldplay lifted the hooks for their song "Talk" from "Computer Love," somehow achieving the impossible and proving one could actually be bigger nerds than the pasty originals, Florian Schneider and Ralf Hütter. And that Kraftwerk core duo likes to dress up as robots, so you know they're plenty nerdy.

Kraftwerk and the Electronic Revolution traces the rise of German music back to the influx of British bands that went to the European country to ply their trade in the early 1960s. (The Beatles most famously cut their teeth in Hamburg nightclubs.) At that point, German youth were looking to establish a new identity that embraced the freedom of the West and finally unshackled them from the shame of their country's past—much in the same way Pete Townshend has argued that British rock stood in direct defiance of an older generation in England who were always rubbing past glories in the faces of their children. Though German musicians initially copied their British idols, who themselves were copying African American blues musicians, eventually they would want something that was more in tune with their own experience. As Karl Bartos, one of two former Kraftwerk members to participate in this unauthorized film, put it, they knew they weren't from the Mississippi Delta, so why pretend they were?" – James S. Rich
Herb Deutsch, the co-inventor of the first Moog synthesizer discusses the history and functions of the Mini Moog as well as its impact on the music of the time. Deutsch also plays one of his original jazz fusion pieces.
Though its design impacted the industry in a way that set the stage for all the synthesizers that came after it, the Minimoog is probably most famous for its excellent analog sound and arguably the best filters in a portable synth. It featured three oscillators (one of which can be used as an LFO) that could be individually tuned and offered multiple waveforms. The Minimoog is monophonic (only one note can be played at a time) so the three oscillators allow for an incredibly rich sound – three de-tuned oscillators each playing a different waveform can create some pretty thick analog sounds! There are also some very cool modulation possibilities when using one of the oscillators as an LFO.
But you can't talk about the Minimoog without mentioning its filters. The Minimoog uses a 4-pole (24 dB/oct) low-pass filter with cutoff, resonance, ADS envelope, and keyboard tracking controls. Amazingly, Dr. Moog's filter design has yet to be surpassed by a better sounding filter. It's a filter that sounds so warm and smooth that Moog's rival, ARP, tried to copy it for their 2600 and Odyssey synths.
The Minimoog's internal wiring configuration and front panel layout has defined the general synthesizer configuration for decades. Every adjustable parameter is so clearly laid out on the front panel that the Minimoog makes a great teaching tool for anyone interested in classic subtractive synthesis. It even has a built-in A-440 tone generator so you can manually tune the oscillators-which is nice since (like mosts analog synths that heat up) the tuning of even this machine can be a little bit unstable. Though input jacks allow you to run your own external audio through the Minimoog's filters, modulation and amplifier circuits too!
Directed by Michael Sterling
The story of Stevie Wonder's technical challenge to Ray Kurzweil that ultimately motivates the inception of Kurzweil Music Systems.
The new film tells the story of Stevie Wonder's challenge to Inventor and current Chief Strategy Officer, Ray Kurzweil, to accurately recreate the sound of a Grand Piano using the same technology used to created Stevie Wonder's new Print to Speech reader system for the blind.
Upon the inception of Kurzweil Music Systems, Ray and Stevie team up with Bob Moog and Howard (Hal) Chamberlin, scientist and author of the technologically ground breaking book Musical Applications of Microprocessors.
It all started with Ray has now been published on Kurzweil's new YouTube channel, KuzweilUSA.
More information:
As the 90s came to a close, the business of music began to change profoundly. New technology allowed artists to record and produce their own music and music videos, and the internet became a free-for-all distribution platform for musicians to promote themselves to audiences across the world. The result was an influx of artists onto the cultural scene, and audiences were left wondering how to sort through them all. In this episode we discuss these massive changes, and reveal how music blogs and websites have arisen as the new arbiters of quality.
Featuring:
Jon Cohen, Co-Founder, FADER Label
Ryan Dombal, Senior Editor, Pitchfork
Blake Whitman, VP of Creative Development, Vimeo
Anthony Volodkin, Founder, Hype Machine
Music by:
Flex Blur: soundcloud.com/flex-blur
Mindthings: jamendo.com/en/artist/mindthings
Dub Terminator: jamendo.com/en/artist/DUB_TERMINATOR
Nestor Gonzalez: jamendo.com/en/artist/Nestor_Gonzalez
Special Location thanks to Converse Rubber Tracks Studio
Artists from Music Video Section:
Rihanna – We Found Love – vimeo.com/33123323
Miss Eaves – Diva Pop – vimeo.com/34415367
My First Earthquake – We Float – vimeo.com/31941995
Moullinex – Catalina – vimeo.com/19723907
Sleigh Bells – Riot Rhythm – vimeo.com/16668477
Keep The Heat
Morning Teleportation – Expanding Anyway – vimeo.com/14304059
Da Silva – Les Stations Balnearies – vimeo.com/33569324
Goose – Synrise – vimeo.com/20913850
Tim and Puma Mimi – Perspective – vimeo.com/11742651
DYE – Fantasy – vimeo.com/30798517
Dan Wholey – Amateur Rocketry – vimeo.com/29672263
Health – We Are Water – vimeo.com/10818338
Colours – Colourfornia – vimeo.com/26906724
Dancing Pigeons – Ritalin – vimeo.com/13639493
The Naked And Famous – The Sun – vimeo.com/27790801
The Limousines – vimeo.com/18665622
Flying Lotus – Kill Your Co-Workers – vimeo.com/15568767
Follow Off Book:
Twitter: @pbsoffbook
Tumblr: pbsarts.tumblr.com/
Produced by Kornhaber Brown: kornhaberbrown.com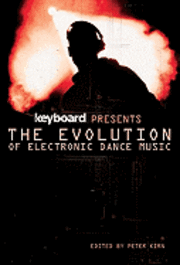 From roots in '70s New York disco and '80s Detroit techno to today's international, mainstream explosion of such genres as house, trance, and dubstep, electronic dance music has reshaped the popular musical landscape. This book digs deep through the archives of "Keyboard" magazine to unearth the insider history of the art and technology of the EDM movement, written as it happened. We hear from the artists who defined the genre (Jean Michel Jarre, Depeche Mode, Deadmau5, BT, Kraftwerk, and more). Revisit the most significant synths, beatboxes, and musical tools that made the music possible, through the eyes of those who first played them. Learn the history, then the expert techniques behind the music, so you can apply the same craft to your own music and mixes.
I will let you know what I think of it when I've read it