http://youtu.be/yOoB0YSVuKw
VCMG' second release from 'Ssss'
VCMG release one of 2012's most anticipated musical collaborations with the album 'Ssss', out on 12 March 2012.
It marks the long awaited reunion of electronic pioneers Vince Clarke (Erasure/ Yazoo/ Depeche Mode) and Martin L. Gore (Depeche Mode)
Ssss Tracklisting:
Lowly
Zaat
Spock
Windup Robot
Bendy Bass
Single Blip
Skip This Track
Aftermaths
Recycle
Flux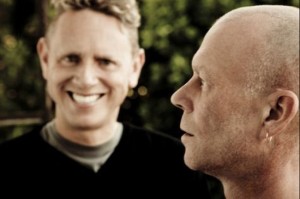 The arrival of Vince Clarke and Martin L Gore's VCMG project in the form of belting single 'Spock' was a highlight of the end of 2011, a sturdy techno edifice that came remixed by the likes of Regis, DVS1 and XOQ.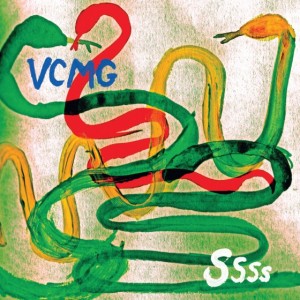 Now comes information on VCMG's debut album. Ssss is released via Mute on March 12th, and will be preceded by a second EP called 'Single Blip'. Say Mute "Clarke and Gore worked alone in their respective studios, communicating only via email and exchanging files until the album was ready." Stay tuned to the Quietus for more on VCMG, and in the meantime check out the Ssss tracklist below:
Lowly
Zaat
Spock
Windup Robot
Bendy Bass
Single Blip
Skip This Track
Aftermaths
Recycle
Flux
MOTOR feat. Martin L. Gore "Man Made Machine"
Audio Buy Link @ itunes: http://tiny.cc/smg1w
Video Buy Link @ itunes: http://tiny.cc/g75fr
Bryan Black and Oly Grasset, who together form the act MOTOR, have shifted gears and recorded a song-based vocal album entitled 'Man Made Machine'. The first single also titled "Man Made Machine", features the vocals of none other than Depeche Mode's Martin L. Gore.
Apart from the original extended version, there are additional remixes by Black Asteroid, Radio Slave and Chris Liebing available at http://www.clr.net/data.pl?release=CLRX1MP3
VCMG – Spock [Pitchfork Exclusive] by Mute UK
Me like
Awesome

http://youtu.be/L9qDXmFOJWQ
2011-11-29 – RTVE (Spain) – Siglo 21
Siglo 21 – VCMG – 29/11/11 29 nov 2011 VCMG son Vince Clarke (Erasure) y Martin Gore (Depeche Mode). Se han reencontrado para este proyecto que presentamos ya en Siglo 21. También la música del Professor Angel Sound, RM Humbert y Kludge, entre otras novedades. En Contenedores de Arte, Display Canarias.
VCMG's Spock premiered in full on the Spanish radio station RTVE: http://www.rtve.es/alacarta/audios/siglo-21/siglo-21-vcmg-29-11-11/1260920/
In the middle of the podcast you can listen to the track.
NEWS ON THE STREET:
Both Depeche mode and OMD has announced that new albums are on their way. OMD has already confirmed that they have begun work on their next release, to be called "English Electric". Depeche Mode, on the other hand, is scheduled to meet in January to discuss the next album, with recording provisionally set to start in March.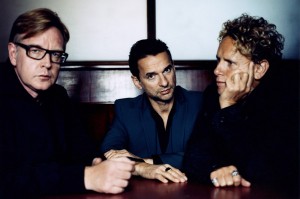 Vince Clarke (Erasure, Yazoo, Depeche Mode) and Martin L. Gore (Depeche Mode) have announced that they are releasing an album as VCMG. It's the duo's first collaboration in 30 years.
According to Clarke and Gore, VCMG is an opportunity for the duo to "exercise their lifelong love of the genre as the techno-inspired VCMG."
"I've been getting into and listening to a lot of minimal dance music," says Clarke. "I got really intrigued by all the sounds."
"I realized I needed a collaborator," he adds, "so it occurred to me to talk to Martin."
"Out of the blue, I got an e-mail from Vince just saying, 'I'm interested in making a techno album. Are you interested in collaborating?'" says Gore. "This was maybe a year ago. He said, 'No pressure, no deadlines,' so I said, 'OK'."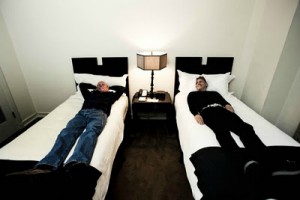 What do you think of the idea of Vince Clarke & Martin Gore collaborating again, after 30 years? And is VCMG the world's first electronic music supergroup?
VCMG – Spock
Clarke and Gore plan to release several EP's, as VCMG, followed by an album.
The first release is an EP entitled Spock. EP1 / SPOCK will feature remixes from Edit-Select, aka Tony Scott, the UK DJ / producer; Regis, British techno musician Karl O'Connor; Zak aka DVS1, founder of Hush Records plus XOQ, the alter ego of Überzone / Q, who mixed the VCMG album.
EP1/SPOCK will be available starting Nov 30th on Beatport, and in wider distribution on Dec 12. 12″ vinyl hits Dec 19th.
New audio (featuring Martin Gore on guitar) plus exclusive video clip. Compact Space – the band around Florian Kraemmer, Christian Eigner and Daryl Bamonte.
Compact Space recently signed a worldwide licensing deal with Ferryhouse Productions in Hamburg. The first album "Nameless" and "Push Push" EP will be released simultaneously on 24th June 2011.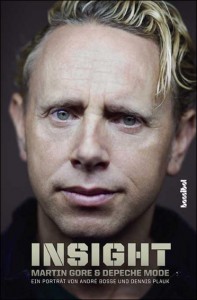 Whereas Depeche Mode frontman Dave Gahan already had several biographies gracing the shop shelves, neither Martin Gore or Andy Fletcher have had the 'chance' being selected for this treatment. Okay, Gore had his lyrics compiled in this book, but that wasn't a biography, was it. At least for Martin Gore that's about to change as the German freelance journalist André Boße and self declared fan Dennis Plauk wrote the book "Insight – Martin Gore und Depeche Mode: Ein Porträt" which can be ordered right here at Amazon GER).
The 240 pages book relates the life of the songwriter through which both authors 'try to find the secret of his success'. The book is basically mostly based on press articles, interviews and TV-coverage material. Add to that interviews with fans – let's hope those were interesting.
…fully equipped with their new fat single "Its not over" – should be a promising event I believe, Check out their new single below:
[youtube=http://www.youtube.com/watch?v=4C86Vc64swc]
Client's uniform image is always inspiring

and a departure from the norm, maybe a bit too obvious for the sensibilites of some who think they're exploiting their style. Take this picture for example, the trio are obviously pushing it, but is it done in an ironic way? or is it mere titilation?
Anyhow, S'Express mainman Mark Moore and top remixer 'Kinky' Roland Faber have turned in a very disco-danceable housey remix that ticks all the boxes.
mp3: client – it's not over (mark moore & kinky roland remix).