Novation has overhauled the vocoder on its flagship UltraNova hardware synthesizer. The free firmware update comes with 17 vocoder patches which are new to UltraNova, and is available, free of charge, to all UltraNova owners.
The UltraNova vocoder is a 12 band vocoder that can be fed by the included gooseneck microphone or other instruments via stereo line inputs. The overhauled vocoder algorithm improves the sound and performance of UltraNova's vocoder.
Other updated features include:
Separation and spread controls for moving the bands
Formant freeze
Adjustable band resonance and decay time
Vocoder runs at full bandwidth
Pricing and availability. The update for the UltraNova is available now, and free to all UltraNova owners, who can download the latest installer, which includes the firmware update, at this link. Additional free artist and sound-designer soundpacks – including banks from the original Supernova and Supernova II synths – available to download at this link.
UltraNova is a 'Nova' series analogue-modelling synthesizer with a powerful effects processor. It is a single-part synth taking the Supernova II synth engine, and "packing it" with the latest technology. The UltraNova now has features which include wavetable synthesis, more powerful filters, a software editor and a "revolutionary" new touch-sense performance mode.
ChipBeat "POLYGUN" (preview) // KORG Poly-800 & Novation Drumstation Demo track
(Trier Juni 2013)
Focusrite & Novation present: In the studio with Teddy Riley
We spent a day with Teddy, where he showed us around Future Recording Studios 2 and played us a brand new version of Guy's 1988 hit 'Teddy's Jam' on the Novation MiniNova.
Teddy Riley has always had the cutting edge on production. Highlights of his career include forming R&B super groups Guy and Blackstreet, co-producing and co-engineering Michael Jackson's Dangerous album (which has sold over 32 million copies) winning Riley a Grammy for Best Engineering non-classical. He has produced countless landmark records, such as the LP "Make it Last" Keith Sweat, Bobby Brown's 'My Perogative', Johnny Kemp "Just Got Paid", Blackstreet "No Diggity", The Hip Hop Classic "The Show", "Rugrats" The Movie and hit after hit for the late Heavy D and a long list of others.
Novation MiniNova Overview:
http://novationmusic.com/hardware-syn…
MiniNova is a compact, super-cool studio and live synth with the same sound engine as its big brother; UltraNova. It comes with 256 incredible onboard sounds that you can tweak with five knobs, or totally warp with eight 'animate' buttons. It has up to 18 voices with as many as five synth effects on each sound. MiniNova also has an onboard VocalTune™ effect as well as a classic vocoder so you can recreate iconic vocal sounds from hip hop, urban and electronic music.
Novation SL MkII Overview:
http://novationmusic.com/midi-control…
SL MkII is the advanced range of USB/MIDI controllers from Novation. They have been designed to give you complete control over your music making software. We have worked with each of the main DAWs to make sure each of the 56 knobs, faders and buttons control the things in your software that you need them to control including directly access to your plug-in instruments and FX (you also get an Italian made, semi-weighted keyboard mechanism).
Focusrite Control 2802 Overview:
http://focusrite.com/consoles/control…
Control 2802 is a super-flexible analogue console and an Ethernet-based DAW control surface in one. Precision analogue audio architecture delivers a superb, big studio sound, while Control 2802 demonstrates extraordinarily versatile routing capability, with cues and auxes available to provide up to 32 mix inputs and a DAW-integrated two-part in-line-style channel. Ethernet-connected HUI control layer allows DAW operation right from the console. There's no other small-format console quite like Control 2802: nothing sounds like it, and nothing offers this level of design sophistication, flexibility and control.
Using an enhanced version of the K-Station sound engine, the KS4 (four octave keyboard) and the KS5 (five octaves) offer many additional features and benefits.
The keyboards have aftertouch, are semi-weighted, and each of the 33 knobs and sliders transmit MIDI. There is four part multi-timbral operation with four individual assignable outputs. A big plus is a separate effects section for each part – a unique Novation feature from the Supernova. Also featured are 4 Arpeggiators and 16 note polyphony with a 16 band Vocoder.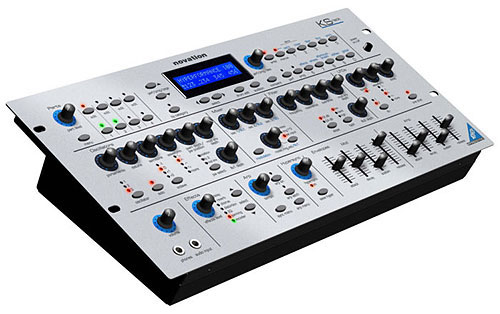 The KS-synths have 3 oscillators which provide sawtooth, triangle, sine, pulse width modulation and other waveforms. There's even a simple FM synth engine which can be dialed in for sharpening the sound. Oscillators may be set to Unison or Sync'd operation and a Noise source is also included in the waveform engine. There is a nice low-/band-/high-pass resonant filter with switchable 12 or 24dB/oct slopes and ADSR controls. A second ADSR envelope is available for the amp, as well as two LFOs with sample-and-hold and MIDI sync.
On-board effects include reverb and delay/chorus/flanger. Their send levels can be controlled by the Mod wheel which is a nice effect. A 12-band vocoder is also on-board for processing external mono sounds such as drum loops or vocals. Pads sound great when vocoded with external sounds. External sounds can also be used as an oscillator, run through the filters, envelopes, etc. with much better results than were possible on the original Bass Stations.
Ambient synth demo on Novation KS4 – KS5 synthesizer, playing chilllout arpeggiator music. The Novation KS4 / KS5 is a great synth keyboard for piano players to expand their musical horizons.

In this demo I'm utilizing 3 oscillators, arpeggiator, envelope, filter, resonance, LFO and reverb and delay effects.

Performed live, no external processing.
Novation KS4/KS5 synth demo — playing ambient, dreamy and relaxing drone meditation / chillout mood music.
Utilizing 3 oscillators, reverb, delay, chorus, filter/envelope adjustments, distortion and minor LFO changes.
Performed live, no external processing. Excerpt from a longer session.
This demo includes the Korg ES-1 sampler, Korg EM-1 workstation, and Novation DrumStation drum synth. The EM-1 is sequencing the DrumStation, the DrumStation is doing it's own sort of 909 impression, and the ES-1 is playing back the sample (Cathy Dennis "Touch Me", sampled off the 12″ single and pitched down). The ES-1 is also functioning as an effects unit with it's audio in being connected to an effects send on my mixer. The reverb is an Electro Harmonix Holy Stain.
Background video description from Sonic:
Novation were keen to give us another opportunity to see the new analog monosynth in the flesh in the altogether calmer and more forensic environment of our own studios. An extra bonus being we got time with Nick Bookman, a long time Novation guy who is also deep into the development of the instrument, and knows it intimately.
Bass Station II is an analogue mono-synth based on the classic original Bass Station but re-worked for the 21st century. It has two filters, two oscillators plus a third sub-oscillator, patch save and a fully analogue effects section. Add a step sequencer, arpeggiator, full sized keys and a powerful modulation section and you have the makings of a synth that is built for bass, but capable of so much more.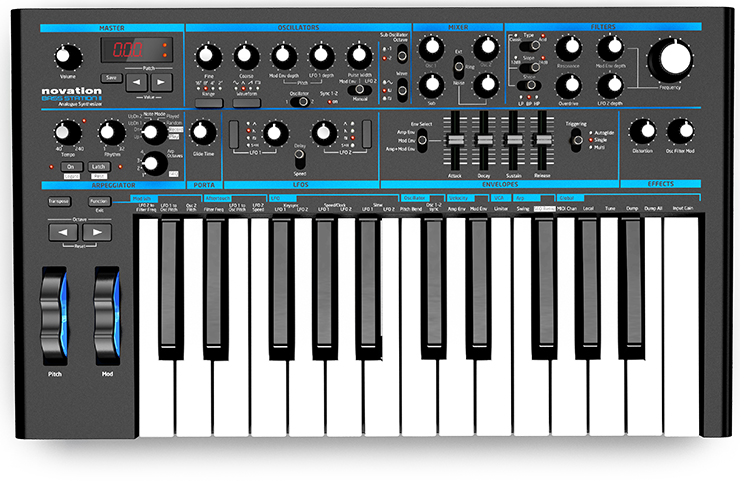 Bass Station II is an analogue mono-synth with a talent for bass, but a sound-engine that is versatile enough to kick out sharp leads and crisp arpeggios. It brings the best elements of the original Bass Station into a brand new design with re-worked modulation, effects, filters and more; like the Bass Station, but a much much bigger sound.
The signal path is pure analogue – including the effects section. The hardware has been laid out in modules with dedicated pots, switches, sliders and buttons for all major parameters. Critically, you can store and recall patches on Bass Station II. It comes with 64 killer factory presets, space for 64 of your own sounds on the hardware, and you can store more on your computer.
The key-mech consists of 25 full sized keys that are velocity sensitive with assignable aftertouch. It has been developed as a 'synth-action' keyboard, where each key is individually sprung so it is light to the touch and highly responsive to the synth engine. Bass Station II is a fully class compliant MIDI device with MIDI I/O on 5 pin din ports – for connecting to other MIDI outboard – and with your computer over USB. You can even connect an external instrument and run it through Bass Station II's analogue filter and effects.
Playing an ambient / chilllout arpeggiator music soundscape demo on Novation KS4 / KS5 synthesizer.
Utilizing 3 oscillators, envelope, filter, resonance, LFO and reverb adjustments.
Performed live, no external processing.
Sky White Tiger x MiniNova
Visit here for more details: http://novationmusic.com/mininova
~ LIKE our video and click 'show more' for additional information.
Music: 'Common' by Sky White Tiger.
All synth, bass and vocoder parts recorded using MiniNova.
Check out these other MiniNova videos:
Dorian Concept x MiniNova: http://youtu.be/9dZWJFKyUSc
MiniNova performance: http://youtu.be/uvDfHhuFF5w
Artist first look: http://youtu.be/m7fJ7nUWPkU
Vocoder and VocalTune™: http://youtu.be/IAgANvgD4KE
MiniNova is a compact, super-cool performance synth with the same sound engine as its big brother: the UltraNova. It comes with 256 incredible onboard sounds which you can tweak with 5 knobs, or totally warp with 8 'animate' buttons. MiniNova also has an onboard VocalTune™ effect as well as a classic vocoder so you can recreate iconic vocal sounds from Hip Hop, Urban and electronic music.
Novation MiniNova key features:
• Hugely powerful micro synthesizer with UltraNova's sound engine
• Brand new VocalTune™ and classic vocoder effects
• Live synth: tweak and warp your sounds in realtime
• 256 awesome onboard sounds – instantly searchable
• Layer up to 5 effects per voice
• Comes with editing software and a software patch librarian
• Run guitars and other instruments through the vocoder, VocalTune™ and effects
• 37 key controller keyboard with MIDI I/O
For more videos subscribe to our YouTube channel here:
http://www.youtube.com/novationtv
Novation Launchkey Tutorial: Controlling Cubase
http://novationmusic.com/midi-control…
~ LIKE our video and click 'show more' for additional information.
Quick tutorial video demonstrating how Novation Launchkey controls your DAW.
Artist: Perpetual Present
Title: Prophets not profits
Check it out here:
https://soundcloud.com/perpetual-pres…
Launchkey is a range of 25, 49 and 61 note keyboard controllers with up to 50 physical controls including 16 velocity-sensitive multi-colour trigger-pads that launch clips and scenes in Ableton Live. As well as enabling hands-on control of your DAW's mixer, instruments and more, Launchkey is an integrated software/hardware instrument. The control surface has been designed to work tightly alongside two intuitive apps for iPad: the Launckey app and the Launchpad app – plus the powerful V-Station & Bass Station synth plug-ins for Mac and Windows.
Novation Launchkey Key Features:
• Launchkey comes with a brand new Launchkey app and Launchpad apps for iPad and the powerful Novation V-Station and Bass Station synth plug-ins for Mac and PC
• Quick, hands-on control of your mixer, transport and more in Ableton, FL Studio, Pro Tools, Reason, Cubase and Logic
• Two rows of launch pads for playing and sketching out drum beats, or launching and improvising with loops using the Launchpad app – they also launch clips and scenes in Ableton
• Synth-styled velocity-sensitive keyboard with precision accuracy and fast action – software control via 50 faders, knobs, pads and buttons (35 on 25-note version)
• Instant access to major DAW control parameters — with no assignment necessary
• Fully bus-powered, even with iPad. Just plug it in and go, with no power supply or batteries
• One gigabyte of Loopmasters sample content including artist packs, drum samples and sound FX
• Ableton Live Lite included
For more videos subscribe to our YouTube channel here:
http://www.youtube.com/novationtv