Playing an ambient / chilllout arpeggiator music soundscape demo on Novation KS4 / KS5 synthesizer.
Utilizing 3 oscillators, envelope, filter, resonance, LFO and reverb adjustments.
Performed live, no external processing.
Sky White Tiger x MiniNova
Visit here for more details: http://novationmusic.com/mininova
~ LIKE our video and click 'show more' for additional information.
Music: 'Common' by Sky White Tiger.
All synth, bass and vocoder parts recorded using MiniNova.
Check out these other MiniNova videos:
Dorian Concept x MiniNova: http://youtu.be/9dZWJFKyUSc
MiniNova performance: http://youtu.be/uvDfHhuFF5w
Artist first look: http://youtu.be/m7fJ7nUWPkU
Vocoder and VocalTune™: http://youtu.be/IAgANvgD4KE
MiniNova is a compact, super-cool performance synth with the same sound engine as its big brother: the UltraNova. It comes with 256 incredible onboard sounds which you can tweak with 5 knobs, or totally warp with 8 'animate' buttons. MiniNova also has an onboard VocalTune™ effect as well as a classic vocoder so you can recreate iconic vocal sounds from Hip Hop, Urban and electronic music.
Novation MiniNova key features:
• Hugely powerful micro synthesizer with UltraNova's sound engine
• Brand new VocalTune™ and classic vocoder effects
• Live synth: tweak and warp your sounds in realtime
• 256 awesome onboard sounds – instantly searchable
• Layer up to 5 effects per voice
• Comes with editing software and a software patch librarian
• Run guitars and other instruments through the vocoder, VocalTune™ and effects
• 37 key controller keyboard with MIDI I/O
For more videos subscribe to our YouTube channel here:
http://www.youtube.com/novationtv
Novation Launchkey Tutorial: Controlling Cubase
http://novationmusic.com/midi-control…
~ LIKE our video and click 'show more' for additional information.
Quick tutorial video demonstrating how Novation Launchkey controls your DAW.
Artist: Perpetual Present
Title: Prophets not profits
Check it out here:
https://soundcloud.com/perpetual-pres…
Launchkey is a range of 25, 49 and 61 note keyboard controllers with up to 50 physical controls including 16 velocity-sensitive multi-colour trigger-pads that launch clips and scenes in Ableton Live. As well as enabling hands-on control of your DAW's mixer, instruments and more, Launchkey is an integrated software/hardware instrument. The control surface has been designed to work tightly alongside two intuitive apps for iPad: the Launckey app and the Launchpad app – plus the powerful V-Station & Bass Station synth plug-ins for Mac and Windows.
Novation Launchkey Key Features:
• Launchkey comes with a brand new Launchkey app and Launchpad apps for iPad and the powerful Novation V-Station and Bass Station synth plug-ins for Mac and PC
• Quick, hands-on control of your mixer, transport and more in Ableton, FL Studio, Pro Tools, Reason, Cubase and Logic
• Two rows of launch pads for playing and sketching out drum beats, or launching and improvising with loops using the Launchpad app – they also launch clips and scenes in Ableton
• Synth-styled velocity-sensitive keyboard with precision accuracy and fast action – software control via 50 faders, knobs, pads and buttons (35 on 25-note version)
• Instant access to major DAW control parameters — with no assignment necessary
• Fully bus-powered, even with iPad. Just plug it in and go, with no power supply or batteries
• One gigabyte of Loopmasters sample content including artist packs, drum samples and sound FX
• Ableton Live Lite included
For more videos subscribe to our YouTube channel here:
http://www.youtube.com/novationtv
http://www.synth4ever.com – Performing a dreamy ambient soundscape synth demo on Novation KS5 synthesizer.
Utilizing 3 oscillators, reverb, delay, chorus, filter/envelope adjustments and minor LFO changes.
Performed live, no external processing. Excerpt from a longer session.
Using an enhanced version of the K-Station sound engine, the KS4 (four octave keyboard) and the KS5 (five octaves) offer many additional features and benefits.
The keyboards have aftertouch, are semi-weighted, and each of the 33 knobs and sliders transmit MIDI. There is four part multi-timbral operation with four individual assignable outputs. A big plus is a separate effects section for each part – a unique Novation feature from the Supernova. Also featured are 4 Arpeggiators and 16 note polyphony with a 16 band Vocoder.
The KS-synths have 3 oscillators which provide sawtooth, triangle, sine, pulse width modulation and other waveforms. There's even a simple FM synth engine which can be dialed in for sharpening the sound. Oscillators may be set to Unison or Sync'd operation and a Noise source is also included in the waveform engine. There is a nice low-/band-/high-pass resonant filter with switchable 12 or 24dB/oct slopes and ADSR controls. A second ADSR envelope is available for the amp, as well as two LFOs with sample-and-hold and MIDI sync.
On-board effects include reverb and delay/chorus/flanger. Their send levels can be controlled by the Mod wheel which is a nice effect. A 12-band vocoder is also on-board for processing external mono sounds such as drum loops or vocals. Pads sound great when vocoded with external sounds. External sounds can also be used as an oscillator, run through the filters, envelopes, etc. with much better results than were possible on the original Bass Stations.
Here is a demo Jordan Passmore created with the Korg Electribe EM-1, Casio MT-40, Novation Drumstation, and Zoom SampleTrak ST-224. The EM-1 is doing the sequencing + bass/short stab sound + some percussion, the Casio is doing the square-wave lead tones, the Novation is doing the 909/808ish sounds and the SampleTrak is simply effecting the Casio with it's effects section (I will do a more exhaustive demo of the SampleTrak soon). The Casio is also being ran through a stereo analog chorus and analog delay. There is some compression done with a Roland MMP-2 on the master channel. The entire segment was mixed on a Tascam M-1600 mixing desk.
Steelberry Clones at MusikMesse 2013
Taking a close look at the Novation Bass Station II
Copyright 2013 Stereoklang Produktion
Audio demo:
The full sounds of the new analog synth from Novation, live from MusikMesse 2013
MESSE13: Novation Bass Station II Preview – We get an engineering preview
So, Novation follows the main trend of the past two year – the revival of analog synths, just like the MiniBrute, MS20 mini, Sub Phatty etc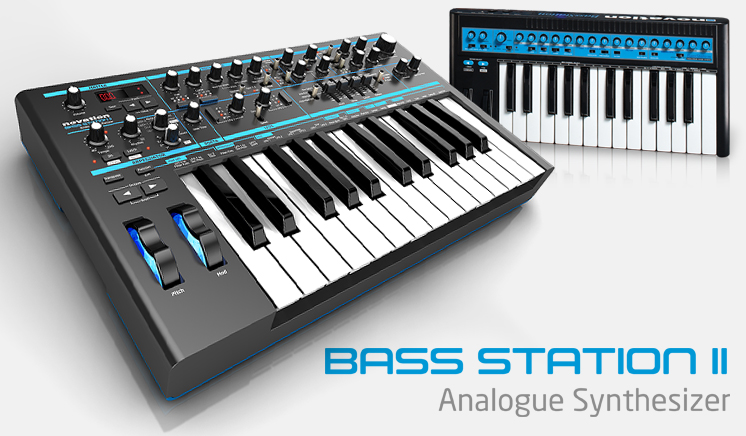 Bass Station II is an analogue mono-synth based on the classic original Bass Station but re-worked for the 21st century. It has two filters, two oscillators plus a third sub-oscillator, patch save and a fully analogue effects section. Add a step sequencer, arpeggiator, full sized keys and a powerful modulation section and you have the makings of a synth that is built for bass, but capable of so much more.
Bass Station II marks Novation's 21st birthday – find out more about Novation's early synths and how the technology evolved over 20 years
Analogue synth: brand new version of the classic Bass Station
Bass Station II has a pure analogue audio signal path, reviving the spirit of the original Bass Station with an all-new design optimised for bass.
Two distinct analogue filters
A brand new "Acid" filter joins the "Classic" original Bass Station filter -("Classic" switches between low, hi and band pass with 12 and 24dB slopes).
Load and save patches
Bass Station II ships with 64 factory patches and a further 64 user slots. Patch dump enables you to archive and swap sounds.
Pattern-based Step Sequencer and Arpeggiator
Bass Station II has an arpeggiator with a programmable step sequencer that enables you to store and call up patterns and quickly sketch-out ideas.
Dedicated Tweakable Controls
Analogue synth layout includes dedicated controls for all major parameters enabling instant hands-on control of the sound engine.
Two Oscillators plus an additional Sub Oscillator
Bass Station II has two sync-able, tune-able oscillators with four selectable waveforms, plus a third sub-oscillator for generating enormous bass sounds.
Analogue effects section
Bass Station II includes fully analogue distortion and filter-modulation effects and a separate filter overdrive to add an aggressive, crunchy sound-quality.
Analogue effects section Flexible modulation featuring 2 Envelopes and 2 LFOs
LFO waveforms include triangle, sawtooth, square and sample & hold. Two ADSR envelopes are available for filter, pitch and pulse width modulation.
MIDI I/O and USB connectivity
Bass Station II can be connected to your music software as well as your MIDI compatible hardware.
Players 'synth-action' keyboard with aftertouch
The keyboard mechanism is a two-octave (25 note) velocity sensitive synth-action keyboard with full-size keys and assignable aftertouch
Novation appears to have a bass synth in the making, teasers pics from thier Facebook site yesterday below:
Or perhaps a a two oscillator mono synth
MFB has introduced the Tanzbär Drumcomputer – a new analog drum machine.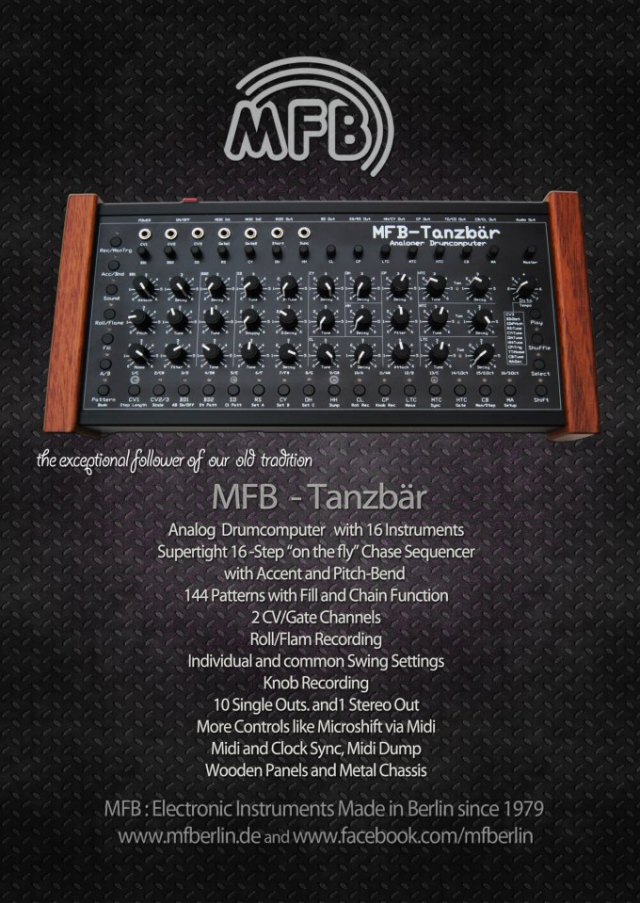 Audio demo below:
MFB Drum Computer Session 2 by Yapacc on Mixcloud
And finally a new electronic instrument from Dualo: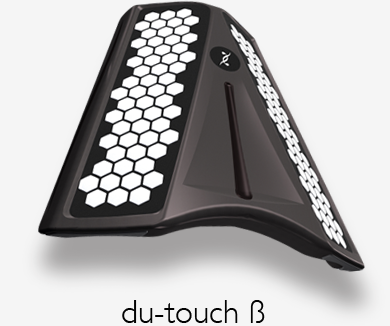 Dualo, a start-up company etablished in 2011 by two musicians and engineers, has designed a musical instrument based on a innovative and intuitive keyboard: the du-touch ß.
This original key layout, which is closer to harmony, is an alternative to the layout encountered in a piano, and is called the dualo keyboard.The manner in which the keys have been laid out has been validated by several musicians, and is designed to provide an opportunity to learn, to read and to play music faster than traditional instruments.
In Decembre 2012, after two years of extensive research and development, Dualo has released a limited edition of his first instrument, dualo du-touch ß, already sold-out. Several famous artists decided to support our project, including Cyril Atef (-M-, Bumcello, …), Fixi (Java) and Khalid K.
In view of the enthusiastic reception for our instrument, Dualo is now launching a crowd-funding campaign on KissKissBankBank.com to finance the professional edition, which will be delivered from Decembre 2013.
Our first instrument, "dualo du-touch ß" is designed for amateurs and professionals.
innovative : it's the first instrument in the world which use a layout of keys based on the dualo principle
compact, portable and featuring a wide tessitura : light, designed to come with you everywhere, 5 octaves for 29cm high
standalone : battery-powered, built-in synthesizer, built-in multi- effect processor, built-in multitrack looper ; audio line out and amplified audio headphones out
versatile : thanks to the built-in features which allows to play with a wide palette of sounds and to organize them in songs
original and allowing a wide stage presence : fitted with gesture and movement sensors offering a new generation of musical gesture, a new feel and a new phrasing
intuitive and instructive : thanks to the dualo principle and to the built-in help system : screen, light display
Launchpad S — the next generation of Launchpad
How "KTR" setup the Launchpad: http://youtu.be/KLUqYpMJNpY
~ LIKE our video and click 'show more' for additional information.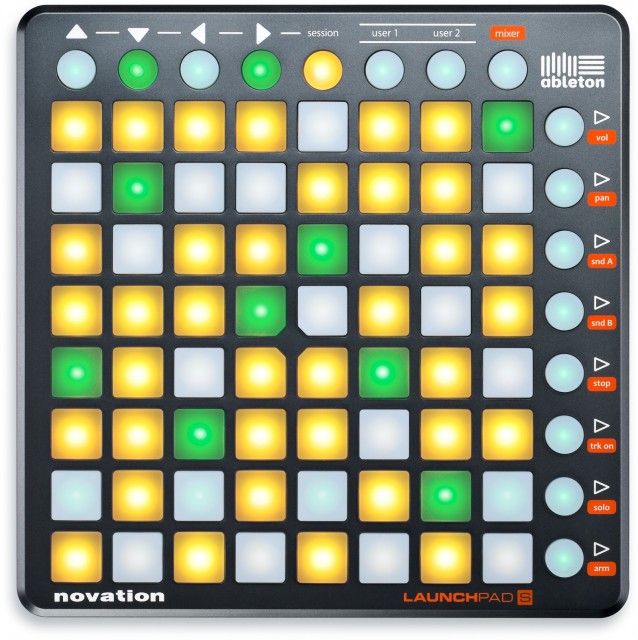 Novation's Launchpad may have begun its life focused mainly on controlling Ableton Live. But a new update, while not radically different from the original, is more flexible, working with more software and more operating systems – including the iPad. It's also brighter and refreshes faster than the original.
For all the details on Launchpad S visit:
http://bit.ly/Launchpad_S
Track: RoboSonic
Artist: KillTheRobot
http://www.facebook.com/killtherobotm…
http://twitter.com/kill_the_robot
http://soundcloud.com/killtherobot
http://www.youtube.com/user/killthero…
Download the samples and Ableton session here:
http://bit.ly/KillTheRobotSamples
Launchpad S is the evolution of Novation's best-selling Launchpad 64-button grid music controller — with much brighter buttons, significantly faster refresh rate and it supports multiple software. It's MIDI Class Compliant so it works with any MIDI software on your Mac or Windows PC. It even works on your iPad via a Camera Connection Kit (not included): Launchpad S converts your iPad into a grid-based music system: no additional power supply required, just plug in and play.
Key Features:
•The new 64-button grid music controller with MORE
All the features of the original — now with much brighter buttons, faster refresh and expanded app/system support
•Supports Ableton Live and other grid music applications
Ableton Live software is in the box — also supports FL Studio with no additional drivers. And your iPad!
•Control your mix
Including volume, pans, sends, track arming, soloing and muting. Launchpad S lets you jump to different levels across eight channels at once
•Launchpad iPad app
Trigger loops and effects using the Launchpad app on iPad — Launchpad S can be plugged into your iPad and fully powered with a Camera Connection Kit
•Take it anywhere
Launchpad S is fully USB bus powered — no need for power sockets or batteries — and it's lightweight and easy to carry anywhere.
•More software and sample content
Comes with the Novation Bass Station synth plug-in and over one gigabyte of Loopmasters samples