AfroDJMac provides us with yet another useful tip for Ableton, worth checking out:
"This Ableton Quick Tip shows you how to get the LEDs on the Novation LaunchPad to Light up when you play notes, or whenever midi is sent to it. I'll show you how to create a visual metronome with the LaunchPad!
Visit my site for more stuff like this, including Live Instrument downloads, tutorials and music! http://www.afrodjmac.com"
This is a demonstration of the MK II modifications for the Novation Bass station. These include external audio through filter. DCO 2 as source for filter modulation and an analogue ringmodulator which can process external signals using the bass station as the carrier source or it can process the Novation's own signal. For a more geniral run though of the Novation's standard features please look at my other video. The speech recording in used to demonstrate the ring modulator in this video was used with kind permission of Afrotechmods check out there channel for some great videos. http://www.youtube.com/user/Afrotechmods
"A random jam session in Studio 101 with Synthotronic on synthesizers and Identotron on guitar."
Equipment used: OSC OSCar, Roland SH-101, Roland SH-09, Waldorf Blofeld, Korg MS2000R, Novation Supernova II, Boss DR-770, Electro-Harmonix Memory Boy, Gretsch customised Pro Jet.
Recorded and mastered in Logic using various Logic plugins.
If you like this, check out the dark electronica musical project: http://www.dicepeople.com/
This is a short video demo of the Novation BassStation analogue mono synth. A run through of the standard functionality followed by demonstrations of the modifications and then a quick Jam session using Ableton suite 8′s Looper to build a track from the Bass station's sounds.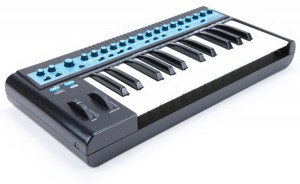 Before the famous Novation Bass Station Rack module came the small and portable Bass Station Keyboard! This synthesizer uses digitally synchronized analog oscillators (DCO's) to reproduce the sounds of a monophonic dual-osc analog synthesizer with simple and intuitive controls via 17 knobs, 10 switches and 2 Moog-style pitch/mod wheels. Think EDP Wasp and ARP Odyssey.
The Bass Station can faithfully reproduce analog bass sounds similar to a TB-303, Micromoog or Pro One synthesizer. The small keyboard and monophonic architecture set this keyboard up for strict bassline, lead synth lines, and synth fx. It also transmits MIDI continuous controller data from its pitch/mod wheels, frequency cutoff, resonance, filter modulation depth, env1 attack, decay and env2 attack and decay.
A view of the Novation product range on show at Musikmesse 2012, including information on the new Daniel Fisher sound pack for the Ultranova.
Numerology 3 Pro and analog step sequencers in the modular. A real-time studio recording in Cubase 6. Synths used were the modular synths, Waldorf MWXT, MicroQ, TX816, Nord Lead 2X, Prophet 8, DX7II and Korg ES-1. Using a Novation Launchpad to control the Numerology tracks. Step sequencers are dotcom Q960, Q119 and STG Soundlabs Time Suite. The opening and closing sound is a new SSL1130 DDVCO through a CGS01 harmonic sequencer and back into the DDVCO exponential and linear modulation inputs. Video editing in Final Cut Pro X.
Here's the background info:I n our latest video series "Road Test" — dedicated to road testing portable electronic music performance and production tools Dubspot Instructor, DJ and producer Abe Duque takes various music equipment out of the comfort of the studio and puts them to use while on the road as a traveling musician and performer. He documents his findings and details the creative possibilities these tools offer in a live performance setting.
In the first installment of Road Test, Abe brings the Novation TWITCH back into the Dubspot lab after a tour in Germany where he utilized the new DJ controller as his primary DJ equipment. Presented here are the results of his experience with the Twitch – from its light, compact, durable design, tactile and precise knobs, buttons, and faders to the multifunctional touchstrip controls and Fader FX feature. As you can tell by now, the Twitch absolutely passes Abe's Road Test. Stay tuned for more.
Shorn's back with a look at the new super controller from Novation. With Automap 4.2 integration and semi-weighted keys

Impulse is a range of professional USB/MIDI controllers. They each have a precision keyboard and a full control surface powered by a brand new version of Novation's Automap control software – Automap 4 (which makes getting hands-on with your DAW/plug-ins fast and simple). Impulse also has 8 back-lit drum pads which can warp arpeggios, roll beats and launch Live clips.
This soundbank brings a new life to the Novation V-Station synth, especially if you're into wide EDM (Electronic Dance Music) area. Big Room Plucks, Synth / Lead presets and Pads – that's what you'll find in this soundbank.
More info at: http://www.designasound.com

EDM Heaven – soundbank (created for Novation V-Station soft synth), suited mostly for EDM (Electronic Dance Music) genres. It contains 38 smooth, big room pluck sounds inspired by such artists as Kaskade, Dinka, Jerome Isma-Ae ("Big Room Pluck Sounds"), Pryda as well as some old classic plucks inspired by Chicane, Anjunabeats releases, Paul Van Dyk etc.
Bank also contains 52 Synth / Lead presets which can be used in wide range of genres. The rest is filled with 10 bass presets and 25 warm, smooth pad presets suited for background stuff, sidechaining etc.
All in all there are 125 presets which will bring a new life to your Novation V-Station synth.
Demo of the Alchemy Mobile App by camel audio using the Cinematic library sounds. Played on the Novation Impulse 25 controller keyboard.
And here are all the details:
Alchemy Mobile includes everything from evolving soundscapes and fat basses to lush pads and pulsing arpeggios, and is available for free from the iTunes App store. This is the iOS version of Camel Audio's award-winning Mac/PC Alchemy synth – the leading sample manipulation synthesizer which can be heard on thousands of records and films by world-class artists. Touch Remote for Alchemy on Mac/PC
With the Pro Upgrade ($19.99/€15.99/£13.99), you can remotely control Alchemy or the free Alchemy Player on your desktop computer. This is the first iPhone App to offer a dedicated touch remote feature for a desktop synth! Easy one touch access to the remix pad and preset selection means you'll spend more time getting inspired and less time reaching for your mouse.
Create Your Own Sounds with the Remix Pad
Discover an almost limitless palette of sounds using the unique remix pad to morph between sound variations. 16 controls including cutoff, resonance, ADSR and effects parameters are specially selected for each preset to make tweaking sounds to fit your music easier than ever.
External MIDI or Built In Keyboard
The Alchemy Mobile interface was designed with ease of use in mind. You can play the mini keyboard built into the app, which features scalable key size and one touch major and minor keys so even the clumsiest fingers can play along with friends. You can also plug in an external Core MIDI keyboard.
Copy/Paste and Loop Player
Using Alchemy with other apps like NanoStudio and Garageband is easy, thanks to the included loop player. Simply paste a loop from your sequencer into Alchemy Player, hit record, and play in your killer bass part, and then paste the resulting loop back into the sequencer. Alchemy Player is the first iPhone app to feature exposé, which makes switching between pages a breeze.
Most Powerful Synthesis Engine on iOS
Want to know why Alchemy Mobile has such amazing sounds which can change so drastically with a tap of the remix pad? The performance controls and remix pad are linked to the most powerful synthesis engine on iOS, which allows you to morph and change the sound in radical ways not possible with any other synth. Alchemy's VA synth, sampler and granular and additive resynthesis, combined with almost unlimited modulation sources, effects and a flexible arpeggiator are used to power this expressive way of creating new sounds for your music.
Expandable with Sound Libraries
The free version of Alchemy Mobile includes 25 sounds, with a further 25 available when you register for free with Camel Audio. You can expand Alchemy Mobile with a wide range of sound libraries such as BigTone, Cinematic and Arp Dimensions from world class sound designers. The libraries each contain 50 sounds (400 variations) and are available as in-app purchases for $4.99/€3.99/£2.99.