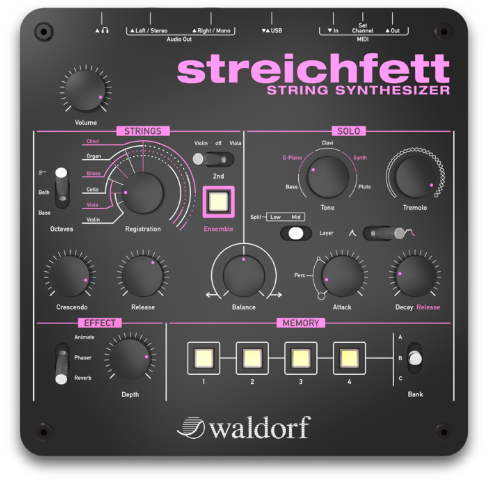 Waldorf will release a new string synth at MusikMesse but already now the full details have been revealed, read below for all the details:
Streichfett combines the best of the now extinct species of String Synthesizers of the 70s and early 80s. Its dual sound engine features a fully polyphonic strings section and a monophonic solo section, which is essential for recreating how adult movies sounded thirty years ago. The Ensemble Effect handles lubrication of the String Section, while the Effects section adds adjustable Phaser or Reverb. Alternatively, the Effect section can be used to animate the strings registration, allowing spectacular sound morphs.
The Solo Section offset presets named Bass, E-Piano or Clavi, and just like in your typical string machine, the sound has little to do with that name. Instead, these are shimmering and slightly percussive sounds that blend well with the string section.
Although the User Interface is simple and easy to comprehend, it controls a rather complex sound engine which is capable to delivers rich and creamy pads unlike any other instrument.
Twelve patches can be stored and selected in the Memory section, USB and MIDI are of course on board.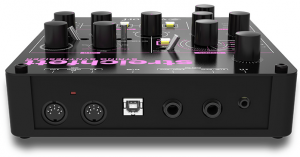 Specifications
Fully polyphonic Strings Section with Violin, Viola, Cello, Brass, Organ and Choir presets
2'nd Layer with Violin/Viola Voicing
Ensemble Effect for String Section
Typical String Envelope Generator with Crescendo and Release
Monophonic Solo Section, offering Bass, E-Piano, Clavi, Synth and Pluto sounds
Dedicated Tremolo for Solo Section
Switchable Envelope generator with variable Sustain setting and Attack/Decay (Release) function
Effect Section with Animate, Phaser or Reverb
Layer or Split for Solo Section
Dedicated balance knob for quick adjustment of layered/split sounds
Fully programmable with 3 x 4 memory locations
Controls
Volume Pot
Strings Section with organic preset select, Crescendo and Release pots
3-state Octave switch (Base/Both/8va)
3-state 2'nd voice switch
Ensemble Effect pushbutton
Solo Section with organic solo sound select pot
Tremolo pot
3 state split switch (splitpoint low/mid/layer)
2 state sustain switch
Balance pot with center detend
Effect Section with 3 state switch (Chorus/Phase/Animate)
Effect Depth pot
3 state switch for memory bank position (A, B, C)
4 pushbuttons for program number (1 to 4)
Full MIDI/USB Control
Connections
Stereo Audio out (Left/Stereo, Right/Mono)
Headphone out
USB MIDI
MIDI in/out"
Korg EPS-1 with a delay effect from the Roland DEP-5.
EPS comes from "Electronic Piano & Strings". The fully analog EPS-1 is one of the few touch sensitive string machines. It is a quite long keyboard. It has not only strings – it also has a piano section with several (non mixable) presets. On the piano section you can add a stereo effect (TREMOLO or CHORUS, both with parameters for SPEED and INTENSITY). Both sections have an equalizer.
'gstormelectro' captures a comparison of three classic string synthesizers – in all their creamy goodness:
Logan/Honer String Melody II
ARP/Eminent Solina SE-IV, and
The Roland VP-330 MKI
Presented for your viewing pleasure are three of the creamiest string synthesizer elite:
Logan/Honer String Melody II, ARP/Eminent Solina SE-IV, and the VP-330 MKI. Behold these heavenly machines in a side-by-side sound comparison. With a special appearance by my hand built JH Triple Chorus ensemble module, auditioned with a dry Solina signal run through. http://gstormelectronica.blogspot.com/
Vintage gear demo of "70s Stringensemble Trilogy"
0.08 – 1.23 Roland VP-330 Vocoder Plus (1979)
1.24 – 2.32 Crumar Performer (1979)
2.33 – 3.53 Logan String Melody II (1979)
Used the special functions (human voices, brass filter, lfo, tone colour, chorus…) on the stringmachines.
bass: Moog Taurus 1 basspedal (1976)
drums: Keio Minipops Junior (1972)
recording: multitrack without midi
fx: a bit reverb and delay
Demo from the Korg Delta Vintage analog synthesizer/string machine.
Korg's Delta is an analog semi-poly synth/string machine, basically a slimmed down version of the Korg Trident. Though limited in the range of sounds compared with other synths of the same genre, the sheer quality of the sound from this little beastie really does make it something of a marvel. It can be found used for cheap and is worth it for the retro synth strings and fat bass synth tones.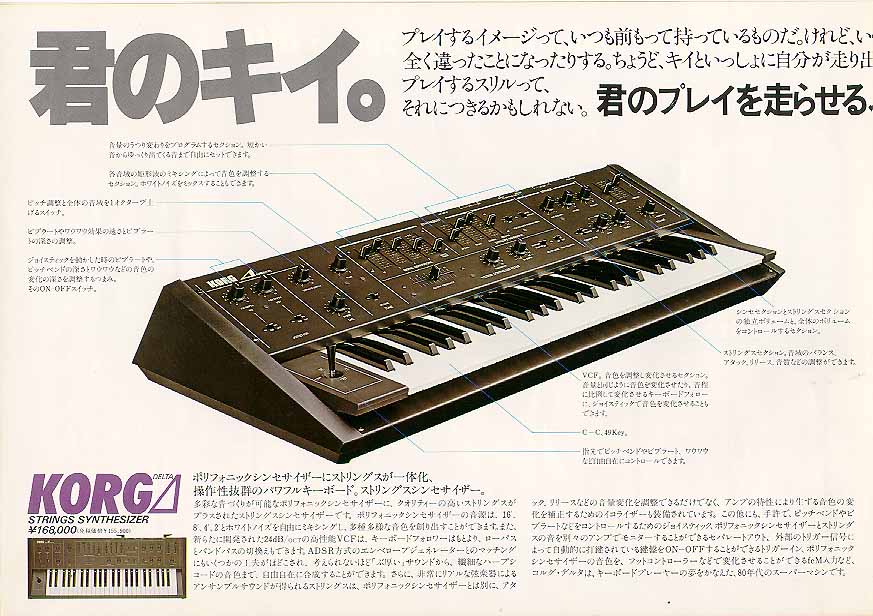 The synth is split into two sections, Strings and Synth, for which there are separate audio outputs along with a combined output for headphones or mixing. Each section has its own controls. The String section has two pitch sliders (16′ and 8′) along with two tone controls (Bass and Treble) and variable Attack and Release controls to modify the sound. The Synth section has four pitch sliders (16′, 8′, 4′ and 2′). There is also a white noise generator along with a very effective 24dB/oct low pass filter (high pass and band pass options are included too) and full ADSR controls. The synth has no memory storage or MIDI, however it does has voltage control and gate ins and outs.
The string sounds are very basic but with its separate outputs and when mixed together with the polysynth you do get that classic 'layered' sound which is useful enough on this synth; and it's fully polyphonic, so you wont be running out of notes! There is a handy joystick to the left of the 49-note keyboard for pitch bending and modulation capabilities. The construction is solid and heavy partly due to the implementation of a wooden base but also because it was designed for heavy usage on the road. Added bonuses: noise modulation, stereo out (strings/synth split), and the ability to combine synth and strings or turn off oscillators in the mixer section.

This german early eighties string keyboard was one of the last variations on building a string ensemble keyboard with or without some extras added. The Hohner String Performer is a string machine made in Germany. It has strings in 3 footages (CELLO, VIOLA, VIOLIN), which are mixable via volume faders. Also CLAVICHORD and PIANO presets, all free mixable. Each half of the keyboard has these features. A bass preset can be added to the left half of the keyboard. Like most string machines, the keyboard is split in the middle so that you can adjust the volumes seperately for the lower and upper part of the keyboard. The sliders for adjusting the volume of each basic sound works upside-down, like drawbars, i.e. you pull the slider towards yourself for raising the volume of a sound. Also, each sound can be muted with a corresponding button. The Performer has a minimal amount of control for adjusting the sound: only the release (called "sustain" on the Performer) time can be controlled. Also, the ensemble effect is a part of the string sound and cannot be switched off or variated. Fortunately, the string sound is really good.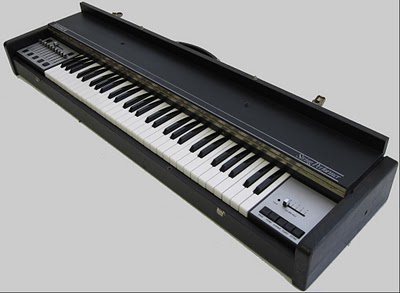 "On the right, there is a simple monophonic preset synthesizer with 4 presets: BRASS, STRING, CLARINET and PLANET. To be honest, I didn't know that a planet could be a musical instrument – but Hohner should know

The String Performer is fully polyphonic and has a decent analog string tone. It is quite large and heavy."
Inspired by the Ondes Martenot, the Artemis is a synthesizer whose pitch is mainly controlled by a ring attached to a loop of string.
It uses breath control for dynamics and combinable trill keys for discrete pitch changes. Using these together allow for some interesting musical approaches.
When I made this instrument, I decided to expose the loop on this instrument as it is interesting to watch as the pitch changes.
The sound and control core engine were made by Nyle Steiner (it is simply one of his early analog E.V.I.s.) The Artemis was completed in April of 2013.
Synthesizer Demo of the analog synthesizer/string machine YAMAHA SK-10.
The SK-10 was introduced 1979 by Yamaha, Japan. It is the smallest instrument of the Yamaha SK-series.

Yamaha's SK-series are combo-keyboards with synthesizer, organ, brass and string sections. The SK-10 was the first of the SK-series, released in 1979 – the SK-20, 30 and 50D followed in 1980, and the SK-15 in 1981, possibly as a replacement for the SK-10. The SK-10 is the only one in the series that does not incorporate a synth section, but has organ, brass and string sections that can all be played together for more interesting combinations. Very sturdy casing, 4-octave and fully polyphonic the features also include a leslie simulator, vibrato, attack and sustain rocker switches, a slider for 'brilliance' and a one-octave transpose switch. Not exactly feature-laden, but a lovely string synth sound. Interestingly, they are often referred to as 'analog', but in fact do have a digital section. Its organ has one of the early implementations of Yamaha's FM technology in a very limited form, concurrent with the GS-1/2 development platforms which eventually led to the DX series.
The ORGAN SECTION is available in all the SK series synthesizers. It offers a full range of stop levers from 1′ to 16′, percussion levers with adjustable decay, and controls for overall sustain, brilliance and decay. This gives you quite a lot to work with in the way of synthesis. The organ's sound is FM based and it sounds very B3 like. You can add a Vibrato and a noisy but good Tremolo to it. Its sound is all about the 70's era rock organ, especially with the Ensemble chorus effect in use. It also has a Leslie-speaker output around back.
The PRESET STRINGS section isn't very sophisticated and offers very limited editing capabilities. It is the string section though, that is worth aquiring this keyboard for.
All the different sections of the SK synths can be layered and stacked via the slider bars. You use the slider bars as a mixer to set the individual volume for each section. All sections have their own separate audio outs (though a mix out is also available). A great thing for live performances is the split keyboard mode. That way you can have, for example, a very nice, punchy bass sound from the synth section and a lead sound coming from the organ or solo sections. Although it has no patch memory, there are push buttons for instantaneous selection of organ, poly-synth and string preset sounds; there are three presets in each section. It also, has no arpeggiator or sequencer, and lacks MIDI. But it's cheap, easy to use, has a nice sound, full 61-note keyboard, and classic wooden panels.
"Synthesizer Demo of the analog synthesizer/string machine FARFISA SOUNDMAKER. I played the Soundmaker with a Roland DC-30 analog delay. The Farfisa Soundmaker came out 1979. It looks a bit like a Synclavier

It has a string section, a "poli" section and a monophonic synthesizer section. The keyboard has aftertouch. Also it is possible to run the polyphonic section through the filter of the monophonic section – like seen in the last part of the video."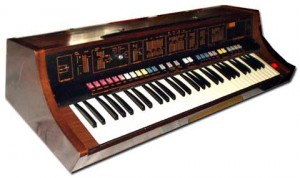 Built in 1979-81, the Soundmaker has Synth, String and Piano/Brass Sections. The Monophonic Synth section has 12 preset sounds (Tuba, Trombone, Trumpet, Sax, Clarinet, Oboe, Flute, Piccolo, Violin, Accordion, El Bass, El Guitar) and one Free patch which lets you use the controls to create your own sound. Basic controls for the filter, the one ADSR for the filter and/or the VCA, and the LFO are laid out plain and simple.
The Polyphonic Preset Synth section has Volume & Brightness controls for its four preset Piano type sounds (Piano, Electric Piano, Honkey Tonk, Brass).
The String section offers a fairly decent string sound with Volume, Brightness, Attack and Sustain controls for a choice of two preset strings (8″ footage or 4″ footage).
The Soundmaker is a bulky synth, weighing in at 27kg! Its keyboard may be split (at middle F only) and the Strings and Poly Synth sections play with the left hand and the Mono Synth plays with the right hand. The keyboard also has polyphonic aftertouch which can be used to control the Mono Synth Brilliance, OSC (vibrato), Synth Glide or Brass Brilliance. The String and Poly Synth sections can be switched to monophonic at the same time. The Farfisa is not the best String Machine you'll ever hear, but it is very rare and that alone gives these machines some serious vintage appeal.
A voyage into the heart of the Hohner (Logan) String Melody II from the year 1979.
Exploration by Marko Ettlich (RetroSound)
fully polyphonic analog string keyboard made in Italia
three basic sounds: Violin, Viola and Cello + Bass and Perc
ensemble effect
49 keys
used by The Twins, Neuronium, Yello and more
About the Logan: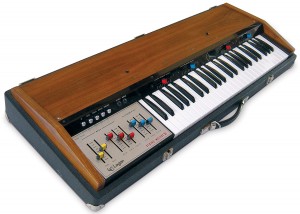 The String Melody is an Italian string synthesizer from Logan Electronics, first released in 1973. At first, success was lukewarm as Logan Electronics was relatively unknown. But in 1977 a slightly updated 'mark II' model was released and Logan Electronics began to see some commercial success from the sales of this instrument. As a result, almost all String Melodies floating around out there today are the 'mark II' version, as the original is quite rare. Also of note: outside of Italy, the String Melody was distributed by Hohner International, so you will find them labeled either the Hohner or Logan String Melody.
There are three basic sounds available: 'Violin', 'Viola' and 'Cello'. These three sounds are actually all the same sound, just in three different octaves. The keyboard is permanently split in the middle, with the lower half called Bass and the upper called Treble. There are three drawbar volume sliders for each of the three sounds in the Bass region (the red sliders), and another three sliders for the three sounds in the Treble region (the blue sliders). This allows you to mix in as much of each sound in either section of the keyboard as you want for some really customized string combinations!
But wait, there is more! There are another two additional sounds on-board: 'Bass' and 'Perc'. These sounds are only available in the Bass region of the keyboard (the yellow sliders). The name of the 'Perc' sound is a little misleading though, as it is still a bass string sound—it's just that it is a percussive sub-bass sound with a fast attack.
The only other control sliders are for two sets of Attack and Release (called 'Sustain' on the String Melody). One set controls the Bass region and the other allows for independent control of the Treble region. In back there is a single 1/4 inch mono audio output and a volume control pedal input. But that is it—no CV or Gate options here.
On the 'mark I' there is a button called 'Orchestra' which acts sort of like an ensemble effect Preset, recalling its own mix-levels and attack/decay settings in which all the tone sliders are at full volume. This is where the 'mark II' version differs from the original—it added four new ensemble effect Presets: 'O', 'ACC.', 'SOLO', and 'ORGAN'. You must have at least one of these effect Presets on at all times – it uses those old-fashioned push buttons where engaging one button disengages whatever button was previously engaged, so at least one button is always engaged. The 'O' setting is a subtle chorus effect. The 'ACC' (Accordion) is the closest thing to no ensemble effect, leaving the strings sounding their driest. 'SOLO' is a vibrato-like effect with some chorusing. 'ORGAN' is a really nice chorus that's almost phaser-like.
The String Melody is a pure string synth, and has a really great sound. Being Italian, it sounds quite different from similar types of string synths from Roland (Japan) and ARP (USA), and many would say the String Melody has the best sound of them all! It may not have as much editable flexibility as the others, but it sounds so good—it truly does what it was meant to do, and does it just right! It is built into a durable heavy flight-case with wood paneling, a handle, and even a cover! Considering that it is a niche instrument, they seem to maintain a relatively low second-hand market price. Which means if you can find one, you'd better jump at the chance to acquire it, because samples still can't beat the real thing! (Via VSE)