A voyage into the heart of the Crumar Performer from the year 1979.
Exploration by Marko Ettlich (RetroSound)
fully polyphonic multi keyboard made in Italia
one oscillator for brass (square wave) and two oscillatos for the strings (8′ and 16′)
one LFO with delay length, rate and depth
analog low-pass with resonance for brass and 3-band equalizer for strings
49 keys
used by Duran Duran and more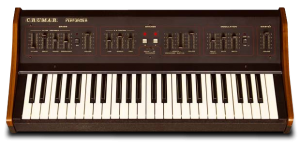 The Performer is a polyphonic analog Strings and Brass machine produced at the end of the 1970′s by the Italian synth company. It is slightly compact with just 49 keys. But it is fully polyphonic – you can play all 49 notes simultaneously! Programming is simple and clearly laid-out with just 15 sliders and a few buttons. A solid black chassis and wood end-cheeks round out this classic and often overlooked string machine.
The Performer is best remembered for its Strings. A simple 3-band equalizer with high, mid and low sliders can be used to give the strings shimmering sparkle or moody dark timbres. The Strings section uses two oscillators per voice with 8′ and 16′ settings. Simple Attack and Sustain sliders give you some control of your string's envelope settings.
The Brass section is less exciting. It uses a single oscillator with just a square wave to generate a weak Brass sound. It has a low-pass VCF filter with resonance, but it too is pretty weak. Simple Attack and Decay sliders control its limited envelope settings too.
The LFO is pretty nice, with delay length, rate and depth control. It can modulate both Brass and String sections and can be routed either to the VCF or pitch. There are three outputs on the back: main output, brass output and signal output (for external processing) as well as CV and Gate connections.
Peter Speer demonstrates his DIY Euro Bow Interface – a unique bowed string instrument he uses with his Eurorack modular synthesizer.
Technical details below.
Hollow laser cut MDF enclosure, with a guitar string pulled across two zither pins and a contact mic underneath (connected to the front jack).
Bow is homemade, too (2×4 + horsehair).
Pressure Points and the Wogglebug's Stepped Out (triggered by the Pressure Points) are controlling the frequency on the DPO, as well as the pitch shift on the Echophon. The envelope out from an A-119 is opening the low pass gate on the output and controlling the modulation index on the DPO.
A voyage into the heart of the Roland VP330 Vocoder Plus from the year 1979.
Exploration by Marko Ettlich (RetroSound)
vocoder, human voice choir, analog strings
separate mix levels for all sections
stereo chorus effect
49 keys
used by Vangelis, Kitaro, Laurie Anderson, Mike Oldfield, Styx, Ultravox, Genesis and more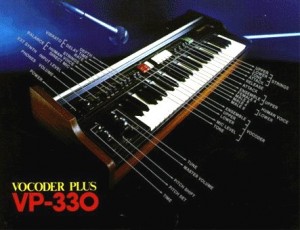 One of the coolest instruments out there. The vocoder shapes its envelope and filters by any sound source fed into it, your voice or even a drum loop can be used which is then applied to another sound source, typically a synth pad. This creates a very unique and famous robot-like sound.
Aside from the 10-band vocoder, the VP-330 added a string synth section, choir and a human-voice sound, both of which are quite excellent themselves. Its 3 sound sections offer a few different presets that can be slightly edited with de-tuning and vibrato. The VP-330 is one of the best Vocoder synths ever and although there are many other types of Vocoders, none sound as good as this!
Analogue synths can't synthesize every sound, but the attempts made to replicate the sound of orchestral strings were so successful that so-called string machines became much-loved instruments in their own right.
In the first half of the video 'AnalogAudio' plays the Crumar Multiman dry, in the second half with a COMPACT PHASING "A" from Gerd Schulte Audio Elektronik. The Compact Phasing A is a German phaser, which was well known in the seventies (at least in Germany). Many units were sold, but it is rare and sought after today. It was used by Klaus Schulze, Tangerine Dream, Kraftwerk and others.
This Crumar Multiman is the first version (later came the Multiman S versions which are larger). It was produced in Italy. It has a string section, a brass section (with VCF controls and resonance) and a piano section. It is capable of nice layer sounds. A monophonic bass preset can be added.
"Excuse the crackling noises, my Multiman is not 100% intact. Indeed, it is in terrible shape. Some of the keys don't play notes, instead they produce some crackling noises. But the basic sound is fantastic!"
Here's a 12 part video series featuring the new product from Image Line (FL Studio) – Sakura
"Image-Line brings you 'Sakura', the string physical modelling instrument, to express the delicacy and beauty of stringed sounds."
Description:
Sakura can reproduce the delicate pluck of a single string, a violins bowing or the sonorous resonance of a grand piano. Most importantly, the curious musician can take control of every aspect of the simulation to create fantastic instruments. Ever wanted to know what a 20 foot guitar sounded like? Or a bowed piano? Now you can find out, Sakura opens up a world of string modelling possibilities, why not download the Sakura demo and try it for yourself. The Sakurazensen is coming, be there to experience it.
UVI String Machines is a digital hybrid instrument, forged with the analog imprint of the 11 most musical string synths ever built. Accessible, expressive and fully editable, rediscover all these authentic sounds used in several cult records!
Download • http://bit.ly/string-machines_download
Buy DVD • http://bit.ly/string-machines_DVD
Further info, photos & audio demo • http://bit.ly/uvi-string-machines
The Rhapsody String synthesizer was built from 1975 till 1980 by the italian company ELKA. It was one of the more widely spread (read sold by thousands) string machines then. The list of users includes EM acts like Jarre, Tangerine Dream (Virgin years and some), Vangelis, Klaus Schulze (only a tour or two in the mid seventies). And also Supertramp and other pop bands used it too. The Rhapsody 490 was the little brother to the better known 610.
If you are looking for a sample pack of the Rhapsody check out this.