Here is a demo of the Yamaha CS-5 analog monosynth and the Roland TR-606 analog drum machine. The Yamaha is being triggered via one of the trigger outs on the 606. The CS-5 has an envelope follower of sorts on it's audio in and that is what I ran the trigger into. Adjusting the gain on the audio-in allows for some odd timing on the pulses; it's a neat effect.
The CS-5 is a single-oscillator monophonic analog synthesizer with classic filter, envelope and modulation controls. It features 37 full-sized keys, a multi-mode 12 dB/Oct resonant filter, an LFO with sample and hold, and an external audio input you can route through the VCF or VCA sections. The CS-5 is a very flexible and modulate-able analog synth that is quite capable of warm analog bass and bubbly synth effects! The absence of patch storage, MIDI and velocity are just reminders that the CS-5 is old
As you can hear in the video, the CS-5 excels at resonant sounds. The all-black CS synths are easily some of the cleanest sounding vintage synths; this sort of works against them in some ways as people seem to gravitate to the dirty or muffled ("organic", bleh) synths of that era. It's sound sits well next to a Roland synth of the same vintage
Available on the iOS App Store
http://itunes.com/app/songbeats
Song Beats is a new application from Yamaha that makes it easy to play the drums along with your favorite songs!
A fabulous Drum Performance Support Tool for iPhone!
Song Beats is an iPhone app that supports your drum performance by visualizing which drums to hit and when to hit them while playing along with your favorite songs.
The app also allows you to easily create custom accompaniments for drums, putting your drumming at the center of the band.
There are more than 1000 songs available from a shop that's built right into the app. In addition, you can also use any MIDI song that you've already purchased from Yamaha MusicSoft by using iTunes File Sharing. Download and register Song Beats with Yamaha, and your first song is free!
Music iPad App – first look at some of the features of the Yamaha Synth Drum Pad.
"My first impressions are that this is one mother of an app. The sonic possibilities are great, although I'm a little in awe of it."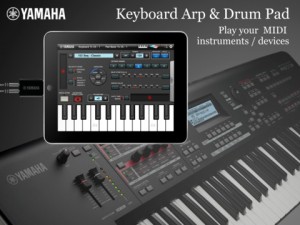 Overview
Keyboard Arp & Drum Pad is a Core MIDI application that transmits notes to external MIDI instruments and includes a keyboard, arpeggiator and assignable drum pads. You can play the built-in keyboard, trigger arps and play various patterns of instruments like drum, keyboard, or guitar. Also the drum pads let you play drum phrases or assign the multiple notes on one pad and play chords. You can set the Keyboard Arp and Drum Pad to different channels so you can play drum beats and pad chords along with the sequence phrases run by the arpeggiator.
*Yamaha MOTIF XF offers you WiFi connectivity which enables wireless control.
*If you use the Yamaha i-MX1 iPhone/iPad MIDI Interface, you can connect to any MIDI instrument.
Features
Keyboard Arpeggiator
- You can choose from 342 arps including many different instrument categories.
- Each arp phrase can be modified in real time for swing, beat stretch, octave range and variation
Drum Pad
- Each of the 16 Drum Pads can have up to 5 notes with assignable velocities, so you can play chords or layered percussion with one pad.
- You can even split the pads in half and assign different notes or velocities to the left side and right sides of the pad.
- A learn mode makes it easy to program the pads directly from the MOTIF XF.
- 64 user templates
Tap Tempo
- A Tap Tempo feature allows you to quickly set the Tempo of the arps
Ribbon Controller
- A Ribbon Controller let's you control Velocity, Pitch and 2 Assignable Parameters
*For the detailed information please refer to the following url.
http://4wrd.it/YAMAHASYNTH
*In order to have the WiFi connection, you need to get an OS updater for MOTIF XF from http://4wrd.it/YAMAHASYNTH and buy a compatible Wi-Fi USB adapter.
All sounds: Yamaha AN1x Virtual Analog Synthesizer from the year 1997
recording: multi-track without midi
I use the internal step-sequencer for the bass sequence
fx: a little bit delay and reverb
About the synth:
The AN1x is a powerful retro-analog synth with a really cool new feature that lets you record real-time editing and filtering and be able to store it as part of the sound! A major contender in the new wave of analog-digital synths using DSP modeling of analog waveforms to recreate the coveted sounds of analog synths with modern digital specifications. It offers truly traditional yet modern methods of analog synthesizing, 10 notes of polyphony, 8 knobs for tweaking, and an arpeggiator with dozens of inspiring patterns!
Although the AN1x is not a follow-up to the CS1x (which has since been followed by the CS2x and the CS6x) it has borrowed many functions and technologies from the CS1x synth. First, it's built in an almost identical case with the same layout of buttons and knobs as the CS1x. However the function of every knob and button has been greatly expanded. The AN1x also has 2 Scene memories for instant recall of any envelope and filter settings and the mod-wheel can be used to morph between the two scenes. On-board effects and a state-of-the-art arpeggiator section also are on-board for giving your sounds life and motion.
The AN1x adds a new Ribbon controller for increased real-time control. It also includes pulse width modulation, ring modulation and oscillator syncing. The AN1x may not be the next evolution of the CS1x but it is basically a more advanced synth capable of increased sound potential and quality. It has a better feeling keyboard than the CS1x as well assuming that the AN1x is for those looking for something more professional than the CS1x.
Background information from Style City Records: "Here are my sounds that i created- WITH NO Internal or External FXs on the Yamaha DX7IID. Many of the keyboard videos show off the user presets and that's fine. This sound bank, which is part my Beyond FM Series, is for those who choose to live outside "Preset Sound" boundaries. Contact me at stylecityrec@aol.com RE: DX7IID"
Kebu on stage performing a classic Jarre song, here's what he has to say about it:
This tune by Jarre is one of the most joyful tunes in the world and always makes me smile. Therefore, I picked this one as of the very few covers I performed at my mini-tour in May 2012. This video was recorded live at my show in Doo-Bop Club, Vaasa, 12th of May 2012.
The song was performed using only analog synthesizers, either played live or sequenced. The performance was recorded line in to one of the cameras. The ambience in the club was recorded using the built-in microphones on two of the remaining cameras and mixed together with the line signal.
Equipment used in this song: Arp Odyssey Mk II; Korg Polysix, Poly 61, Mono/Poly, Micro-preset M500; Roland TR-808, Juno 60, Alpha Juno 1&2; Moog Source, Touched-by-sound DRM1, Oberheim Matrix 6R, Yamaha RM1x (only for MIDI sequencing), Behringer DDX3216, Lexicon MPX500, as well as a midi patchbay and additional preamps for my mixer. Cameras: Canon HF100 (x2), HF200 and HF406.
Music video improvisation on a Yamaha SY85 with Korg Kaoss Pad (mini-KP) effects. Using the HOLD button on the Koass this is another way of connecting music gear together rather simply. If there is interest I might show how to connect the devices together and recording the audio. In this case I record to a Zoom H2n.
Cloud Audio Recorder allows you to record the sound of musical instruments
to your iOS devices via the built-in microphone.
Available in App Store: http://itunes.com/app/cloudaudiorecorder
Koushion-controlled Moog MIDI MuRF and Yamaha MO8 synced to Ableton's clock with some additional synthage thrown in. Proof-of-concept, not a "serious" performance.
Learn more at www.experimentalsynth.com
"Just messing around with Kawai K3 patches, selecting some parameters, controlling with the main wheel, sequenced by Ableton w reverb/delay."
"Just running through some sounds, messing around. Ableton sequencing midi, ableton reverb/delay on the synths"