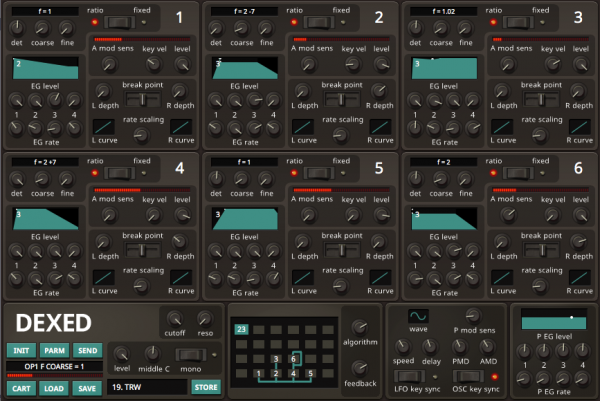 Dexed is a multi-platform, multi-format software synth that is modeled on the Yamaha DX7. It lets you create new sounds, use them in your DAW and save them to your DX-7. 
According to developer Digital Suburban, 'the goal of the project is to be a tool/companion for the original DX7.'
Features
Multi platform (OS X, Windows or Linux) and multi format (VST, soon AU and others that I don't use); by using JUCE
The sound engine music-synthesizer-for-android is closely modeled on the original DX7 characteristics
144 DAW automatable DX7 parameters available from one single panel
Fully supports DX7 input and output Sysex messages; including controller change. This means that you can use this with a native DX7/TX7 as a patch editor and sysex manager
Each operator have a realtime VU meter to know which one is active
Can load/save any DX7/TX7 sysex programs. It is also possible to save a single program into a different sysex file.
The sounds in this demo come from the DEXED engine, not from a hardware DX7.
Dexed is a free download from the project site.
This video demonstrates the sound and features of the Yamaha CS-80 analog synthesizer. Enjoy!
A very old and very huge (over 200 lbs.) classic synthesizer. Considered Japans first great synthesizer. It had some pretty amazing features for its time such as eight voice polyphony, patch memory storage and polyphonic aftertouch. It can generate great analog strings, brass, drones and pads with that instantly recognizable classic polysynth sound. No synth sounds greater. Some examples of its extremely fat sound can be heard in "Blade Runner" and "Mutiny on the Bounty" by Vangelis as well as "Dune" by Toto. The thing that really made this synth sound so powerful was its "natural" detuning….thus its brass and string sounds were unparalleled not only for authenticity, but for pure width! Unfortunately for the CS-80, it was released the same year as the more programmable and cheaper Prophet 5.
With two analog oscillators per voice, the CS-80 has the potential for some really thick sounds! A great VCF (filter) with independent hi pass and low pass resonant filters, a powerful ring modulator and plenty of modulation controls further enhance the CS-80's sonic potential. There are 22 preset sounds (6 user) selected from bright and ugly colored buttons above the keyboard. The keyboard is weighted and has a full 61 keys with performance controllers for vibrato, pitch, brightness and volume. Surprisingly there's also a long ribbon controller for the pitch-bending, located above the keyboard. There is no MIDI or cv/gate control. The only way to MIDI it is via a rather complex retrofit receive-only kit from Kenton.
A consumer level DX synth that sounds just like the DX100 – thin and brittle. Following the DX model this synth also uses FM synthesis which is difficult to master. You will need to program this synth to get better sounds because the presets are only moderately useful. It's capable of a good string, bass and droney-pad sound as well as industrial sound-effects and metallic like sounds.
Still it makes a better option than a DX27 or DX100 because it has the capability of layers and splitting the keyboard and there is a chorus effect. Portamento and a Unison Mono-Mode are also nice features for screaming lead synth performances. For a cheaper source of DX sounds with moderate programmability, check out the DX21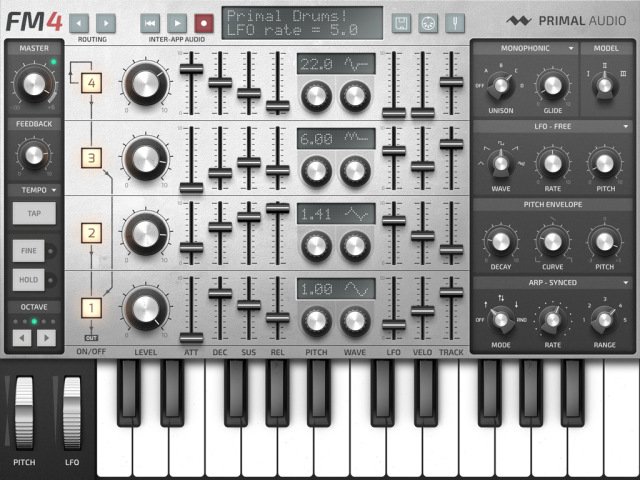 Primal Audio has announced FM4 – a new FM synthesizer for iPad, modeled on classic 1980s Yamaha DX series keyboards.
According to the developers, "Great care has been put into analyzing and replicating inherent sonic characteristics of the original hardware, such as internal quantization errors and digital-to-analogue conversion."
Features:
Four operators configurable via eight different routings
Three sound engines modelled on 1980s hardware units
Eight waveforms derived from classic FM synths
2x, 3x, and 4x polyphonic unison
Tempo-syncable arpeggiator with up, down, up-down, and random patterns
Microtuning with eight different temperaments
Supports Inter-App Audio, background audio, and MIDI (support for Audiobus is planned)
Up to 24 voices of polyphony
Import/export presets through iTunes
Works on all iPads supporting iOS 7.0 and up
FM4 will be available in the App Store in December 2014, with an introductory price of $0.99. See the Primal Audio site for details.
This demo features the Teenage Engineering PO-12 Drum Machine, Yamaha TG-100 rompler/synthesizer and MTI Analog String Ensemble ADL-100 effects unit. All of these are mixed on a Yamaha MJ-100 DJ mixer. The PO-12 is being ran straight into the mixer and is only being effected by the MJ-100's internal digital delay (you can hear me through-out the video adjusting the delay time on the effect). The TG-100, which is doing the chord/pad choir patch, is being ran through the MTI chorus unit. The MTI's effect is quite similar to the ensemble effect built into the Solina String Synthesizer; a triple chorus with very deep modulation. The strings are also being effected by the digital delay on the mixer. The mix is then sent into my audio interface.
Please note: This is the prototype of the PO-12 released at Moogfest.
Vintage synthesizer demo track
all sounds: YAMAHA DX7 II FM Synthesizer (1987)
drums: LinnDrum (1982)
recording: multi-track without Midi
fx: reverb and delay
The virtual pop star makes her Late Show debut on October 8, 2014.
Her vocals are created using Yamaha's Vocaloid vocal synthesizer, a technology that lets you create virtual vocals, based on phonemes and pitches. The original samples are from a human vocalist, but the actual vocal is completely synthesized.
John L Rice was messing around with running the great organ sound from a Yamaha TX81Z through a Strymon Mobius to make it sound twice as great and he ended up adding a modular sequence bass line, recording a bit of it and then throwing some Cory Friesenhan vocal loops on it.
Quick play of the RX7, little brother of the RX5 and almost as good. First is some preset patterns and then all the sounds.
About RX7 and RX5:
Out of the eighties comes this hugely underrated drum machine—in 1986, the RX5 was Yamaha's flagship drum machine. Although its vintage appeal may be diminished by the Roland R-8 (as well as the resurgence of the TR-808 and TR-909 machines), if you're on a budget, this one could be for you.
The RX5 has many features that other drum machines simply do not have. Aside from all of the basics, such as pitch adjustment, level control, etc., this machine also features "Attack" and "Decay" envelope controls and two levels of "Accent" for each sound, allowing you to really change the character of any of its 24 built-in sounds. The sounds range from surprisingly real and punchy kicks and snares, to gunshots, door slams, even guitar and bass samples.
The RX5 features a RAM/ROM cartridge slot for storing custom edited sounds and loading in new sounds as well (adding an additional 28 sounds to the 24 built-in). Any sound can be assigned along the top row of pads (the bottom row are preset to the usual suspects—kick, snare, toms, hats, etc.), allowing you to customize your drum kit. Make an orchestra of handclaps, bass drums, or guitars! You can create and store up to three custom drum kits.
Another interesting feature of the RX5 is its pitch envelope. There are two simple parameters: "Bend Amount" and "Bend Rate". With this feature, you can make any sound pitch-bend downwards or upwards, across several octaves. This effect can be stored as part of your custom edited sound at the touch of a few buttons.
Also overlooked but extremely useful are the "Reverse" and "Damp" functions. You can record a reverse crash cymbal at one point in a drum pattern, and switch back to a regular crash cymbal elsewhere in the same pattern. The "Damp" function emulates the dampening of a drum head or a cymbal choke. Many drum machines overlook these useful functions, which can really help add a touch more authenticity and nuance to your drum patterns.
The sequencer section can record up to 100 patterns with time signatures ranging from 01/32 to 99/2 in either Real Time or Step Time record modes. Real Time recorded patterns can be quantized to the nearest 1/2 to 1/48 note. Patterns can be arranged in up to 30 Songs. And Songs can be chained together to form complete performance sets. All sequence data can also be offloaded to external RAM cartridge or cassette tape interface.
It is also worth mentioning that the RX5 has a 12 channel mixer with stereo out plus 12 individual outputs. Along with full MIDI Implementation, it's a snap to integrate into your studio. Use it as a stand-alone desktop drum machine, or hook it up to your MIDI keyboard or DAW system like a sound module for some serious drums! Sounds can be arranged for a MIDI keyboard however you please, and the RX5 will save the keyboard mapping—even if the sounds are coming from an external sound cartridge.
The RX5 was shipped by Yamaha with one additional cartridge of sounds—the "RX5 ROM". Three additional Waveform ROM Cartridges were made to suit various genres: WRC-02 "Jazz/Fusion," WRC-03 "Heavy Metal," and WRC-04 "Effects." There were also a few third-party cartridges made, containing TR-808 and TR-909 samples, but they are rather rare. If you're looking for an RX5, try to find one with all the ROM cartridges, and maybe a "RAM4" cartridge too, as they may come in handy.
Overall, a very unique and in-depth machine, capable of a huge variety of sounds. From the nostalgic sounds that defined 80's drum beats, to rock, metal, and electronic music. Programming a beat may not be as easy as a Roland TR machine, but it's still intuitive tap-based recording. You will have no problem finding a place for this beast in your studio.
New "ethnic" style composition using the Yamaha Motif-6 flute with delay and reverb as well as Motif-6 cymbals. Roland JV-880 is used for a classic analogue string patch and Roland D-50 patch "Juno clav" is used for the accompaniment.
Synths: Yamaha Motif 6 classic
Roland JV-1080 and JV-880
Roland S-10 sampler- midi controller for JV-880