All you can eat iPad electronic music

In this video the music was composed only with iPad, overdubbing Animoog, Yamaha Synth&Dr Pad, Sunrizer, SynthTronica and Addictive Synth and it is only demonstrating some capabilities of the above music apps for iPad. Screenshots during recordings. Music composed by ALBA ECSTASY.
More music on http://www.albaecstasy.ro
Here are the details:
http://ios-music.homewoke.net/
It is a first impression.
The easiest operation was photoed.
Although this has the strong side as a MIDI controller, it makes a very good sound also with an application simple substance.
Although the performance using Arpeggiator is main, only few of programming is not sensuous.
However, various usage is done.
Available on the iOS App Store
http://itunes.com/app/syntharpanddrumpad
The special release price for a limited time until July 31th 2012!
☆★☆ 2012/7/31まで発売記念価格350円にて販売 ☆★☆
Learn more about Synth Arp & Drum Pad on our website:
- UK: http://uk.yamaha.com/products/apps/synth_arp/
- other EU countries: http://europe.yamaha.com/products/apps/synth_arp/
- Australia: http://au.yamaha.com/en/products/music-production/accessories/apps/synth_arp/
- Canada: http://ca.yamaha.com/en/products/apps/synth_arp/
- Japan: http://jp.yamaha.com/products/apps/synth_arp/
Use Yamaha's new iPad app "Synth Arp & Drum Pad" to easily create fabulous phrases and enjoy a performance freely!
Synth Arp & Drum Pad is an iPad app with arpeggiator and drum pad that allows you to easily play the internal synthesizer or any connected MIDI device and produce music with phrases having an abundant variety of musical styles.
(The arpeggiator automatically plays the individual notes of a chord in a selected pattern.)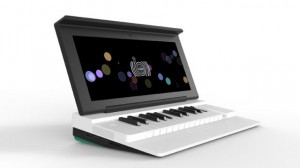 Miselu has been slowly debuting new apps for its Android-powered music making device, Neiro, for a while now. But at the Google I/O convention, music-making on the Neiro just got serious. Since SXSW the hardware reference design continues to mature, but mainly focused on the software side and have released our music SDK alpha to a select group of developers that used our Miselu emulator environment (alpha for Mac and Linux) to the build apps.

Showing off a flashy Korg Polysix synth and telling us of some additional news regarding the Yamaha Vocaloid technology, Miselu's Malte Goesche explains: "Yamaha has produced a Vocaloid application prototype for the Miselu platform. The app (codename MV-01) is produced by music game designer luminary Tetsuya Mizuguchi.
"Vocaloid is a singing synthesizer technology developed by Yamaha that uses concatenative synthesis to splice and process vocal fragments extracted from human voice samples. Vocaloid allows you to create an authentic computer-generated singing voice with text-to-lyrics capability."
With the launch of the Polysix, it seems that Korg is committed to developing for this aspiring Android music platform, too. Hironori Fukuda from Korg says: "The Miselu platform has brought us a great opportunity to develop a synthesizer application with a totally new user experience.
"The reason we decided to create the Polysix is that the platform has already been perfectly customised for synthesizer use with low latency audio playback based on their great MusicSDK, a wide multi-touch display and a built-in musical keyboard. It was quite easy to port from our Polysix software. The Miselu platform is all set for music creation."
all sounds: YAMAHA AN1x virtual analog synthesizer (1997)
recording: multi-track without midi
fx: a little bit delay and reverb
I use the internal step-sequencer for the bass sequence.
more info: http://www.retrosound.de and
http://www.facebook.com/pages/RetroSound-Marko-Ettlich/265713782347
About the synth: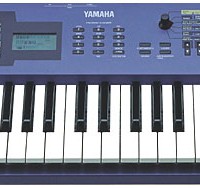 The AN1x is a powerful retro-analog synth with a really cool new feature that lets you record real-time editing and filtering and be able to store it as part of the sound! A major contender in the new wave of analog-digital synths using DSP modeling of analog waveforms to recreate the coveted sounds of analog synths with modern digital specifications. It offers truly traditional yet modern methods of analog synthesizing, 10 notes of polyphony, 8 knobs for tweaking, and an arpeggiator with dozens of inspiring patterns!
Although the AN1x is not a follow-up to the CS1x (which has since been followed by the CS2x and the CS6x) it has borrowed many functions and technologies from the CS1x synth. First, it's built in an almost identical case with the same layout of buttons and knobs as the CS1x. However the function of every knob and button has been greatly expanded. The AN1x also has 2 Scene memories for instant recall of any envelope and filter settings and the mod-wheel can be used to morph between the two scenes. On-board effects and a state-of-the-art arpeggiator section also are on-board for giving your sounds life and motion.
The AN1x adds a new Ribbon controller for increased real-time control. It also includes pulse width modulation, ring modulation and oscillator syncing. The AN1x may not be the next evolution of the CS1x but it is basically a more advanced synth capable of increased sound potential and quality. It has a better feeling keyboard than the CS1x as well assuming that the AN1x is for those looking for something more professional than the CS1x.
A voyage into the heart of the Yamaha DX7 II FD from the year 1987.
Exploration by Marko Ettlich
FM Synthesizer
16 Voice Polyphonic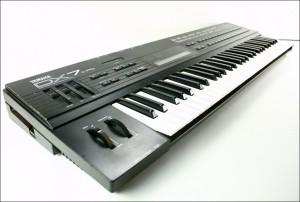 It has been used by Human League, a-ha, Depeche Mode, Tony Banks, Toto and many more.
The DX7 was an amazing digital FM synth. The DX7s carries on the torch once held by the DX7. It offers the same great FM synthesis method and can also create sounds just as unique and wild as the DX7. However, they can be just as difficult to program and understand for most users. Some general improvements include enhanced MIDI support, micro-tuning, aftertouch controlled pitch bending, and multiple LFOs. Although many improvements have been made to the DX7 in this upgrade there still could have been room for improvement, which is where the DX7IID and DX7IIFD come in.
These next models allowed for keyboard split and layering capabilities. The DX7IID (pictured above) and DX7IIFD hold 64 voices in internal memory, as well as an additional 64 voices in a RAM/ROM cartridge that can be accessed. These voices can be layered in dual mode providing very rich sounds or a nice combination of sounds that would be impossible on the original DX7. They can also be split, for a two voice multi-timbral capability. Again, impossible on the original DX.
They have wonderfully clean sound and are stereo, providing pans and chorus and a few other nice effects. There are two real time sliders on these instruments, allowing control of user-programmable items in real time. Micro-tuning, as well as fractional tunings for eastern music etc. is possible. The FD includes a floppy drive for storage of patches, performance presets and sysex information.
Here's a video that takes a closer look at the compact console from Yamaha with built in 16 channel USB audio interface, 40 mix channels and new mic preamps.
The Yamaha 01V96i updates their iconic digital recording console with 16 channels of bi-directional USB audio streaming at an impressive 96kHz. With multi-track recording now de rigueur during live shows, Yamaha once again ups the ante by making recording and playback faster and easier, while supplying full integration with major ASIO and Core Audio DAWs – with just a single connection. Onboard, you get Yamaha's lauded Virtual Circuitry Modeling technology, giving you warm "analog" effects that are modelled on the actual circuitry of the original units. Bundled with Steinberg's Cubase AI, Yamaha's 01V96i is all you need.
Icebreaker Audio has released the PortaSynth and Calc-U-Synth instruments for Native Instruments' Kontakt 5 platform.
PortaSynth is an emulation of a circuit-bent Yamaha PortaSound PSS130 from 1987. It also includes PortaDrums – a drum machine based on the percussion samples from the same instrument.
Calc-U-Synth is a full emulation of the Casio VL-Tone's programmable synth engine for Kontakt. It features faithful emulations of all of the VL-Tone's parameters.
Both PortaSynth and Calc-U-Synth are included in the ToyBreaker Bundle, which also includes HandySynth – a sample based emulation of a circuit bent Yamaha HandySound. Not only does this bundle save you around 25% of the total price of buying the three products separately, but as an added bonus, ToyBreaker Bundle owners also get an exclusive battery kit of drum samples taken from several toy keyboards from the 80s.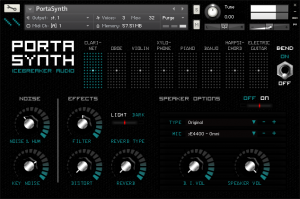 PortaSynth features:
All instrument sounds sampled chromatically at 24bit, 48kHz quality.
Bent sound counterparts for each of the sampled sounds.
Advanced speaker options.
Distortion, filter and spring reverb effects.
Key-Click and Background Noise controls.
Also includes the PortaDrum drum machine.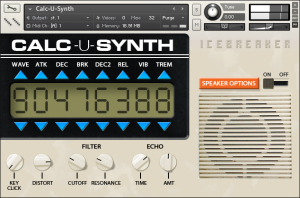 Calc-U-Synth features:
A full emulation of the Casio VL-Tone's programmable synth engine.
All waveforms sampled chromatically at 24bit, 48kHz quality.
Additional filter, distortion and echo effects.
Advanced speaker options, and key-click noise control.
Prices:
PortaSynth: £7.50 (€9 / $12 approx.).
Calc-U-Synth: £4.50 (€5.5 / $7 approx.).
The ToyBreaker Bundle: £12.50 (€15.5 / $20 approx.) – a 25% saving over buying the three products separately.
Upgrade Prices: HandySynth Owners can upgrade to the ToyBreaker Bundle for £9 (€11 / $14) before the 1st September, 2012.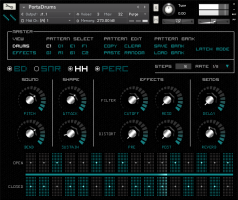 All products are available now from the Icebreaker Audio website.
Detune has released iYM2151, a new iPad music app that they describe as 'the world's first FM synthesis music workstation'.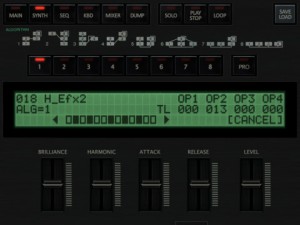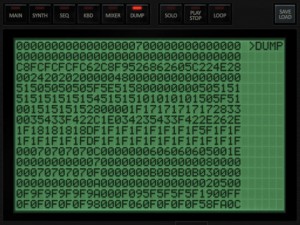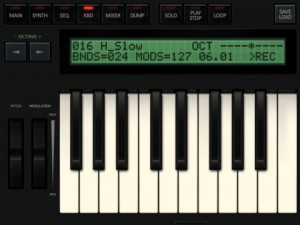 Here's what they have to say about iYM2151:
YM2151, aka OPM, is a single-chip FM synthesis implementation, an eight-channel four-operator sound chip. it was used in many 80′s arcade games and home computers.
iYM2151 is the The world's first FM synthesis music workstation app, using YM2151 simulator engine for iApp.
iYM2151 not only tries to recreate the 80′s FM sound, but it also recreates the experience of working with an 80′s FM interface.
Features:
uses YM2151 simulator engine for iApp
4 operators per 8 Algorithms
8 voices
3 software LFOs
max 99 scenes (1scene with 64 steps)
easy FM edit mode
MML mode : programable huge FM parameters in every steps
DUMP mode : realtime all FM operator parameters viewer
song data file sharing and mail attachment
80′s design user interface
The YAMAHA CS-10 came out 1977. It is a monophonic synthesizer equipped with 1 VCO, 1 multimode resonant filter (highpass, lowpass, bandpass, but self oscillating of the filter is not possible – why?), 1 LFO, 1 noise generator, 2 envelopes. It also has an external signal input. This is great for processing signals – a bit like Korg MS-20 (I did this with a Roland TR-606 in the video). The LFO is very fast. It has CV and trigger inputs/outputs.
A nice little synth with some nice sounds!
"I played the CS-10 along with a Roland DEP-5 (delay) and a Lexicon MPX-500 (reverb)."