Synth demo of Yamaha AN1x synthesizer — playing ambient electronica / chillout space music using a repeating arpeggiator motif. This ambient soundscape was created using 2 oscillators, reverb, delay, aural exciter, and filter/envelope adjustments. Performed live, no external processing. Excerpt from a longer session.
About the synth:
The AN1x is a powerful retro-analog synth with a really cool new feature that lets you record real-time editing and filtering and be able to store it as part of the sound! A major contender in the new wave of analog-digital synths using DSP modeling of analog waveforms to recreate the coveted sounds of analog synths with modern digital specifications. It offers truly traditional yet modern methods of analog synthesizing, 10 notes of polyphony, 8 knobs for tweaking, and an arpeggiator with dozens of inspiring patterns!
Although the AN1x is not a follow-up to the CS1x (which has since been followed by the CS2x and the CS6x) it has borrowed many functions and technologies from the CS1x synth. First, it's built in an almost identical case with the same layout of buttons and knobs as the CS1x. However the function of every knob and button has been greatly expanded. The AN1x also has 2 Scene memories for instant recall of any envelope and filter settings and the mod-wheel can be used to morph between the two scenes. On-board effects and a state-of-the-art arpeggiator section also are on-board for giving your sounds life and motion.
The AN1x adds a new Ribbon controller for increased real-time control. It also includes pulse width modulation, ring modulation and oscillator syncing. The AN1x may not be the next evolution of the CS1x but it is basically a more advanced synth capable of increased sound potential and quality. It has a better feeling keyboard than the CS1x as well assuming that the AN1x is for those looking for something more professional than the CS1x.
Arturia Minibrute controlling the Korg Monotribe via CV out, and Yamaha TNR-i for iPad with BeatMaker 2 drum samples.
"Arturia Minibrute controlando o Korg Monotribe via CV out e o Yamaha TNR-i para iPad usando samples de bateria do BeatMaker 2, também para iPad. "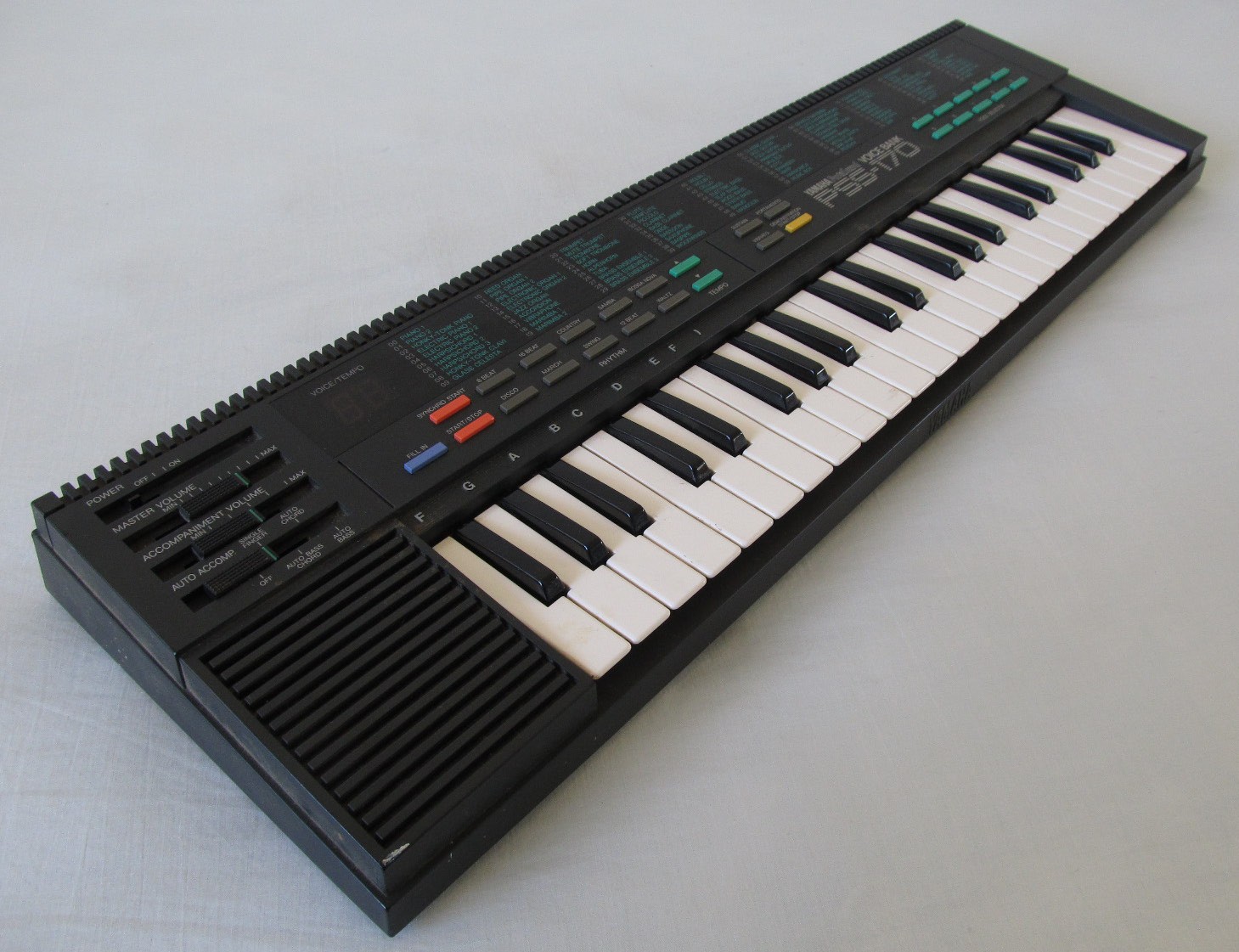 Released in 1987 or 1988, this is one of Yamaha's Tone Bank keyboards.  It's a two-operator preset FM synth with a couple of voice modifiers, the expected auto-accompaniment, and some really poor drums.  Master volume, accompaniment volume and auto accompaniment select are handled by physical sliders on the front panel. The only I/O port is a headphone jack.
To change voices you need to use a dedicated keypad type the number in. There is no Up/Down button for stepping through the programs. On the positive side, there IS a large display which shows the currently selected voice.  There are buttons for sustain and vibrato, as well as portamento, which seems like it would be cool but has a fixed glide rate that's disappointingly long. Good for sound effects, not so much for music.
The sounds are good, particularly in light of the crappy drums. Since it IS an FM keyboard, things like brass, organs, and bells are quite serviceable, while more natural sounds like the various guitars, piano, and woodwinds are a little lacking.  The short keyboard is  a definite disadvantage with some of the patches, particularly the basses.
Background video description:
Again I am comitting some musical malpractice to a well known Classic. This time the victim is Kiss from 1986.
I am not really sure what to call the person who sang it as he had the habit of frequent stage name changes. But as far as I know he was called Prince when he recorded this song.
Background video description:
Why use samples or drum machines if you already have the necessary equipment to create drum sounds. Making your own drum sounds is both fun and more personal.
In this video I've used a Korg MS-20 for snare drum. The MS-20 is perfect for making snare, clap sounds thanks to the resonant hi-pass filter. The kick is programmed on a Sequential Circuits Pro~One by Jonas Sjöström. The Pro~One is great for kicks and can do Speak&Spell (Vince Clarke) kicks and all the way up to 909.
Hi-hats are made by a Yamaha CS-30, the CS synths hi-pass/band-pass filter is perfect for making hi-hats. The best CS synth for making hi-hats is the CS-10… hard to find snappier envelopes. I don't own a CS-10 anymore so I had to use a CS-30. The trigg to the CS-30 seems to be messed up, the hi-hat some times starts and stops…
Since the MS-20 was occupied making snare-sounds I had to use a Synthesizer.com to make the hand-clap. Not as easy as making a hand clap on a MS-20 but I think it sounds pretty ok. I will record another video when I create a hand clap on a .com.
Effects used in the video is a Klark Teknik DN-780 and a Sony MU-R201
Time for a new vintage synth feature – this time the Yamaha CS-5, details below:
The YAMAHA CS-5 came out 1978. It is a monophonic synthesizer equipped with 1 VCO, 1 multimode resonant filter (highpass, lowpass, bandpass), 1 LFO, 1 noise generator, 1 envelope. It also has an external signal input. This is great for processing signals – a bit like Korg MS-20. The LFO is very fast. It has CV and trigger inputs/outputs.
The CS-5 has the S&H waveform in the LFO, which the CS-10 does not have. This is very important to produce great FX sounds! On the other hand the CS-5 has only 1 envelope.
A nice little synth with some great sounds!
I played the CS-5 along with a Roland DEP-5 (delay) and a Lexicon MPX-500 (reverb).
Background video description:
Four years ago somebody suggested that I should do "Milkway Promenade" by Milkways.
Well, better late than never!
Anyways – not milkways – I play it on a small collection of small Yamaha keyboards. Most of them works with FM synthesis except the PSS-12 that uses Advanced Wave Memory.
Soul sensation Alicia Keys discusses her new virtual piano plug-in "Alicia's Keys" with editor-at-large Jon Regen in this June 2010 interview.
What is it: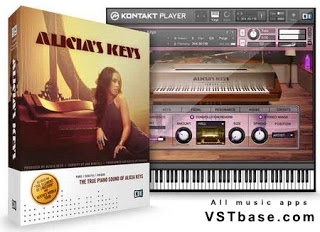 The instrument samples of Native Instruments Alicia's Keys come from Alicia Keys' very own Yamaha C3 Neo grand piano. This unique and highly-sought after instrument was built to celebrate Yamaha's 100th anniversary in 2002 and represents the very top of the Conservatory Collection line.
The exquisite and unique sound of the C3 Neo were painstakingly captured by Thomas Skarbye, Kontakt script wizard Nils Liberg, and Grammy-award winning engineer Ann Mincieli – making this exclusive instrument available to everyone.
Using vintage microphones and preamps and through detailed analysis of Alicia's playing, the team succeeded in capturing the warm, soulful and inspiring sound of the C3 Neo all the way down to the finest nuances.
Background video description:
Most of my small keyboards are from Casio. But I do have a Collection of small Yamaha keyboards too. Here I use some of them to play the Classic Kraftwerk song "Computer Love".
You might notice that on the PC-100 keyboard the notes doesn't seem to match the keys I am playing. The reason is that I had to use the transpose knob to be able to get the notes as high as I wanted them. So on this particular keyboard I am playing in another key than on the others.
Another 80′s drum machine fitted with an analogue filter, digital delay and a proco rat distortion circuit.
One of the typical keyboard-based setups that were used in the '80s for ballads.
Moog Minimoog: synth bass
Roland TR-808: drum machine
Yamaha DX7: electric piano