Yamaha is teasing a new synth product. In this video a couple of musicians reveal what they think of it:
It's reminiscent of 'one of the main synthesizers in techno';
It's a keyboard synth that feels 'like a piano player made the keys';
The Yamaha Reface is 'a new take on a classic concept'; and
It has some connection with the classic Yamaha CS synths of the 70s.
Factory demo songs from the Yamaha FS1r synthesizer recorded direct with no effects.
The FS1r is the most advanced FM synthesizer ever released by Yamaha. Not only does it exceed the capabilities of previous hardware by 2 operators with its 8-operator FM engine, it also includes formant synthesis, which can be use to create sounds much like the Human voice.
Though it was not well-regarded when it was launched, its unmatched hardware capabilities make it a very sought-after piece of equipment.
Song list:
1. Vokodrone (0:05)
2. FullTines (0:56)
3. Nebulous (1:14)
4. FatLine (2:05)
5. PikoVoice (2:33)
6. Kalimba (3:19)
7. BeatBox (3:47)
8. SpacyAah (4:16)
9. SuperArp (4:40)
10. Accordion (5:24)
11. FsMoby (5:36)
12. AcidKing (6:09)
13. Shaman (6:42)
14. AnaUnison (7:10)
15. Human (7:32)
For more information about this and other synthesizers, please visit http://soundprogramming.net/synthesiz…
Video desciption:
I play all presets from number 1 to 64 without any addition of effects nor dynamics etc .. at the end of the video I also play all 24 multis that are on the expansion card. Enjoy and you are welcome to subscribe to my channel as well as reshare it. Thank you very much for your support.
Best SAL BAN aka Matthias played
Check out my channel and you will find videos where I played following synthesizers:
Moog Sub37
Clavia Nord Lead4
Yamaha SY-35
Yamaha SY35 Super Synth Voice expansion card
Korg Volca
Korg ARP Odyssey
Novation Bass Station 2
Korg SQ1
Roland Aira System 1M
There are more videos to come from my following studio setup. These videos include:
Moog The Rogue
Moog Sub37
Dave Smith Instruments Tetra
Clavia Nord Modular G2 – Expanded
Clavia Nord Lead4
Yamaha SY-35 – aka SY-22 or TG-33 – with extra Super Synth Voice Card and Pop Card
Clavia Nord Wave – in a special edition and bended version – unique I would say
Waldorf Miniworks 4 Pole Filter
Waldorf Blofeld
Roland Aira Series – TR 8 – TB 3 MX-1
Roland JX-8p
Roland Juno 106
Roland JP-8000
Roland V-Synth XT
Roland MKS-50
Roland M-VS1 Vintage Synth
AKAI SG01v
Oberheim Matrix 6R
Oberheim Matrix 1000
Korg MS-20
Korg Poly 800 MK 2
Korg Radias inkl. Keys
Korg Micro X
Korg Volca Bass
Korg Volca Keys
Korg Volca Drums – Beats
Korg Electribes ER-1
Korg Electribes EA-1
Novation Mininova
Acidlab Bassline
Access Virus C
Arturia Minibrute
Arturia Spark LE
Voice Card and Pop Card
Kawai K1 MK II
Doepfer Dark Energy 2
SPL Phonitor 2
SPL Mixdream XL
Lexicon MK300
Korg M1
Roland D-70
Universal Audio LA-610 MK2
Sony GP5
Native Instruments Maschine
Native Instruments S8
….. and always upcoming new Synths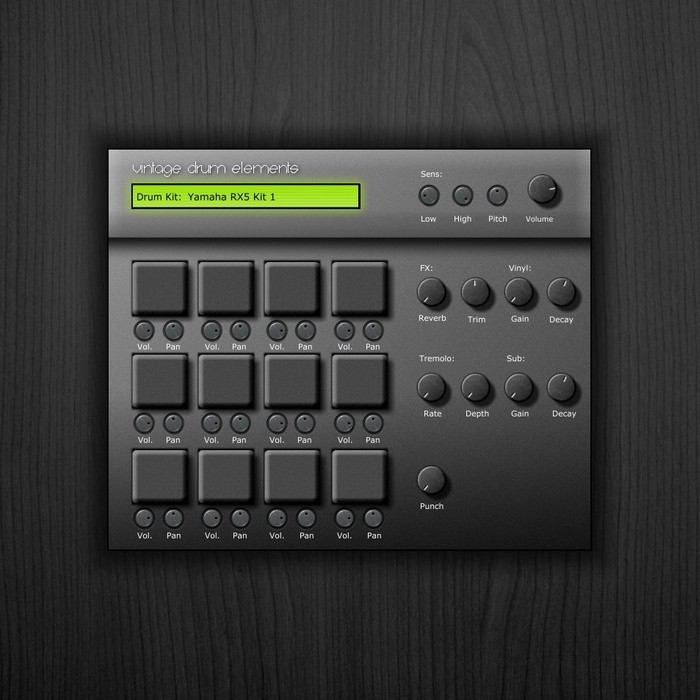 Single Cycle Audio has launched Vintage Drum Elements, a virtual drum machine featuring the sound of the Yamaha RX5.
This seminal drum machine of the eighties is the perfect companion to any synthwave, vaporwave, synthpop and chillwave enthusiast who seek that eighties vibe in their drum patterns. The RX5 has been use by such artist as the Cocteau Twins, Bomb The Bass, Masters At Work, Orchestral Manoeuvres in the Dark, Louie Vega, Chromeo, Vangelis, Depeche Mode, The Pet Shop Boys among many other professional producers.

The plugin drum machine comes with 4 drum kits, 1 FX set and 4 instruments.
The plug-in is available as a free download for Windows and Mac (VST/AU).
A track made with sounds from the vintage Oberheim OB-X analog synthesizer from 1979 but now in a more modern production… Also the Yamaha CP-80 is used for piano sounds.Drum samples from Vengeance.
This is a re-upload of a previous video , now with a better audio mix.
Track is also known as Eldhjärta.
Vintage synthesizer demo featuring the Yamaha DX7II FD
supported by UVI: http://bit.ly/retrosound-uvi
YAMAHA DX7II FD FM Synthesizer with GREY MATTER E! expansion (1987)
E! spec:
Octal Mode (8 different patches can be played in one Performance), voice stacking, random detune, patch mapping, velocity processing, micro-tuning, pattern sequencer, arpeggiator, 4 memory banks and a lot more
more info: http://www.retrosound.de/The_DX7.htm
About the Yamaha model:
The DX7, a classic FM synth, gets a make-over with three significant updates. The updated models feature a more sturdy chassis with actual push-buttons replacing the cheaper and less reliable membrane buttons of the original DX7. The two real time sliders (that allow for control of user-programmable parameters in real time) are larger than before. Internally, the biggest improvement is the updated 16-bit digital circuitry for cleaner and much less noisy sound quality. Patch memory has also been doubled from 32 to 64 voices. Additional general improvements include enhanced MIDI support, micro-tuning capabilities, aftertouch controlled pitch bending, and multiple LFOs.
Recorded on September 12, 2010
Drums: Roland TR-909
Synths: Moog Memorymoog
Overdrive bass: Yamaha RBX-170
DAW/FX: ProTools M-Powered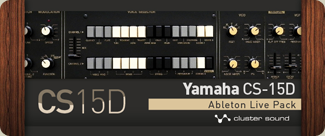 Cluster Sound has released CS15D, a multi-sample Live Pack based on the vintage Yamaha CS-15D.
CS15D is an extensive multi-sample Live Pack reproducing the sound of the vintage Yamaha CS-15D, a great sounding monophonic analog synthesizer released in 1979.
Details:
THE SOURCE The CS-15D is a monophonic analog synth with loads of character, one of the most solid and warm single-VCO machine ever. The synth features 29 preset voices divided in two mixable channels, plus a manual section comprising a variable pulse-saw oscillator, a PW modulator, a noise generator and a 12db filter with a dedicated ADSR envelope.
BRILLIANT SOUNDS Despite referred to an array of realistic instrument names (Tuba, Oboe, Horn, Harpsi, Xilophone..) the 29 presets give a variety of synthetic sounds ranging from fat basses to solid percussive organs and warm brass strings. These sounds can be altered by the Brilliance slider which acts in several interesting ways depending on the selected preset.
THE PACK CS15D is based on 74 multi-sample recordings reproducing all the presets with different brilliance amounts, several variations of the VCF envelope and various manual oscillator settings (including a tuned noise). The Live Pack features 90 Instrument Racks with useful macro controls, including special Mixed Racks for easy drag 'n drop customization.
CS15D is available for 24.00 € at the Cluster Sound site.
A demo video displaying some of the capabilities of Yamaha's DX9. The only external effect used is reverb.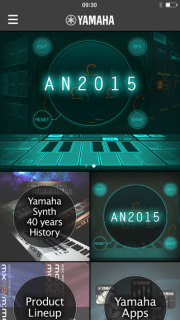 This app features a complete history of Yamaha Synthesizers, an integrated virtual analog soft synth, and serves as a portal to Yamaha's online synth communities.
The app is being released as part of Yamaha's celebration of its 40 year history of makin
The history features detailed, "behind the scenes" information about the 40-year design and development history of Yamaha synthesizers. It covers the technological breakthroughs behind key Yamaha synthesizers, from teh CS-80 to the DX-7, and some fantastic vintage synth rarities, too.
The app also includes a software synthesizer. .
AN2015 features virtual analog modeling like the AN1x. It also features a drum part that you can use for backing.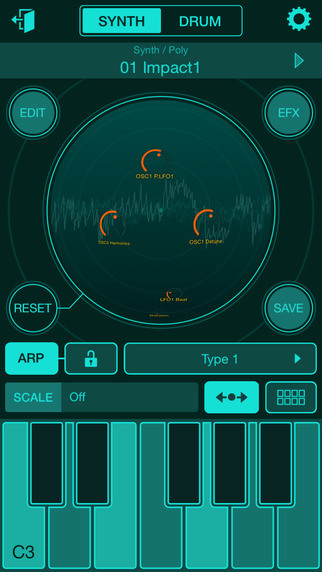 Yamaha highlights two ways to use the synth:
As standalone iOS app – There are 2 modes available, SYNTH mode and Drum mode that work at the same time, e.g. when drum phrase is playing, Analog sound can be selectable and playable with the drum phrase, and vice versa without stopping ongoing music
Use it with a MOXF as an external tone generator – When connected to the Yamaha MOXF Music Production Synthesizer (OS version 1.10) using the Lightning to USB Camera Adapter by Apple, the MOXF becomes the MIDI/Audio interface for the iOS app creating a very powerful music production system.
Specifications
'Analogue' Synth

Tone Generator: Virtual Analogue Modelling
Polyphony: 8
Preset voice: 64
Arpeggiator: 1-Scale: 1
Polyphonic Pad

Drum Part

Tone Generator: Audio (Drum loop and time stretch function included)
Part: 1
Polyphony: 1
Drum Pad: 16
Drum Pad Set: 5
Other features include a portal to Yamaha's social media forums and a catalog of the company's current synth lineup.
Yamaha Synth Book is a free download from the App Store.