Recorded on September 12, 2010
Drums: Roland TR-909
Synths: Moog Memorymoog
Overdrive bass: Yamaha RBX-170
DAW/FX: ProTools M-Powered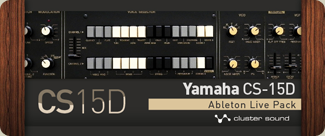 Cluster Sound has released CS15D, a multi-sample Live Pack based on the vintage Yamaha CS-15D.
CS15D is an extensive multi-sample Live Pack reproducing the sound of the vintage Yamaha CS-15D, a great sounding monophonic analog synthesizer released in 1979.
Details:
THE SOURCE The CS-15D is a monophonic analog synth with loads of character, one of the most solid and warm single-VCO machine ever. The synth features 29 preset voices divided in two mixable channels, plus a manual section comprising a variable pulse-saw oscillator, a PW modulator, a noise generator and a 12db filter with a dedicated ADSR envelope.
BRILLIANT SOUNDS Despite referred to an array of realistic instrument names (Tuba, Oboe, Horn, Harpsi, Xilophone..) the 29 presets give a variety of synthetic sounds ranging from fat basses to solid percussive organs and warm brass strings. These sounds can be altered by the Brilliance slider which acts in several interesting ways depending on the selected preset.
THE PACK CS15D is based on 74 multi-sample recordings reproducing all the presets with different brilliance amounts, several variations of the VCF envelope and various manual oscillator settings (including a tuned noise). The Live Pack features 90 Instrument Racks with useful macro controls, including special Mixed Racks for easy drag 'n drop customization.
CS15D is available for 24.00 € at the Cluster Sound site.
A demo video displaying some of the capabilities of Yamaha's DX9. The only external effect used is reverb.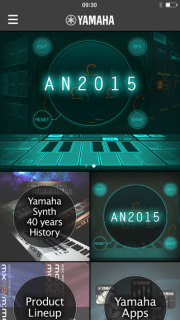 This app features a complete history of Yamaha Synthesizers, an integrated virtual analog soft synth, and serves as a portal to Yamaha's online synth communities.
The app is being released as part of Yamaha's celebration of its 40 year history of makin
The history features detailed, "behind the scenes" information about the 40-year design and development history of Yamaha synthesizers. It covers the technological breakthroughs behind key Yamaha synthesizers, from teh CS-80 to the DX-7, and some fantastic vintage synth rarities, too.
The app also includes a software synthesizer. .
AN2015 features virtual analog modeling like the AN1x. It also features a drum part that you can use for backing.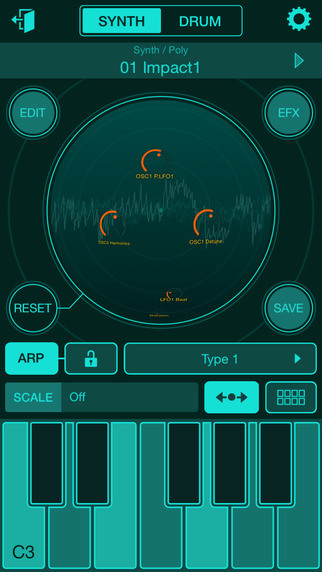 Yamaha highlights two ways to use the synth:
As standalone iOS app – There are 2 modes available, SYNTH mode and Drum mode that work at the same time, e.g. when drum phrase is playing, Analog sound can be selectable and playable with the drum phrase, and vice versa without stopping ongoing music
Use it with a MOXF as an external tone generator – When connected to the Yamaha MOXF Music Production Synthesizer (OS version 1.10) using the Lightning to USB Camera Adapter by Apple, the MOXF becomes the MIDI/Audio interface for the iOS app creating a very powerful music production system.
Specifications
'Analogue' Synth

Tone Generator: Virtual Analogue Modelling
Polyphony: 8
Preset voice: 64
Arpeggiator: 1-Scale: 1
Polyphonic Pad

Drum Part

Tone Generator: Audio (Drum loop and time stretch function included)
Part: 1
Polyphony: 1
Drum Pad: 16
Drum Pad Set: 5
Other features include a portal to Yamaha's social media forums and a catalog of the company's current synth lineup.
Yamaha Synth Book is a free download from the App Store.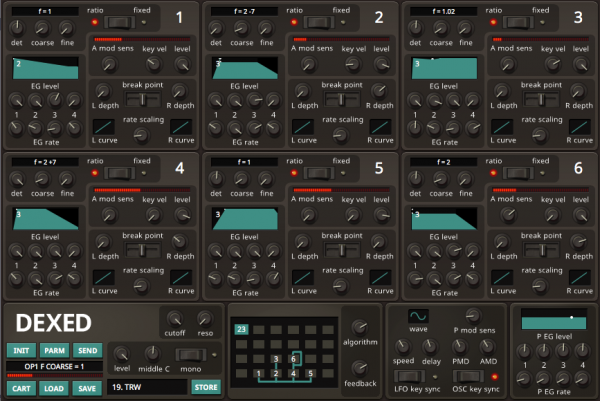 Dexed is a multi-platform, multi-format software synth that is modeled on the Yamaha DX7. It lets you create new sounds, use them in your DAW and save them to your DX-7. 
According to developer Digital Suburban, 'the goal of the project is to be a tool/companion for the original DX7.'
Features
Multi platform (OS X, Windows or Linux) and multi format (VST, soon AU and others that I don't use); by using JUCE
The sound engine music-synthesizer-for-android is closely modeled on the original DX7 characteristics
144 DAW automatable DX7 parameters available from one single panel
Fully supports DX7 input and output Sysex messages; including controller change. This means that you can use this with a native DX7/TX7 as a patch editor and sysex manager
Each operator have a realtime VU meter to know which one is active
Can load/save any DX7/TX7 sysex programs. It is also possible to save a single program into a different sysex file.
The sounds in this demo come from the DEXED engine, not from a hardware DX7.
Dexed is a free download from the project site.
This video demonstrates the sound and features of the Yamaha CS-80 analog synthesizer. Enjoy!
A very old and very huge (over 200 lbs.) classic synthesizer. Considered Japans first great synthesizer. It had some pretty amazing features for its time such as eight voice polyphony, patch memory storage and polyphonic aftertouch. It can generate great analog strings, brass, drones and pads with that instantly recognizable classic polysynth sound. No synth sounds greater. Some examples of its extremely fat sound can be heard in "Blade Runner" and "Mutiny on the Bounty" by Vangelis as well as "Dune" by Toto. The thing that really made this synth sound so powerful was its "natural" detuning….thus its brass and string sounds were unparalleled not only for authenticity, but for pure width! Unfortunately for the CS-80, it was released the same year as the more programmable and cheaper Prophet 5.
With two analog oscillators per voice, the CS-80 has the potential for some really thick sounds! A great VCF (filter) with independent hi pass and low pass resonant filters, a powerful ring modulator and plenty of modulation controls further enhance the CS-80's sonic potential. There are 22 preset sounds (6 user) selected from bright and ugly colored buttons above the keyboard. The keyboard is weighted and has a full 61 keys with performance controllers for vibrato, pitch, brightness and volume. Surprisingly there's also a long ribbon controller for the pitch-bending, located above the keyboard. There is no MIDI or cv/gate control. The only way to MIDI it is via a rather complex retrofit receive-only kit from Kenton.
A consumer level DX synth that sounds just like the DX100 – thin and brittle. Following the DX model this synth also uses FM synthesis which is difficult to master. You will need to program this synth to get better sounds because the presets are only moderately useful. It's capable of a good string, bass and droney-pad sound as well as industrial sound-effects and metallic like sounds.
Still it makes a better option than a DX27 or DX100 because it has the capability of layers and splitting the keyboard and there is a chorus effect. Portamento and a Unison Mono-Mode are also nice features for screaming lead synth performances. For a cheaper source of DX sounds with moderate programmability, check out the DX21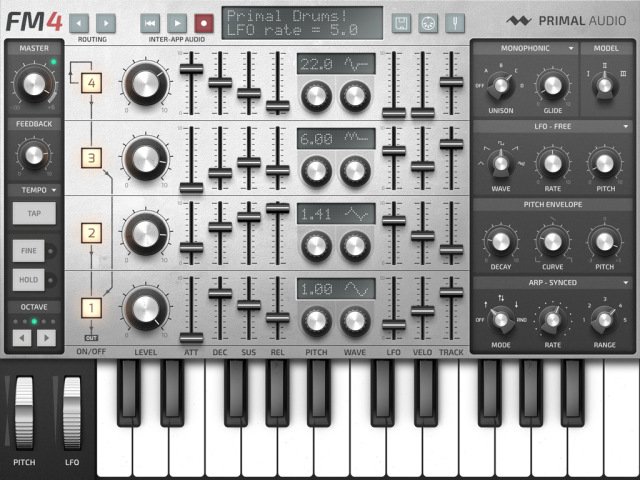 Primal Audio has announced FM4 – a new FM synthesizer for iPad, modeled on classic 1980s Yamaha DX series keyboards.
According to the developers, "Great care has been put into analyzing and replicating inherent sonic characteristics of the original hardware, such as internal quantization errors and digital-to-analogue conversion."
Features:
Four operators configurable via eight different routings
Three sound engines modelled on 1980s hardware units
Eight waveforms derived from classic FM synths
2x, 3x, and 4x polyphonic unison
Tempo-syncable arpeggiator with up, down, up-down, and random patterns
Microtuning with eight different temperaments
Supports Inter-App Audio, background audio, and MIDI (support for Audiobus is planned)
Up to 24 voices of polyphony
Import/export presets through iTunes
Works on all iPads supporting iOS 7.0 and up
FM4 will be available in the App Store in December 2014, with an introductory price of $0.99. See the Primal Audio site for details.
This demo features the Teenage Engineering PO-12 Drum Machine, Yamaha TG-100 rompler/synthesizer and MTI Analog String Ensemble ADL-100 effects unit. All of these are mixed on a Yamaha MJ-100 DJ mixer. The PO-12 is being ran straight into the mixer and is only being effected by the MJ-100's internal digital delay (you can hear me through-out the video adjusting the delay time on the effect). The TG-100, which is doing the chord/pad choir patch, is being ran through the MTI chorus unit. The MTI's effect is quite similar to the ensemble effect built into the Solina String Synthesizer; a triple chorus with very deep modulation. The strings are also being effected by the digital delay on the mixer. The mix is then sent into my audio interface.
Please note: This is the prototype of the PO-12 released at Moogfest.
Vintage synthesizer demo track
all sounds: YAMAHA DX7 II FM Synthesizer (1987)
drums: LinnDrum (1982)
recording: multi-track without Midi
fx: reverb and delay