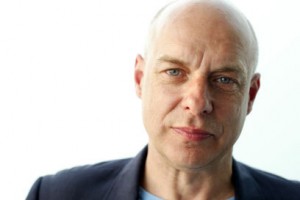 I recently spent three days working with what is possibly the most advanced recording console in the world, and I have to report that it was a horribly unmusical experience. The console, which has more than 10,000 controls on its surface and a computer inside, was designed in such a way that music-making tasks once requiring a single physical switch now require a several-step mental negotiation. My engineer kept saying "Wait a minute" and then had to duck out of the musical conversation we were having so he could go into secretarial mode to execute complex computer-like operations. It's as though a new layer of bureaucracy has interposed itself between me and the music we want to make. After days of tooth-gnashing frustration, I had to admit that something has gone wrong with the design of technology – and I was paying $2,000 a day in studio fees to discover it.
Years ago I realized that the recording studio was becoming a musical instrument. I even lectured about it, proclaiming that "by turning sound into malleable material, studios invite you to construct new worlds of sounds as painters construct worlds of form and color." I was thrilled at how people were using studios to make music that otherwise simply could not exist. Studios opened up possibilities. But now I'm struck by the insidious, computer-driven tendency to take things out of the domain of muscular activity and put them into the domain of mental activity. This transfer is not paying off. Sure, muscles are unreliable, but they represent several million years of accumulated finesse. Musicians enjoy drawing on that finesse (and audiences respond to its exercise), so when muscular activity is rendered useless, the creative process is frustrated. No wonder artists who can afford the best of anything keep buying "retro" electronics and instruments, and revert to retro media.
The trouble begins with a design philosophy that equates "more options" with "greater freedom." Designers struggle endlessly with a problem that is almost nonexistent for users: "How do we pack the maximum number of options into the minimum space and price?" In my experience, the instruments and tools that endure (because they are loved by their users) have limited options.
Software options proliferate extremely easily, too easily in fact, because too many options create tools that can't ever be used intuitively. Intuitive actions confine the detail work to a dedicated part of the brain, leaving the rest of one's mind free to respond with attention and sensitivity to the changing texture of the moment. With tools, we crave intimacy. This appetite for emotional resonance explains why users – when given a choice – prefer deep rapport over endless options. You can't have a relationship with a device whose limits are unknown to you, because without limits it keeps becoming something else.
Indeed, familiarity breeds content. When you use familiar tools, you draw upon a long cultural conversation – a whole shared history of usage – as your backdrop, as the canvas to juxtapose your work. The deeper and more widely shared the conversation, the more subtle its inflections can be.
This is the revenge of traditional media. Even the "weaknesses" or the limits of these tools become part of the vocabulary of culture. I'm thinking of such stuff as Marshall guitar amps and black-and-white film – what was once thought most undesirable about these tools became their cherished trademark.
The Marshall guitar amplifier doesn't just get louder when you turn it up. It distorts the sound to produce a whole range of new harmonics, effectively turning a plucked string instrument into a bowed one. A responsible designer might try to overcome this limitation – probably the engineers at Marshall tried, too. But that sound became the sound of, among others, Jimi Hendrix. That sound is called "electric guitar." Or think of grainy black-and-white film, or jittery Super 8, or scratches on vinyl. These limitations tell you something about the context of the work, where it sits in time, and by invoking that world they deepen the resonances of the work itself.
Since so much of our experience is mediated in some way or another, we have deep sensitivities to the signatures of different media. Artists play with these sensitivities, digesting the new and shifting the old. In the end, the characteristic forms of a tool's or medium's distortion, of its weakness and limitations, become sources of emotional meaning and intimacy.
Although designers continue to dream of "transparency" – technologies that just do their job without making their presence felt – both creators and audiences actually like technologies with "personality." A personality is something with which you can have a relationship. Which is why people return to pencils, violins, and the same three guitar chords.
Via Wired
Musician, composer, producer, music theorist, singer and visual artist; probably best known for his early work with Roxy Music, his production duties for U2 & Coldplay, and as one of the principal innovators of ambient music. This documentary film – the first ever about Eno – explores his life, career and music between the years 1971 & 1977, the period that some view as his golden age. Featuring numerous exclusive interviews, contributions from a range of musicians, writers, collaborators and friends – plus performance and studio film and an abundance of the most exceptional music ever created
http://www.youtube.com/watch?v=HxHqnztxpTg

Video from Wired magazine: Brian Eno Gets Quizzed on Milk Sea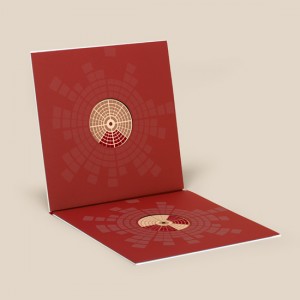 Brian Eno's Small Craft on a Milk Sea comes ashore in the US today on Warp Records, produced with collaborators Jon Hopkins  and Leo Abrahams
You can hear the full album on Grooveshark:
A name like Eno's tends to precede itself, but I quite honestly think, his fame aside, it's a masterpiece. The collaboration of the three artists seems utterly clear and harmonious. Some of Eno's own best ambient and experimental tendencies, from the artist who helped define those categories, float back to the surface here. But they're partly reflected anew in these other artists. The ease with which the trio fuse their sounds is little wonder: these two gentlemen have been ongoing collaborators with Eno, working extensively on fine details of various productions and playing live with him onstage. They seem to achieved a creative mind meld.
The result is something that returns to that tradition, but finds continuity between the old and new, a common voice that can begin to escape the burden of time and trend. It is often unabashedly simple and, in the words of The Great Pumpkin, full of sincerity. It's the original soundtrack score to something you haven't imagined yet. And it's just sonically wonderful, even in the lower-fidelity stream, warm and clear, evoking deep colors. It's something you might like to bring along with you for the winter of 2010-11.
But, anyway, through the magic of the Internet, you don't have to take anyone's hollow words; you can give it a listen and disagree violently, immediately, if you like. Grooveshark above, and if that doesn't work, SoundCloud players on Brian Eno's official website.
For myself, I'm off to purchase it as a physical album, to listen repeatedly in its entirety, in defiance of what supposedly happens these days in music listening trends.
Release news via Flavorwire, who point to still more reading.

Valhalla DSP has announced that Valhalla Shimmer – an algorthimic reverb inspired by the work of Brian Eno & Daniel Lanois – is now available for $50.
You can preview a demo of Valhalla Shimmer below. The example uses 4 instances of Shimmer in series, with pitch shifting on 3 of the instances (+/- 12 semitones, +/- 7 semitones, and +/- 5 semitones).
Description:
At its core, ValhallaShimmer is a high quality reverberator, designed to produce a smooth decay, that is both dense and colorless. There are several reverberation modes available, to allow the user to dial in reverb decays of different sizes, ranging from smaller rooms to vast ambiences.
By adjusting the Feedback, Diffusion and Size controls, the attack, sustain and decay of the reverb signal can be fine tuned.
The modulation controls can be set to produce subtle mode thickening, glistening string ensemble-esque decays, and the distinctive random modulation of the older Lexicon hall algorithms.
Two tone controls and the Color Mode selector allow the timbre to be adjusted from bright and glistening to a more natural dark decay, similar to that produced by air absorption in large spaces.
In addition, ValhallaShimmer has the ability to pitch shift the feedback signal. There are 5 pitch shift modes available:
Single, where the feedback is shifted up or down by the Shift value.
Dual, where the feedback is shifted both up and down (in parallel) by the Shift value.
SingleReverse, where each grain is reversed before it is pitch shifted. This results in a smoother pitch shifting sound than the Single mode.
DualReverse. Similar to the Dual mode, but with reversed grains, for a smoother pitch shifting sound.
Bypass, which turns off the pitch shifting (useful for "standard" reverb sounds).
By setting the Shift amount to +12 semitones, and the Feedback to 0.5 or greater, the classic "shimmer" sound is produced, as heard on Eno / Lanois productions for U2 and others. A wide variety of other sounds can be created by the algorithm, ranging from spring-esque reverbs to "reverse" reverbs, to glistening pitch shifted pads that are usually associated with high end hardware processors.
The developer says that ValhallaShimmer has been designed to be tweaked in real time. All of the sliders have a smoothed response, to avoid clicks when changing settings or automating the controls. At the same time, the algorithm has been highly optimized, so you get a huge reverb sound without straining your CPU.
Via SH
Warp Records will release an album by Brian Eno. Release date: Nov 1, 2010
Brian Eno – 2 Forms Of Anger (taken from Small Craft On A Milk Sea) by Warp Records
This is a preview of Aura Flux – a new ambient music application for iPhone & iPad.
The app combines elements of apps like Nodal and Brian Eno's Blo0m.
Here's what the they have to say about it:
Aura Flux is a new way to create unique music on the iPhone and iPad by simply connecting sounds together visually on screen. With over 48 individual sounds and a huge choice of options on how these react and link with each other, Aura Flux has unlimited possibilities.
4 moods (keys) and control over the background ambiance enable to user to create dynamically changing sound environments that can automatically morph as the visuals represent the connections made.
Each scene can be saved and recalled for future listening and adjustments.
The patches include warm space pads, Berlin School arpeggios and organic sound effects suitable for ambient, cinematic and filmscore productions.
http://www.youtube.com/watch?v=MjzjafGXG-M&feature=player_embedded
Audio demo of Luftrum 6 – Soundbank for Roland GAIA SH-01 containing 64 ambient patches ranging from warm space pads over Berlin School arpeggios and organic sound effects – suitable for ambient, cinematic and filmscore productions. 32 of the 64 patches are spine-tingling ambient pads, lifting the GAIA up to the next level of sound!
Luftrum 6 is drawn out of inspirations from Brian Eno, Tangerine Dream, Biosphere and Steve Roach and is a follow up to soundbank successors released for Propellerheads Reason and lately the standalone Luftrum:Ambient for Camel Audio's Alchemy – which cemented Luftrum's signature as an ambient tone painter.
Luftrum 6 is available as download-only from luftrum.com
After an official confirmation from Warp, Brian Eno has unveiled his next album, "Small Craft On a Small Sea."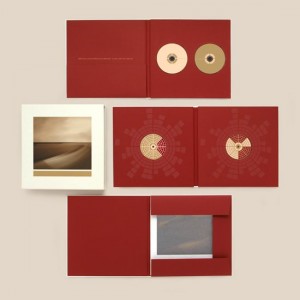 The launch page reveals far more about the packaging than the actual music (though I must say, the packaging is very pretty). But the album does focus on collaboration, working with returning artists Jon Hopkins and Leo Abrahams. Hopkins and Eno have worked together regularly, and that trio produced some wonderful sounds, recording with Peter Chilvers, for the soundtrack for "The Lovely Bones." Abrahams' original mention on his Web diary also described some of what's to come:
It contains the fruits of several years of jams between the three of us. I've not heard anything quite like it — it sounds 'live' and 'alien' at the same time. Some things have been permitted to survive, which only Brian would have had the courage to let go, and it's so much the better for it.
The release also comes wrapped in some evocative artworks by Eno himself, including the dune image seen on the cover.
All in all, that seems there's reason to look forward to the November 2 (November 15 UK) release date, as we get to hear the product of these three musical imaginations. Preorders, from digital to various collectors' editions, start Wednesday of this week.
Details:
http://brian-eno.net/#headlines