http://www.youtube.com/watch?v=HxHqnztxpTg

Video from Wired magazine: Brian Eno Gets Quizzed on Milk Sea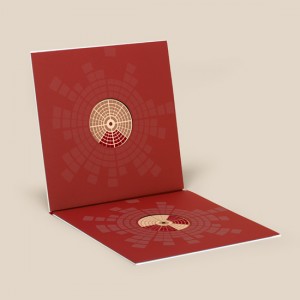 Brian Eno's Small Craft on a Milk Sea comes ashore in the US today on Warp Records, produced with collaborators Jon Hopkins  and Leo Abrahams
You can hear the full album on Grooveshark:
A name like Eno's tends to precede itself, but I quite honestly think, his fame aside, it's a masterpiece. The collaboration of the three artists seems utterly clear and harmonious. Some of Eno's own best ambient and experimental tendencies, from the artist who helped define those categories, float back to the surface here. But they're partly reflected anew in these other artists. The ease with which the trio fuse their sounds is little wonder: these two gentlemen have been ongoing collaborators with Eno, working extensively on fine details of various productions and playing live with him onstage. They seem to achieved a creative mind meld.
The result is something that returns to that tradition, but finds continuity between the old and new, a common voice that can begin to escape the burden of time and trend. It is often unabashedly simple and, in the words of The Great Pumpkin, full of sincerity. It's the original soundtrack score to something you haven't imagined yet. And it's just sonically wonderful, even in the lower-fidelity stream, warm and clear, evoking deep colors. It's something you might like to bring along with you for the winter of 2010-11.
But, anyway, through the magic of the Internet, you don't have to take anyone's hollow words; you can give it a listen and disagree violently, immediately, if you like. Grooveshark above, and if that doesn't work, SoundCloud players on Brian Eno's official website.
For myself, I'm off to purchase it as a physical album, to listen repeatedly in its entirety, in defiance of what supposedly happens these days in music listening trends.
Release news via Flavorwire, who point to still more reading.

Valhalla DSP has announced that Valhalla Shimmer – an algorthimic reverb inspired by the work of Brian Eno & Daniel Lanois – is now available for $50.
You can preview a demo of Valhalla Shimmer below. The example uses 4 instances of Shimmer in series, with pitch shifting on 3 of the instances (+/- 12 semitones, +/- 7 semitones, and +/- 5 semitones).
Description:
At its core, ValhallaShimmer is a high quality reverberator, designed to produce a smooth decay, that is both dense and colorless. There are several reverberation modes available, to allow the user to dial in reverb decays of different sizes, ranging from smaller rooms to vast ambiences.
By adjusting the Feedback, Diffusion and Size controls, the attack, sustain and decay of the reverb signal can be fine tuned.
The modulation controls can be set to produce subtle mode thickening, glistening string ensemble-esque decays, and the distinctive random modulation of the older Lexicon hall algorithms.
Two tone controls and the Color Mode selector allow the timbre to be adjusted from bright and glistening to a more natural dark decay, similar to that produced by air absorption in large spaces.
In addition, ValhallaShimmer has the ability to pitch shift the feedback signal. There are 5 pitch shift modes available:
Single, where the feedback is shifted up or down by the Shift value.
Dual, where the feedback is shifted both up and down (in parallel) by the Shift value.
SingleReverse, where each grain is reversed before it is pitch shifted. This results in a smoother pitch shifting sound than the Single mode.
DualReverse. Similar to the Dual mode, but with reversed grains, for a smoother pitch shifting sound.
Bypass, which turns off the pitch shifting (useful for "standard" reverb sounds).
By setting the Shift amount to +12 semitones, and the Feedback to 0.5 or greater, the classic "shimmer" sound is produced, as heard on Eno / Lanois productions for U2 and others. A wide variety of other sounds can be created by the algorithm, ranging from spring-esque reverbs to "reverse" reverbs, to glistening pitch shifted pads that are usually associated with high end hardware processors.
The developer says that ValhallaShimmer has been designed to be tweaked in real time. All of the sliders have a smoothed response, to avoid clicks when changing settings or automating the controls. At the same time, the algorithm has been highly optimized, so you get a huge reverb sound without straining your CPU.
Via SH
Warp Records will release an album by Brian Eno. Release date: Nov 1, 2010
Brian Eno – 2 Forms Of Anger (taken from Small Craft On A Milk Sea) by Warp Records
This is a preview of Aura Flux – a new ambient music application for iPhone & iPad.
The app combines elements of apps like Nodal and Brian Eno's Blo0m.
Here's what the they have to say about it:
Aura Flux is a new way to create unique music on the iPhone and iPad by simply connecting sounds together visually on screen. With over 48 individual sounds and a huge choice of options on how these react and link with each other, Aura Flux has unlimited possibilities.
4 moods (keys) and control over the background ambiance enable to user to create dynamically changing sound environments that can automatically morph as the visuals represent the connections made.
Each scene can be saved and recalled for future listening and adjustments.
The patches include warm space pads, Berlin School arpeggios and organic sound effects suitable for ambient, cinematic and filmscore productions.
http://www.youtube.com/watch?v=MjzjafGXG-M&feature=player_embedded
Audio demo of Luftrum 6 – Soundbank for Roland GAIA SH-01 containing 64 ambient patches ranging from warm space pads over Berlin School arpeggios and organic sound effects – suitable for ambient, cinematic and filmscore productions. 32 of the 64 patches are spine-tingling ambient pads, lifting the GAIA up to the next level of sound!
Luftrum 6 is drawn out of inspirations from Brian Eno, Tangerine Dream, Biosphere and Steve Roach and is a follow up to soundbank successors released for Propellerheads Reason and lately the standalone Luftrum:Ambient for Camel Audio's Alchemy – which cemented Luftrum's signature as an ambient tone painter.
Luftrum 6 is available as download-only from luftrum.com
After an official confirmation from Warp, Brian Eno has unveiled his next album, "Small Craft On a Small Sea."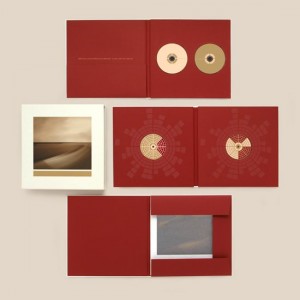 The launch page reveals far more about the packaging than the actual music (though I must say, the packaging is very pretty). But the album does focus on collaboration, working with returning artists Jon Hopkins and Leo Abrahams. Hopkins and Eno have worked together regularly, and that trio produced some wonderful sounds, recording with Peter Chilvers, for the soundtrack for "The Lovely Bones." Abrahams' original mention on his Web diary also described some of what's to come:
It contains the fruits of several years of jams between the three of us. I've not heard anything quite like it — it sounds 'live' and 'alien' at the same time. Some things have been permitted to survive, which only Brian would have had the courage to let go, and it's so much the better for it.
The release also comes wrapped in some evocative artworks by Eno himself, including the dune image seen on the cover.
All in all, that seems there's reason to look forward to the November 2 (November 15 UK) release date, as we get to hear the product of these three musical imaginations. Preorders, from digital to various collectors' editions, start Wednesday of this week.
Details:
http://brian-eno.net/#headlines
Brian Eno has a new album on the way.
We don't have much in the way of details yet – but there's a post up about it on guitarist/composer Leo Abraham's site:
Lastly, there's an album out soon by Brian Eno, with myself and Jon Hopkins. It will be on Warp. It contains the fruits of several years of jams between the 3 of us.

I've not heard anything quite like it – it sounds 'live' and 'alien' at the same time. Some things have been permitted to survive which only Brian would have had the courage to let go, and it's so much the better for it.
Brian Eno's Oblique Strategy "Honour they error as s hidden intention" is the inspiration for a new sample library, Error Tone.
Here's what developers Tone Manufacture have to say about it:
In that spirit, we've created a library solely from errors. Some of them completely accidental, some where we just looked the other way whilst the accident happened. But all of them stem from a willful ignorance of instruction manuals and correct operating procedures.
Home movie soundtracks mangled with the wrong converters, musical toys tortured into revealing hidden sonic secrets and computer hard drives dying noisily, all of the sounds in this library started out life as errors.
Some of them have been further treated with a mixture of carefully applied computer processing and traditional studio techniques, some left as nature (never) intended.
Tone Error sells for £29.99 £19.99.
Contents:
30 NN-XT sampler patches, ranging from massive pads to sub-shaking percussion.
14 Combinator instruments, all with performance controls and extensive processing.
200+ single hits, from tweeter shredding glitches to low end rumbles.
NN-XT patches with all the single hits mapped across the keyboard.
46 REX2 loops, from percussion to circuit bent transmissions.
600+ Mb of content.
24 bit / 48khz high quality audio.
Available either in Reason Refill or Wav / REX2 format.
Wav / REX2 format includes NN-XT instruments that can be used in Native Instruments Kontakt.