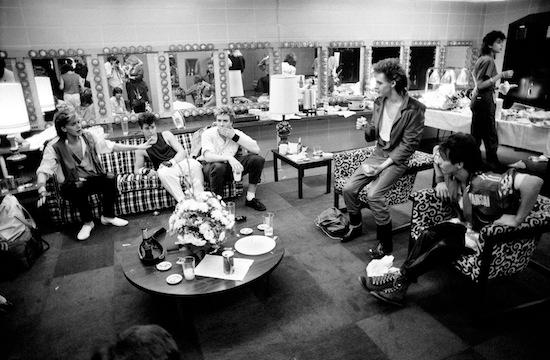 It's almost 30 years since Duran Duran embarked upon their Sing Blue Silver world tour and Durannie-mania swept America. Screaming teenagers drowned out the sound of their instruments on stage, hotel front doors were blocked by hordes of fans and the media followed every move of the fab five. Only one camera was allowed into the inner sanctum, though. Denis O'Regan travelled with the band across the US and Japan as their official photographer, ensuring they had no privacy even in their dressing rooms. Which may have got up their noses at times – Simon Le Bon tried to throw Denis out of a hotel window in Fukuoka – but ended in a lasting friendship and a wonderful photographic record of an extraordinary time.
Last week, at a pop-up exhibition space just off Carnaby Street, Le Bon, John Taylor, Nick Rhodes and Roger Taylor joined Denis O'Regan to launch Careless Memories – a limited edition book of images. It's a fascinating insight into the lives of Duran Duran – catching them backstage, in transit, on stage, gurning and twatting about like the young friends they were and also a reminder of the media frenzy around them. Photos of fans, limos and jetplanes. Permed girls in Trilby hats and JT in white shoes. So many white shoes.
The limited run of cloth-bound coffee table books will be retailing at £250 and upwards. For those of us with no room for a coffee table, the photos can be seen at the book's website.
Synth spotting featuring a Duran Duran classic:
This is but a small part of the "process" in making my next Cover. It is a bit long, made a mistake so had to start again. A few more tracks (guitar) to record, then in a few weeks I'll upload.
So if you don't have anything more to say – why not spice your videos with sexy girls

Duran Duran
Girl Panic! (Skin Divers)
Director: Jonas Akerlund
Producer: Svana Gisla and Helen Potter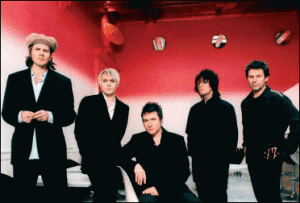 In order to make up for a string of unfortunately canceled gigs: Duran Duran. As a 'thank you' for the support that their fans have given the band members over the past few weeks (the band had to cancel various concerts, see also: "Even more Duran Duran concerts canceled – MRI scan for Simon Le Bon"), they have uploaded their May 12th performance in Rome at RDS radio for you to enjoy.
That's right, a free 9-track soundboard concert!
You can download the full concert right here.
Tracklist:
All You Need Is Now
Blame The Machines
Notorious
Safe
Save A Prayer
Ordinary World
Girl Panic!
View To A Kill
Careless Memories
Via SL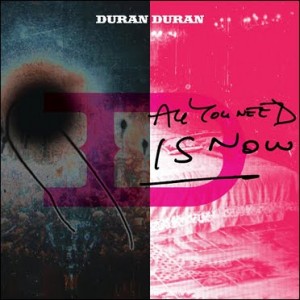 Duran Duran have recruited noone else but moviemaker David Lynch to direct their upcoming Unstaged concert in Los Angeles for a live stream to fans across the world. The concert takes place at the Mayan Theatre on March 23 – the day after the release of their new album "All You Need is Now". Lynch will capture the event on cameras and beam the footage around the world via YouTube.com.
"All You Need is Now", Duran Duran's 13th studio album, is produced by Mark Ronson (Amy Winehouse, Adele, Kaiser Chiefs, …) and mixed by Spike Stent (Madonna, Björk, No Doubt) and is said to be a "return-to-roots homage to Duran Duran's most celebrated musical panache". The album features guest vocals/rap from longtime Duran Duran pal/collaborator Ana Matronic of the Scissor Sisters and R&B/neo-soul superstar Kelis, while Owen Pallett of Arcade Fire contributes the album's string arrangements.
The band also enlisted the talents of up-and-coming British art star Clunie Reid for the album artwork and packaging. Reid's work has been recently shown at leading UK and US spaces, including the Saatchi Gallery, The Tate and the New Museum in New York. British fashion magazine POP's creative team will provide art direction for the project.
Via SL
The new Depeche Mode remix album will be released early April 2011.
For those who didn't know yet; remix duties have been executed by Alan Wilder (Recoil and ex-Depeche Mode – "In chains"), Vince Clarke (Yazoo, Erasure, ex-Depeche Mode – "Behind the wheel"), Duran Duran's Nick Rhodes, New Order's Bernard Sumner, Mark Ronson and Andrew Wyatt of Miike Snow. Other unconfirmed names which have popped up include Aphex Twin, The Yeah Yeah Yeahs!, Brandon Flowers of The Killers and Arcade Fire.
More news will follow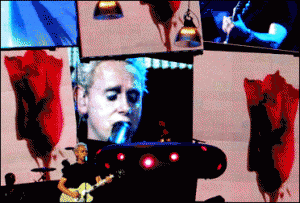 New Order's Bernard Sumner, Alan Wilder and Vince Clarke were already confirmed to remix Depeche Mode for an upcoming remix album, and now Duran Duran states in a post on their Facebook page that Nick Rhodes, Mark Ronson and Andrew Wyatt (Miike Snow) remixed "Personal Jesus"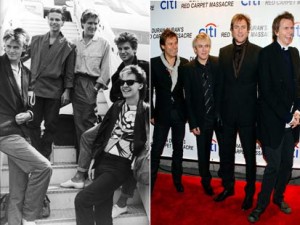 The remix album is expected to be released next year. More news soon.

Thanks to SL for sharing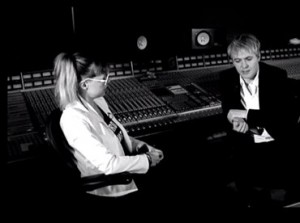 After working on Record Collection, Mark Ronson brought NYC noisenik MNDR and Duran Duran synth legend Nick Rhodes together at Sphere Studios in South London to chat about their love of analogue synths, MNDR's cameo on "Bang Bang Bang", and Nick's pioneering 80s pop melodies.
The biggest names in are featured on Ronson's collaborative albums; he's produced Macy Gray, Christina Aguilera, Amy Winehouse, Robbie Williams, Duran Duran, and Kanye West, and his accolades include a Brit for best male solo artist and a Grammy for best producer. The music producer, pop star, DJ  is now bringing his contacts together for his next musical venture.
Revealed follows Ronson as he prepares to release his latest album, "Record Collection," in September – featuring Duran Duran's Nick Rhodes and a track with Boy George, as well as hip-hop star Wiley. Ronson says it sprang from "four or five months of jamming with my favourite musicians in the world." While working with Lady Gaga in 2007, the pop diva suggested Ronson take some singing lessons – and almost 3 years later he is due to get behind the mic himself for the first time.

In a video post Nick Rhodes from Duran Duran has given some more news on when we can exactly expect a new Duran Duran album (their 13th) and also why it is taking them that long to release it. Nick Rhodes: "It's been tougher than we thought. You always hope that things will go quickly with the record… but sometimes it doesn't work like that. And this album was an uphill climb, the reason it was, was that the tracks were so strong. We really set the bar very high and we are slowly making our way up to that bar. We have 9 out of 12 songs which are pretty much done."
Rhodes hopes to be finished by mid-July and then mix the material in September. The album will – still according to Rhodes – be out in the first quarter of next year.