Over a year of alpha and beta testing has seen the AlphaSphere design completely overhauled and prepared for production. AlphaSphere is a brand new musical instrument which has been designed for electronic music. The AlphaSphere allows you to be expressive with music through a series of tactile pressure sensitive pads. Load the Sphere with your own sounds, or connect to your existing digital audio workstation (DAW) with the intuitive software. Get hands on with electronic music and create your new sound. Change the way you play.
As part of going into production the AlphaSphere has been undertaking Electromagnetic compatibility (EMC) testing.
This is a necessary process in order to ensure the AlphaSphere will not interfere with electrical equipment and to issue the product with a CE, FCC, VCCI or CCC mark.
AlphaSphere – Now electrically compliant by:
Director – Oliver Purches http://www.oliverpurches.com/
Motion Graphics, VFX & Editor – Alex Fung http://goo.gl/NlvUD
Camera Op & Editor – Albert Testani
Mastering Engineer – Colin Bennun
Producer & Music – Adam Place
Shot on location at York EMC Services, Bristol, UK
"A curious instrument from the 2013 NAMM show. It has stings that move in contact with a rotating "bow" to play the strings like a violin. Yes. They are very expensive but quite lovely"
WNAMM13: Wheelharp Up Close Video From Antiquity Music
The Wheelharp is a groundbreaking keyboard musical instrument that gives the player the ability to orchestrate a full chromatic scale of sixty-one (61) actual bowed strings at one's own fingertips, almost like having a real chamber string orchestra at hand.
With an exotic profile and stunning rosette appointments, the Wheelharp's appearance is equally as breathtaking as its audible character. It is available in a Radial Model (curved keyboard) and a Linear Model (traditional straight keyboard), and in several ranges.
It utilizes a patent-pending action and bridge to translate the player's subtle fingerings into a range of bowing intensities, and comes equipped with a damper system and electronic pickup system, allowing individuals to sculpt astonishingly beautiful and complex sounds. For musicians, composers, and studios that seek to create the natural sound of classical string instruments while avoiding the frequently sterile quality of digital string synthesizers and samples, or for those looking to foray into new sonic territory, the Wheelharp presents a truly exciting opportunity.
Antiquity Music is premiering the Wheelharp, a keyboard musical instrument that gives the player the ability to 'orchestrate' with a chromatic scale of sixty-one 61 actual bowed strings at one's own fingertips.
When the player presses any key on the Wheelharp, the action moves the selected key's respective string toward a rotating wheel with a rosined edge, thereby bowing the string.
With the right pedal, the player controls the speed of a motor that turns the wheel, which varies the bowing speed of the wheel against the string and thus changes the dynamic effect. For instance, the wheel speed and the key depth can both be used to create swells and decrescendos. The action for each note can easily be removed as necessary for maintenance or string replacement.
The left pedal controls a full damper system that extends across the strings. An electromagnetic pickup floats above the strings and a piezoelectric pickup is mounted to the soundboard, allowing for the player to fully control the amplified timbre of the Wheelharp.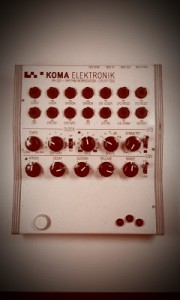 KOMA Elektronik announces the RH-301 Rhythm and Utility Pedal!
New pedal features master clock with tap tempo, versatile LFO, envelope generator, MIDI and 14-point CV patch bay.
Berlin based musical instruments manufacturer KOMA Elektronik are very happy to announce a brand new pedal: the KOMA RH-301 Rhythm Workstation / Utility Tool! The RH-301 is KOMA Elektronik's solution for a problem many musicians are struggling with: analog and digital equipment that needs to run side by side in sync without running out of control, which is not always an easy task! That is why KOMA decided to build a 'Master Sync Station' that helps electronic musicians get the most out of their equipment by properly syncing (a large amount of) devices in many different ways and add some cool tricks along the way…
Master Clock
The beating heart of the pedal is the master clock, of which the tempo can be set by turning the tempo knob, by tapping a tempo on the tap button, by syncing it to MIDI or to an external CV clock signal. Besides the normal clock output the user can also divide the signal with the Divisions knob and send a faster or slower clock signal via the two Division Outputs. The generated clock signals can be passed on via CV with the two Clock Outputs, two Division Outputs or via the MIDI Output. An incoming MIDI signal can also be passed through via the MIDI Through and Out jacks.
LFO
The second feature of the RH-301 is the LFO, which can be synced to the master clock or run freely from 0,25 Hz to 260 Hz in five different shapes: sine, triangle, square, S&H and noise. This means the pedal can also be used as an oscillator, when the user turns the LFO up into the audible ranges. When the LFO is in Sync-Mode the user can choose the same divisions as the divisions of the master clock. The LFO has two separate outputs on the patch bay: LFO Out and LFO Inverted Out. All the features of the LFO are also controllable via control voltage, the pedal boasts CV inputs for LFO Speed, LFO Reset and LFO Symmetry.
Envelope Generator
The third feature of the pedal is an Envelope Generator that can be easily synced to the master clock as, or run in loop mode. Besides the normal controls for Attack, Decay, Sustain and Release the pedal comes with a Range knob to set the range of the envelopes created. The Envelope Generator comes with a normal Envelope Output, but also an Inverted Output. The Envelope Generator can be triggered by an external Gate CV Source through the Envelope Gate Input.
Besides all these features, the RH-301 also comes with a built-in KOMA Elektronik sensor, which has a separate CV Output on the patch bay as well.. Plenty of functions to get creative with, because no matter what your setup is, digital or analog or all mised together, if you use a Modular synthesizer, DAW, drum computer, synthesizer or KOMA's own BD-101 and FT-201 effect pedals, the RH-301 is a effective tool to make sure they all walk in line!
The RH-301 will be on display and ready for testing at NAMM'13 at booths 1170 in Hall E (Analogue Haven) and 6735 in Hall A (Big City Music).
MRSP: To Be Announced! The RH-301 will be available in the beginning of Q2 of 2013 at KOMA Elektronik dealers worldwide and directly from KOMA Elektronik's webstore at www.koma-elektronik.com.
Follow the updates concerning this product on http://www.facebook.com/KOMAelektronik !
John Biggs interviews Mike Butera, Founder of Artiphon, onstage at CES 2013. Artiphon is a multi instrument that uses an iPhone as it's brain. This device can be a guitar, bass, violin, banjo, or drumpad.
We've been hearing a lot about Elektron's new analog four voice. From the stylish but somewhat obscure introduction movie which piqued our interest, to the sound audition pieces coming online as people get hold of their very own units.
The Analog Four is a new type of instrument from Elektron as it has 100% analog VCOs and Filters which are digitally controlled. Their Machine Drum and MonoMachine have been Virtual Analog and sample based.
Elektron came over from their Gothenburg HQ to give us a closeup look at the Analog Four.
Jon is the product manager and is doing the talking, Jenk the guy making all the sounds.
No apologies for the length of the video, its just that there seemed to be so many things to talk about. Also this is intended to be a discussion about the features of the instrument, there are many other videos available that are just audio demos – check them out.
The Elektron Analog Four is available now via selected retailers and direct from the Elektron Website.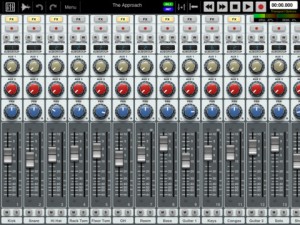 Auria LE – the professional digital audio recording system for iPad.
The mobile DAW you've been dreaming of has finally arrived. Auria LE is a 24-track digital recording system designed from the ground up for the iPad. With professional-level features and optional third-party plugin support from names like PSPaudioware, Overloud, Fab Filter and Drumagog (available via In-App purchase), Auria clearly sets a new standard for mobile recording.
FEATURES:
24 tracks of simultaneous playback of stereo or mono files (upgradable to 48 tracks).
Up to 8 tracks of simultaneous recording when used with compatible USB audio interfaces (upgradable to 24 tracks of recording) Camera Connection Kit required.
24-bit recording
Supports sample rate of 44.1KHz only (upgradable to support 48K and 96K sample rates)
Vintage-inspired ChannelStrip on every channel by PSPAudioware includes Expander, Multiband EQ and Compressor
MasterStrip on all subgroup and master channels featuring PSPAudioware BussPressor, EQ and Mastering Limiter
Third party VST effect plugin support available via in-app purchase (only iOS-version plugins are supported. All plugins must be purchased through the in-app store)
ClassicVerb reverb plugin included
StereoDelay and StereoChorus plugins included
2 Assignable subgroups(upgradable to 8) and 2 aux sends
Powerful waveform editor with features like cut/copy/paste, duplicate, separate, gain, and more
Flexible snapping tools allow snapping to events, cursor, bars, beats and more
DropBox, SoundCloud and Audio Copy/Paste support
Full automation support on all controls with graphical editing
True 100mm faders when used in Portrait Mode
Optional video import feature allows sample accurate sync of video to an Auria project with adjustable offset times and video export capability
Timeline ruler options include minutes:seconds, bars:beats, samples and SMPTE time
Auto-punch mode
Full delay compensation on all tracks and subgroups
Adjustable metering modes, including pre or post fader, RMS and peak
Adjustable pan laws
Sample accurate loop function
Automatic sample rate conversion
Built-in metronome
Includes a demo song mixed on Auria by Grammy winning producer/engineer David Kahne.
REQUIREMENTS:
iPad 2 or later strongly recommended.
Requires iOS 5.0 or later
USB audio interfaces require Camera Connection Kit
Just in case you did not know; Seeburg was an American design and manufacturing company of automated musical equipment, such as orchestrions, jukeboxes, and vending equipment. Automated musical equipment, such as coin-operated phonographs and orchestrions, were manufactured under the JP Seeburg and Company name for most of its early years. Until 1956, the company was family-owned. The company was founded by Justus Sjöberg from Gothenburg, Sweden. He moved to the US after graduating from Chalmers and used an Americanized spelling of his name for the company. In the late 1940s, Seeburg manufactured its popular and distinctive "trashcan-shaped" series of jukeboxes