Hand crafted drone machine. Made with a vintage 1940′s multimeter. All new electronics boasts 4 square wave oscillators, 1 gate oscillator, signal switches, output led monitor.
www.frankenmusik.blogspot.com
Milton Babbit Reaktor ensemble by Dmitriy Vasiliev, available in the Reaktor user library.
Now available at http://www.optigan.com/shoptigan
A new release in our line of Vako Orchestron discs, SOLO TRUMPET. It's unlikely that there will be sufficient demand to do a second run of 25 of these discs, so your best bet is to buy as many of these as you need while you can! Any future additional copies will most likely be done as one-offs, which are twice as expensive to produce, and thus will cost twice as much.
SOLO TRUMPET is an entirely NEW sound for the Orchestron. This is an actual acoustic trumpet sound, taken from the original Optigan/Orchestron master tapes, but never actually heard on any Optigan or Orchestron disc until now! Please excuse my awful playing here, which is just a quick noodle to demonstrate the sound!
PLEASE NOTE: This disc WILL NOT play properly in an Optigan! They WILL play, but the sounds will NOT be mapped correctly to the keyboard- they will be mapped mostly haphazardly across the chord buttons. Please don't order this disc expecting to easily use it in an Optigan. In the future we will be porting the Orchestron sounds to the Optigan- please be patient!

Stay tuned for more Orchestron discs, both new and remastered titles!
Playing SampleTank on my iPad2 with my Akai EWI4000s via iRig MIDI. (Note: I meant to say CC74 for "Cutoff" not CC64). Be sure to watch the last minute (from 10:55).
Playing Addictive Synth on my iPad 2 with my Akai EWI4000s thru iRig MIDI. Here's a first look at this breath control freindly, fun and powerful synth! Breathy Flute 00:39 Solo 8:00 Tribal 12:54 Bernzilla Brecker EWI 15:33
Via Bernie Kenerson on Youtube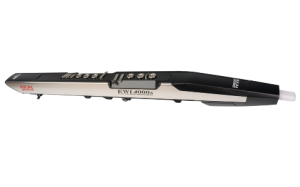 EWI stands for electronic wind instrument; this one is basically an analog modeling synth within a wind controller, so don't expect realistic sounds without hooking the MIDI out to another sound generator that has high quality samples or physical modeling.
uPhase+ is an instrument geared towards live play. It has many features and shortcuts to enable complex improvisation with spatialized patterns. Browse the documentation or head straight to the Video Tutorials to learn how to play, or take a look at the demos below to get a feel of what is possible. uPhase+ will be released in the app store worldwide on November 27th, 2012. Until then, it will only be in the swiss app store. If you have downloaded uPhase Client without reading the app's description, sorry , uPhase Client does nothing on it's own. It's only function is to connect via local wifi to an iPad running uPhase+.
Enjoy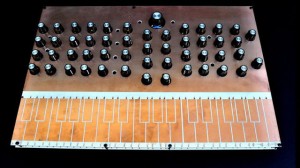 Modular synthesis maestro Ken MacBeth, has revealed this yet-unnamed instrument on Facebook this weekend. Of the new design, MacBeth says that it has "four oscillators, two noise generators, one LFO, a dual stage variable filter, four envelope generators, two VCAs (Stereo) and a stereo tape delay".
It seems that this synth is something that Ken has had in mind for a while, too: "It's been a long term development over years," he says. "The micromac series has been designed for those who wish for the vintage 'Moog-like' sound – this is a completely different design!"
No news on when we can expect the synth to come to market, but SBC will be monitoring its progress.
The ever inventing Jordan Rudess (Dream Theatre) is exploring his own apps, details below:
A fun look at the apps created by Wizdom Music.
Our website is: http://www.wizdommusic.com/
You can now follow us on twitter at @wizdommusicapps
The keyboard I'm using is IK Multimedia's iRig keyboard.
It plugs directly into my iOS devices and does not need additional power or a midi interface! Also I used the awesome Looptastic app by Soundtrends for some backing track help.
Geo Synthesizer, SpaceWiz, MorphWiz and SampleWiz
Gestrument – the revolutionary gesture instrument! Swipe your finger to play – it has never been easier to make music!
LAUNCH OFFER! Gestrument is offered at this discounted price until January 10:th 2013
See videos and read more about Gestrument on www.gestrument.com
Developed by Jesper Nordin (www.jespernordin.com) and Jonatan Liljedahl (www.kymatica.com)
• Play and compose music with the swipe of your finger
• An intuitive tool for composers in all genres
• Generate music within defined scales and rhythms
• The ultimate tool for making truly new music in any genre
• Improvise freely within a fully controlled musical framework
• Use the internal GM sound bank or your favorite MIDI synthesizer
• Use Gestrument to control other iOS apps or external MIDI programs through a MIDI interface or Network MIDI
• Create and save your own presets and share with your friends or download new presets from www.gestrument.com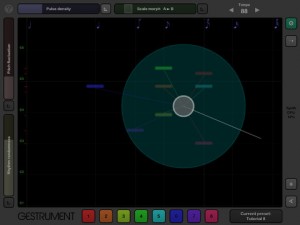 Improvise or compose within the scales and rhythms you choose. Use parameters like pulse density, scale morphing, rhythm randomness or pitch fluctuation to find new paths for your musical expression and creativity. Use the tutorials or define your own settings to fit the musical style you want to play and compose in. Play on up to eight instruments at once – all with different individual settings.
Gestrument works equally well for rhythmic music or sweeping soundscapes, for solo melodies or chord blocks, for long lines or short staccatos. It can help you make music in whichever genre you can imagine.
Gestrument works directly with its built in sounds and is therefore perfect for the amateur or beginner who wants to make music in an intuitive way. But it is first and foremost built for professional musicians and composers who can work with the settings to build advanced theoretical frameworks that they can later improvise or compose within.