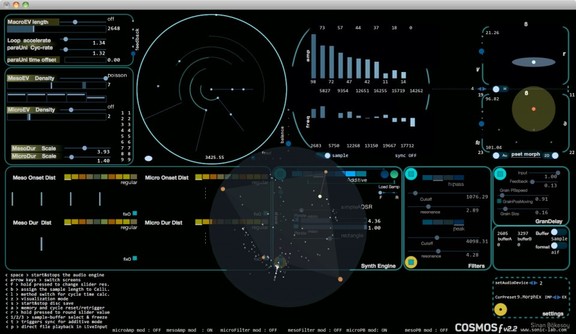 sonicLAB has announced version 2.2 of Cosmosƒ, a real-time dynamic stochastic synthesis engine.
newest update: Cosmosƒ V2.2 offers a powerful and unique preset morphing mechanism. With 2D / 3D control interface + homogeneous and heterogeneous micro waveform handling, it "rethinks" for you what you know as "morphing"…

A sonic morphing process defines a metaphor of exploring the sonic shape and timbral evolution on intermediate levels. Cosmosƒ V2.2 gives the possibility to manipulate its composants responsable for its bottom-up sonic construction within necessary correspondance, precision and smoothness.

Changes in Cosmosƒ v2.2

2D / 3D preset morphing mechanism. Up to 4 different preset parameter space can be morphed by traveling inside a 3D sphere by adjusting the polar coordinates within a unique interface design.
Stochastic morphing with distribution range for altering the morphing position, speed and interpolation control.
Built-in mathematical functions to automatically and precisely move the morphing pointer in the space.
Precise audio rate parameter update with the possibility of reaching amazing morphing speeds (44100times a second!)
turns Cosmosƒ into a super oscillator by accumulating up to 4 different presets in heterogeneous micro event mixing mode prior to the morphing phase.

Cosmosƒ for Windows and Mac is available to purchase for 89 EUR.
Here is a preview of the sound and functionality of the Dubreq Stylophone S2. This preview was made with a prototype of the S2 which was demonstrated at NAMM 2013.
The S2 is available through the Dubreq website: http://www.dubreq.com
Features songs from the Cloudseeder community:
Vacationlazy's remix:
https://soundcloud.com/vacationlazy/t…
The original song from Knot Sew Suite:
https://soundcloud.com/theknotsewsuit…
All the details below:
❐ Download Demo Version : http://bit.ly/uvx-3p-demo-version
❐ Demo Installation Guide : http://bit.ly/uvx-3p-demo-readme
❐ Buy UVX-3P : http://bit.ly/uvx-3p
Special introductory price : $79 instead of $99
❐ UVI Official Blog : http://blog.uvi.net
UVI introduces UVX-3P, a superb instrument at an outstanding price, $79 (introductory price — instead of $99). Inspired by the Roland JX-3P.
In 1983, Roland introduced one of the first affordable analog synths, the JX-3P. The JX-3P signaled a shift away from control dense synths like the JUNO and JUPITER series for a less intimidating, more entry-level aesthetic aimed at players who wanted the Roland sound without being distracted by a slew of controls.
That said the JX-3P was in no way technically inferior, offering many of the same components as its more expensive siblings' it even boasted dual DCO's per-voice compared to a single in the JUNO series making it somewhat of a sleeper powerhouse.
Not as pervasive as the JUNO series, the JX-3P was still a very capable and expressive instrument used by many well known pop acts such as Stevie Nicks, Vince Clark and The Cure as well as electronica pioneers Orbital and The Future Sound of London.
UVX-3P was developed with the same care and thoroughness as our other Vintage series instruments. A JX-3P was fully restored to factory spec, programmed by members of our sound design team and deeply multi-sampled, capturing samples both dry and with the built-in analog chorus enabled. Great care was taken to capture a wide range of the sonic capabilities of this synth, giving you 160+ presets in all.
Explore the included sounds or design your own patches from scratch through an immaculately prepared UI. Take your sound design even further with the wide range of effects available in the industry leading UVI Engine.
———————————————————————————
COMPATIBILITY
With the free UVI Workstation 2.0.9 (required version), UVX-3P can work:
• as a stand-alone instrument, compatible with Mac & PC
• as a VST, AudioUnit, RTAS and MAS plug-in.
With MachFive 3 — make the most of all editing features included!
———————————————————————————
* Roland, JUNO, JUPITER and JX-3P are trademarks of their respective owners and are not affiliated, endorsed, connected or sponsored in any way to this video, UVI website or any of our affiliate sites ; therefore do not be confused between UVI and these brands.
** iLok required
Ableton Push – more than a controller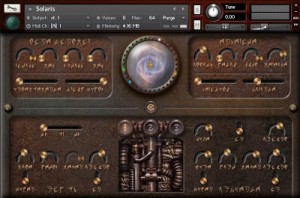 A new instrument from Hollow Sun
"If you have even the vaguest interest in anything cosmological, you will no doubt be aware that NASA and other international space agencies have been sending probes out into the deepest recesses of our solar system and, with the aid of telescopes as well, have been recording the radio waves emitted by our universe and converting them to audio. The music of the spheres as was once referred to in the middle ages … or the Sounds Of The Universe … or SOTU.
It's intriguing and beguiling stuff – long evolving soundscapes that rumble and warble and bleep and phase and swirl, the kind of thing you might expect from an exquisite album of abstract electronica or 'chill out' music. I did contact NASA to license these recordings but they weren't keen. Well… bollocks to them because…
It's all a con, a cunning ruse – there's a race of impish aliens out there who have a machine that generates these sounds which they broadcast around the cosmos to confuse us earthlings …
And we have laid our hands on it and recreated it for Kontakt 4…"
Background video description below:
This is one of many stories about the mythological king of ancient Ireland, know as "Dagda" (pronounced "dada"). Dagda is said to have possessed, among other wonderful things, a magical harp which he could use to produce supernatural phenomena. This story was first written down by Christian monks around the 12th century AD, but at that time it was already ancient and had been handed down verbally for more than a thousand years.
According to legend, there were two tribes living in Ireland at the time of King Dagda: the Fomorians who were small and dark haired people, and the Celtic "Tuatha De Danaan" who were tall, light skinned and blond and whose leader was King Dagda. It seems they were constantly at war and this particular tale has to do with the time the Fomorians stole Dagda's magic harp (something which turned out to be a very bad idea).
The instrument I am using to accompany myself in this song is a two part affair of my own devising which I call the "tibicen" (the Latin word for "piper"). It is entirely electronic, and consists of a small keyboard which sits in my lap, and a pedalboard (similar to a church organ) on the floor in floor in front of me. Nothing was added to this performance and there are no overdubs or additions of any kind. This is exactly the way it was performed.
The pedalboard provides the drone, while the keyboard plays melody. The instrument has a huge range, can play in any key, and I have tried to show some of what it can do in this video.
In ancient time, when sagas of this sort were performed, they sometimes went on for hours. I had to cut this down to its bare essentials in order to bring it in under eight minutes. The unedited story contains a lot of interesting details but I didn't want to bore everyone by going on too long!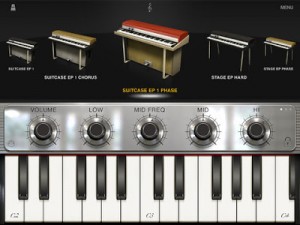 A new electric piano app for iPad, details below:
THE STUDIO QUALITY ELECTRIC PIANO APP: A COLLECTION OF 40 PROFESSIONAL SOUNDING INSTRUMENTS FOR YOUR IPAD
Turn your iPad into the ultimate electric piano instrument with an extraordinary collection of authentic electric pianos and vintage keyboards along with built-in recording! Use the iRig KEYS portable keyboard (www.irigkeys.com) or the iRig MIDI interface (www.irigmidi.com) to connect your external keyboard to your iPad, and you're ready to compose, rehearse, perform and record with the very best instruments for iPad.
The sequel to IK's acclaimed iGrand Piano app, iLectric Piano now puts a collector's dream gallery of history's best electric pianos, electric grands and clavinets right at your fingertips with studio-grade quality never before heard in app that stands up to the most powerful virtual instruments available on on a computer.
With high-definition samples across multiple velocities, iLectric Piano brings you the most playable, expressive and authentic sounding electric piano, electric grand and clavinet instruments available on a mobile device that you can play anytime and everywhere.
iLectric Piano gives you a collection of 20 world-class electric pianos, electric grands and clavs (including one by registering) along with a capable recorder and metronome. Add the Electric Piano Expansion Pack to add another 20 high-quality instruments.
Record your rehearsals or performances as MIDI with both overdubbing and punch-in capability, then export your track as audio via E-mail of File Sharing or Audio Copy to other iOS apps. With the built-in MIDI Recorder, you can change the tempo of your piece or even choose to use a different piano AFTER you've completed your performance! For composers of any level, the MIDI Recorder lets you capture and develop ideas anywhere your mobile life takes you. iLectric Piano also includes some professional MIDI performances to help you audition the various electric piano instruments or just ignite your own creative muse!
The easy-to-use instrument editor puts real-time controls on the panel just above the keys to let you adjust the EQ, the amount of reverb, the overdrive and your choice of 5 modulation effects (chorus, flanger, phaser, tremolo and auto pan). You can also adjust the tuning and transposition of the instrument. All edit knobs can be assigned to your choice of MIDI controllers for external fine-crafting of your instrument's sonic details. Virtual MIDI and MIDI Program Change are also supported.
iLectric Piano features:
20 world-class, multi-velocity electric piano, electric grand and clavinet instruments (including one by registering)
Expandable library of 20 additional studio-grade instruments instantly available via in-app purchase
Intuitive instrument and effect edit controls including 3-band EQ with sweepable mid, overdrive, reverb and choice of 5 modulation effects (chorus, flanger, phaser, tremolo and autopan) along with tuning and transpose
Export performances as audio via E-mail, File Sharing and Audio Copy
Large visual metronome with variable click volume and adjustable tempo
Virtual MIDI and MIDI Controller and MIDI Program Change support
Low-latency for real-time playing
Up to 48-voice polyphony on the latest devices
Designed to use with with iRig KEYS portable keyboard and iRig MIDI interface
The app is priced at $19.99
Over a year of alpha and beta testing has seen the AlphaSphere design completely overhauled and prepared for production. AlphaSphere is a brand new musical instrument which has been designed for electronic music. The AlphaSphere allows you to be expressive with music through a series of tactile pressure sensitive pads. Load the Sphere with your own sounds, or connect to your existing digital audio workstation (DAW) with the intuitive software. Get hands on with electronic music and create your new sound. Change the way you play.
As part of going into production the AlphaSphere has been undertaking Electromagnetic compatibility (EMC) testing.
This is a necessary process in order to ensure the AlphaSphere will not interfere with electrical equipment and to issue the product with a CE, FCC, VCCI or CCC mark.
AlphaSphere – Now electrically compliant by:
Director – Oliver Purches http://www.oliverpurches.com/
Motion Graphics, VFX & Editor – Alex Fung http://goo.gl/NlvUD
Camera Op & Editor – Albert Testani
Mastering Engineer – Colin Bennun
Producer & Music – Adam Place
Shot on location at York EMC Services, Bristol, UK
"A curious instrument from the 2013 NAMM show. It has stings that move in contact with a rotating "bow" to play the strings like a violin. Yes. They are very expensive but quite lovely"