Back in August 2007, Keyboard got a look at Page McConnell's onstage rig. See and hear his array of vintage and analog gear.
Page McConnell is an American multi-instrumentalist most noted for his work as a songwriter and keyboardist with the American rock band Phish. In addition to being a member of Phish since 1985, McConnell has had several other musical liaisons during his career, including a trio named Vida Blue. He released his first solo album, featuring original compositions, in 2007.
Sonivox has announced that their Vocalizer Pro, a Vocoder musical instrument:
Vocalizer Pro allows the creation of simple or intricate vocal harmonies that can extend far beyond the natural limitations of the voice. One preset has the ability of producing thousands of different results—depending on the audio source. The original Vocalizer is known for its ability to process any type of vocal, percussive or melodic audio track;  Vocalizer Pro expands on these capabilities. Using SONiVOX?s Polaris spectral synthesis engine, Vocalizer Pro can transform any audio input "into a synthesizer," for "deep and complex" musical results.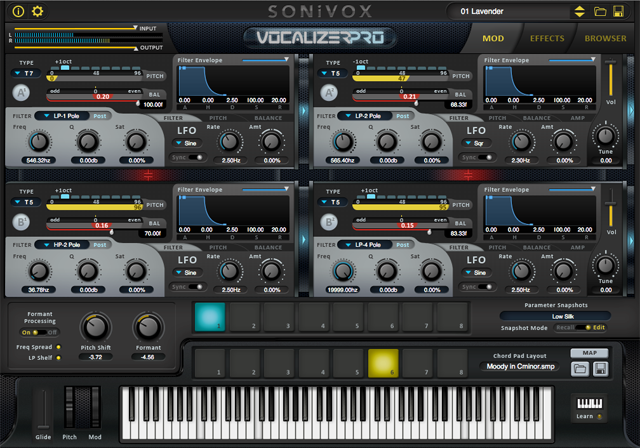 "We created Vocalizer Pro to provide a truly unique experience. These snapshot pads give you endless ways to be expressive and creative," says Jason Jordan, Head of Soundware at SONiVOX. "For each pad, every automatable parameter can be set to a different setting. It's almost as if every pad is a completely different patch, allowing the performer to instantly switch between parameter settings. People are really going to have a lot fun with Vocalizer Pro."
Sonivox Vocalizer Pro supports AU, VST, or RTAS formats, and is compatible with 32- or 64-bit Mac or Windows systems. The MSRP is $199.99 (USD).
http://www.sonivoxmi.com
The big mixer in Reason is where your songs really find their full potential – sonically speaking. The powerful EQ, channel dynamics, bus channels, parallel channels, spectrum EQ, and oh-so-lovely Master Bus Compressor are all designed with one thing in mind: making you sound great!
In this walkthrough of the big mixer, we take a look at the major sections of the mixer and what they mean for your mix.
This video features "Outside In" by Atom, mixed by Gary Bromham inside Reason 7. The track is available for download as a Reason demo song here:
http://www.propellerheads.se/demo-songs/
Reason's virtual rack is the heart and soul of Reason. Synths, drum machines, samplers, effects, and little gadgets that tweak and freak one another are the building blocks of your music.
In this walk-through, we check out the Reason rack in more detail and get you up to speed on the powerful tools in your toolbox.
This video features "Syndrome" by Mikkas and "Bobo by Schpilka:
http://www.mikkasmusic.com
http://www.schpilkas.com
Inspiration can be a tricky thing. You either feel it or you don't. So much of music making is about either capturing inspiration when it happens or making it happen through new sounds, new techniques, or new ways of processing sound.
In this video, we take a look at all the ways that Reason can inspire your music.
This video features "Be Like You" by Olivia Broadfield and "English" by Ali Payami:
http://www.soundcloud.com/oliviabroad…
https://www.facebook.com/ali.payami.f…
How to get started with this great app
ELECTRIFY is a virtual sample based Groovebox for your iPad. It was designed to combine the best features of existing hardware grooveboxes and the ease of use of software applications in one creative touchable app.
Features:
* 8-track sequencer with individual track lengths
* 2 chainable effect buses with 8 different effects (more to come soon)
* direct access to the track's main parameters
* Easy to use step sequencer
* pattern matrix
* 7 parameters editable per step
* Professional Sample Library comprising more than 600 high quality samples provided by Mutekki Media.
* Import your own samples (wav/aif)
* Loop mode for playing stretched loops
* Sample editing: truncate, timestretch(pitch) / normalize
* Copy and Paste to other iPad apps
* Bounce patterns as wav
Novation appears to have a bass synth in the making, teasers pics from thier Facebook site yesterday below:
Or perhaps a a two oscillator mono synth
MFB has introduced the Tanzbär Drumcomputer – a new analog drum machine.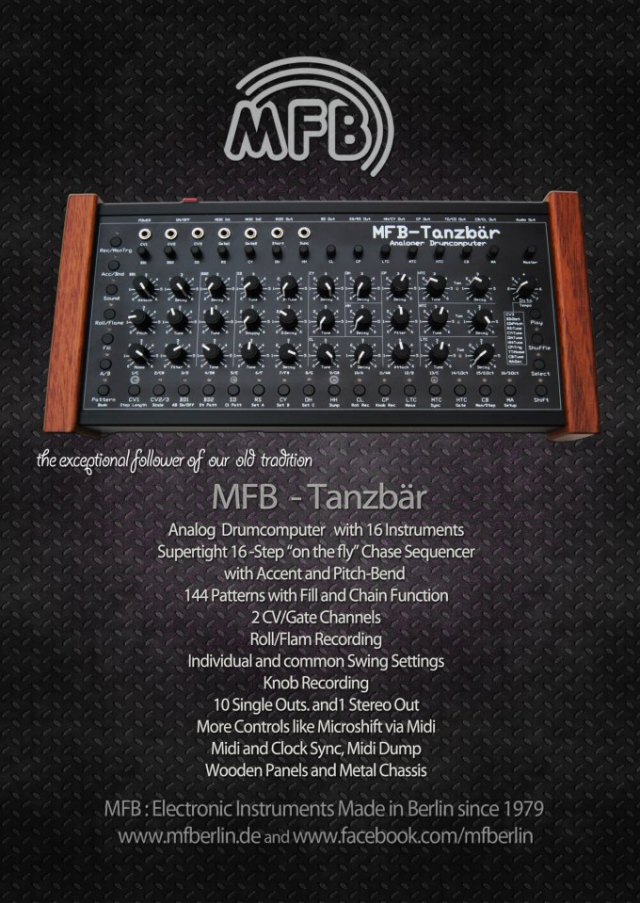 Audio demo below:
MFB Drum Computer Session 2 by Yapacc on Mixcloud
And finally a new electronic instrument from Dualo: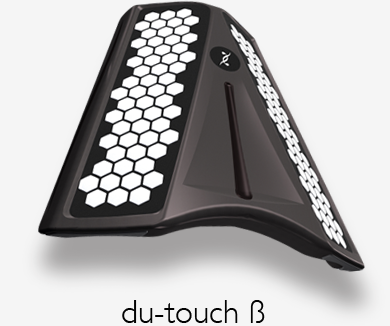 Dualo, a start-up company etablished in 2011 by two musicians and engineers, has designed a musical instrument based on a innovative and intuitive keyboard: the du-touch ß.
This original key layout, which is closer to harmony, is an alternative to the layout encountered in a piano, and is called the dualo keyboard.The manner in which the keys have been laid out has been validated by several musicians, and is designed to provide an opportunity to learn, to read and to play music faster than traditional instruments.
In Decembre 2012, after two years of extensive research and development, Dualo has released a limited edition of his first instrument, dualo du-touch ß, already sold-out. Several famous artists decided to support our project, including Cyril Atef (-M-, Bumcello, …), Fixi (Java) and Khalid K.
In view of the enthusiastic reception for our instrument, Dualo is now launching a crowd-funding campaign on KissKissBankBank.com to finance the professional edition, which will be delivered from Decembre 2013.
Our first instrument, "dualo du-touch ß" is designed for amateurs and professionals.
innovative : it's the first instrument in the world which use a layout of keys based on the dualo principle
compact, portable and featuring a wide tessitura : light, designed to come with you everywhere, 5 octaves for 29cm high
standalone : battery-powered, built-in synthesizer, built-in multi- effect processor, built-in multitrack looper ; audio line out and amplified audio headphones out
versatile : thanks to the built-in features which allows to play with a wide palette of sounds and to organize them in songs
original and allowing a wide stage presence : fitted with gesture and movement sensors offering a new generation of musical gesture, a new feel and a new phrasing
intuitive and instructive : thanks to the dualo principle and to the built-in help system : screen, light display
Introducing Orphion Editor
www.appstore.com/Orphion
Orphion is a musical instrument with a unique sound between string instrument and percussion. Everyone can play expressive, wonderful sounds and easy or virtuosic melodies on it just by moving fingers on virtual pads.
What can I do with it?
• Express the sounds you feel
• Play polyphonic music very expressively
• Crazy drumming
• Dream and relax
• Create soundscapes and melodies without musical knowledge
• Visually explore music and music theory
Features:
• Different articulations from soft to plucked to hardly slapped
• Natural interaction
• Extend your ways of expression as a percussionist, guitarist, pianist or other musician
• 15 transposable pad layouts with different tonalities from easy to complex
• 8 individual voices for 8 fingers (4 on iPad 1)
• MIDI support: Play your favorite synth with the revolutionary Orphion interface
• Audiobus support: Stream live audio from Orphion directly to other Audiobus-compatible apps
• Orphion Editor (availible as upgrade): Create and share your own custom pad layouts. Download new pad layouts from Orphion Universe
Orphion is a musical instrument with a unique sound between string instrument and percussion. Everyone can play expressive, wonderful sounds and easy or virtuosic melodies on it just by moving fingers on virtual pads.
Get Orphion here:
orphion.de
Enjoy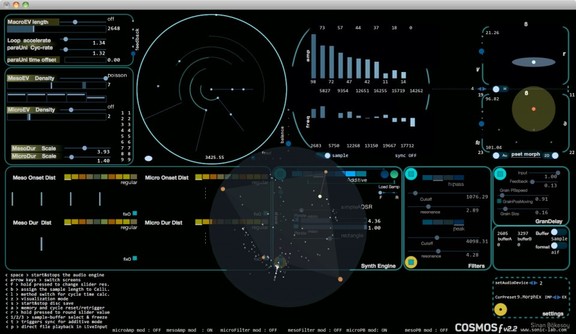 sonicLAB has announced version 2.2 of Cosmosƒ, a real-time dynamic stochastic synthesis engine.
newest update: Cosmosƒ V2.2 offers a powerful and unique preset morphing mechanism. With 2D / 3D control interface + homogeneous and heterogeneous micro waveform handling, it "rethinks" for you what you know as "morphing"…

A sonic morphing process defines a metaphor of exploring the sonic shape and timbral evolution on intermediate levels. Cosmosƒ V2.2 gives the possibility to manipulate its composants responsable for its bottom-up sonic construction within necessary correspondance, precision and smoothness.

Changes in Cosmosƒ v2.2

2D / 3D preset morphing mechanism. Up to 4 different preset parameter space can be morphed by traveling inside a 3D sphere by adjusting the polar coordinates within a unique interface design.
Stochastic morphing with distribution range for altering the morphing position, speed and interpolation control.
Built-in mathematical functions to automatically and precisely move the morphing pointer in the space.
Precise audio rate parameter update with the possibility of reaching amazing morphing speeds (44100times a second!)
turns Cosmosƒ into a super oscillator by accumulating up to 4 different presets in heterogeneous micro event mixing mode prior to the morphing phase.

Cosmosƒ for Windows and Mac is available to purchase for 89 EUR.
Here is a preview of the sound and functionality of the Dubreq Stylophone S2. This preview was made with a prototype of the S2 which was demonstrated at NAMM 2013.
The S2 is available through the Dubreq website: http://www.dubreq.com
Features songs from the Cloudseeder community:
Vacationlazy's remix:
https://soundcloud.com/vacationlazy/t…
The original song from Knot Sew Suite:
https://soundcloud.com/theknotsewsuit…