Therevox ET-4 analog ribbon synthesizer.
Inspired by the Ondes Martenot's au ruban controller, the ET-4 is controlled by moving a finger along a reference keyboard shaped to provide tactile feedback. Dual pressure sensitive intensity keys control the amplitude of the ET-4′s two independent analog oscillators.
"A few sounds I made with my new Therevox ET-4. No processing was done to the raw output of the ET-4 other the running some of the sounds through an MXR Carbon Copy delay pedal. The reverb is the ET-4′s built-in spring reverb. With some of the sounds I control filter cutoff using a Moog expression pedal."
Caelestis is a unique, sample based generative music app that creates sounds with bouncing balls. Three shapes on the screen are used as 'rooms' that contain a sound. Different coloured balls can be thrown around inside these rooms, generating notes when one collides with a side. Using different combinations of balls and sounds, all kinds of beautiful performances can be achieved.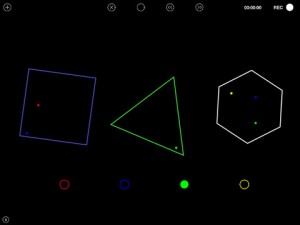 Features:
- Three rooms, with up to three balls at one time per room. Each room can be spun around to change the path of the balls inside.
- Balls added and removed easily by dragging or tapping in the middle of each room.
- Four different ball colours.
- Speed control for the balls.
- Pitch control using the built in keyboard, octave control using the different coloured balls.
- Delay and Reverb FX.
- A mixer unit, allowing volume and FX control over each room.
- 30 presets in three categories: Tuned, Abstract and Percussive.
- Import your own samples into the app via Audio Paste. Audio can be re-pitched by up to 12 semitones. Please note that only WAV and MP3 are supported formats.
- Record your performances and export them via Audio Copy
- Please note that Audio Copy and Paste is only available after a paid upgrade.
A very quick demo of one of the patches contained within UVI's CS-M instrument, part of their Vintage Legends package
The new Dubreq Stylophone S2 takes the basic idea of the Stylophone, a stylus played instrument that uses a printed circuit board as the keyboard, and turns it into a fully spec'd analogue synthesizer.
The Stylophone S2 is an entirely British made, analogue synthesizer that will fit in a laptop bag. The S2 features include; All metal construction, a full 37 note 3 octave keyboard with +/- 2 octave shifter featuring a wire-free stylus and finger-touch playing method, an all analogue signal path, a classic British style 12dB/octave state-variable filter, dual all-transistor voltage controlled oscillators, sub-oscillators for super-fat bass, an eight waveform LFO with a 14 octave range, an auxiliary-input socket to use the filter and envelope-generator for other instruments, a 1/4″ output jack socket as well as an internal speaker and headphone socket and a CV and Trigger input sockets.
The DigiEnsemble Berlin Physically Premieres the Aria "Großer Herr, oh starker König" from Bach's Cristmas Oratorio in the Berlin Cathedral on the 16th Dec 2012.
Keep track on our
website http://digiensemble.com/
German website http://digiensemble.de
http://facebook.com/DigiEnsemble
http://twitter.com/digiensemble
Hand crafted drone machine. Made with a vintage 1940′s multimeter. All new electronics boasts 4 square wave oscillators, 1 gate oscillator, signal switches, output led monitor.
www.frankenmusik.blogspot.com
Milton Babbit Reaktor ensemble by Dmitriy Vasiliev, available in the Reaktor user library.
Now available at http://www.optigan.com/shoptigan
A new release in our line of Vako Orchestron discs, SOLO TRUMPET. It's unlikely that there will be sufficient demand to do a second run of 25 of these discs, so your best bet is to buy as many of these as you need while you can! Any future additional copies will most likely be done as one-offs, which are twice as expensive to produce, and thus will cost twice as much.
SOLO TRUMPET is an entirely NEW sound for the Orchestron. This is an actual acoustic trumpet sound, taken from the original Optigan/Orchestron master tapes, but never actually heard on any Optigan or Orchestron disc until now! Please excuse my awful playing here, which is just a quick noodle to demonstrate the sound!
PLEASE NOTE: This disc WILL NOT play properly in an Optigan! They WILL play, but the sounds will NOT be mapped correctly to the keyboard- they will be mapped mostly haphazardly across the chord buttons. Please don't order this disc expecting to easily use it in an Optigan. In the future we will be porting the Orchestron sounds to the Optigan- please be patient!

Stay tuned for more Orchestron discs, both new and remastered titles!