A very quick demo of one of the patches contained within UVI's CS-M instrument, part of their Vintage Legends package
The new Dubreq Stylophone S2 takes the basic idea of the Stylophone, a stylus played instrument that uses a printed circuit board as the keyboard, and turns it into a fully spec'd analogue synthesizer.
The Stylophone S2 is an entirely British made, analogue synthesizer that will fit in a laptop bag. The S2 features include; All metal construction, a full 37 note 3 octave keyboard with +/- 2 octave shifter featuring a wire-free stylus and finger-touch playing method, an all analogue signal path, a classic British style 12dB/octave state-variable filter, dual all-transistor voltage controlled oscillators, sub-oscillators for super-fat bass, an eight waveform LFO with a 14 octave range, an auxiliary-input socket to use the filter and envelope-generator for other instruments, a 1/4″ output jack socket as well as an internal speaker and headphone socket and a CV and Trigger input sockets.
The DigiEnsemble Berlin Physically Premieres the Aria "Großer Herr, oh starker König" from Bach's Cristmas Oratorio in the Berlin Cathedral on the 16th Dec 2012.
Keep track on our
website http://digiensemble.com/
German website http://digiensemble.de
http://facebook.com/DigiEnsemble
http://twitter.com/digiensemble
Hand crafted drone machine. Made with a vintage 1940′s multimeter. All new electronics boasts 4 square wave oscillators, 1 gate oscillator, signal switches, output led monitor.
www.frankenmusik.blogspot.com
Milton Babbit Reaktor ensemble by Dmitriy Vasiliev, available in the Reaktor user library.
Now available at http://www.optigan.com/shoptigan
A new release in our line of Vako Orchestron discs, SOLO TRUMPET. It's unlikely that there will be sufficient demand to do a second run of 25 of these discs, so your best bet is to buy as many of these as you need while you can! Any future additional copies will most likely be done as one-offs, which are twice as expensive to produce, and thus will cost twice as much.
SOLO TRUMPET is an entirely NEW sound for the Orchestron. This is an actual acoustic trumpet sound, taken from the original Optigan/Orchestron master tapes, but never actually heard on any Optigan or Orchestron disc until now! Please excuse my awful playing here, which is just a quick noodle to demonstrate the sound!
PLEASE NOTE: This disc WILL NOT play properly in an Optigan! They WILL play, but the sounds will NOT be mapped correctly to the keyboard- they will be mapped mostly haphazardly across the chord buttons. Please don't order this disc expecting to easily use it in an Optigan. In the future we will be porting the Orchestron sounds to the Optigan- please be patient!

Stay tuned for more Orchestron discs, both new and remastered titles!
Playing SampleTank on my iPad2 with my Akai EWI4000s via iRig MIDI. (Note: I meant to say CC74 for "Cutoff" not CC64). Be sure to watch the last minute (from 10:55).
Playing Addictive Synth on my iPad 2 with my Akai EWI4000s thru iRig MIDI. Here's a first look at this breath control freindly, fun and powerful synth! Breathy Flute 00:39 Solo 8:00 Tribal 12:54 Bernzilla Brecker EWI 15:33
Via Bernie Kenerson on Youtube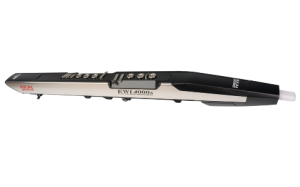 EWI stands for electronic wind instrument; this one is basically an analog modeling synth within a wind controller, so don't expect realistic sounds without hooking the MIDI out to another sound generator that has high quality samples or physical modeling.
uPhase+ is an instrument geared towards live play. It has many features and shortcuts to enable complex improvisation with spatialized patterns. Browse the documentation or head straight to the Video Tutorials to learn how to play, or take a look at the demos below to get a feel of what is possible. uPhase+ will be released in the app store worldwide on November 27th, 2012. Until then, it will only be in the swiss app store. If you have downloaded uPhase Client without reading the app's description, sorry , uPhase Client does nothing on it's own. It's only function is to connect via local wifi to an iPad running uPhase+.
Enjoy