Punkin Face and Pussy Willow interview a Synthlebrity after her performance at Moogfest 2010.
Via iloveanalogue
On Oct 2, 2010 Toronto held host to one of the largest and longest outdoor chiptune shows ever.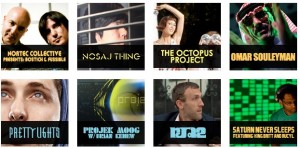 Moogfest organizers have announced the core schedule of shows for the 2010 event, being held October 29-31 in Asheville, North Carolina.
This includes performances being held at the Thomas Wolfe Auditorium, Asheville Civic Center and The Orange Peel.
They've also announced new additions to the festival:
As if we hadn't given you enough Halloween treats, we're still adding artists into the moogfest mix.  Our most recent lineup additions include Javelin, Alex B, Nosaj Thing, Dark Party, Headtronics (Bernie Worrell, Freekbass & Adam Deitch), Shout Out Out Out Out, Volt Per Octaves featuring special guest Bernie Worrell and Projek Moog with special guest Brian Kehew!  But we're not done yet – a handful of additional artists will be joining the lineup in the coming weeks, plus we'll be releasing information about late night shows and special events in clubs and other venues throughout Asheville.  Information regarding moogfest 2010's workshops, panel discussions, art exhibitions, installations and film screenings, will be announced in the coming weeks as well.
You can view the full schedule at the Moogfest site.
Link:
Austin's own ArcAttack plays Texas Rockfest during SXSW. ArcAttack uses a MiKo to power two self-built Tesla coils, that produce "singing lightning bolts" which require no speakers. ArcAttack controls the coils through MIDI, as well as a full drum set controlled by robotic mechanisms. ArcAttack are taking their MiKo on a European tour this summer, 2009. For more information on ArcAttack, visit their website at www.arcattack.com.
http://www.youtube.com/watch?v=ekS9uxtmWB4&feature=player_embedded
Moog Music has announced that Devo will be the 2010 recipient of The Moog Innovation Award, to be presented to the band during MoogFest 2010 weekend, October 29-31 in Asheville, NC.
As part of this award, Moog Music will present Devo with a very special synthesizer, details of which will be revealed in the coming weeks.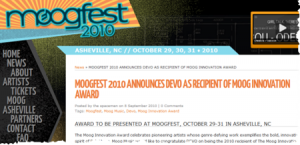 Past recipients of the previously titled Moog Award include Keith Emerson, Herb Deutsch, Gershon Kingsley, Jan Hammer and Bernie Worrell.
Moog Music had this to say about Devo and the award in a statement:
"MoogFest is about shunning limitations, opening your mind and rejoicing in what's next. MoogFest is about celebrating the marriage of technology and art, fearlessly embracing the future while respecting the genre-definers of the past. That's why we created the Moog Innovation Award, to celebrate artists that helped to catapult pop music into the future and commemorate those artists that boldly burst through established norms to pave the way forward. That's the spirit of Bob Moog and that's the essence of the Moog Innovation Award.
The first recipient of the Moog Innovation Award is DEVO and we feel that they are a perfect representation of innovative sound-sculpting and genre-defying electronic music. Like Bob Moog, DEVO enthusiastically charted their own course and thus dramatically affected pop culture because of it. Not to mention the fact that they used Moog instruments to create their inimitable sound. MoogFest and the Moog Innovation Award is the perfect way to pay homage to Bob Moog and his adopted hometown of Asheville, NC where he raised his kids, gave birth to some of his greatest inventions and where he re-established the company that bears his name and carries on his legacy, Moog Music." – Emmy Parker, Moog Music
Devo will play MoogFest 2010, a three-day festival celebrating the innovative vision of Bob Moog. MoogFest 2010 tickets are on sale now.
Das Boot (SWE) going 100% electronic
Bands announced so far are: VNV Nation Blutengel Infected Mushroom Elis Records (SWE) DJ-showcase
Don´t miss out on the video >>