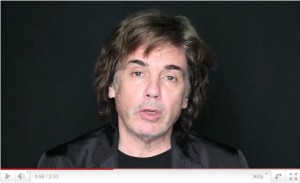 Essentials & Rarities, JM Jarre's next project will be released on the 30th of May 2011. Here is a video presentation
Joachim Garraud rencontre Jean-Michel Jarre à Stuttgart (TEASER)
http://vimeo.com/21313998
I had the privilege to take part in the Spectrasonics Tribute project for the Moog Foundation.
Together with 44 fellow sounddesigners like Eric Persing, Hans Zimmer, Richard Devine, Jean Michel Jarre, Ryuichi Sakamoto, Jordan Rudess, Jan Hammer, Eddie Jobson, Diego Stocco and others i helped creating a library of 700 patches that use more than 2 GB of unique samples for Omnisphere.
spectrasonics.net/​products/​tribute/​index.php
Another proof how much joy 30 minutes with an iPad and Korg iMS-20 can give you. It's not totally faithful to the original, so JMJ purists please don't complain

Shared by ArtemiyPavlov
Wavebox2011 has shared this nice JM Jarre inspired video:
Just a quick impression of the Synthex synthesizer in the project studio. The fun-title "Synthenoxe" is a reminiscence of J.M. Jarre's early studio recordings like Oxygene and Equinoxe. His magnificent sound has inspired my noodling in this video, too.
All the sounds (except for the drums) have been recorded with the Synthex; including the ocean waves and animals in the intro.

While experimenting around with the Synthex, I started recording some audio tracks to the DAW. And I ended up with well over 50 tracks and this demo-video.

This synthesizer is such an inspiring machine!
About the synthesizer:
The Synthex is clearly underrated! Maybe because it is not coming from one of the large synth plants in Japan or the U.S.A., but rather surprisingly from an organ manufacturer, the italian company Elka.
Despite this "lack of heritage" the Synthex has an amazing sound and deserves to be named alongside other classic power-synths such as the Jupiter-8 or the Prophet 5.
Sure, Jean-Michel Jarre based his famous laser harp sound on the Synthex – but it's by far not limited to that cliché.
I looked for an easy way to sync up the Synthex's internal sequencer to MIDI Clock. The most straightforward way was to hook up a Korg Electribe (ER-1 mkII) to MIDI and have a percussive instrument do the audio triggering of the Synthex. Simple, quite robust and even "programmable" to a certain degree.
Some Synthexes have no MIDI-interface (like the one in the video). But they all have one of the most intuitive sequencers I've come across in a classic synth: 4 independant monophonic sequences, easily and quickly recordable in step- or real-time-mode, syncable to an audio trigger.
And if you're a preset freak, you can even store your sequences along with your sounds as data beeping to a tape-recorder (or another recording device), thanks to the tape-interface. Old school high-tech.

[ to the youngsters: "tapes", often used in the form of "cassettes", is an ancient technology for audio recording, quite popular before digital recording and youtube existed. yes, there was such a time, way way back, right after the dinos and the stone age. believe me, i was there. not with the dinos, but in the tape age.

]
keep on sounding!
Jean Michel Jarre at young age, performing his Oxygene IV in the Dutch television show 'TopPop'.
Notice his random play on the keyboards, an obvious playback performance, much more common back in 1978.
At the time, his performance with all the synthesizers alone gave the audience a huge enough impression. Many even wondered how he could perform the song all by himself.
Images enhanced in colour, sharpness and contrast and soundtrack remastered for better clearity and stereo imaging.
Enjoy! – Nimanty –
Oxygène 7-13 is a 1997 album of instrumental electronic music by Jean Michel Jarre, his ninth overall studio album. It is the sequel to his 1976 album Oxygène, and is dedicated to Jarre's former mentor, experimental musician Pierre Schaeffer. While the album was recorded using many of the same synthesizers as Oxygène, and the titling suggests a continuation from where the first album ends, many tracks have a more uptempo, trance-like character. The album is not as widely acclaimed as the original Oxygène, but has been quite successful nonetheless, especially among fans. Released approximately twenty years after the worldwide release of the first Oxygène, it is Jarre's final album in his traditional style (exclusive of Oxygène: New Master Recording), and thus comes full circle. It was also the last album by Jarre featuring Michel Geiss as collaborator.
"Oxygène 7", "Oxygène 8" and "Oxygène 10" have been released as singles. A number of remixes of Oxygène 7–13 tracks have been made, including those comprising most of the album Odyssey Through O2. The Orb's single "Toxygene" was originally intended for release as a remix for the single release of "Oxygène 8", but was rejected by Jarre for being too distant from the original.
http://www.youtube.com/watch?v=fzU4ClwkNg4
Track listing:
1. "Oxygène 7" — 11:41
1. Part 1 — 4:20
2. Part 2 — 3:43
3. Part 3 — 3:38
2. "Oxygène 8" — 3:54
3. "Oxygène 9" — 6:13
1. Part 1 — 1:53
2. Part 2 — 1:56
3. Part 3 — 2:24
4. "Oxygène 10" — 4:16
5. "Oxygène 11" — 4:58
6. "Oxygène 12" — 5:40
7. "Oxygène 13" — 4:27
Instruments;
* 2600 ARP synthesizer
* VCS3 synthesizer
* AKS
* Eminent 310 Unique
* Mellotron M400
* Theremin
* CS80
* Quasimidi Raven
* Digisequencer
* Akai MPC3000
* Nordlead
* JV 90
* K2000
* RMI Harmonic synthesizer
* Prophecy
* TR808
* DJ70
Always nice to see the Nova in action
A simple live cover of Jean Michel Jarre Equinoxe Part 6. All the sounds from the Novation Nova synthesizer.
Oxygene 2 – Cover
Composed by: Jean Michel Jarre
Played by: Piotr Nowak, Michał Bach
The gear that was used:
-Roland Juno-D,
-Roland D-50,
-Korg MicroKorg,
-Korg mini KP KAOSS PAD.
-Behringer Vintage Delay VD400
Jean Michel Jarre has launched the first product from his new company Jarre Technologies: AeroSystem. AeroSystem is an iPhone/iPod compatible multi directional sound tower, delivering stereo sound from a single multi-axial point.
Jarre Technologies was founded five years ago and the plan is to create high-end, affordable and aesthetic home-entertainment products.
– As a musician, I have always strived for my albums and live performance to render a sound as close as possible to perfection. This brought me to think of what the ideal sound-system of the future should be: A product that can accept all digital formats, from MP3 to hard-disk files, as well as a vinyl turn-table or a CD player, with an aesthetic ambition while privileging optimum audio quality – with bass and a dynamic acoustic that correspond to our listening habits today – all at a most affordable price, Jarre says.

Source: RMM