Enjoy
"Jean-Michel Jarre
interviewé à Berlin par Arte pendant la tournée Europe en Concert – Chronologie
démonstration du Digisequencer, Roland JD800, DJ70, Synthi AKS, Rack Mini-Moog et démonstration du bouton on-off de l'AX1
clip Chronologie 5
avec Patrick Rondat, Guy Delacroix, Dominique Mahut, Laurent Faucheux, Francis Rimbert, Sylvain Durand et Dominique Perrier
24 11 1993"
John '00' Fleming sits in for a Computer Music Producer Masterclass session. This entire series discusses the process of remixing Jean Michel Jarre's famouse "Oxygene" track. Part one, John discusses how he worked with his partner sharing files due to long distance, how he prefers to design his own pad sounds versus flipping through pre-sets and the benefits there-of.
Follow John 00 Fleming and JOOF Recordings:
http://www.john00fleming.com/
http://www.facebook.com/pages/John-00-Fleming/102660305926?ref=ts
http://twitter.com/John00fleming
http://soundcloud.com/john00fleming
http://youtu.be/ebMlcxMoDUQ
Jean Michel Jarre Live 2011 Electronic Music Concert Europe Synthesizer Laser Harp Lights Video
For those who want to see how it all came about – check this video out
Here is a short video I made of the stage created in Jean Michel Jarre's Monaco's concert, a few hours before the incredible show watched live by more than 85 000 people, and online by more than a billion !!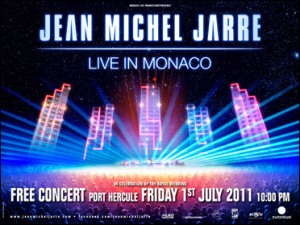 On July 1st at 22:00 CET the French, Lyon based, Television station will broadcast the Monaco concert by Jean Michel Jarre live via TV, computer, cell phone, iPhone or iPad. Note that for the iOS users, you need to get the Euronews LIVE applications which are available from the AppStore for iPhone and iPad (get them right here).
Especially for the 2 hour show Jean Michel Jarre has designed a special light show which he will perform on a 200-metre-long stage (attendees will need binoculars). The show – filmed by 18 HD cameras – will include HD video effects, lasers and pyrotechnics.
The concert will be covered in a worldwide exclusive live broadcast on the international news channel and via Ustream.tv on euronews.net; The event is part of the exceptional coverage of the royal wedding week in Monaco of Prince Albert II of Monaco to Miss Charlene Wittstock on Saturday, 2 July.
Background info: "This tune is the second single from my upcoming album. I composed the tune already in 2008 and the tune is a tribute to one of my biggest influences, Jean Michel Jarre.
Only analog synthesizer were used in recording the tune. The tune was also recorded by analog gear only and mixed with an analog mixer. The tune is from Kebu's upcoming debut album, which is planned to be released in 2012."
You can buy this single from Ubetoo for 0.99 euro:
http://www.ubetoo.com/store/kebu/pulsar/a2136
Equipment used: Hohner String Performer, Roland Alpha Juno, Roland Juno 60, Korg Mono/Poly, Korg Poly-61, Moog Prodigy, Logan String Melody, Arp Axxe, Touched by Sound DRM1, Vermona DRM1 MkIII, Roland TR-808 (snare attack only), Electro Harmonix Small Stone, Lexicon MPX500, Allen&Heath GS1, Yamaha MT4x. Cubase & Live only used as MIDI sequencers with the tape sync handled by a Roland TR-626.
http://youtu.be/V8Ip-tEApRs
Rendez-Vous is an album of instrumental electronic music composed and produced by Jean Michel Jarre, and released on Disques Dreyfus, licensed to Polydor, in 1986. It is his fifth overall studio album. It sold some three million copies worldwide and remains Jarre's longest-running chart album in both the USA and UK, with a 20 week run in the U.S. and an impressive 38 week run in the UK. The last track on the album was supposed to have the saxophone part played in outer space by astronaut Ron McNair, but on January 28, 1986 he and the entire Space Shuttle Challenger crew were killed 73 seconds after lift-off when the shuttle disintegrated. In memory, this piece was dedicated to him. On the album the saxophone part is played by saxophonist Pierre Gossez. The album reached #9 in the UK charts and #52 in the U.S. charts.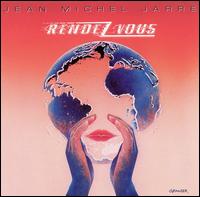 In April 1986, Jarre performed the large-scale outdoor concert Rendez-vous Houston in Houston, Texas, celebrating the 150th anniversary of the founding of Texas, and the 25th anniversary of NASA. The show attracted a then-world record live audience of 1.3 million people. Originally, the track Last Rendez Vous was due to be played by saxophonist astronaut Ron McNair via a live link with the Challenger space shuttle. However, after the Challenger disaster, the concert became a part-tribute to the lost astronauts.
Jean Michel returned to the stage in October for another concert, the Rendez-Vous Lyon, marking the Pope John Paul II visit to Jarre's hometown.
Essentials and Rarities – about mastering
Guess this post is pretty self explanatory and Mr Jarre hardly needs any further introductions

The concert dates back to 2007, but it is a nice capture of the synth maestro himself performing Oxygene II. It was first released in France in December 1976, on Disques Dreyfus with license to Polydor. The album's international release was in summer 1977. Jarre recorded the album in his home using a variety of analog synthesizers and other electronic instruments and effects. It became a bestseller and was highly influential in the development of electronic music. It is Jarre's first mainstream success, and can be seen as his first real artist album. It has been described as the album that "led the synthesizer revolution of the Seventies.
Enjoy!
There is so much good music out there and very little reaches our ears, that is why we started our SoundCloud player where you as an artist may share your work and promote it in prime position among your peers and electro friends. In the player we have tracks from AfroDJMac, Lebatman, Bears in Nippon and todays contribution from JSD, which is a nice JM Jarre, Tangerine Dreams type of composition, enjoy
Promote your electronic music at Stereoklang by Stereoklang Produktion