Cover of the Jean Michel Jarre classic Equinoxe III on vintage Elka organs, details below:
The Preludio 22L shares some of it's technoloy with the more famous X-705. And since Jean Michel Jarre used the X-705 for some time in the late 1970's I thought it could be fun to play one of his compositions while I had this old thing fired up. The only part of Equinoxe III that I couldn't play on the Preludio was the string parts because it doesn't have a phase modulator. For the string parts I therefore used the EP-8 instead.
Background video description:
I'm not a big fan of covers, but one of the factory sequences loaded into the MicroBrute is reminiscent of Les Chants Magnetiques Pt. IV by Jean Michel Jarre and it's only appropriate to do a quick demo of a couple of French synthesizers with a French composer/synthesist's song. I've got the MicroBrute running through the Strymon TimeLine (dTape mode, of course) and the MiniBrute running through the Big Sky (Cloud mode). Apologies for the sloppy playing, it's not easy to play with a tripod right up next to you.
This is the classic Laser Harp sound Jean Michel Jarre use. It is actually a preset in the Elka Synthex, number 46. Jarre used other presets on the Synthex right out of the box. To create a laser harp sound, synchronize OSC2 to OSC1 and here comes the secret why many fail to create the sound. The sound uses Glide with Speed and Amount to modulate pitch of the synchronized oscillator. Many people think that an envelope is modulating pitch but it is Glide.
The sound also use pulse wave on OSC1 and OSC2 use OSC1 to PWM and ring modulator.

The Synthex is a very lush sounding classic analog 8 voice synthesizer. Later versions implemented basic MIDI functions. It has 30 knobs, 6 sliders, 80 switches and a joystick. Powerful sounds with 2 oscillators per note, separate envelope generators, chorus and even a sequencer! The use of stable DCO's (digitally controlled analog oscillators) and oscillator cross modulation of Pulse Width and a multimode filter made it unique in its time.
There is a cool joystick that replaces traditional pitch/mod wheels and allows for greater variable real-time control over the two LFOs, oscillator and filter modulation. The 6 sliders beside the joystick assign what (LFO, osc and filter) goes to the joystick. Voices can also be layered or split across the keyboard. Other great features include the onboard digital Ring-Modulator, Chorus effect and Dual or Layer modes available. And also a four-track sequencer rounds out this synths host of features. Two of it's tracks can output MIDI data. This is just an extremely good analog and unique synth excellent for pads, drones and glistening lead sounds. They're a bit of a pain to service and find parts for.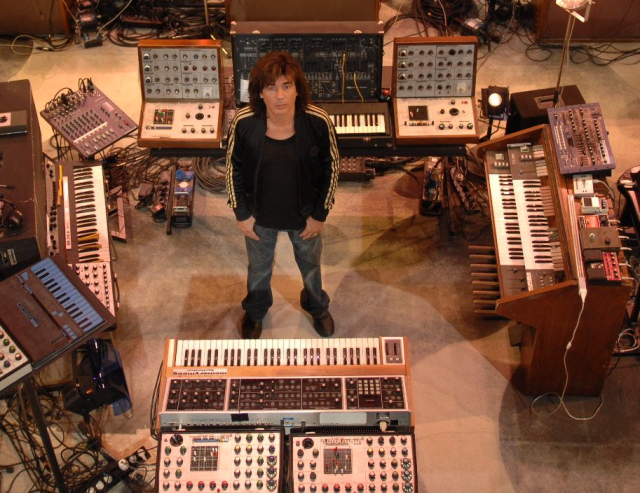 In a new interview, synth music pioneer Jean Michel Jarre explains why, despite all the advances in electronic music technology, he still has a love for vintage gear:
Jean Michel Jarre is reeling off some of the music he's been listening to lately: Actress, Fuck Buttons, Zomby… It's not the average 64-year-old's playlist, but Jarre has never really done average. His presence has loomed over electronic music for some four decades. The Frenchman studied under musique concrète progenitor Pierre Schaeffer—one of electronic music's earliest pioneers—and released the seminal Oxygene LP in 1976, which proved the catalyst to a sustained period of commercial and artistic success throughout the '80s and '90s. His career has been defined not just by his achievements themselves, but also the scale of them: on Bastille Day in 1979 he played to a live audience of one million in Paris, while a further 100 million tuned in on TV; nearly two decades later in Moscow he performed to a crowd of 3.5 million. He's also sold around 80 million albums (Oxygene alone has sold more than 18 million copies).

Jarre now exceeds the French pension age by four years, but he's not showing any signs of slowing down. He talks excitedly of two new albums he has on the boil. His most recent project, InFiné by JMJ, saw him delve into the French label's back-catalogue and pick out his 12 favourite tracks for a compilation. It was a low-key affair—by Jarre's standards at least. In conversation, he's clearly enthused by the project, earnestly discussing the merits of each inclusion and explaining his shared roots with the label—both he and former label boss Agoria hail from Lyon in southern France—with pride. We called up Jarre at his studio to discuss the compilation's origins, his current musical interests and his ambitious plans for an electronic music academy in East London.

Can you tell me about how the InFiné compilation came about?

It's a concept that started in my hometown. Like me, InFiné has its roots in Lyon, and lots of the label's artists are also from that part of France. I collaborated with some of the InFiné artists at the Nuits Sonores festival in Lyon last year, and we had a special evening where some of them revisited my work on stage. When InFiné decided to celebrate their tenth anniversary with a compilation, they asked if I would look into their catalogue and make some selections for a compilation.

How did you go about compiling it?

I went through lots of different tracks, and tried to build a kind of journey, using songs and artists that fit well together. As the music on InFiné is quite varied—there are artists from all kinds of different musical worlds—it was important to have some sense of direction on the compilation. A selection like this is always subjective; [the final selection] doesn't come down to which track is better than the other, it's just more reflective of my own tastes.

How did that sense of direction develop?

One of the reasons why InFiné is so important to me is that lots of artists on the label have been influenced by my own music. For the compilation I chose tracks that I felt were close to my own music in some way. The first track [Oxia's "Exaila"] could almost be a kind of introduction to one of my own albums; it's a short piece and I think it opens the door to the compilation nicely. Then there's Murcof's "Como Quisiera Decirte." I've admired this guy's work for a while, at times it's very close to the kind of stuff I was doing when I studying with Pierre Schaeffer at the musique concrète studio in Paris, when we were experimenting with sound design in pretty abstract ways. Murcof has an approach to music that I really enjoy—he mixes an experimental approach with Latin flavour. I've always been interested in trying to mix the Spanish or Italian soundtrack ambience of people like Pedro Almodóvar or Fellini into music. I find "Como Quisiera Decirte" quite haunting. It has a Mexican feel but it's still definitely electro. I love that mix, that hybrid feeling between two different worlds.

Which other artists on the compilation did you find yourself drawn to?

Rone is a good one—he has a very interesting sound. The problem with so much electronic music now is that more often than not, you hear a track, and it's interesting, but you don't feel it belongs to somebody in particular, or has a particular style, even if it's OK and you like it. In the case of Rone, for instance, or Agoria, and some of the other artists on this compilation, they have a definite sound world of their own. That's rare these days

Talking more broadly, which other contemporary artists do you listen to?

I'm listening to lots of different music. I really love Zomby's work, I've listened to a lot of his tracks over the past two years. And there's Actress—I've been appreciating his style of music recently. Then there are more established electronic artists in France like Air, Vitalic, M83, Justice or Sébastien Tellier—actually in fact I've just finishing a recording session with Sébastien today, we are working on a track together. I also really like Fuck Buttons. The first time I listened to their music I thought, "Wow, they've got such a special and unique type of sound." I mean, those guys build a kind of wall of sound in front of you, a fog of audio, with a kind of techno beat lost in smoke. It's a vaporized sound. I really love their direction and their Olympians EP was very nice.

How much time do you find yourself spending in the studio each week?

I try to spend as much time as possible in the studio, but it's never enough. There are always other things to do. My dream is to be like a writer, and spend four or five hours every day locked in the studio, but I can't really do that, I don't know why. I'm a workaholic in short spurts—I'll go into the studio and work for three or four days and nights, then I'll stop, take a break, and go back to the studio a week or so later. So for me, it's three or four days on, then three or four days off.

I read in an interview that you said when you're in the studio you feel more like a "painter than a producer, mixing with colour and light, and experimenting with textures." Do you still feel that way even when you're not in the studio as much?

Yes, more than ever. I think that's the beauty of electronic music. I used to do a lot of painting when I was a student, and I even hesitated between pursuing a career in painting or music. Over the years, when I've been faced with electronic instruments, oscillators and all these kind of strange machines, it occurred to me that mixing colours and mixing audio frequencies is actually the same thing. You are a craftsman, you are a painter, mixing colours and textures. For me, electronic music is very close to abstract painting, which is all about textures, shapes, colours and contrasts. These days, I like mixing analogue synthesizers with pure digital elements. I think this combination is actually reflective of society itself, because we aren't analogue anymore, but we're also struggling to deal with being in a virtual, digital world. I think it's quite nice when you can mix both worlds.
Full interview can be found here >>
After the release of their first single called "Moïra" (available now on iTunes, Amazon USA, Amazon UK or Amazon DE) Ad Inferna releases a new track on the 28th of December, namely a cover of the Jean-Michel Jarre instrumental "Equinoxe 4". For the occasion singer Alina Dunaevskaya joined the band as guest vocalist. The track will be available on YouTube only for the moment (and of course on their album "im mortelle").
The french electro act Ad Inferna will return with their 6th album on the 7th of January on DSM Music. The CD version is available for preorder on Poponaut & Infrarot webshops.
www.adinferna.com
www.facebook.com/adinfernaband
STRINGS + PHASER + DELAY = JARRE
STRINGS = Korg polysix
PHASER = genuine 1974 MXR Phase 90
DELAY = Roland SDE 3000
New JM Jarre cover from Percussa AudioCubes, details below:
Jean Michel Jarre's Rendez Vous II Laser Harp Theme played on Percussa AudioCubes using Xils Synthix VST synth (hosted in Ableton Live) and Percussa MIDIBridge – learn more at http://www.percussa.com/
Check out our blog post to learn more about the setup: http://www.percussa.com/2012/10/11/jean-michel-jarres-rendez-vous-ii-on-xils-…
Background information:
This is not intended as a 1-to-1 reproduction of Jean Michel Jarre's famous classic. It is more like my shot at it using the instruments that I have.
It's funny that just because JMJ used an Eminent U310 and later an Elka X-705 then these exact organ models sells for astronomical prices while most other organs can be bought for peanuts.
So therefore I have used Elka X-30 and Technics SX-C600 to play most of the arrangement. I don't have a MiniPops 7 drum machine so I used a Rhythm Ace. One thing I did to make it more authentic was that I manually added the quijada sound to the rhythm. I synthesized it on my Roland JX-8P because I felt that it was vital for the mood of the melody. The sequence that runs through the first part was programmed on the little Korg Poly 800 and most of the sound effects was made on my Roland SH-2000. Finally I added the sound of my homebuild zimbelstern because I hadn't got a clue on how to make the huithuithuithuithuit sounds of the EMS synthesizer that I assume Jarre used.
For once I had the sheet music. I found it at the public library – you know, the house with books made of real paper in it. But it's not easy when the composer doesn't follow his own notes on the recording he made!
I haven't added many effects efter the sounds were recorded. Just some panning, reverb, and echo.
Jean Michel Jarre interviewed in his living-room studio in 1977.
Playlist "Jean Michel Jarre – Interviews": http://www.youtube.com/view_play_list?p=F6EB8588DC38566F
Jean Michel Jarre in his studio in Paris.
A piece sequenced and performed entirely on the Korg Radias and recorded live into Logic Pro 9. Added some Echo using the Delay designer. All other effects are on the Korg Radias – Stereo Phaser on both Bass and Pads. Drums and Bass Line Sequenced on the Radias, Arpeggiator also used on Arp Saws.
"Fashioned on one of my idols Jean Michele Jarre, just in case you were wondering. Bass Sequence and sound programmed by me, all other sounds are from the presets, with a tweak here and there."