"Dynamic Effects Processor
Create your own combination of Kaoss effects, and simultaneously control up to four effects using a single fingertip! Introducing the Kaoss Pad Quad; it's Kaoss control evolved to a whole new level.
Kaoss Pad Quad Highlights
* Brilliant, colorful LED touchpad illuminations move in sync with your performance
* Control multiple effects in realtime using the intuitive Kaoss X-Y touchpad
* Create your own Kaoss combinations and use up to four effects at once
* Choose one of five effects from each of four effect groups; a total of 1,295 combinations!
* Freeze button holds the effect settings after you release your finger, for dazzling hands-free use
* Versatile and highly playable effects control, delivering unimaginable expression
* New Looper effects – Forward, Reverse and Slice – add new audio intensity
* Mix it up with new DJ emulation Vinyl Break and Ducking Compressor effects
* Auto BPM engine detection and Tap Tempo functions keep your Kaoss locked to the beat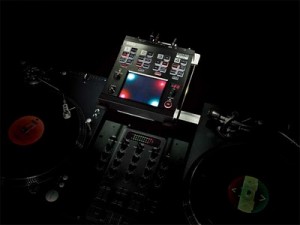 Twelve years ago, the first-generation Kaoss Pad exploded onto the DJ/music scene with touchpad-based effect control. Since then, the overwhelming acceptance and popularity of the X-Y touchpad is evident in many Korg products – Kaoss Pad effects, the Kaossilator Series, our padKONTROL and nanoPAD controllers, even the exclusive M3 TouchView™ display – that are now standards in the scene. To this we add the Kaoss Pad Quad, with new effects, functions, and features that truly stand out from the crowd.
As suggested by the name "Quad", this new Kaoss Pad lets you use up to four effects simultaneously. These effects can be sync'ed to the beat of your music, to freely transform your song in realtime. Any audio source can be processed; an MP3 player, a mixing board, an instrument, even vocals via the mic input! The expressive performance potential that arises from the Kaoss Pad Quad leaves other effect units in the dust, and rapidly approaches the realm of an "instrument". The brilliant and colorful LED touchpad illumination adds a strong sense of individuality, further enhancing the Kaoss Pad Quad's unique character.
The Kaoss Pad Quad will enthrall everyone. The intense user can engage in highly technical performances; the casual user can enjoy DJ-like fun. Either way, the audience will be equally captivated. The interest and depth emanating from this new instrument is sure to touch every listener.
Dazzling, illuminated touchpad control
The intuitive interface that has helped to make the Korg Kaoss Series so popular is alive and well on the Kaoss Pad Quad. As you tap, slide, or move your finger across the X-Y touchpad, the effect parameters will change, producing dramatic realtime changes in the sound. One big change to the touchpad is brilliant LEDs that light up in an intense variety of colors. The illumination changes depending on the state of the effects, the BPM setting, and on your movements while performing. The DJ booth or stage will be brilliantly illuminated, visually boosting the excitement level!
Use up to four effects simultaneously for unimaginable expression
Kaoss Pad Quad lets you simultaneously control up to four effects from the touchpad. Each of the four effect modules – Looper; Modulation; Filter; and Delay/Reverb – contains five options (plus a null, or off position), for a total of 1,295 combinations! Best of all, effects can be chosen directly from the front panel, a more intuitive and physical process than on previous Kaoss Pad models. Enjoy trying your own Kaoss combinations and discovering ways to radically morph the sound.
By rhythmically adding successive effects, or switching effects on and off as your song progresses, you can use the Kaoss Pad Quad to add variation and development to the structure of your song. In other words, even a simple beat can potentially be transformed into a killer tune that will whip the dance floor into a frenzy. In addition to being an enormous asset to the professional, the Kaoss Pad Quad is also great fun for the casual user. It is extremely straightforward and easy to use; just touch the pad to apply effects. Connect a portable audio player or any audio source, and begin enjoying hours of sound creation and manipulation. Once you get started, you'll lose all track of time!
Freeze button offers hands-free effects!
For each of the four effect modules, there's a Freeze button that memorizes the position at which you're touching the touchpad, causing that effect to be held even after you release your finger. If you touch the touchpad again while Freeze is enabled, only the non-frozen effects will be controlled. You can achieve even higher levels of performance freedom by using the four Freeze buttons in conjunction with the effect type buttons.
Expand your performance with newly designed effects
In addition to more traditional effects, the Kaoss Pad Quad offers many new types of effects:
Multi-Mode Looper
Use the touchpad to loop part of your song; the number of beats is controlled by the location you touched. Three types of looping are provided; the standard Looper; the Rev Looper (Reverse Looper) which plays the looped phrase backward; and the Loop Slicer, which divides the phrase and lets you loop-play only a specific portion. You can switch between the different looper types by sliding your finger up and down the touchpad as the loop plays, producing radical new beats on a whim. Using these sophisticated loop tools makes it easy to ignite a frenzy on the dance floor.
Vinyl Break turntable effects
The first effect lets you slide your finger up and down on the touchpad to simulate the scratch sounds that can be produced on a turntable. Next, if you leave your finger on the touchpad without moving it, you can also create the effect of gradually slowing the playback speed to a stop, just as when you stop the rotation of a turntable. This realistic sound is highly usable as part of a DJ performance, allowing even a beginner to feel like an experienced DJ.
Ducking Comp transforms the playback
This creates the distinctive "ducking compressor" effects that have become a staple in music production. By boosting the sound level during off-beats of the kick drum, this effect can expressively transform your sound in very musical ways.
Stay in Sync!
The proprietary Auto BPM engine automatically detects the tempo/BPM (Beats Per Minute) of the song that's playing or the audio source. Using this function allows BPM effects such as delay to remain in sync with the song. Tap Tempo is also provided; you can press the TAP button several times at the desired tempo to set the appropriate BPM value even for a song that does not have a strong rhythmic feel or whose BPM is difficult to detect. You can also use the BPM knob to make fine adjustments."
Oxygene 2 – Cover
Composed by: Jean Michel Jarre
Played by: Piotr Nowak, Michał Bach
The gear that was used:
-Roland Juno-D,
-Roland D-50,
-Korg MicroKorg,
-Korg mini KP KAOSS PAD.
-Behringer Vintage Delay VD400
John Fenn tipped on this video where he´s performing with a Devi Ever and a Kaoss Pad
Sorting out the various possibilities with a Devi Ever Mangerl prototype, an Utter Stutter, a Kaos Pad and various other devices… Nothing fancy, just playing around!"
Electro Harmonix Super Space Drum
Trauma Duo Ambient Noodle
Just patching around and less tweeking on different analog machines…sorry the bad sound- and Videoquality…the computer is only used for recording…

Used stuff:
Korg SQ-10, Korg MS-20, Korg Delta, Roland Jupiter 4, Modular Mixer from HealthClub-Music (with white & pink Noise from Korg MS-50), MFB Kraftzwerg, Klerk Teknik DN-50 Springhall, Kaosspad II"
This video offers a first look at Alexander Randon's Kaossonome MIDI controller – a new DIY electronic music controller inspired by both the Korg Kaoss Pad and the monome.
Here's what Randon has to say about the new Kaossonome:
The Kaossonome is my first electronic music controller design. It interfaces the musician via a touchscreen, resting on top of a 256 LED matrix, and eight rotary encoders with push?buttons. Enclosed within an aluminum front panel, a dark wooden frame, and a clear Plexiglas back panel, the controller is protected from external forces and is less than an inch thick.
The touchscreen can be controlled with either a finger or a stylus and the knobs turn and toggle with ease. The Kaossonome powers and transmits serial data over USB. The serial data is then intercepted by a modified version of ArduinomeSerial, which transforms the data into MIDI and OSC. The software savvy electronic musician can design intermediate software devices to grab data from the device, route touch-screen presses and rotary encoder changes to musically defined parameters, and then send data back to the device to control the LEDs.
nspired by Korg's Kaoss Pad and the Monome, the Kaossonome features Kaoss Pad-like sampling programs and is fully Monome 256 compliant. Additional programs include an algorithmic step sequencer, a beat synced sample chopping performance controller, and many more.
Randon is planning to sell Kaossonome kits. If you're interested, check out his site.
Musician and sound designer Jim Stout talks about some of his favorite tools for sound design, including the Open Labs NeKo and the Korg Kaoss Pad.
…just because the song is so freakin good – it just has to be KORG sounds

to do this, enjoy!!
[youtube=http://www.youtube.com/watch?v=QsfhobG6zFc]
Have a great weekend