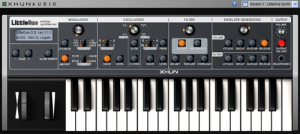 Xhun Audio faithful emulators of the Moog Little Phatty VSTi have officially announced the Worldwide release of Little One 2.0. The new version will be available December 13, 2010. The new version is free for registered users. The main improvements are are mostly within the DSP modeling side of things, GUI, and some new sound banks.
Experimenting with the iPad with POLYSTEPARP. This time I sent the sequence live to a MOOG Little Phatty thats running thru a Freqbox, Ringmod, and a Bass Murf which in turn is passing thru the DAWs Direct monitor live with a u-he Filter with some delays and verb. Access Virus TI Polar is playing some pads in the back
I didn't expect this to work at all but thought I'd try it anyway just for fun…
I'm running the midi out from the Phatty through a simple Midi to CV converter which is then connected to the cv and gate inputs on the Rogue. Tracking is not the best as you can hear. I made the two synths sound almost the same in order to avoid more tracking/patch weirdness.