Here is the incomparable Moog Etherwave Pro Theremin running through the Eventide Space processor giving it an otherworldly sound. Eventide Space can create a variety of spatial effects, including basic reverbs, delays and unique combination effects. Space features 12 of Eventide's reverb combination effects, taken from the H8000FW and Eclipse V4.
The Etherwave Pro is a professional quality theremin featuring classic theremin sounds, excellent playability housed in a beautiful eye-catching cabinet. It is designed as a solution for the gigging musician who wants the best theremin available in a portable package. The Etherwave Pro also won the 2005 Excellence In Design Award (EID). This bold, beautiful theremin is designed for the gigging musician. Drawing on his 50 years of experience, Bob Moog has designed the next step in the evolution of the original electronic instrument, the Theremin. The Etherwave Pro is a step up both from the best-selling theremin of all time, the Etherwave Standard. The Etherwave Pro features professional quality response and sound in a package designed both for beauty and portability. Whether you're a seasoned thereminist or someone drawn to it's unusual sound and looks, you'll appreciate the quality of response and control this product offers.
The Etherwave Pro features removable pitch and volume antennas. The Pitch range of this instrument extends to 6 1/2 octaves. Both Volume and Pitch antenna response are tuned from the wooden pitch and volume knobs as well as the fine adjustment trim controls at the bottom of the front panel.
The front panel controls include a range switch which allows for choosing one of three octave ranges. The Timbre rotary switch is used to select one of the five preset timbres (classic theremin tones) or enables the front panel Waveform, Brightness, and Filter controls, which allow the thereminist to tailor their own personal theremin tone.
The Etherwave Pro also features a headphone output with level control and a dedicated tuner output. A lighted Standby switch allows the Etherwave Pro to be on but silences the audio output.
"Thanks to Josh Flynn for playing the theremin and shooting the video."
Here's a fresh new experimental video: A project for KKout let London.
Using normal am radios to a Theremin Original development by Tomoya Yamamoto (Yamamoto Super Theremin)
Additional Development by Yuri Suzuki
A short clip by Yuri Suzuki
Music : Swan by Saint-Saëns
VELVET VOYAGE – "Kristallwald" (Crystal Forest) – Performed by Bruno Ender Lee, August 13. 2011
The Crystal-Sequence and some FX are pre-recorded, from the 2004-CD "Traummaschine", with Arturia Modular Moog V. The Live-Part: Moog Little Phatty Stage II, Synthesizers.com Studio-88, ARP Odyssey, MacBeth M5N, Roland Juno-60, Roland JP-8000, Analogue Solutions Vostok, Korg MS-2000, Moog Etherwave Theremin
Schubert played on the theremin:
Some of my online theremin friends didn't want me to record this theremin transcription of Franz Schubert's SERENADE. They said it was too schlocky and romantic and that I shouldn't waste my time on it! Nevertheless, it remains one of the most popular and recognizable melodies from one of my favorite composers. This arrangement is for theremin and Haken continuum (accompanied by the Korg TRITON EXTREME). The continuum is playing the delicate recorder/flageolet sound that follows the theremin. Although I think my brain could have played all three instruments at once, I just don't have enough arms and hands, so I prepared the track and played the theremin live.

In the summertime, I often use my barn for music. The barn was built in the 1860's during the American civil war and no nails were used in its construction. It is made entirely of hardwoods and held together with expertly fitted joints and wooden spikes. When you play music in it, the whole building vibrates like the soundbox of a giant bass or cello. Unfortunately it isn't very well insulated and it isn't heated so it is useless for music in the winter. But it's great in the summer!

According to music historians the Austrian composer Franz Schubert (1797 – 1828) wrote this composition in the summer of 1826 in a beer hall, jotting the notes down on the back of a menu. He had apparently stopped in to the place to have a couple of pints and cool off.

The theremin in the video is a Moog Ethervox. The Haken continuum is a continuous controller which, unlike the theremin, does not have a sound of its own. It can sound like just about anything you want and, like the theremin, can elegantly slide from one end of its range to the other in a seamless "gliss". It is also polyphonic and has 16 voices (the theremin is monophonic with only one voice).

I was going to call this piece, "Schubert & the theremin & the continuum go to Bollywood" because I am used to wearing Indian clothes when the weather is particularly hot (as it was today when I recorded this). Natural air conditioning
A live performance of Spacedog's latest set at the Blank Gallery, Brighton, June 2008. As seen at the Sanctuary, Brighton Festival Fringe, 2008. This number samples the Hammer classic The Devil Rides Out (1968), mixing it with Willow's Song from that other British occult classic The Wicker Man (Paul Giovanni, 1973). Mind control courtesy the hypnotic voice of the great Charles Gray. The very first sample is from a 1950s Parakeet training record.
The lineup: Jenny Angliss, Sarah Angliss, Mike Blow, Ben Kypreos and Colin Uttley.
For anyone interested in the technical details: The Hammer samples you are hearing are being scrubbed (i.e. speed controlled) live using the theremin. Sarah (the thereminist) has devised a Max/MSP patch that enables her to do so – this also scrubs the video live. Mike (in the green tee-shirt) is cueing in the samples as the song progresses. As the lighting in the gallery wasn't suitable for projection, we've added our usual visuals onto this film, during the edit.
Spacedog
www.sarahangliss.com
This video is a must see, really cool performance using Kinect technology.
Extending the acoustic vibraphone by embedding 3D gesture recognition using the Kinect. Kinect-Max/MSP (Kinect Datastream-OSC-MIDI)- controlling filter parameters in Ableton Live to modulate the acoustic audio input from the vibraphone in real-time. Developed by Gabrielle Odowichuk and Shawn Trail @ MISTIC.
Dorit Chrysler dynamically plays an original composition on her customized Moog Etherwave Pro, a theremin manufactured by Moog Music from 2004-2006, for an ethereal Moog Sound Lab.
To function as a one woman band, Dorit triggers a prerecorded backtrack on her laptop, adding vocals and Etherwave Pro theremin in real time. At her feet are a MF-104Z Analog Delay and an Akai Head Rush looper to add depth to her sound. Voila!
See other Moog Sound Lab performances: http://www.moogmusic.com/sight-and-sound/sound_lab
Learn more about the Etherwave Theremin family: http://www.moogmusic.com/products/Etherwave-Theremins
Learn more about the MF-104Z: http://www.moogmusic.com/products/moogerfoogers/mf-104z-analog-delay
Dorit's brand new record "Sea of Negligence" is available on iTunes or on www.doritchrysler.com
Spacedog's homage to Stooky Bill, ventriloquial sidekick of John Logie-Baird who appeared on the second ever television image, c1925. Baird was the inventor of an early, mechanical television apparatus that was tested at Alexander Palace, London.
This song features Spacedog's own Stooky-like Hugo, a 1930s vent doll who was rescued from the attic of a dead magician.
If you'd like to see and hear more curiosities from Spacedog, do check out our new website:
www.spacedogmusic.com
This piece was recorded live, in one take, during Televisor, a live music and robotic show created by Spacedog and performed at the Brunswick Theatre, Brighton Festival Fringe, May 2011. Professor Elemental was guesting on the night.
This song is based on an original composition by Stephen Hiscock, with vocal and other samples composed by Sarah Angliss
Musicians:
Hugo as "Stooky Bill"
Sarah Angliss
theremin
Stephen Hiscock
vibraphone
Robots and televisor built by Sarah Angliss and Colin Uttley, Spacedog.
Video edit: Sarah Angliss.
The theremin, originally known as the aetherphone/etherophone, thereminophone or termenvox/thereminvox is an early electronic musical instrument controlled without discernible physical contact from the player. It is named after its Russian inventor, Professor Léon Theremin, who patented the device in 1928. The controlling section usually consists of two metal antennas which sense the position of the player's hands and control oscillators for frequency with one hand, and amplitude (volume) with the other, so it can be played without being touched. The electric signals from the theremin are amplified and sent to a loudspeaker.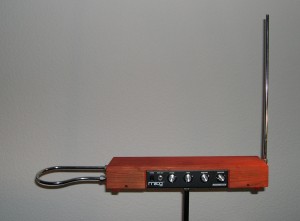 The theremin is associated with a very eerie sound, which has led to its use in movie soundtracks such as Miklos Rozsa's for Spellbound and The Lost Weekend and Bernard Herrmann's for The Day the Earth Stood Still and as the theme tune for the ITV drama Midsomer Murders. Theremins are also used in concert music (especially avant-garde and 20th- and 21st-century new music) and in popular music genres such as rock. Psychedelic rock bands in particular, such as Hawkwind, have often used the theremin in their work.
In this video:
"OK, I have always wanted a Moog theremin, I finally scored one and it is an Etherwave Plus model to boot. This was constructed as a kit by the guy I bought it from, he did a great job although his finishing of the case is not to my satisfaction so I will be re-doing that someday.
I need to practice, and these things require practice, as with any other musical instrument. What a brilliant instrument it is, Thank You Lev and Bob.
Korg Z1 providing backround chaos, Theremin, that is all."
The Radiopool Thereglyph combines circuit bending with Theremin like  radio wave interaction. Exact principles at work here are still wrapped in mystery. Very interesting sounds.dio interference, traditionally a problem in audio, can be used to our advantage. By means of the Thereglyph instrument I would like to introduce to circuit-bending a concept I call radiopool.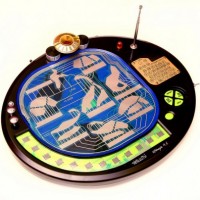 While Leon's Theremin looks to onboard RF generation and sounds the same played anywhere, immersing a radiopool instrument to various depths within the RF field (the radiopool) yields changing results… similar to differing the length of the air column within a flute.
For more info on this instrument and building one yourself, check-out the flickr gallery:
http://www.flickr.com/photos/moonbear3325/sets/72157626396557545/