TubeOhm has released the Anti-Transpirant 8000. Here's what they have to say…

"After the VINTAGE prog stress we build a back to the roots' synth.
Powerful VA sounds with 8 x OVERSAMPLING – thats new !!
It looks, feels and sounds like the old hardware synths. And A-T has its own character."
Features
8 x,4 x, no oversampling. The FREE version with 8x oversampling
audio frequency FILTER FM
audio frequency PWM modulation
filter 12 / 24 dB /envelope /VCA/VCF
delay
multi trigger ADSR with LFO
maximum 6 voices ( sales version )
A-T 8000 with 2 GUI's
3 Instruments , A-T 8000 8x oversampling, A-T 4000 4x oversampling,
A-T 6 no oversampling 8 reduce the CPU usage
Pricing and Availability:
29,00 €
More information:
Synthesist Erik Norlander, of Sonic Reality, demonstrates using AmpliTube iRig as an effects processor for his Yamaha Motif synthesizer, in this this official IK Multimedia demo video.
Amplitube iRig is a $39.99 audio adapter designed to let you connect guitars and audio gear to iOS devices. Paired with Amplitube for the iPhone/iPad, which are available in free and commercial versions, the software/hardware combo makes a pretty cheap multi-effects processor.
More information at http://www.amplitube.com/irig and http://www.ikmultimedia.com/drummertr…

AmpliTube iRig is a combination of an easy-to-use instrument interface adapter and guitar and bass tone mobile software.

With AmpliTube iRig, you can plug your guitar into your iPhone/iPod touch/iPad and jam anywhere with world class guitar and bass tone right in the palm of your hand – from the leader in studio-class guitar and bass software.

Simply plug the iRig interface into your mobile device, plug your instrument into the appropriate input jack, plug in your headphones, amp or powered speakers, download AmpliTube for iPhone Free and start rocking!
via ikmultimedia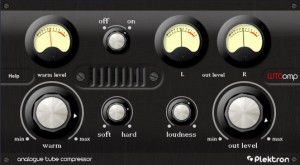 Plektron unveils WTComp, a FREE analogue tube compressor VSTeffect for Windows.
It's based on the parallel compression's technique that maximize the output signal rather than destroy the sound's dynamic. The tube simulation makes the sound warm and load without distortion.
"WTComp is an analogue tube compressor.
It distinguish itself from a common compressor due to its simple use. The only thing you have to do is just to set the warm-level (compression) instead of going crazy with dozen of parameters! The internal structure is very advanced, including an intelligent audio-clip system. Ideal for mastering and single tracks, but most importantly it is FREEWARE." Plektron
1. Ableton Live 8
The indications are that a new version of Ableton's groundbreaking DAW could be shown in Anaheim.
2. The 'producer product' from Native Instruments
We already know that NI will be launching three new products at NAMM – a hunch is that it will be the biggest NI product innovation in years".
3. Cubase 5
Steinberg's revelation that its NAMM announcement will concern "the apex of many years of technology developed through our passion to help musicians, composers and producers realise their musical creativity" certainly points towards a Cubase update.
4. Melodyne Direct Note Access
Having had its release date delayed – it was originally supposed to be available in the fourth quarter of 2008 – we hear that it's finally ready to go, and should be shown in its almost-finished form at NAMM.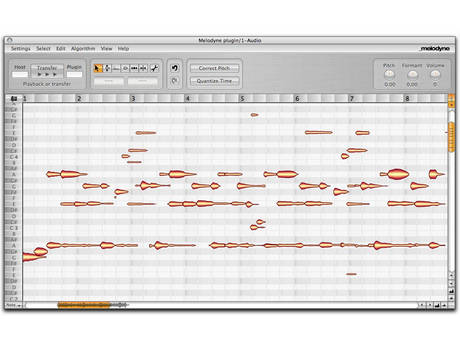 5. AmpliTube 3?
IK Multimedia has plans to announce something, and a new version of AmpliTube seems like a logical launch for them.
6. NI new drum machine >> Maschine
Native Instruments will be introducing Maschine – a next generation groove production studio that combines hardware and software – at the 2009 NAMM Show.
…which of course I am not hehe
IK Multimedia has announced that AmpliTube X-GEAR has been made available as a free download for all AmpliTube 2 Live users and StealthPlug users.
AmpliTube X-GEAR is an expandable guitar amp and effects modeling software system, available as a plug-in and standalone for Windows / Mac OS X. It allows you to mix and match all the gear models from all current and future "Powered by AmpliTube" products in a single host interface, providing seamless control over every parameter directly from StompIO, or any generic MIDI controller.
AmpliTube X-GEAR (which stands for eXpandable Guitar Effects and Amps Rig) represents the first fully modular and customizable amp and FX modeling software environment, providing instant access to more than 150 superbly modeled amps and effects from all current "Powered by AmpliTube" range and even further expandability with future products.
The first fully modular, customizable and expandable amp and FX modeling software system
Provides a single host interface for AmpliTube 2, Ampeg® SVX, AmpliTube Jimi Hendrix™, AmpliTube Metal, and future "Powered by AmpliTube" products
Full mixing and matching between all the modeled gear
Opens and reads all "Powered by AmpliTube" presets
Allows full automation of each opened model's parameters
Allows complete integration with StompIO audio interface/floor controller
Allows MIDI controls with MIDI learn functionality
Works both as a RTAS/AU/VST plug-in and standalone version on Mac/PC
AmpliTube X-GEAR 1.1 is available as a free download for all registered StompIO users.
For a limited period, all registered users of at least one "Powered by AmpliTube" product* including AmpliTube 2, Ampeg® SVX, AmpliTube Jimi Hendrix™ and AmpliTube Metal will also receive a free download of AmpliTube X-GEAR 1.1 in their User Area.
Eligible users are able to download X-GEAR for free from their IK user area here: www.ikmultimedia.com/userarea