Going over the features and demonstrates the controls of the Numark Orbit wireless DJ controller.
The Numark Orbit has the standard DJ controls you can come to expect from other popular DJ controllers. There are some obvious differences but you have everything you need to get mixing and performing, right out of the box. While many DJ controllers tout the "plug and play" functionality but require a few extra steps to get going, the Numark Orbit and it's companion Orbit DJ software synched as soon as I got connected. So if you are someone who is just starting out with audio and DJ software, you can rest assured that the Numark Orbit will not put up a fight when it comes to getting started right out of the box.

The pads, the bank buttons, the bumpers, and the endless rotary, all have a great feel and the controller itself is built very well. Using the rotary wheel in the middle is certainly a different way to DJ. It can be used to control volume, EQ levels, and act as a crossfader depending on what function you have it assigned to control. The wheel itself responds well to the touch and has a nice LED indicator for your level control.

Next to the wireless capabilities, the built in accelerometer is sort of what the Numark Orbit is all about. You can control all the parameters of your effects by tapping the bumpers and manipulating the controller in the proper fashion. Each bumper can control a parameter of a selected effect on its own, or you can hold down both bumpers and open the full function of the accelerometer control. You can lock the Numark Orbit's accelerometer by double tapping the bumper, which eliminates the need to hold the bumper down when controlling effects.
Demo of the 8 Step Program Analog Expression/CV Sequencer
The 8 Step Program plugs into the expression pedal or CV input of other effects pedals and synthesizers delivering rhythmic sequencer control. It can turn an ordinary auto-wah into a step filter, a tremolo into a syncopated pulse effect and a pitch-shifter into an arpeggiator. Here JJ shows what it can do with the Stereo Talking Machine Vocal Formant Filter and the Ring Thing Single Sideband Modulator.
Station X , is the amazing cute little monophonic analogue synth from Analogue Solutions. There are 6 sequences in total, status indicators show fx's when used.
Fx List
Sonalksis Stereo Tool ( convert mono to stereo )
Arts Acoustic Reverb
X-Delay (Orion native DAW fx)
Tube Distortion (Orion native DAW fx)
Alesis Andromeda A6 synthesizer demo — playing ambient electronica soundscape / chillout drone / space music using a custom sequencer pattern.
This performance starts out with a catchy repeating motif, followed by live improvisation ending with a nice sustained drone and live fadeout. This music was created using 2 oscillators, filter and envelope adjustments, delay, LFOs, resonance and various other parameters on the Alesis A6 Andromeda synthesizer. Performed live, no external processing. Excerpt from a longer session.
About the machine: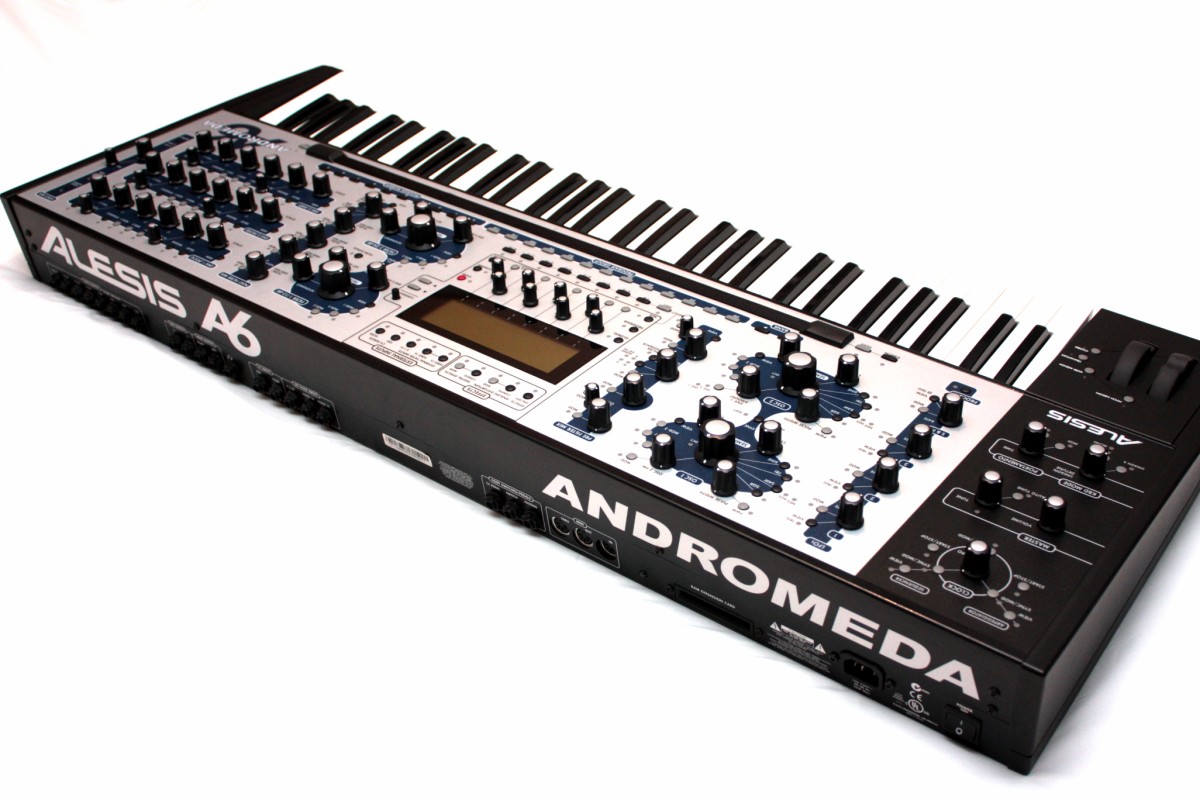 The Andromeda A6 is a true analog synthesizer using two analog oscillators per voice, sub-oscillators, hard and soft sync and more! It features 16-voice polyphony. With the Andromeda, you'll find a huge range of tonal possibilities: searing leads, warm pads, fat bass lines, extreme sound effects and more. And of course there are plenty of knobs (72) and buttons (144), even an assignable ribbon controller for addictive hands-on real-time control! The large high-resolution LCD display is excellent and shows you actual rather than relative values of parameters. Andromeda will integrate seamlessly into any studio with its total MIDI control and sync, individual voice outputs, stereo outputs and several audio inputs.
Andromeda is completely analog – no emulation! It features two analog filters per voice that sound great! They are a multimode 2-pole and a 4-pole lowpass. External audio can be routed through these filters too (three 1/4″ jacks)! As for modulation, Andromeda has three LFOs, each with six waveforms and they can be synced to MIDI clock. And there are three 7-stage envelopes with very creative and flexible functions. Also onboard is an extensive mod matrix for enormous freedom in configuring Andromeda's sounds!
No analog synth would be complete without a set of classic effects and features. Andromeda also offers Portamento with nine slopes and legato functions. A built-in arpeggiator and analog-style sequencer are available, with MIDI sync! There are also some high quality digital effects such as reverbs, chorus, echo, distortion and more! Andromeda comes with 256 breathtaking preset patches plus 128 user. A PCMCIA-format memory card slot allows for additional programs and mixes. Andromeda is pure analog bliss, with all the features, stability and widgets of modern digital synths.
Synthesizer demo of the vintage synthesizer Korg DW-8000 from 1985.
The Korg DW-8000 is a expanded version of the DW-6000. It is 8 voice polyphonic, has digital waveforms and analog resonant filters. Velocity sensitive keyboard. It has a built in digital delay and a really good arpeggiator, which can be synced via MIDI.
Additional info: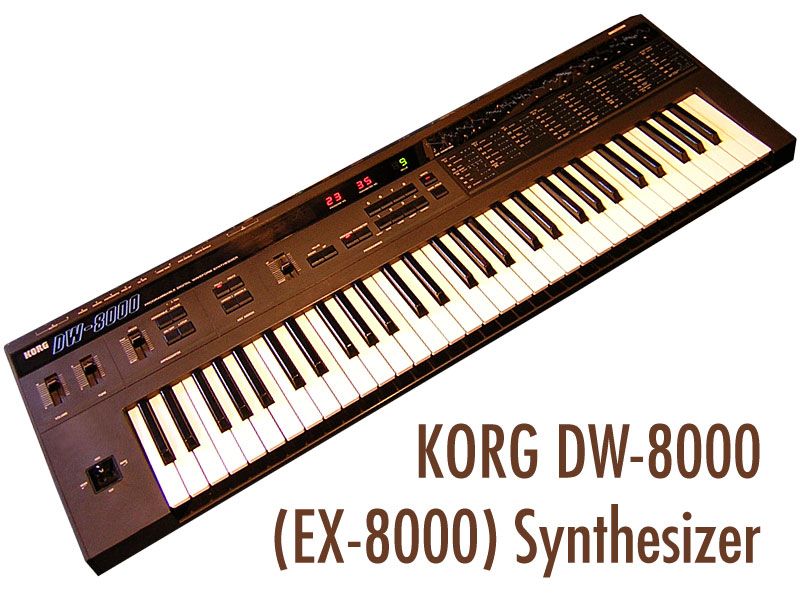 The Korg DW-8000 synthesizer was released to the buying public in late 1985 along with the cheaper model Korg DW-6000 synthesizer. The DW-8000 was an eight note polyphonic hybrid digital-analog synthesizer instrument. By the time of its launch Korg had already begun a common trend in 80s synthesizer design of using numerical parameter access as with the Korg Poly-800 eschewing the heavily laden control panels of earlier designs.
A more unusual feature of the instrument for the time was the use of sampled waveforms as the basic building block of sounds, and the inclusion of a digital delay effect. This latter feature was one significant factor in the relative success of the DW-8000 compared DW-6000 released the same year.
Given a well-programmed machine, what are the highlights that might be expected? Basses are probably one of the DW8000′s strongest suits. The low end is generally thick and powerful and sits under a mix with confidence. Chunky mid-range sequence sounds are also particularly appealing, especially given a tweak of the data slider to modulate the filter as it plays. Lead patches are capable of both aggression and subtlety, as required. There are certain characteristically 'nasal' lead sounds that I have never managed to recreate on any other synth — a kind of 'oboe on acid' for want of a better description. Autobend adds a certain slurring to note attacks that is inspiring to fool around with.

The DW8000 is very much a synth, not a sample playback device, so don't expect the acoustic piano waveform to render anything much like a Steinway! The waveforms are essentially raw material to be mangled by the synthesis engine. Pad sounds are thick and rich, but never seem to sit in a mix particularly well in my experience. String sounds are also warm and powerful, but just don't seem to cut it when other sounds are around. I mention these points not as damning aspects of the machine, but as a reminder that no synth will be all things to all players. Utilise a device to exploit its strengths, forgive it its weaknesses, and it will pay you back accordingly.
Ryan Hemeon demos another nice iPad synth, details below:
In this demo and walkthrough I show a little bit of the features of Addictive Synth by VirSyn. I like this app and find it has a great sound as well as some interesting features. The only thing I didn't like is the inability to select Midi input apps, I recommend using MidiBridge to get your apps working if you are having problems.
For more info and videos like this one, please visit www.iOSMARS.com
This is a video of NE playing around with their prototype external touch pad for the NEA Pyxis aftertouch system.
"This one here is our test model. The sensor pad has many unique capabilities when interfaced with the Pyxis controller. This video is to demonstrate the percussive effects that are possible with the Pyxis. The tapping effect is created by routing the output voltage from the sensor pad to the vca and vcf. The more of the sensor signal that gets sent to either, the more pronounced the effect. Keep in mind that this is not intended to be a musically coherent demonstration, but a demonstration of the capabilities of the instrument. For more information about the Pyxis, vintage synthesizer restoration, sales, and repair, please check us out at www.NewEnglandAnalog.com."
Vintage synthesizer demo by RetroSound.de
Roland SH-101 and TR-606
FX: EHX Small Stone phase shifter
no delay and reverb added!
I deleted the video last year with some others but my good friend from down-under Michael missed it.

he said: "Thank you Marko for introducing me to the world of analog synthesizers, this was the first tech demo I heard from you and to this day it still makes my ears bleed more than a virgin on prom night!"


here is it in higher audio resolution.
more info: http://www.retrosound.de
100% TAL Bassline 101 including drums. Most patches are original.
Grab the demo version of TAL Bassline (only restriction is no saving of patches!): http://kunz.corrupt.ch/products/tal-b…
Additional FX provided by the free TAL plugins: Reverb ii, Dub Delay ii & iii, Tube and Chorus LX. Some light compression and limiting on the master.
Try it free at http://www.bketech.com/demo/demo-form…
A full production capable sampling beat machine
Create full songs with BEAT THANG. It includes a 16-track real-time sequencer & 24-bit sampler. You can record, compose, mix and master in sample-accurate 44.1kHz stereo with no computer required. BEAT THANG sampling beat machine also comes with an exact software replica (BTV Software) that you can use on your PC or MAC. (want pricing?)
100% all metal chassis (zero plastic casing), 3.5″ full-color LCD screen and 13 chromatic premium full-velocity sensitive keypads
Zero data compression, true 24-bit signal path for ultra-low THD (.008%) & High S/N ratio (103db)
More than a sampling beat machine. It's an all-in-one sampling workstation for producers and a live performance instrument for DJs.
3,254 original samples. Big, bold, punchy sounds that are warm, beefy and inspiring.
One of the most powerful and unique advantages of BEAT THANG sampling beat machine is the ability to pick it up and quickly make music. The BEAT THANG sampling beat machine has an innovative and award-winning user-interface that is well organized and feels clean and clutter-free so you can easily and quickly navigate through various modes and functions.
You never know when or where your creative inspiration will strike and you never know how long that inspiration will last. With BEAT THANG sampling beat machine you'll be ready to capture your inspiration at the speed of thought, wherever you are. It is designed to quickly capture your raw stream of consciousness and to vibe in the moment. It is truly a real-time performance tool.
Dedicated buttons for the most common functions
Eliminated the need for a shift key
No complicated menus to navigate
Intuitive functions and shortcuts
Multiple paths to the same operation
One-touch access to everything you need