Here is a demonstration of the sound and functionality of the Arturia MicroBrute filter.
Tom Brislin plays Clavia's latest flagship lead synthesizer.
Waldorf Microwave XT synth demo — playing a relaxing, dreamy ambient electronica music soundscape on Microwave XT wavetable synth from Waldorf. HEADPHONES HIGHLY RECOMMENDED!

This relaxing ambient chill-out / new age synthesizer music was created using 2 wavetables, arpeggiator, delay, filter/envelope adjustments, LFO modulations, and more.
Performed LIVE, no external processing! Everything you hear is from the Waldorf MicroWave XT (10 voice) digital wavetable synthesizer!

This is a quick demo of the new Arturia Microbrute's sonic capabilities.
MAIN FEATURES:
Monophonic synthesizer
100% Analog Audio Signal Path
Steiner-Parker Multimode Filter (LP, BP, HP)
Voltage Controlled Oscillator with new Overtone Sub-Osc
Oscillator Mixer (Sub, Sawtooth, Square, Triangle)
LFO with 3 waveforms and destination attenuator
Brute Factor™ delivering saturation and rich harmonics
Ultrasaw generating shimmering sawtooth waveforms
Metalizer bringing extreme triangle harmonics
Fast Envelope Generator
25 note mini Keyboard
External Analog Audio Input (level pot on rear)
CV Inputs: Pitch, Filter, Sub-mod, Pulse, Saw animator, metalizer, gate in.
CV outputs: Pitch, Gate, Env, LFO
MIDI Inwith 5-Pin DIN connector
USB MIDI In/Out
1/4" Audio Output and 1/8" Headphone Output
Free Editor Software
Step Sequencer :

8 sequences stored on power down
Rate control
Sync to MIDI clock
Multiple modes (via software editor)

Tap tempo/rest insert
This video will provide instructional information on how to use the Envelope Generator onboard the Korg MS-20 mini.
For more information on the KORG MS-20 mini, head over to http://www.korg.com/ms20mini
This video will provide instructional information on how to use the Oscillators that are onboard the Korg MS-20 mini.
John Keston explores the Bass Station II, below his report:
I have recently been trying out a Novation Bass Station II monophonic analogue synthesizer. I am quite impressed with this big sounding synth in a small package. While digitally controlled, Novation have focused on packing in proper synthesis features rather than trying to gloss over the sound with onboard effects. For example, as I have illustrated in the video, the filter self oscillates nicely with a clean sine wave that can be modulated in unique ways especially with distinct features like oscillator slew.
The video starts with the self oscillating filter getting modulated by LFO 2 using the triangle wave. After that I switch to using the sample and hold setting creating the well-known 60s computer sound of random notes. Here's where it gets interesting though. Once I switch the LFO to sample and hold I start turning up the oscillator slew I mentioned earlier. What this does is variably smooth the wave shapes created by the LFO. You'll hear this come in at 0:28. It sounds like portamento. At 0:35 I switch the LFO to the square wave, but with the slew on it sounds more like a sine. As I reduce the amount of slew the square wave regains its recognizable character. Next I switch it to the saw tooth wave. The nice thing here is that the LFO amount can go into negative values allowing the saw to be reversed.
Another distinctive feature is the oscillator filter mod setting. This modulates the filter with oscillator 2. Since the oscillators range from subsonic to almost supersonic this feature offers modulation effects that are not possible with the LFOs. At 1:29 you will start to hear the oscillator filter mod come in using a pulse waveform. What makes this interesting is that while oscillator 2 is modulating the filter it can also have the pulse width modulated by LFO 1. This can cause bit-reduction-like effects that can be heard between 1:49 and 2:19. At 2:20 I start tapping the octave and waveform buttons on oscillator 2 illustrating what happens when the modulation source is instantly shifted an octave at a time. After a bit more messing around I added a final, manual filter sweep at 3:20.
http://audiocookbook.org/novation-bas…
James Wiltshire from The Freemasons makes a demonstration of the feature-set and sonic capabilities of the new Clavia Nord Lead 4 synthesizer. Watch the video and discover why James thinks it's a truly next-generation synthesizer.
Here's some bonus footage for the Nord Lead 4 demonstration with James Wiltshire from The Freemasons. Watch as he makes some parts for a track using the Nord Lead 4 and displays the synthesizers vast sonic capabilities.
Vintage synthesizer demo track featuring the classic Yamaha DX7
all synthesizer sounds: YAMAHA DX7 II FD FM-Synthesizer (1987)
recording: multi-tracking without midi
fx: reverb and delay
The demo shows typical and not so typical FM sounds. a bit PPG and Fairlight like.
"I like this synth a lot! Yamaha should built a DX7 III with realtime controller like the old PSS FM keyboards, with internal arpeggiator, step sequencer and a fx unit with reverb and delay and chorus. this would be fantastic."
This is a demo and tutorial for the Vogel CMI..A sim of the iconic and classic Fairlight CMI, one of the most famous keyboards ever..
Alesis Andromeda A6 analog synthesizer step sequencer keyboard demo. Performing live ambient space music on Alesis A6 Andromeda analogue synth keyboard using the built-in step sequencer. Created using 2 oscillators, LFOs, filter / envelope adjustments, portamento, unison detune, delay effects on vintage Alesis A6 Andromeda analog synthesizer keyboard. Performed live, no external processing. Excerpt from a longer session.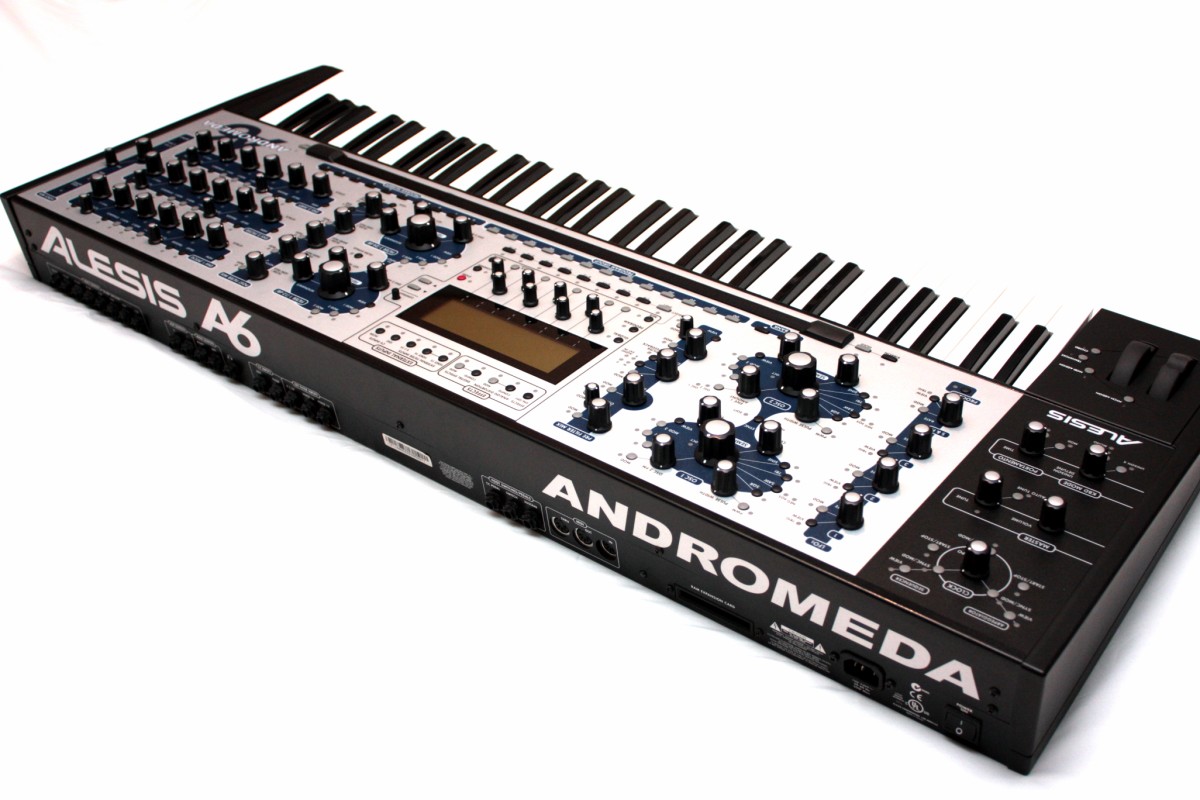 The Andromeda A6 is a true analog synthesizer using two analog oscillators per voice, sub-oscillators, hard and soft sync and more! It features 16-voice polyphony. With the Andromeda, you'll find a huge range of tonal possibilities: searing leads, warm pads, fat bass lines, extreme sound effects and more. And of course there are plenty of knobs (72) and buttons (144), even an assignable ribbon controller for addictive hands-on real-time control! The large high-resolution LCD display is excellent and shows you actual rather than relative values of parameters. Andromeda will integrate seamlessly into any studio with its total MIDI control and sync, individual voice outputs, stereo outputs and several audio inputs.
Andromeda is completely analog – no emulation! It features two analog filters per voice that sound great! They are a multimode 2-pole and a 4-pole lowpass. External audio can be routed through these filters too (three 1/4″ jacks)! As for modulation, Andromeda has three LFOs, each with six waveforms and they can be synced to MIDI clock. And there are three 7-stage envelopes with very creative and flexible functions. Also onboard is an extensive mod matrix for enormous freedom in configuring Andromeda's sounds!
No analog synth would be complete without a set of classic effects and features. Andromeda also offers Portamento with nine slopes and legato functions. A built-in arpeggiator and analog-style sequencer are available, with MIDI sync! There are also some high quality digital effects such as reverbs, chorus, echo, distortion and more! Andromeda comes with 256 breathtaking preset patches plus 128 user. A PCMCIA-format memory card slot allows for additional programs and mixes. Andromeda is pure analog bliss, with all the features, stability and widgets of modern digital synths.