I would like to introduce Sir Elliot's Eighteen Band Graphic Equaliser.
The 18-Band Graphic Equaliser performs best on midrange, which appears to be a dieing art in a lot of commercial music these days."
Eighteen Band Graphic Equaliser features
18 selectable frequency bands ranging from 20 cycles to 19,000 cycles.
Level Control.
A.C. Switch.
LED Power Indicator.
Adjustable Frequency Range: 20 – 19,000 kHz.
Frequency Bandwidth: 5 – 24,000 kHz +/- 2.4 dB.
Note: Frequency Bandwidth is based on 88.2, 96, 176.4, 192 and, 384 kHz sample rates.
Optimised for high sample rates ranging from 88.1 kHz – 384 kHz, however will perform fine on lower sample rates such as 48 – 44.1 kHz.
Fixed Delay.
Power Consumption: 44.1 kHz: 5.9 % / 88.2 kHz: 12.3 % / 96 kHz: 15.0 % (based on a Pentium 4 single-core 2.8 GHZ computer using Windows XP (Non Service Pack) operating system).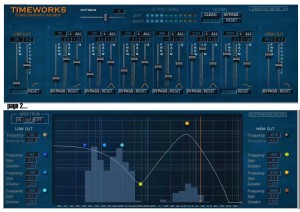 J1000 has released version 3.0 of Alpha and Beta, two free equalizer effect plug-ins for Windows.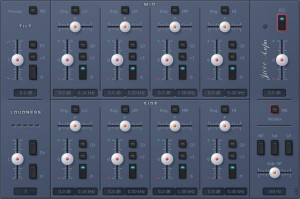 Changes in Alpha and Beta v3.0
Redesigned and reorganized interfaces.
Dynamic loudness processing based on equal-loudness contour.
Easier frequency selection.
Saturation mode.
Two-stage clipping indicator.
CPU optimizations.
Alpha and Beta are available to download as freeware VST effect plug-ins for Windows PC. Note: Gamma and Delta are now definitely discontinued and no longer available.
More information: J1000
Sonimus has released version 1.1 of SonEQ, a free equalizer effect plug-in modeled from two analog equalizers.

Changes in SonEQ v1.1
New GUI.
Mac AU / VST versions added.
Fixed CPU usage problem on some processors.
Band gain now shows dB instead of Hz.
The "VU Meter" is softer, and some host-specific bugs were fixed.
Mono tracks now supported.
Includes two new high quality filters: High-Pass and Low-Pass.
Fixed problems with noise when moving some knobs.
Many minor bugs fixed.
SonEQ is available to download as a freeware effect plug-in for PC and Mac (VST/AU).
More information: Sonimus
Sonimus has released SonEQ, a free equalizer effect plug-in for Windows.

SonEQ features
3-band EQ curves simulating vintage equipment.
Simulation of pre-amplifier and Bass Boost control.
Woow Control (all-pass filter) creator of psychoacoustic effects.
64 bits internal accuracy
Supports sample rates above 192 kHz.
Programmed entirely in C + + framework with the help of WDL.
SonEQ is available to download as a freeware VST effect plug-in for Windows PC.
Mac VST/AU versions are in development.
More information: Sonimus SonEQ
It was solely designed for Trombones, Saxophones, Trumpets and so forth. Jazz, & Classical Music is the concept behind this Parametric Equaliser.
There is also the option to configure the Q in a very narrow mode. This enables you to reduce peaks at certain frequencies that arise from troublesome rooms and, addressing offending frequencies from microphone feedback.
Brass Instrument Equaliser features
Tuneable Frequency Range: Five-fixed-band frequency contours offering a total sweep able range from 10 – 21000 cps.
Q Selector: Three mode selectable Q's ranging from 0.27 (wide) – 60.36 (narrow).
Input Level Control.
Overall Loudness Control.
Left/Right Output VU Meters.
Maximum Power Consumption: 2.4% on a Pentium 4, 2.8 GHZ computer on Windows XP (Non Service Pack).
Thisclip is a small review clip from a full length Training DVD available at www.proaudiodvds.com Over 5 hours of awesome tips and tricks from renowned host David Wills (Michael Jackson, Whitney Houston, Mary J. Blige, Earth, Wind & Fire, Chicago, etc) Imagine how cool it would be to totally master Reason in just a few hours. Join our hundreds of thousands of satisfied customers and see why we are the leader in Pro Audio Training at www.ProAudioDVDs.com
G-Sonique has introduced the Analog Bundle, a collection of its "analog" effects plug-ins for Windows.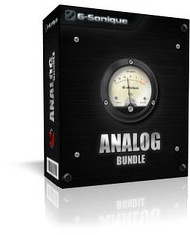 G-Sonique Analog Bundle includes
XBass4000L – Analog Bass saturation / Enhance processor: Designed to facilitate the maximization the bass frequencies, enriches your kick-drum & bass to give them the energy you need to drive your track.
Pultronic EQ-110P – Vintage vacuum tube equalizer: Equalizer emulating classic professional parametric vacuum tube equalizer from '50s and '60s. It can add real and hearable warm, color and dynamics of the vacuum tube devices into your music.
FSQ1964 – Vacuum tube high frequency / transient vitaliser: With this plug-in your records gain professional, expressive and crystal clear sound. It is capable of giving them a true sound, sharpness and boldness, everything the modern records should have.
Twisthead VS-206 – Vintage vacuum tube preamp: This machine behaves like a real analog hardware, it behaves in non-linear way and unexpectedly. Combining the quality and possibilities of digital sound with a heat, grandiosity and charisma of vintage analog vacuum tube machines.
The Analog Bundle offers a 25% savings on the regular price when purchasing the plug-ins separately. It is currently available to purchase for 58 EUR (additional 10% discount in G-Sonique's Summer Sale 2010).
More information: G-Sonique