September 19, 2011 · Posted in
Uncategorized
·
Comments Off

on Pure-Pone – Free VST synth
The Pure-Pone Synthesizer is a virtual analog synthesizer. FM, SYNC and RING modulation in connection with the super wave oscillator gives a phat basic sound.
2 x modulations matrix, a 12/24dB multimode Filter  and a  delay / chorus unit works for sound design.
Free version with one voice. That is the only limitation.
Pure-Pone – http://www.vstplanet.com/News/11/Pure-Pone.htm
Developer: tubeohm.com
August 24, 2011 · Posted in
Uncategorized
·
Comments Off

on Free multitimbral sampler for Windows, TX16Wx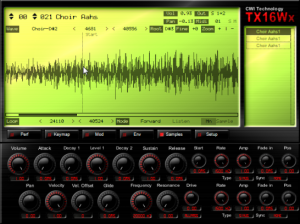 Developer Calle Wilund has released a free multitimbral sampler for Windows, TX16Wx:
After several years of on/off development, I finally got my act together (somewhat) during July of 2011 and fixed the few remaining features I wanted to add before publishing the plugin. The result is the first public beta release of the TX16Wx VSTi Software Sampler.
It is a 100% free VSTi Sampler with professional features and an easy to use graphical interface – and – one of the few sampler instruments, free or commercial, with a fully documented file format.
Not a preset-player or disk-streaming library engine, this is a plugin for you to make your own sounds, tweak and experiment. Bring back the fun of the old hardware samplers – in software.
Details below. You can download the free software sampler at Wilund's site.
Note: The software is being released as a beta.
Features:
Unlimited multi-timbral operation
128 voice polyphony
16 modulation slots per voice
24dB resonant filter
Two LFO + Two modulation envelopes per voice
Polyphonic glide
Built-in sample editor
Actually samples! Record waves straight into the sampler.
Graphical keyboard mapping editor
4 Stereo + 8 Mono outputs
16 mappable controllers for automation
Multiple loop definitions per wave
Individual outs for keyboard groups (drums)
Multiple keyboard scales
Multiple trigger modes
Mono/Poly/Legato operation
Preview loaded programs and samples in your song before loading
WAV/AIFF/AIFC/SoundFont 2 support
Reads Typhoon compressed AIF files
100% documented XML-based sound file format. Anyone can write conversion tools.
Low CPU usage
Fully native, optimized for SSE2.
64-bit support
Nice sound!
Downloads for Windows x86 and x64 are available.
August 4, 2011 · Posted in
Uncategorized
·
Comments Off

on Interesting new and free Mattel Synsonics drum machine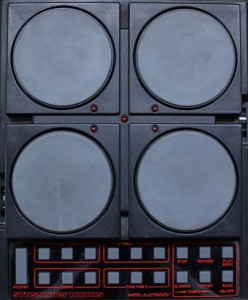 Francis Preve has put together a free virtual Mattel Synsonics drum machine for Ableton Live:
In the pantheon of vintage analog drum machines, there's an unsung classic that isn't from a big name manufacturer like Roland or Korg, but from a toy company. Released in 1981, the Mattel Synsonics was an affordable black box that housed a fully analog kit consisting of kick, two toms, snare, cymbal and hi-hat – all playable via velocity sensitive pads.
Of course, since it was a "toy", few artists took it very seriously – with one notable exception: Kraftwerk.
About a month ago, I pulled my Synsonics of its shelf in my studio, fired it up and started sampling.
It's available as a free download from Preve's site.
July 13, 2011 · Posted in
Uncategorized
·
Comments Off

on The Zebralette synth becomes freeware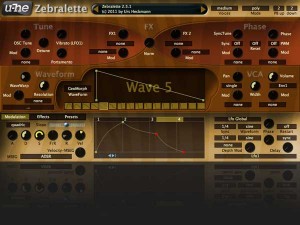 German software developers u-he have decided to make Zebralette, a stripped-down version of their popular Zebra 2 synth freeware. Here's what they have to say:
"OK, Zebralette is just one of Zebra2's oscillators packed into a simple, easy-to-learn framework – but you have everything you need to make some pretty amazing sounds. Sound that can be directly loaded into Zebra2 later. And should you eventually decide to upgrade to Zebra2, you will already know everything there is to know about the oscillators – which is quite an advantage!
Zebralette has two LFOs (one per voice, one global), a multi-stage envelope and three on-board effects (chorus, EQ, delay). Not forgetting Zebra2's famous dual spectral effects, which include several squelchy filter algorithms.
Megasaw? Zebralette also goes to eleven.
So: Because the Zebra2 oscillators are so powerful, Zebralette is actually a great little synth in its own right, and it has the same pristine audio quality as the mighty Zebra2… try out the new presets and see for yourself!"
June 20, 2011 · Posted in
Uncategorized
·
Comments Off

on SynthStudio Packs becomes freeware
Benedict Roff-Marsh has announced that SynthStudio Packs and PreRoll Recorder are now available as a free download.
The time has finally come. I have had a great run with SSP but the time has come for it to cease being payware and to go free. For the next wile I will still hold SSP & PRR on my site and they can be downloaded free – with the hope some will buy some of my music or show their appreciation in some other way.

I really want to thank all the people who have supported the SSP not only in purchasing and using but in promotions and generally adding to the Pack. I value each and every one of you and it is with some tugging of the heartstrings that I make this move.

Please enjoy (or continue to enjoy) SSP I + II + II + IV + PRR
The SynthStudio Packs include various VST instrument and effect plug-ins for Windows PC.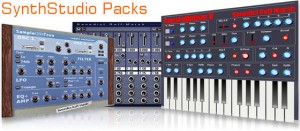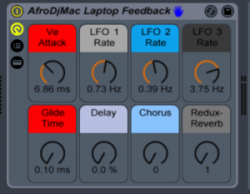 One of the things I want to do with this site is to share some of the tools I use to create music. If you are an Ableton Live user, this post is for you.

I created this synth using a sample of my laptops speakers belting out a screeching feedback from the internal microphone. As unpleasant as the sample itself sounds, it makes for a pretty atmospheric and dreamy sounding synth.

The Laptop Feedback instrument rack for Ableton Live is available to download from AfroDjMac.
Visit: AfroDjMac Laptop Feedback
March 22, 2011 · Posted in
Uncategorized
·
Comments Off

on New freeware DAW for Mac and Windows – MU.LAB 3
http://MUTOOLS.com : MU.LAB is an alternative, hi-quality music application for Mac OSX and Windows, transforming your computer into a complete music studio!
MU.LAB does not overwhelm you with a complex feature set, in which you can get lost.
On the contrary, MU.LAB is a user-friendly yet rock-solid musical tool designed to create, finetune and play Your Music!
March 18, 2011 · Posted in
Uncategorized
·
Comments Off

on Jedsound Twisted FX – free collection of sounds by sound designer Jean-Edouard Miclot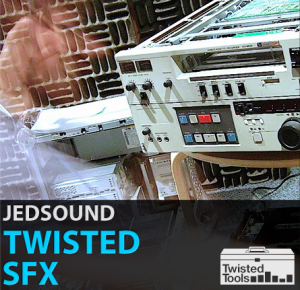 Twisted Tools have released Jedsound Twisted FX, a free collection of sounds by sound designer Jean-Edouard Miclot.
Here's what they have to say about the free sample library:
It isn't everday you can get your hands on unique and properly recorded field recordings, sound effects and foley sounds, so grab 'em while they're hot and feed them into your favorite Twisted Tools device!
To get you inspired, we've even added a bank of fx presets that make use of these sounds in Scapes.
It's available now as a free download.
Sound Categories: Rubber Balloon, Elastic, Groan Tube, Slide Whistle, Putty Noise, Whoopee Cushion, Sound Pipe, Dog toy, scienti?c toy, Springs, Slinky, Laser, Magnets, Bell, Wind chime, Plane, Train, Jackhammer, Wrench, Digital Camera, Vacuum Cleaner, Underwater Metal Dings, Underwater Singing Glass Rings, Underwater Sprays, Statics, Electromagnetic Fields, Motors, Servos, Electric Shaver, Faulty Light Bulb, Wolf, Moose, Crows, Dogs, Cricket, Bumblebee, Flies, Door, Chair, Rock, Dumpster, Ice cracks, Whooshes, Dings, Squeals, Squeaks.
Link:
March 7, 2011 · Posted in
Uncategorized
·
Comments Off

on Free DAW
Frinika is a free (licensed under GNU GPL) complete music workstation software containing sequencer, midi support, soft synthesizers, audio recorder, piano roll/tracker/notation editing and more. The goal of Frinika is to be a complete platform for making music with your computer, using the versatile Java platform to be able to run on several operating systems, and being open source to be able to embrace the best open source technology being available at any time.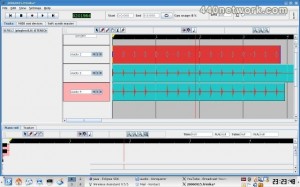 March 7, 2011 · Posted in
Uncategorized
·
Comments Off

on Arracis Gold Free – Free VST synth
Arracis Gold Free – http://www.vstplanet.com/News/2011/ArracisGold_Free.htm
Developer: hgf-synthesizer.de