http://youtu.be/YeMr4CjpWww
Ableton and SoundCloudhave teamed up to bring you some goodies, whether you're a Live user or not. "Ableton has long been the number one choice for musicians, whether for songwriting, making beats, remixing or live performances. At SoundCloud, we know that many of you depend upon it, indeed many of our team members use it on a regular basis privately (and it's even been used in a masterclass or two!). It's therefore with great pleasure to announce that SoundCloud and Ableton, two great Berlin audio companies, have teamed up to give our communities something unprecedented and very, very awesome."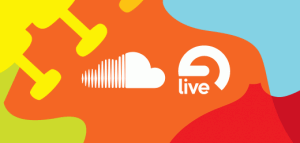 In the package:
Ableton Live has been updated so that it now comes with SoundCloud sharing baked in. You can now upload straight to SoundCloud.
SoundCloud is offering Ableton users 5 months of SoundCloud Pro, for free. You can find the details here.
Ableton has is also offering the entire SoundCloud community a free copy of Live Lite 8. Details here.
Oatmeal – http://www.vstplanet.com/News/2012/oatmeal_v38-1
Developer: bicycle-for-slugs.org
Audio demo: http://www.alexanderblu.com
Features
Two oscillators:
Waveform: sine, sawtooth, pulse (square), triangle, user, and "user PWM".
Amp: Amplitude of the oscillator.
Tpitch (aftertouch > pitch): The effect of note velocity and later pressure changes on the oscillator's pitch.
Pulsewidth, PWM rate, PWM depth. These are ignored unless the waveform is "pulse" or "user PWM", in which case they set the base pulsewidth and the modulation rate and depth.
Trans (transpose): Transposition of the second oscillator relative to the first (i.e. the voice's pitch).
Detune: Constant frequency shift of the second oscillator.
Touch (aftertouch > osc amp): The effect of note velocity and pressure changes on both oscillators' amplitude.
Artemis – http://www.vstplanet.com/News/11/Artemis
Developer: b.serrano.free.fr
Audio demo: http://www.alexanderblu.com
Features:
2 unison oscillators.
Oscillators sync and cross-modulation.
White / brown noise generator.
2 HP/LP filters 12/24 db in serial and/or parallels.
2 DADSR mod-envelopes.
2 LFO in free-run / Host BPM sync (can run at very high frequencies).
LFO 1 can modulate LFO 2.
Ring modulator.
Delay.
Resonator.
6 x 13 digital modulation matrix.
Audio routing for semi-modular architecture.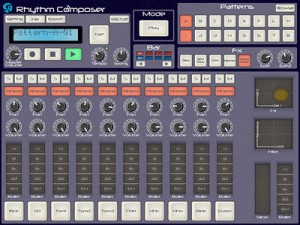 This app is a beatbox allows you to compose and play 64 beat patterns.
You can also record the patterns.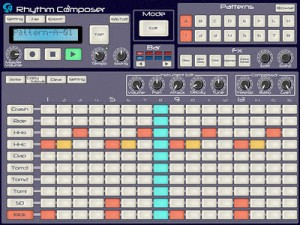 S4-Rhythm composer is a beatbox allows you to compose 64 beat patterns.
To check all beat patterns in a bar immediately, use the large screen of iPad.
Use various Effect Functions while playing a beat; you can enjoy the beatbox as you play the beat actually.
The beat patterns can be exported as WAV files. You can use the files on various DAWs by importing them into PC via iTunes.
Functions
– 10 PCM sound sources (Kick, Snare, Tom1, Tom2, Tom3, HandClap, HHopen, HHclose, Ride, Crash)
– Tempo (40-280 bpm), Tap Tempo, Swing, Groove functions
– Step Sequencer (up to 64 steps)
– Various Part Effect functions (Compressor, Roller)
– Various Master Effect functions (Delay, BPM Delay, Compressor, Distortion, Chorus/Flanger, LPF, Slicer, Roller)
– Audio Export function
– Real-Time Recoding function
– Wireless Sync-Start Technology (WIST) is supported
S4-Rhythm Composer is an app only for iPad; NOT for iPhone/iPod Touch.
http://youtu.be/2cWN9Pl02ww
Alright, got a quick demo of the Minimogue free vst synth, one of the best as far as emulating the original Moog synthesizer.
"Let me know if you have any questions or would like to see more demos, thanks and enjoy!!"
Based on the most popular analog monosynth of all time! This amazing softsynth sounds very close to the original Minimoog, yet has tons of additional features not present on the original Mini (as well as the Minimoog Voyager!), including 5-note polyphony, an Arpeggiator and 16-note Step Sequencer, dedicated Release knobs for the two Contour Generators (envelopes), Tuning of Osc 1, Fine Tuning sliders for Osc2 and Osc3, Aftertouch control, adjustable filter Velocity curve, 3 independent Overdrive sliders (one per oscillator), Global Overdrive with hi and lowpass cutoff, Oscillator Sync, Chorus, an independent LFO that includes oscillator drift and stereo panning, and a fully programmable Digital Delay! Like the original Mini, you can turn Osc3 into an LFO with dedicated modulation for the Osc Pitch and the Filter. There is no dedicated Noise Generator as on the original Mini, but pink and white noise are selectable on Osc 3. All controls are mapped to MIDI CC#'s, and you can override the default settings by using the MIDI Learn feature. Use as a simple stand-alone synth (.exe file included), or copy the DLL into your favorite DAW or sequencer's plugin folder.
By the way you can also find an emulation of the ARP 2600 on the same page: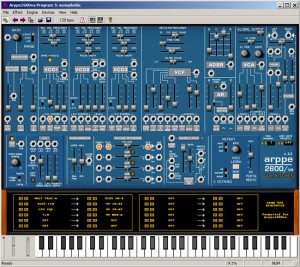 Based on ARP's legendary semi-modular analog monosynth! This amazing softsynth sounds very close to the original ARP 2600. Like the original, it's a monosynth (no polyphony). But, also like the original, it has a multitude of Frequency Modulation options which enable it to create some truly awesome sound effects. PWM, Sample & Hold, virtual Spring Reverb, Ring Modulation, and a dedicated Noise Generator are all there! Also, there are some things even the original Arp 2600 didn't have, like Oscillator Sync and Filter Color (to adjust between LowPass and HiPass filter types). Most important of all, beginning with version 2.0 the Arppe2600va is now completely patchable via a cleverly designed Mod Matrix! You can have up to 12 patch routings with a very user-friendly (and visible!) drop-down menu interface, instead of messy virtual patch cables cluttering up the screen. All controls are mapped to MIDI CC#'s, and you can override the default settings by using the MIDI Learn feature. Use as a simple stand-alone synth (.exe file included), or copy the DLL into your favorite DAW or sequencer's plugin folder.
Download link: http://www.pianovintage.fr/fr/download/cat_view/57-free-vst-freeware-plug-in
JEM SX1000, is a new vst plugin synthesizer based on the original
JEN SX1000 hardware synthesizer from the 70's and produced by pianovintage.fr
JEM SX1000 is freeware and available only on PC
30 presets including 6 original Jen's preset
Single osc – filter+lfo + filter & amp enveloppe, glide, FX …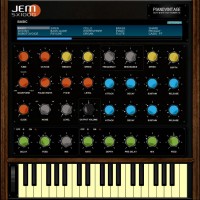 JEM SX1000 features :
One oscillator with pitch and tuning settings
Three waveforms + noise
Filter section with cutoff and resonance controls
Two Lfo — Filter & amp enveloppe
Delay and Chorus fx
30 originals presets including 6 factory presets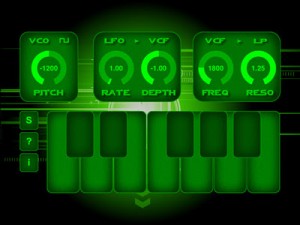 Anaphobia Mini (short: AnaMini) is a monophonic virtual analog synthesizer for iOS 5.0. It features a classical analog synthesizer setup using a VCO, LFO, VCA and VCF. Of course, none of it is really controlled by voltage, but rather by a 32-bit digital synthesis engine.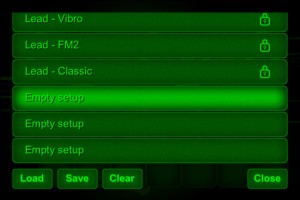 Features
One oscillator with two wave types and scalable within the range of -1 and +1 octave.
One LFO with fixed wave type (saw) and selectable frequency/rate and depth. LFO can modulate VCO frequency or VCF cutoff.
One VCA with fixed ADSR envelope.
One 24dB/octave VCF with three filter types and selectable cutoff frequency and resonance.
A one-octave keyboard with support for portamento and legato play.
14 factory presets.
20 custom presets.
Zebralette – http://www.vstplanet.com/News/11/Zebralette.htm
Developer: u-he.com/cms/zebralette
Official audio demo
Zebralette has finally gone 'freeware'! The idea is to use Zebralette to demonstrate the virtues of Zebra2's oscillators to everybody out there, and perhaps even convince some of them that upgrading to Zebra2 might be a good idea. 😉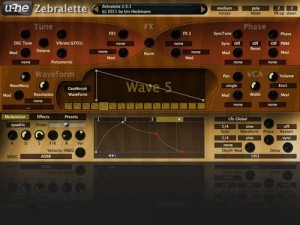 OK, Zebralette is just one of Zebra2's oscillators packed into a simple, easy-to-learn framework – but you have everything you need to make some pretty amazing sounds. Sounds that can be directly loaded into Zebra2 later. And should you eventually decide to upgrade to Zebra2, you will already know everything there is to know about the oscillators – which is quite an advantage!
Zebralette has two LFOs (one per voice, one global), a multi-stage envelope and three on-board effects (chorus, EQ, delay). Not forgetting Zebra2's famous dual spectral effects, which include several squelchy filter algorithms."
Need an extra synth – well here goes

Opus8 – http://www.vstplanet.com/News/11/Opus_8_and_Jericho_4.htm
Developer: datura-instruments.de
Datura-Instruments has released Optimus 8 and Jericho 4, two free VST instruments for Windows. Opus 8 is more than a organ-sound-generator. Using unsyncronized LFOs on the amplitude of each channel it is possible to create complex soundscapes which appear endless.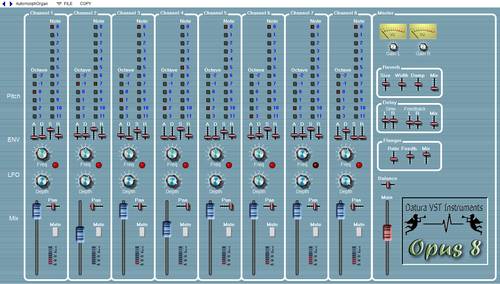 Mutch parameters can be remoted by the VSTi port of your host software. Changing sound while playback your song will be no problem. For any advice check the manual that is found in the data-folder you get from the download.
– 8 channel sinusodial additive VSTi-syntehsizer
– 12 tone polyphony to any channel
– reverb, delay and flanger effect included
– separate VCA-LFO for each channel
– easy to use
– 32 factory presets included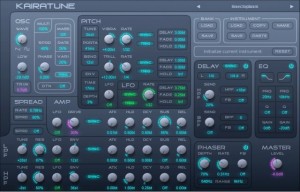 Developer Matti Jokipii has released a new soft synth for Windows, Kairatune:
Kairatune is designed to produce crisp and tight electric sounds for electronic music production. Kairatune is engineered for the demanding producer who needs to push the sound to extremes without compromising audio quality.
Kairatune offers fast and intuitive sound design workflow. The user interface is designed for a musician rather than an engineer and is based on the concept of pitch and beat in contrast to frequency and time. Kairatune lets you travel in the world of beats, notes and intervals instead of the logarithmic mathematics of frequencies and the rarely useful absolute time.
Kairatune is not your all-in-one synthesizer. It's designed and engineered to be as powerful and versatile as possible in it's target role as your source for tight bass, unique lead and shiny SFX sounds. At the same time it makes all the effort to be simple enough to use, enabling you to add your personal touch and flavor to the sound and seek for the perfect fit to your mixing preferences.
Kairatune is a free download (VSTi) from the Futucraft site.