Take the KORG Gadget master quiz or get in shape with fundamentals.
SECTOR – stochastic sample slice sequencer, for iPad.
Wish List:
Maintain pitch while changing bpm.
Choose probability (as is) OR a definite 1 in X jump OR warp.
Ability to rotate the 'wave form ring' to match the slots better.
Import individual samples into each slot.
Set custom lengths for each slot (perhaps by merging slots): – select when the 'jump' would take place. – enable polyphony or x-fade to continue the sound after the 'jump'
Be a midi controller.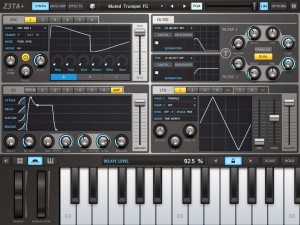 The legendary Z3TA+ synthesizer has been used on countless records, and it's distinctive sound has been a staple of electronic artists the world over. And now Z3TA+ iOS puts the full power of Z3TA+2 on your iPad. Packed with hundreds of presets, modulatable waveshaping, dual mode filters, and flexible effects, Z3TA+ iOS is the perfect creative synth for making music anywhere, anytime.
Feature Highlights:
Includes over 500 presets
User-friendly on-screen Keyboard and external MIDI control
Waveshaping synthesis with 6 Oscillators, 6 LFOs, and more
Modulation Matrix including 16 Sources, Curves, Controls, and Destinations
Advanced modular effects including Distortion, Mod, Compression and more
Performance section with Tap Tempo, assignable XY Pad, Mod Wheels, and Adaptive Pitch Bend
Inter-App Audio, Background Audio, and Audiobus support
Z3TA+iOS will be there for you when you're working behind your studio rig, or on the road. It embodies every characteristic of the original synthesizer and brings the all of parameters you know and love to a fluid iOS7 touch-enabled interface. Z3TA+iOS is perfect for both experienced and new users especially when connecting to other audio applications using Audiobus and Inter-App Audio. Plugin in any iPad compatible MIDI controller and take your performance to the stage.
Apparently it is coming soon to the iPad, so stay tuned for this promising app
Holderness Media has released Stereo Designer for iPad – a multi-purpose stereo shaping tool for Audiobus and Inter-app Audio.
Stereo Designer lets you create unique wide stereo images, 'stereoize' a mono sound source, apply mid/side processing, independent high and low pass filters per channel, and more:
Process synths, drum machines and hundreds of other apps by connecting through Audiobus. Use Stereo Designer as an effect inside Garageband, Auria, Cubasis, and AudioShare using Audiobus or Inter-app audio.
Stereo Designer features two distinct modes:
PERFORM mode is focused around four XY touch pads. Touch to control LOW PASS, DELAY, PAN and OUTPUT gain independently for left and right channels.
TWEAK mode features large expressive sliders and additional effect parameters, allowing you to fine tune your sound.
In addition to Audiobus and Inter-app Audio support, Stereo Designer can also process external instruments such as guitar, voice and synths by connecting a microphone or an audio interface.
Features:
Control individual Left/Right channel volume, panning, filter and more.
Mid/Side (M/S) processing mode lets you adjust the volume, high and low pass filters for Mid and Side independently.
Widen or reduce the stereo width of an input signal.
Independent panning position of each channel, allowing for interesting stereo placement.
Individual High and Low Pass filter per channel for additional stereo shaping.
Phase (polarity) invert Left/Right channels.
Isolate the Left or Right channel and manipulate the resulting mono signal.
Stereoize mono inputs using individual channel delay + High and Low Pass filters.
Sum Left and Right channels to mono.
Stereo Designer is available now for $2.99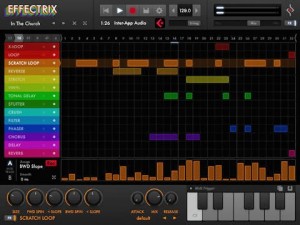 The game-changing tool for creative and effective music production is now available on the App Store: scatter 14 intelligent effects across a sequencer matrix and create unheard-of sound patterns and cheeky loop collages.
A playful workflow, refined algorithms and carefully parameterised effects lead to outstanding results – fast! The effects, each exceeding conventional wisdom, cover a wide spectrum from classy standards to scandalising splatter sprees.
This iOS port faithfully recreates the desktop engine, today's de-facto standard of finest audio manipulation.
INSTANT INSPIRATION
quickly create variations and mutations for productive sound design
20 fine audio samples installed
230 factory presets (100 global, ca. 9 per effect)
14 high-quality effects
redesigned GUI for a smooth iOS workflow
DIG DEEP
manipulate each individual effect with up to eight parameters
two modulator tracks per effect
Seamless iOS integration: full MIDI, IAA, Audiobus
save your own presets & use them on your desktop version of Effectrix
iOS WORKFLOW
You name it: Inter-App Audio, AudioBus, Full MIDI Support (Virtual, Network, Extern, Clock Sync), Audiocopy™ / Audiopaste™. Integrated Audio Player and Recorder (iTunes FileSharing, Music Library, Factory Loops).
The app is priced at $17.99.
Clear steps about recording,locating automated parameter,automating
pan and level in mixer,copying 1 bar to 2.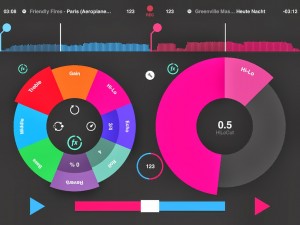 If you know your mobile music history you'll remember that Pacemaker originally brought out their handheld DJ device in 2007. Two years ago it arrived on BlackBerry. Now they've brought their DJ skills to your iPad. Here's what to expect from the app (and it's free).
MILLIONS OF TRACKS AT YOUR FINGERTIPS
The first DJ-app with a revolutionary Spotify connection. Your iTunes favorites works too.
With its carefully crafted design, Pacemaker makes djing easy, beautiful and fun.
Sync with the tap of a button; and
with a full set of colorful effects and a crossfader, you'll have unlimited creative influence over the music you love!
MIX IT
Spotify – Connect with Spotify and mix millions of tracks.
iTunes – Your iTunes favorites works too.
Sync – Automatically keeps everything in sync so you don't have to.
Scratch – Put the needle to the groove and scratch like the grandmaster.
Crossfade – Swipe to blend your tracks together. Voilà! A mix has been born.
LOOP IT
With a tap you can loop it, extend it, half it and re-loop it.
DROP IT
Build it up, maximize the tension and take it through the roof. Everybody's waiting. It's time to kill the effects. It's time to push the Drop button.
JUMP IT
Hop back and forth between the beats in a track to create your live remix with Beatskip.
BLEND IT
Adjust the Bass, Middle and Treble of your tracks and glue them together.
SAVE IT
Record the mix on the fly. Play it, cue it and rewind it (only with iTunes).
PEEK
Split the output and preview a track with the headphones crossfader before blending it into your mix (using the optional Urbanears Slussen adapter).
UPGRADE IT
Pick and choose from a wide range of colorful effects at the Pacemaker Store:
Hi-Lo – Remove the high or low frequencies from your tracks to create a swooping sound effect.
Echo – Echo echo…
Roll – Create a loop that spins on top of a track.
Reverb – Make the track sound as if it's being played in a small hut or the largest of cathedrals.
Right from the beginning, KORG Gadget gives you 15 compact synthesizers and drum machines. Each Gadget possesses an irresistible presence and can function as the core of your electronic music productions. The parameters are carefully constructed to take you right to the sound that you want, and they're ideal for producing all forms of electronic music. Even if you don't play a musical instrument, no worries! Each synth offers a keyboard featuring a Scale function that makes it impossible to play wrong notes, combined with a sequencer that supports the function, Just download KORG Gadget to your iPad, and start exploring 15 Gadgets.
Background video description:
Here I take another look at the brand new app from Korg and attempt to unravel some of its hidden or less obvious functionality. You can read more about this app and me at my website www.gazwilliams.me
KORG fully enters the realms of iOS with this powerful app, details below:
For every situation that creative minded people face, KORG's answer is "KORG Gadget."
KORG released the iELECTRIBE simultaneously with the appearance of the first-generation iPad in 2010, and ever since has maintained its position at the forefront of mobile music apps. And now we've brought you the ultimate all-in-one studio app for serious mobile music production.
KORG Gadget provides a collection of 15 different synthesizers and drum machines called "Gadgets", which can be freely combined to produce powerful electronic music. Users can take advantage of the simple and intuitive sequencer, and experience track-making in an environment that's been perfectly optimized for mobile use, while retaining professional quality in everything from the effects to the mixer. Also, songs created using KORG Gadget can be shared on "GadgetCloud," a music sharing site for KORG Gadget users worldwide.
There's a roadmap for future updates that will add new gadgets and support audio tracks, further perfecting the system as a mobile music production studio. KORG Gadget will continue to evolve in support of serious mobile music-making.
—————————————-
­—————
KORG Gadget is available on the App Store:
World: https://itunes.apple.com/app/korg-gad…
Japan: https://itunes.apple.com/jp/app/korg-…
—————————————-­—————
Learn more about Gadget at http://www.korg.com.
Music & Video produced and performed by Mee Zanook
- The ultimate mobile synth collection on your iPad -
KORG Gadget – the all-in-one music production studio