Borderlands Granular is a new musical instrument for the iPad. Touch, transform, and explore sound with this new interface for granular synthesis, a technique that involves the superposition of small fragments of sound, or "grains", to create complex, evolving timbres and textures.
You can get Borderlands Granular here at the app store.
https://itunes.apple.com/us/app/borde…
You can get Audioshare here too.
https://itunes.apple.com/us/app/audio…
And if you want to get Crystalline.
https://itunes.apple.com/us/app/cryst…
And you can get Node Beat here also.
https://itunes.apple.com/us/app/nodeb…
sound designing with new amazing music app borderlands granular 2.0
Appstore links are
BORDERLANDS GRANULAR—– https://itunes.apple.com/us/app/borde…
AUDIOBUS —- https://itunes.apple.com/us/app/audio…
Bill Mitsakos' real-time touchscreen editor for the vintage Six-Trak synth. CORRECTION: Guy Taylor is formerly of Swithced-On music; now he has his own Bay Area modular webstore called I/O Music Technology: http://io-mt.com
The Sequential Circuits Six-Trak is a basic six-voice, 1 DCO/voice synthesizer. It is slow to create patches on, because it was designed to use just 1 shared knob for all patching, to keep costs down.
Mitsakos' editor adds visual patch editing for the Six-Track, patch management and cloud patch backup.
Pricing and availability for the Six-Trak editor are to be announced.
A revolution is underway: Mixfader is the first connected crossfader provided with a dedicated DJ app that dematerializes the classic turntables on any smartphone and tablet. Anyone can now mix and scratch anywhere and anytime.
Designed by sound engineers in collaboration with professional turntablists, Mixfader is both an intuitive and powerful solution that meets professional requirements.
Control your crossfader as a pro to create perfect sound cutting and original compositions through returning movements.
Create your own routines by reinventing scratching and mixing techniques. You have never been so close to become the next C2C.
Facebook: https://www.facebook.com/Mixfader
Google+: https://plus.google.com/u/5/110485939…
Website: http://www.edjing.com/mixfader
Using Geo Synthesizer iOS app by Wizdom Music though Silent Way Voice Controller Plug-In to control pitch and gate of my eurorack modular analog synth.
The Korg MS-20 mini is an analog synth, the reincarnation of the classic MS-20. The iMS-20 is the iPad version of the same machine.
If you just try to use the same settings on both, the first thought will be "The iMS-20 simply can't sound like the real thing". But in fact, they have different behavior for the same settings on the filter and envelope modules. Don't expect to make the same sounds using the same settings on both!
With some work and listening carefully you can make the iPad app to sound much closer than before.
Here is another example, now using the filter with resonance and a big release time.
Patch images for MS-20 mini and iMS-20 for iPad: https://dl.dropboxusercontent.com/u/1…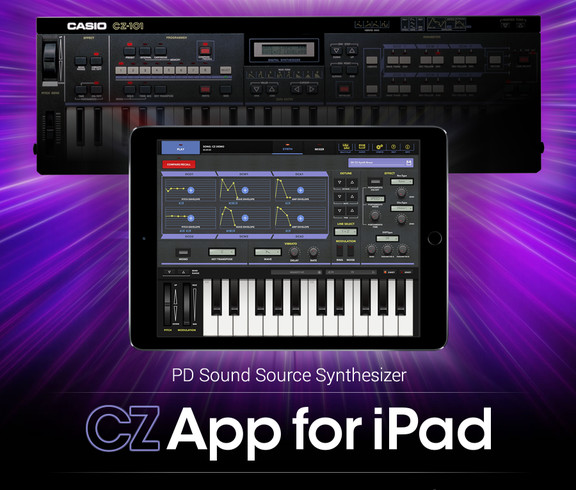 Casio has released CZ App for iPad, a virtual synthesizer app based on Casio's best-selling CZ series of synthesizers, including the CZ-101 model released in 1984.
Along with its electronic musical instruments, Casio has been developing musical apps with the goal of providing the joy of playing music to more and more people. To date, Casio has released several apps that have become widely popular: Chordana Viewer and Chordana Tap, which automatically detect the chord progressions of songs; as well as Musical Practice Tool, a useful app for practicing a musical instrument or singing.

Now Casio has released the CZ App for iPad, an iPad app that recreates its best-selling CZ series of classic synthesizers and includes several all-new functions. CZ App for iPad allows up to four separate parts to be played using the original Phase Distortion sound source by Casio, and features 36 types of waveforms for producing a wide range of sounds.
The app is available for purchase for $19.99 USD.
This week the Photphore Synth by Taika Systems Ltd
Photophore is a unique instrument that uses flocks of up to 100 sound generators to create rich, organic synthesizer sounds. By controlling the behavior of the flocks you can make Photophore sound like a choir of synthesizers or, at more extreme settings, a swarm of angry insects.
Unlike other digital synthesizers, Photophore creates warmth and character in a completely new way. Instead of modeling analog circuits, it models animal behavior. Photophore's sound engine is made up of flocks of oscillators that move through a virtual three-dimensional environment. Their motion is controlled by a special behavioral algorithm and physics simulation that keeps the oscillators in tune with each other, but allows for a certain amount of natural drifting and detuning. This creates rich timbres that are perfect for crafting massive bass sounds, complex pads and searing leads.
https://itunes.apple.com/us/app/photo…
Everything you hear was created on an iPad, I hope there's enough cowbell for you!
Buy on iTunes here! https://itunes.apple.com/ca/album/don…
—————————————-­—————————————-­————-
https://www.facebook.com/samuraiguit
https://www.twitter.com/samuraiguit
Instagram @samuraiguitarist
Snapchat @samuraiguit
steve@steveonoteramusic.com
—————————————-­—————————————-­————-
"(Don't Fear) The Reaper" as originally performed by Blue Oyster Cult
Written by: Buck Dharma
Published by: Sony/ATV publishing
Link to the original recording https://itunes.apple.com/us/album/don…
Can machines make music by themselves? What would happen if you told Pepp to make up something at random? I just did.. Enjoy the Pepp machine! Available soon for iPhone and iPad.
This week ISyn Poly
https://itunes.apple.com/app/id443141…
iSyn Poly is an electronic music studio for use with Apple iPad. iSyn Poly places an unbelievable number of features including three studio-quality, fully programmable virtual analog synthesizers and a drum machine packed in just three different screens on your iPad !
Each synthesizer is a full-featured analog modeling synth with three oscillators, a classic 24 db/oct ladder-style lowpass filter, independent filter and amp envelope generators, and full modulation routings. With our 10+ years of experience with analog simulations you can expect some serious sound easily covering all those fat frequencies so prevalent in modern production.
iSyn Poly also includes a sample playback-based drum machine with seventeen kits, each containing eight samples. Drum samples include 808, 909, modular synth drums and numerous 80's drum machines. Volume, pan and decay time are individually adjustable and pitches are tunable over a wide range for crazy effects.
The full fledged sequencer let you arrange complete songs and can record the notes and controller movements of your performance. The unique gesture oriented user interface makes it ideal for live editing of notes and automations.
With the Apple iPad Camera Connection Kit you can use a CoreMIDI compatible MIDI Keyboard to control iSyn Poly.
iSyn Poly is developed by VirSyn with content from audioMIDI.com.
Features:
Three Independent Synthesizers
One polyphonic synth with eight voices and two monophonic synths with:
• Three oscillators with sawtooth, pulse, triangle and sine waves.
Modulations routings: LFO->pitch, filter ADSR->cutoff, LFO->pulse width.
• White/Pink noise generator.
• Classic 24 dB/oct  ladder-style lowpass filter with drive parameter.
Modulations routings:  LFO->Cutoff, Filter ADSR->Cutoff.
• Amp section includes distortion with drive, asymmetry and crusher.
• Control matrix allows real time control of five parameters using the X/Y touch pad, the modulation wheel and the tilt sensors of the iPad.
• Arpeggiator for automated sequences.
• 64 factory presets, unlimited user presets can be shared.
Drum Machine
• Eight simultaneous instruments arranged into eight user-selectable drum kits.
• Editor page allows tuning, panning, level and decay time for individual instruments.
Effects Section
• iSyn Poly features one global effects unit with phaser, flanger, chorus and stereo/cross delay.
Live
• Play melodies live with onscreen keyboard/drum pads. Drag fingers for slides and vibrato.
• Optionally use CoreMIDI compatible hardware keyboard.
Full featured Sequencer
• Four track sequencer with piano roll and automation editor.
• Real time recording with quantize function and metronome.
• Arrange your songs with variable length patterns. Move and copy/paste patterns.
• Recording and playback of X/Y Pad movements, mod wheel, pitch bend and key velocity.
• Full set of editing functions with unlimited undo.