As announced yesterday, Arturia is rolling out an iPad version of its Minimoog-emulating Mini V softsynth called iMini.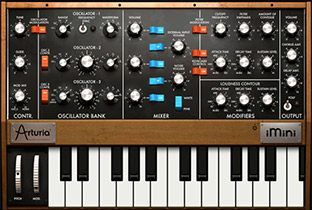 The Mini V, released back in 2003, was the French music tech company's first software synth. So it's fitting that a version of it represents Arturia's first foray into the app world, a sector that seems to be growing by leaps and bounds of late. Like the Mini V, iMini has three oscillators and a 24dB-per-octave filter based modeled on those found on the Moog classic, plus analog-style chorus and delay effects. The synth also does things the original couldn't, like play polyphonically, and it features a number of presets to help you get started on creating sounds.
A performance page in the app, geared toward touchscreen play, features a latch mode and two assignable XY pads. iMini easily syncs with other iPad apps, and it's compatible with the Retronyms Tabletop modular environment, so you can pair the iMini with a number of other effects or make music with multiple copies of the synth. You can grab a copy of the synth as of today through the App Store, and part of the proceeds of your purchase help benefit the Bob Moog Foundation.
A demo of the new iMini synth based on the classic Minimoog..
Background video description:
http://apps4idevices.com/read/imini
I don't know if I can… Ok, I will do it… Sorry… Amongst all the car manufacturers, I was sure that BMW would be the first to bring one of it's cars to our iDevice… So, the day has arrived! Let's launch the App! … … Oups, it is not a car, it is a Moog, a mini Moog! Top! (And sorry again… I promise, I will be serious from now on…). So, let's play a sound… Wahoo!!! So fat!!! I love it!!! The main screen is exactly the same as a real mini Moog… Another window allows you to control parameters with 2 Pads (X / Y), an Arpeggiator too and a third window the Fx (Chorus & Analog Delay). That's all… I think that some of you think that I'm kidding… No, I'm not kidding. That's all! If you want more, download Tabletop (it's Free, with a lot of Apps within the purchase that you don't need to buy. Note also that Tabletop gets better and better, so if you don't know this App, don't hesitate to try it… I will update its Post as soon as possible…). So, iMini in Tabletop allows you to do everything..(almost!)… First, to record an automation or your performances: you will be able to share them on SoundCloud or via the Sonoma Audio Copy feature. But you will be also able to create your own Arpeggiator or Sequence, to add FX, Filters, to Glitch your sound, and much more… In fact, I realised today that Retronyms has created its AudioBus version for iOS (iMPC is also available in Tabletop…). So, my rating… A Killer App! (The sound quality is… So fat!). I understand that some of you will not really appreciate having to use Tabletop for the extra features… I use so many Apps everyday, even for my personal projects, that today it is no longer a problem for me, on the contrary, I love to be able to jump from one App to another… But I can understand those who don't…

Arturia is introducing its first Ipad application, the iMini.
iMini is an application recreating the classic Minimoog™ synthesizer that is based on the TAE™ technology found in Arturia award winning Mini V software.
iMini is designed to allow users the classic sound, look and feel of this iconic synthesizer.
iMini endorsers include Stephan Bodzin, Richard Devine, Banco de Gaia
https://itunes.apple.com/WebObjects/M…
Mike Hosker presents to you a tutorial video of the iMini, Arturia's first application for Ipad.
iMini is an application recreating the classic Minimoog™ synthesizer that is based on the TAE™ technology found in Arturia award winning Mini V software.
iMini is designed to allow users the classic sound, look and feel of this iconic synthesizer.
iMini endorsers include Stephan Bodzin, Richard Devine, Banco de Gaia
DESCRIPTION
iMini is a recreation of the classic 1971 Minimoog™ synthesizer, one of most iconic synthesizers of all time.
Based on the TAE® technology found in our award winning Mini V software, iMini offers a level of sound quality never before found on the iPAD as well as over 500 sounds by leading sound designers.
We have also partnered with the Bob Moog Foundation so that a portion of each sale goes to support their work in music education via the Dr. Bob Sound school program, making available the archives of Dr. Bob Moog and funding the dream to build the Moogseum.
The Minimoog™ synthesizer was made famous by artists and bands such as Stevie Wonder, Depeche Mode, Kraftwerk, Keith Emerson, Devo, Jean Michel Jarre and more. We now bring the features and sound of this classic to the iOS platform.
The iMini not only recreates the look and feel of the most legendary synthesizer, it does it with unparalleled sound quality. iMini is based on the award winning Arturia Mini V software that was created in partnership with Dr. Robert Moog himself, back in 2003. Thanks to this heritage, continuous research and refinements over the years, iMini comes with amazing sound quality and a large collection of preset sounds created by top sound designers such as Klaus Schulze (Tangerine Dream) and Geoff Downes (Asia).
What will you do with it?
First you can play the iMini's numerous sounds from the iPad keyboard. You can create your own sounds and start building your personal sound palette.
If you are an owner of the Arturia Mini V software on your Mac or PC, you can import and export sounds between your laptop or desktop Mini V and iMini.
You can also control iMini from a MIDI keyboard via CoreMIDI and integrate it into your studio or live performances.
But this is not all; iMini is 'Tabletop Ready'. Tabletop is a free iPad application that allows you to integrate iMini into a full studio of devices. With Tabletop you can build an entire song, with drum machines, FX's, sequencers… and of course the inimitable Minimoog™ sound.
Tabletop Ready™
The connect page is also your avenue to open up a whole new world of possibilities with iMini via Retronyms Tabletop application.
Tabletop™ is a free app for your iPAD that allows you to integrate iMini into a complete studio environment. In Tabletop you can use multiple instances of iMini; record your performance into a real-time sequencer; automate any of the parameters; add effects; process other modules through the iMini filters, etc. Tabletop also features number of in app purchase options to add more effects and instruments from other 3rd party companies.
Features include
Classic Minimoog™ sound.
3 Oscillators
24db per octave filter.
Simulated headphone jack/external input feedback.
2 Assignable XY pads
Chromatic or tuned scale keyboard modes
Polyphonic mode
Full featured arpeggiator
Repeat
HOLD and MEMORY latch modes
Octave span
5 note order modes
Speed and sync controls
Virtual Analog Chorus
Virtual Analog Delay
Owners of both the iMini and Mini V software apps can transfer sounds from one platform to the other via iTunes.
Full user MIDI mapping of panel controls.
Supports WIST sync with other iOS devices.
'Tabletop Ready'
Soundcloud seeder (via Tabletop)
Render to .wav file (via Tabletop)
'Audiocopy' to paste your audio into another iPAD application. (via Tabletop)
COMPATIBILITY
iMini is compatible with iPAD 2, iPAD 3 and IPAD Mini
iMini is priced at $9.99
Some of the sounds of the Chromatic Hits soundfont played by the Bismark bs-16i app contolled by Gestrument.
"For all the examples, I have used Gestrument factory templates and just replaced their sounds with my own, in some cases I have changed the note range of the instruments."
The Chromatic Hits soundfont costs $3.99, details here:
http://lesproductionszvon.com/for_iOS…
This sample set is also available for BeatMaker 2 (iOS) and Caustic 2 (Android/PlayBook).
TRAKTOR DJ in action. Richie Hawtin prepares tracks on the beach, then tears up the club – all on his first day with TRAKTOR DJ. More at: http://www.native-instruments.com/tra…
TRAKTOR DJ is available at the iTunes App Store for $19.99 / 17,99 €
TRAKTOR DJ brings the leading pro DJ software to iOS with an intuitive app for instant, high-impact DJ sets. Create mixes in seconds — put your hands directly on beautiful waveforms and manipulate them using gestures you already know.
Auto tempo detection makes track syncing effortless while iTunes integration turns your library into a virtual crate to dig through — TRAKTOR PRO's acclaimed sync engine keeps tracks locked together so mixes hit hard. TRAKTOR DJ also syncs effortlessly toTRAKTOR PRO 2, allowing you to share essential track data — beat grids, BPM counts, and cue points.
Track heard: Hobo – Incise (coming soon on Minus)
FM open up the brand new NI Traktor DJ iPad app and take a look at it in action. We get some first impressions and check out the features and usability of the touch-screen iOS DJ app.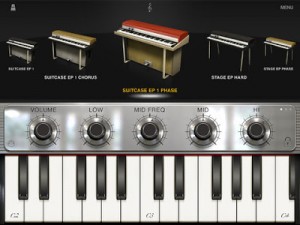 A new electric piano app for iPad, details below:
THE STUDIO QUALITY ELECTRIC PIANO APP: A COLLECTION OF 40 PROFESSIONAL SOUNDING INSTRUMENTS FOR YOUR IPAD
Turn your iPad into the ultimate electric piano instrument with an extraordinary collection of authentic electric pianos and vintage keyboards along with built-in recording! Use the iRig KEYS portable keyboard (www.irigkeys.com) or the iRig MIDI interface (www.irigmidi.com) to connect your external keyboard to your iPad, and you're ready to compose, rehearse, perform and record with the very best instruments for iPad.
The sequel to IK's acclaimed iGrand Piano app, iLectric Piano now puts a collector's dream gallery of history's best electric pianos, electric grands and clavinets right at your fingertips with studio-grade quality never before heard in app that stands up to the most powerful virtual instruments available on on a computer.
With high-definition samples across multiple velocities, iLectric Piano brings you the most playable, expressive and authentic sounding electric piano, electric grand and clavinet instruments available on a mobile device that you can play anytime and everywhere.
iLectric Piano gives you a collection of 20 world-class electric pianos, electric grands and clavs (including one by registering) along with a capable recorder and metronome. Add the Electric Piano Expansion Pack to add another 20 high-quality instruments.
Record your rehearsals or performances as MIDI with both overdubbing and punch-in capability, then export your track as audio via E-mail of File Sharing or Audio Copy to other iOS apps. With the built-in MIDI Recorder, you can change the tempo of your piece or even choose to use a different piano AFTER you've completed your performance! For composers of any level, the MIDI Recorder lets you capture and develop ideas anywhere your mobile life takes you. iLectric Piano also includes some professional MIDI performances to help you audition the various electric piano instruments or just ignite your own creative muse!
The easy-to-use instrument editor puts real-time controls on the panel just above the keys to let you adjust the EQ, the amount of reverb, the overdrive and your choice of 5 modulation effects (chorus, flanger, phaser, tremolo and auto pan). You can also adjust the tuning and transposition of the instrument. All edit knobs can be assigned to your choice of MIDI controllers for external fine-crafting of your instrument's sonic details. Virtual MIDI and MIDI Program Change are also supported.
iLectric Piano features:
20 world-class, multi-velocity electric piano, electric grand and clavinet instruments (including one by registering)
Expandable library of 20 additional studio-grade instruments instantly available via in-app purchase
Intuitive instrument and effect edit controls including 3-band EQ with sweepable mid, overdrive, reverb and choice of 5 modulation effects (chorus, flanger, phaser, tremolo and autopan) along with tuning and transpose
Export performances as audio via E-mail, File Sharing and Audio Copy
Large visual metronome with variable click volume and adjustable tempo
Virtual MIDI and MIDI Controller and MIDI Program Change support
Low-latency for real-time playing
Up to 48-voice polyphony on the latest devices
Designed to use with with iRig KEYS portable keyboard and iRig MIDI interface
The app is priced at $19.99
The new feature in Audulus 1.10: Make a connection to ANY KNOB! Audulus is a minimalist modular audio processing application. Design sound from first principles. With Audulus, you can build synthesizers, design new sounds, or process audio. All with low latency real-time processing suitable for live performance. Audulus's user interface is clean, simple, and easy to learn, allowing you to focus on sound.
A little demo of the microTone with iRig MIDI and (free) osynth!
http://microtone.ozurkirchen.ch
i connected an iRig MIDI to my iPad with the microTone running. The MIDI signal goes via audio/MIDI interface into my computer where the data is parsed by osynth.
the microTone:
- control one octave fluently without steps. Just glide over the keyboard with up to 10 fingers!
- switch octaves or lowest/highest notes
- the microTone has an integrated polyphonic synthesizer with 8 different sound presets
- send pitch data over MIDI cable to your computer
- send pitch data over WiFi to your computer (receive MIDI or OSC data with e.g. max/MSP or OSCulator)
- receive microTone MIDI or OSC data with osynth: a free synthesizer, made for the microTone.
osynth:
- voice1: saw/sine with hpf
- voice2: white noise filtered with note frequency
- voice3: sine sub-osc
- voice4: sine osc one octave higher
- voice5: wavetable osc
- ADSR
- reverb
- stereo delay
- binaural FX
- pitch random modulator
- recallable presets
- connect the microTone with core MIDI over WiFi or cable
- connect the microTone with OSC over WiFi
Just a quick video on how to crreate cool drum and bass beats with iOS apps. Drums: GlitchBreaks and DM1, Bass: Magellan (2 instances), FX – Animoog, DAW – Cubasis.
Yonac has released a major update to Magellan, its software synthesizer for iOS.
The update includes intelligent preset generation, two new effects, configurable FX signal flow, user-friendly additions to the preset system and more. The update also opens up Magellan as an FX processor you can use with Audiobus.
"Some synthesizers have a random preset feature that haphazardly chooses sound parameters, which mostly produces unusable sounds," explains chief engineer Jim Yonac. "Instead, we use artificial intelligence to generate unique and usable patches for Magellan."
Magellan's new SPAWN feature uses a balance of expert knowledge and well-informed randomization to generate presets in a given category or combination of categories, selecting something in the order of 180 parameters in a mutually compatible manner. SPAWN settings allow the user to choose among or mix bass, lead, pad, or "weird" sounds, with an option to also generate an arp. The "Surprise Me" feature transfers tonality decisions to the system.
New in Magellan 2.1:
Smart Preset Aggregation with Windowed raNdomization (SPAWN)

Uses specially designed artifical intelligence algorithms to generate new presets on-the-fly
Makes decisions based on the user-specified tonality parameters, such as Bass, Lead, Pad or "Weird"
Algorithms intelligently decide and generate over 100 synth-related parameter and over 80 fx-related parameters
Generate arp patterns in any chosen scale, or in a random scale
Use "Surprise Me" option to give complete control to the system
Retains 16 most recent spawns in memory under the dedicated "Recent Spawns" bank

Use Magellan as an effects processor in Audiobus connections!
Two new free effects,

HEXEq: a very powerful and highly configurable 6-channel parametric equalizer with 9 filter types you can choose from for each channel, including shelving, peak, band and more.
VC-93 Compressor: a juicy compressor with built in I/O VU meters

Change the FX signal flow via easy to use drag-n-drop interface. Allows you to experiment with any possible linear ordering.
MIDI inlets for all the new features
Master output meter with clipping indicators on the main panel
Improved launch procedure
Favorite presets bank to collect your preferred presets in a single place. Simply star or unstar a preset to add or remove it from favorites.
Recent presets banks
Restore Factory Presets option, so you can reinstall factory presets without having to reinstall the whole app
Various other improvements
iPad mini is used. The sound of animoog is sent to CUBASIS through LIVE FX. AudioBus is convenient. It is splendid.