The new synthesizer from Intelligent Gadget. Uber Synth: a polyphonic multi-timbral FM synthesizer. Its particularity is that you will be able to map any number of preset or custom sound patches to different positions on the keyboard. Note that the underlying sound engine is the same polyphonic triple-oscillator cross-modulated FM synthesizer used in the xMod. Uber Synth is Core MIDI compatible and supports MIDIRTP for wireless control. My conclusion: I really love when a developer finds a new (good) idea… And here we have one… To be able to map any preset so easily and fast on your keyboard. Great! A Killer Synthesizer!
Sonic explores Propellerhead's Thor alongside the CME Xkey, video description below:
I know its been a while, but we managed to get Gaz and Nick in the same room for long enough to shoot this episode in which we take a look at the CME Xkey which has affordable polyphonic aftertouch,plus we look at Propellerheads Thor Polysonic synthesizer
Here's a sneak peek at the new TouchAble 2, details below:
touchAble – THE Ableton live controller app for iPad – available worldwide exclusively through the iTunes App Store: http://www.itunes.com/app/touchable
touchAble 2 will be a free update for all touchAble users
touchAble 2 introduces:
- Complete rebuild of the app
- New and faster Engine
- New Graphic interface
- New server
- New Template editor module : build your own controllers pages
- New Midi editor/ step sequencer
- New Isomorphic keyboard
- New Step Sequencer with Chord & Drum modes
- New Browser lets access to your library
- Complete rebuild of XY pad module
- Hundreds of new features, change and improvements
Full compatibility with Live 8 and Live 9, Intro, Standard & Suite.
touchAble provides a powerful, intuitive and reliable multitouch control solution for professional use.
touchAble includes templates for lives plugins and is fully compatible with vsts, audiounits and instruments.
touchAble is supported by many professional musicians, performers, djs and composers around the world, who use touchAble on stage or in studio.
Track by Le K http://www.le-k.org
ElliottGarage presents EGSY01 analog synth!
With EGSY01 you can create sounds without any limit, from modern ones to vintage analog ones.
The audio engine generate your sound mixing 2 oscillatros with 4 selectable waveforms, and you can watch the sound created on the oscilloscope screen.
You can set the sounds through the panels "Oscillators", "ADSR/LFO" and "FX", and play with any master keyboard (CORE MIDI), or creating a wireless MIDI network, or again sending the audio signal to other apps with AUDIOBUS.
Features:
2 oscillators with selectable waveforms, volume, octave e detune
4 Waveforms (Sine, Saw, Triangle, PWM)
Core midi/Network midi
Vca / Vcf
Evenlope ADSR
Panels FX (delay + crush)
Keyboard with 6 octaves and control on filter cutoff
Modulation wheel
Oscilloscope
Presets save – overwrite
LFO with selectable amplitude and frequency
Audiobus
Polyphony
The app is priced at $2.99.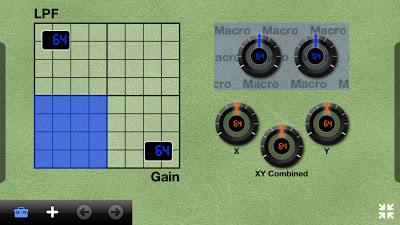 Dream, create and play your perfect MIDI controller with MIDI Designer.
"We're adored by Recording Magazine, loved by Sound on Sound, raved about by enthusiastic users, and winner of the Sonic Touch Gold Award for Best App. Trusted on stage by touring acts like Todd Rundgren, POSTYR and Electroband. Used in studios, theaters, VJ and DJ booths all around the world, MIDI Designer is also the platform for community- and professionally-sourced layouts for top-flight gear, including synths by Korg, Roland and Casio. If you can dream it, you can create it in MIDI Designer."
Sometimes you need a professional MIDI controller, but with just a few controls. MIDI Designer 12 provides the same rock-solid platform, ease of use and awesome playability with just 12 controls. Embrace the simplicity.
MIDI Designer is the top choice for controlling ANYTHING via MIDI—from hardware synths to DAWs, lighting rigs to other iOS apps:
Design your perfect controller using customizable knobs, sliders, XY pads, labels, panels and more
Choose background color, texture and LED color for up to 8 banks of 6 pages
Save, load and share your layouts and pages with other users
Send and receive all MIDI message types, including sysex, NRPN and 14-bit CC.
Connect any way CoreMIDI can: use Wi-Fi or hardware such as the Line6 MIDI Mobilizer II, iRig, iConnect, and others
Use supercontrols and subcontrols to create simple and complex relationships between controls
Full support for external hardware via the "Pedalboards Feature"
Presets and other features make a mature, reliable platform for your future development
MIDI Designer is easy to use, infinitely flexible and customizable, and battle-tested in performance. It's the most-respected MIDI controller for iOS.
The app is only $0.99 at the moment.
A demo of this synth sequencer called ZMors made by Sven Braun..A clever little app that lets you control and loop your own sounds or use the built in presets.
zMors is a 4 Layer iPad synthesizer with build in sequencer
- Audio engine use 32Bit float per sample
- Vector based oscillators with touch edit
- Audiobus support
- Midi, Clock, MTC input
- 8 Oscillators
- 4 AMP envelopes
- 4 LFOs with FM,AM,Filter and oscillator mix
- LFO beat or key sync
- 4 Filters (HP,BP,LP)
- Reverb and delay sends
- Sequencer unit
Demo of the new AUFX DUB from Kymatica, tested this with the Yamaha DD65 kit and the Korg Wavedrum Global running through the iPad via a Behringer UCA222. Then into Audiobus and into Cubasis. The recorded reggae drum pattern that plays about half way through was programmed with DM1 then treated with the other AUFX SPACE reverb app, and had some compression from Cubasis added..
AUFX:Dub. A highly tweakable stereo delay audio effect, suitable for everything from clean digital delays to filthy dub echoes and broken cassette tapes. It features tape simulation (noise and warble), filters in the delay loop for typical dub sound, stereo detune, ping-pong delay, and more
All AUFX apps have the following features:
High quality 32-bit DSP engine.
Process hardware input/output or other apps through Audiobus (input/filter/output slots supported).
Ready for the future inter-app audio standard.
Fully MIDI controllable, including Virtual MIDI.
Built-in look-ahead limiter to avoid clipping.
Background Audio.
Save and load user presets.
Comes with several bundled presets.
Record the result directly in app.
Email recordings or export to AudioShare audio document manager app.
Access user presets and recordings through iTunes File Sharing.
This year – 2013 for those watching in the future – marks the 50th anniversary of the first shipment of a mellotron from the Streetly Electronics factory in the midlands, UK.
To celebrate we've all been hard at work, preparing the 50th Anniversary Special Edition Version of Mellotronics M3000, which is in the App Store for review right now, and remains exclusive to the iPad.
Features :
Free upgrade for existing owners, backwards-compatible to iOS 5.1 – no lock-out for iPad 1 owners
16 voices in total, 35 chromatic 8 second tapes per voice, almost 200MBytes of samples
All samples are original Mellotron MKI, MKII, M400 and Chamberlin voices from the tape library of Streetly Electronics
3 new unlooped voices in this refresh – MKII Vibes, Rhodes and Piano
3 looping modes – unlooped, 5s loops (maximum fidelity) and 3s loops (very high fidelity, minimum memory footprint)
Looped modes support 4 simultaneous voices – ABC continuous blend plus D voice on chord pads
32 voicebanks each with 12 programmable chord pads
AudioBus support
CoreMIDI support over class-compliant USB or WiFi interfaces
MIDI responds to all channels : keys, pitch wheel, mod wheel, master volume, program change, midi notes 1-12 mapped to chord pads
New synthesis engine with 44.1kHz playback supports mix of looped and unlooped sounds – e.g infinite violins plus decaying piano
Variable 'Tape inching' for authentic factory-style calibration of note attack
Built-in stereoizing reverb engine
Tone control matched to M4000 analog tone
All-new retina graphics, now completely fills iPad display
All-new 'Oscillotron' waveform display, in soothing chill-out colour palette
Full voice list :
Church Organ
Boys Choir
Female Choir
Eight Choir
String Section
MKII Violins
Cello
MKII Flute
MKII Clarinet
Oboe
Tenor Sax
MKII Brass
Trombone
Piano
Rhodes
MKII Vibes
Demos featuring actual musicians playing actual music to follow, in the meantime, here is some parping and tooting.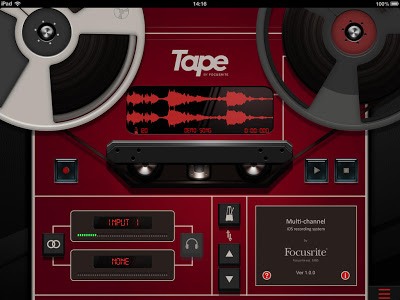 Tape – retro recorder from Focusrite. Simple, straightforward and free.
Tape is a beautiful recording solution, with easy to use 2-track recording, instant mastering, customisable tape artwork and social media connectivity.
Record from the inbuilt iPad microphone or any Core Audio compliant audio interface (including products from the Focusrite iTrack and Scarlett product ranges), and instantly add polish with one button mastering. Then simply add a title and album artwork and share online with friends and fans via Soundcloud.
Key Features
Record two separate inputs, or link them as a stereo pair
Use the meters to ensure input levels are just right
Plug and play support for Core Audio Compliant audio interfaces (including the Focusrite iTrack Solo and Scarlett range)
Low latency monitoring allows you to listen to your performance as you record
Apply mastering effects and instantly improve your recording
Keep time with an adjustable metronome
Apply a custom title and image to your music via Soundcloud (free Soundcloud account required)
Works on iPad 2, iPad (3rd gen), iPad (4th gen), iPad mini and above
Support for iOS 6 and above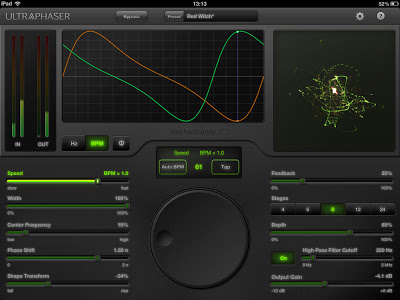 UltraPhaser is an extremely flexible phaser effect, with a unique user interface. With very low latency and stereo input, the wide range of phasing effects can be applied to all kinds of input sounds, from guitar, bass and keyboard to full mixes and electronic setups. Full Audiobus compatibility allows for the interconnection with other iPad apps.
UltraPhaser gives you total control. You can precisely adjust the stereo LFO's speed, width, center frequency, phase shift and shape. Choose between 4, 6, 8, 12 or even 24 stages. Ultraphaser also includes an optional High Pass Filter.
UltraPhaser's unique user interface includes an LFO Control view, through which the stereo LFO can be evaluated and edited. You can see the speed, width, phase shift and shape of the LFO in this view.
The Vectorscope shows a plot of the output's left versus right audio channels, to give you an idea of the 'spatiousness' of the sound.
UltraPhaser comes packed with presets various classic and more unusual phasers, but of course you can also make your own.
UltraPhaser supports very low latency. This low latency is ideal when processing live audio or an instrument, as hardly any delay is introduced.
UltraPhaser is priced at $5.99.