Tutorial: How to integrate iPad effects apps such as Echo Pad and Swoopster in your productions using the iConnectMidi2+ with Audio passThru, allowing you to route audio and MIDI to and from the iPad with a single cable.
Resources Mentioned:
A Tour and Demo of this amazing simulation of the classic synth from EMS, the VCS 3.
Official EMS VCS3 emulator
The VCS3 was created in 1969 by Peter Zinovieff's EMS company. The electronics were largely designed by David Cockerell and the machine's distinctive visual appearance was the work of electronic composer Tristram Cary. The VCS3 was more or less the first portable commercially available synthesizer—portable in the sense that the VCS 3 was housed entirely in a small, wooden case.
The VCS3 was quite popular among progressive rock bands and was used on recordings by The Alan Parsons Project, Jean Michel Jarre, Hawkwind, Brian Eno (with Roxy Music), King Crimson, The Who, Gong, and Pink Floyd, among many others. Well-known examples of its use are on The Who track "Won't Get Fooled Again" (as an external sound processor, in this case with Pete Townshend running the signal of a Lowrey Organ through the VCS3′s filter and low frequency oscillators) on Who's Next. Pink Floyd's "On the Run" (from The Dark Side of the Moon) made use of its oscillators, filter and noise generator, as well as the sequencer. Their song Welcome to the Machine also used the VCS3. The bassy throb at the beginning of the recording formed the foundation of the song, with the other parts being recorded in response. The VCS3 was also a staple at the BBC's Radiophonic Workshop, and was a regular (and most frightening) sound generator for the Dr Who TV series. Many fo the monsters and atmoshere;s created for the show came directly from the VCS3.
Description
The VCS3 has three oscillators (in reality, the first 2 oscillators are normal oscillators and the 3rd an LFO or Low Frequency Oscillator), a noise generator, two input amplifiers, a ring modulator, a 18dB/octave (pre-1974) or 24dB/octave (after 1974) voltage controlled low pass filter (VCF), a trapezoid envelope generator, joy-stick controller, voltage controlled spring reverb unit and 2 stereo output amplifiers. Unlike most modular synthesizer systems which use cables to link components together, the VCS3 uses a distinctive patch board matrix into which pins are inserted in order to connect its components together.
Keyboards controller
DK1 keyboard controller
Although the VCS3 is often used for generating sound effects due to lack of built-in keyboard, there were external keyboard controllers for melodic play. The DK1 in 1969 was an early velocity sensitive monophonic keyboard for VCS3 with an extra VCO and VCA. Later it was extended for duophonic play, as DK2, in 1972. Also in 1972, Synthi AKS was released, and its digital sequencer with a touch-sensitive flat keyboard, KS sequencer, and its mechanical keyboard version, DKS, were also released."
Used: iPad Mini, Garageband, Amplitube, iRig, Ibanez Mikro, iRig Mic. Music & Lyrics by Kraftwerk Ⓟ
Cover by Alex Agrico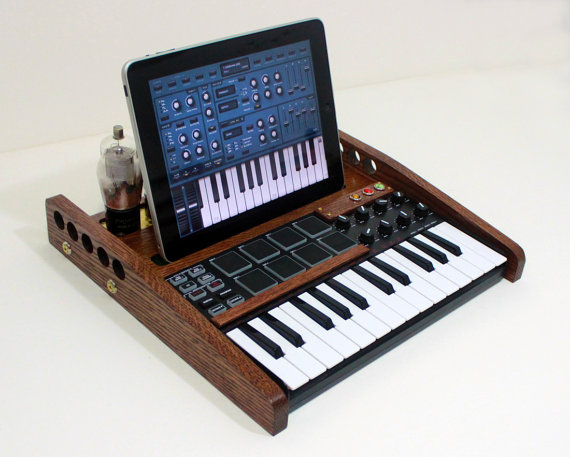 If you're based in the US you can order this handmade beauty to spice up your iPad and Akai keyboard

Background video description:
"This has been around for a while now, but I use this app all the time for chilling out and relaxing, for me this is the best way to just chill."
Take the KORG Gadget master quiz or get in shape with fundamentals.
SECTOR – stochastic sample slice sequencer, for iPad.
Wish List:
Maintain pitch while changing bpm.
Choose probability (as is) OR a definite 1 in X jump OR warp.
Ability to rotate the 'wave form ring' to match the slots better.
Import individual samples into each slot.
Set custom lengths for each slot (perhaps by merging slots): – select when the 'jump' would take place. – enable polyphony or x-fade to continue the sound after the 'jump'
Be a midi controller.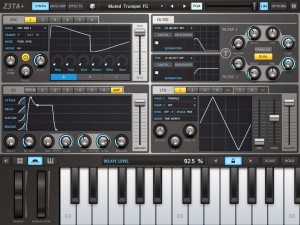 The legendary Z3TA+ synthesizer has been used on countless records, and it's distinctive sound has been a staple of electronic artists the world over. And now Z3TA+ iOS puts the full power of Z3TA+2 on your iPad. Packed with hundreds of presets, modulatable waveshaping, dual mode filters, and flexible effects, Z3TA+ iOS is the perfect creative synth for making music anywhere, anytime.
Feature Highlights:
Includes over 500 presets
User-friendly on-screen Keyboard and external MIDI control
Waveshaping synthesis with 6 Oscillators, 6 LFOs, and more
Modulation Matrix including 16 Sources, Curves, Controls, and Destinations
Advanced modular effects including Distortion, Mod, Compression and more
Performance section with Tap Tempo, assignable XY Pad, Mod Wheels, and Adaptive Pitch Bend
Inter-App Audio, Background Audio, and Audiobus support
Z3TA+iOS will be there for you when you're working behind your studio rig, or on the road. It embodies every characteristic of the original synthesizer and brings the all of parameters you know and love to a fluid iOS7 touch-enabled interface. Z3TA+iOS is perfect for both experienced and new users especially when connecting to other audio applications using Audiobus and Inter-App Audio. Plugin in any iPad compatible MIDI controller and take your performance to the stage.
Apparently it is coming soon to the iPad, so stay tuned for this promising app
Holderness Media has released Stereo Designer for iPad – a multi-purpose stereo shaping tool for Audiobus and Inter-app Audio.
Stereo Designer lets you create unique wide stereo images, 'stereoize' a mono sound source, apply mid/side processing, independent high and low pass filters per channel, and more:
Process synths, drum machines and hundreds of other apps by connecting through Audiobus. Use Stereo Designer as an effect inside Garageband, Auria, Cubasis, and AudioShare using Audiobus or Inter-app audio.
Stereo Designer features two distinct modes:
PERFORM mode is focused around four XY touch pads. Touch to control LOW PASS, DELAY, PAN and OUTPUT gain independently for left and right channels.
TWEAK mode features large expressive sliders and additional effect parameters, allowing you to fine tune your sound.
In addition to Audiobus and Inter-app Audio support, Stereo Designer can also process external instruments such as guitar, voice and synths by connecting a microphone or an audio interface.
Features:
Control individual Left/Right channel volume, panning, filter and more.
Mid/Side (M/S) processing mode lets you adjust the volume, high and low pass filters for Mid and Side independently.
Widen or reduce the stereo width of an input signal.
Independent panning position of each channel, allowing for interesting stereo placement.
Individual High and Low Pass filter per channel for additional stereo shaping.
Phase (polarity) invert Left/Right channels.
Isolate the Left or Right channel and manipulate the resulting mono signal.
Stereoize mono inputs using individual channel delay + High and Low Pass filters.
Sum Left and Right channels to mono.
Stereo Designer is available now for $2.99