The iPolysix for iPad in action, details below:
I played chords and a 41 bar Keyboard solo showing the automation of Cutoff,Resonance and EG intensity.
All sounds came directly from the Korg iPolysix via the iPad.
Wavetable generator by Wolfgang Palm, the guy who created the PPG Waves from the 80′s. Has 3 oscillators for control of pitch and waveform. 3D display for viewing sound from any angle and the ability to import or take your own photo to generate a waveform. This video is just a quick demo using one waveform. More videos to come. Buy it from the itunes store for $20.99.
Key Features:
• Creation of your own waves and wavetables.
• Playful sound creation simply by drawing or picking harmonics
• 3D page, visualization of the wavetables, transformation from photos into wavetables.
• 256 waves assembled within a wave grid
• 3 Audio Oscillators
• 3 Noise generators, for audio and modulations
• Classic 24 dB Lowpass Filter, combined with an overdrive simulation.
• Dual amplifier, for versatile control of 2 audio signals as well as panning.
• 13 Envelopes, for independent control of pitch, waveform, filter and noise gain and panning
• 4 LFOs
• Arpeggiator
• Delay/Reverb effect
• Audio engine with 2 synthesis modes, and variable wave blending quality.
• Directly accessible context help inside the app
• Use a camera, to shoot a picture and then transform it into a sound!
• Using state of the art technologies, but still the versatile and efficient synthesis system.
• Build your own keyboard, with the keys you prefer for your music.
• Audio recorder, up to 10 min. at 44.1 stereo
• Audio Copy to the pasteboard
• File Sharing via iTunes
An extensive show and tell of the new PPG WaveMapper app from Wolfgang Palm.
For more info visit http://www.wolfgangpalm.com
PPG WaveMapper is the second next-generation iOS based synth from Wolfgang Palm, who in 2012 released the PPG WaveGenerator to critical acclaim from both press and public.
In final development the PPG WaveMapper offers iPad users a second synthesiser to compliment the already loved PPG WaveGenerator from Wolfgang Palm. PPG WaveMapper allows the user the opportunity to create limitless sounds from this unique and powerful new technology.
PPG WaveMapper features the Sound Map, which maps the various sounds in a way to easily access and experiment with them, more importantly the PPG WaveMapper features a new synthesis system which maps the waveforms of a sound into a new kind of wavetable which preserves the sound characteristics better than classic Wavetable synthesis and at the same time allows for the manipulations which make WT synthesis so unique.
The Mapping window is the visualisation of a pool of programs on which "modules" float. Those modules represent certain parameters of the synthesiser engine and each module can be placed on one of 32 programs. The moment an item is placed on map then the parameters of that module will take on the settings of those parameters in the underlying program on the Mapping window.
People who do not posses synth-programming skills can use this mapping technology as a starting point to create complex sounds. For example a user can drag a string sound source onto a drum envelope, or a guitar sound onto a string envelope – the concept is simple, yet incredibly powerful.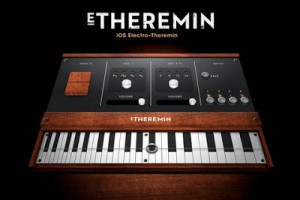 Vintage Electro–Theremin, Onassis Martino style synth.
This app captures the magic of early classic slider controlled synthesisers such as the Ondes-Martenot (1928) Trautonium (1929) and Tannerin/electro-theremin (1950s)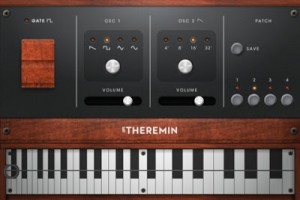 The E Theremin has three oscillators that generate a rich fat analogue tone, with a choice of 4 waveforms (saw, square, triangle and sine) octave shift and amp control. The E Theremin can achieve portamento, vibrato and quarter-tones with precise control. 4 presets allow you to store your sounds and jump quickly between them during performance.
– Ideal for professionals looking for an alternative to the keyboard controlled synth.
– Great for anyone interested in synthesizers, particularly early analogue.
In 1928 Maurice Martenot created one of the first electronic musical instruments, entitled; the Ondes-Martenot, the prerunner to the theremin, similar in sound but with a very different type of user interaction, an inspiring slider on a cord was used. Later in the 1950s Paul Tanner invented the Tannerin a.k.a. Electro Theremin. The Tannerin used the same slider controls as the Ondes-Martenot to control pitch. The Tannerin went on to play a large role in records such as The Beach Boys "Good Vibrations".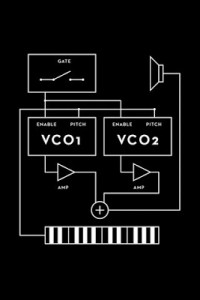 Summarized Features
Three oscillators (osc2 unison)
4 waveforms
3 octave slide control
Fat analogue sound
Jump between 4 user presets
Classic slider pitch control
Retina GUI
Grab it before it goes up to regular price!
With Audulus, you can build synthesizers, design new sounds, or process audio. All with low latency real-time processing suitable for live performance. Audulus's user interface is clean, simple, and easy to learn, allowing you to focus on sound.
Video description below:
This is a quick demo of my custom midi editor template for the iPad app 'TB Midi Stuff'
https://itunes.apple.com/en/app/tb-midi-stuff/id480953919?mt=8
The free editor download link is in the TB Midi Stuff forum here, note that it's easy for you to edit and customise within the app if you like:
http://www.thiburce.com/TBStuff/forums/viewtopic.php?f=19&t=125&p=416…
Thanks to Fabien (app developer) for such a great midi control framework.
The Arpeggionome Pro is a professional MIDI controller designed specifically for iPad. With the Arpeggionome Pro, you design and perform intricate patterns of musical notes at incredible speeds and with precise control.
Introductory Sale: 25% Off! Offer valid until January 15th!
http://itunes.com/apps/arpeggionomepro
Download Audio: http://soundcloud.com/alexandernaut
A quick tune with Animoog and The Grateful Dead Expansion
Synth X by Way Out Ware, programmed by Jim Heintz
Demo by Mackenzie Starr
Jim Heintz, showing his SynthX 2 being used with the Ion AllStar Guitar MIDI controller. With SynthX being used in this mode, you can change tunings and string assignment to increase its flexibility. SynthX is compatible with the iPad 1, but working with the Ion controller requires iPad 2 or better.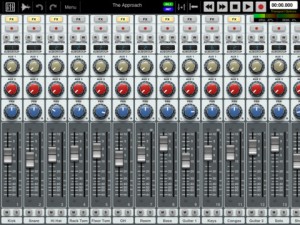 Auria LE – the professional digital audio recording system for iPad.
The mobile DAW you've been dreaming of has finally arrived. Auria LE is a 24-track digital recording system designed from the ground up for the iPad. With professional-level features and optional third-party plugin support from names like PSPaudioware, Overloud, Fab Filter and Drumagog (available via In-App purchase), Auria clearly sets a new standard for mobile recording.
FEATURES:
24 tracks of simultaneous playback of stereo or mono files (upgradable to 48 tracks).
Up to 8 tracks of simultaneous recording when used with compatible USB audio interfaces (upgradable to 24 tracks of recording) Camera Connection Kit required.
24-bit recording
Supports sample rate of 44.1KHz only (upgradable to support 48K and 96K sample rates)
Vintage-inspired ChannelStrip on every channel by PSPAudioware includes Expander, Multiband EQ and Compressor
MasterStrip on all subgroup and master channels featuring PSPAudioware BussPressor, EQ and Mastering Limiter
Third party VST effect plugin support available via in-app purchase (only iOS-version plugins are supported. All plugins must be purchased through the in-app store)
ClassicVerb reverb plugin included
StereoDelay and StereoChorus plugins included
2 Assignable subgroups(upgradable to 8) and 2 aux sends
Powerful waveform editor with features like cut/copy/paste, duplicate, separate, gain, and more
Flexible snapping tools allow snapping to events, cursor, bars, beats and more
DropBox, SoundCloud and Audio Copy/Paste support
Full automation support on all controls with graphical editing
True 100mm faders when used in Portrait Mode
Optional video import feature allows sample accurate sync of video to an Auria project with adjustable offset times and video export capability
Timeline ruler options include minutes:seconds, bars:beats, samples and SMPTE time
Auto-punch mode
Full delay compensation on all tracks and subgroups
Adjustable metering modes, including pre or post fader, RMS and peak
Adjustable pan laws
Sample accurate loop function
Automatic sample rate conversion
Built-in metronome
Includes a demo song mixed on Auria by Grammy winning producer/engineer David Kahne.
REQUIREMENTS:
iPad 2 or later strongly recommended.
Requires iOS 5.0 or later
USB audio interfaces require Camera Connection Kit