Coming soon… Don't miss the launch! http://caramelfxapp.com
ALL sounds in this video were processed through Caramel, recorded directly into Auria via Apogee ONE interface and Audiobus. No EQ or any other processing was done, just a super quick balance of levels in Auria.
If you enjoyed the music in this video you can also sign up to my newsletter to get notified when I release new material later this year. http://eepurl.com/Zgcen
I've also released a few E.P.'s as The Landwhale, these are available from Bandcamp, Spotify, iTunes, etc.
http://thelandwhale.bandcamp.com
Other apps and hardware used in this video:
Arturia Microbrute – All synth and bass sounds, heavily processed by Caramel. Main synth sequence also processed by Crystalline (http://crystallineapp.com/download)
Funkbox drum machine app – Drums, processed with Caramel
SoundPrism Pro – Choir sound, distorted by Caramel
Korg Volca Beats – extra snare roll percussion in right channel, processed with Caramel
Take is an app from the makers of Thor and Figure, Its a quick way to capture your song ideas anytime you may have one
App: Korg Gadget
Instrument: London Hypersonic PCM Drum Module
Get awesome sounds on your iPad with Korg Gadget.
—
AppSessions are Jam Sessions powered by iOS Music Apps
—
Follow AppSessions on twitter:https://twitter.com/AppSessionsShow
Little demo of the Paraphonic Scene for the Moog Voyager in the iPad app "Patch Morpher" from Jazzman Ltd.
This is not just an editor and a patch morpher allows to create new sound morphing from one sound to another, but allows your Moog Voyager to become a real paraphonic synthesizer, with all the three oscillators perfectly in tune!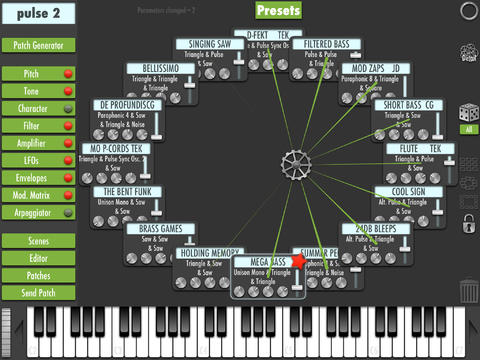 Patch Morpher is a patch librarian & editor for hardware synthesisers – with a twist: its powerful and innovative sound generator allows you to easily create your own totally original sounds without the hassle of editing 100s of parameters by hand.

This is truly innovative technology with all 5-star reviews from enthusiasts to professional sound designers.

Start with your favourite patches, then morph, blend & randomise them to create new sounds – editing 100s of parameters in real-time.

Patches can be organised into scenes for live performance, and you can then morph or mutate between them to create totally original new sounds & patches, controlling hundreds of parameters with one finger, all in real-time. You can even keep playing your synth as the sound evolves.

The fully-featured editor allows you to further tweak your sounds, taking advantage of the iPad's touch screen to give you full control whilst allowing you to view many parameters at a single glance with no hidden menus. Patches can be saved on your iPad so you won't run out of storage slots on your synthesiser.

Play the Moog Voyager paraphonically – addressing each of its three oscillators independently!

Automatically convert patches between the Prophet 08 and the Prophet 12.

Patch Morpher uses Core MIDI: connect to your synth via WiFi, the Apple camera connection kit or a compatible MIDI interface. 

Patch Morpher is compatible with the following synthesisers:
- Moog Voyager
- Access Virus TI
- Waldorf Blofeld
- Waldorf Pulse 2
- Dave Smith Mopho
- Dave Smith Prophet 08
- Dave Smith Prophet 12
- Korg KingKorg
- Mutable Instruments Shruthi-1

Please see our web-site for a video demo, user manual & free patch downloads.

Patch Morpher is an invaluable tool if you own one of these hardware synthesisers. Its revolutionary approach to patch generation makes it very easy & fun to create new & inspiring sounds. Allow your music to stand out with its own totally original sounds!
Mitosynth is a unique new app, equipped with a hybrid additive-wavetable synth engine and a sampler. This app gets deep, with layers of modulation, but does so in an easy to use interface. All of this makes for big sounds and a fun time exploring them!
Playing around with the figure app on the ipad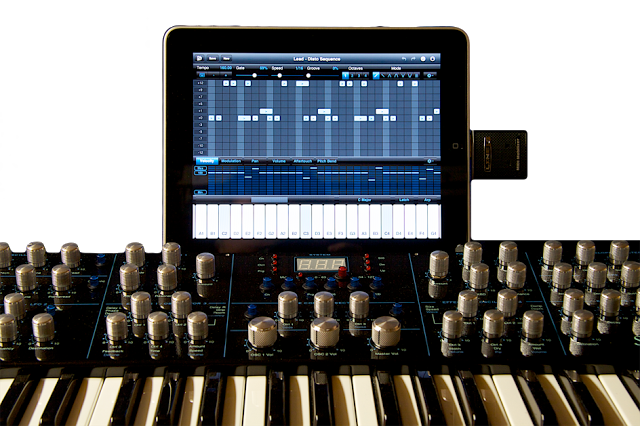 The universal Controller. Special designed for the iPad. The iPad works as a Step Sequencer via Midi In to the Controller. The Controller is pre-labeled for the most important parameters.

With the Midi touch App for the iPad you have up to 127 Parameters.

The Front Panel has a size for a 3 Octave Keyboard with Pitch Joystick and Modulation Knob. I choosed Aluminium Knobs for a better look.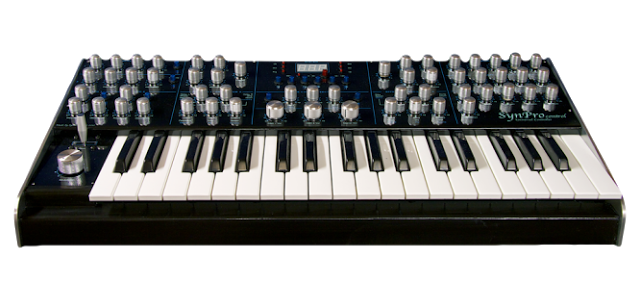 A first go on deregulator the new iPad app by Ashshaosh Daa. The app is a delay/echo/reverb combo but with a twist…all components can be randomized to alter each/any setting over time.
the concept is very simple but in use it is a great way of creating mangled textures that recycle what you put in and spitit back out at you in new in interesting ways.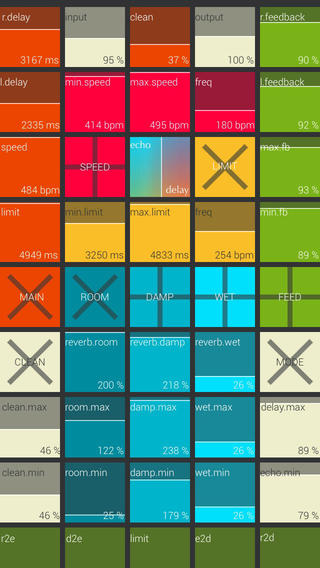 Deregulator it's a mini-processor of stereo effects with Echo, Delay and Reverberator. Input signal goes to echo and delay simultaneously. Then delayed and echoed signal lands into reverberator. All parameters of this effects may be randomised at once and some key parameters can be randomised dynamically all time. On output we have wide effects range from simple mono echo/delay/reverb and combinations to near granulation live when remains of sounds create nebula around original input and like morning mist its blurring and smudging sound into scape of something new, vibrant and beautiful (degree of beautifulness depends on what you feed in D). 
Delay just repeat sound pieces and size of every piece can be randomised, this chop and remix original sound into sometimes very glitchy, something new. Echo behaves like a usual echo unless you start randomising delay and feedback parameters. Reverb have three parameters, room size, damping and wetness of output. Off course all of them are randomisible. Randomising its a root of conception in this little app.
How it sounds like? Lets walk together to the border that splits effects from synthesisers where only granular with live input lives and question this line, she is exist? You must play with it or go to soundcloud(tag deregulator) for examples. 

Go to look at instruction and detailed description on ckek.ru

Feature list:
+ Three linked effect module (Echo, Delay and Reverb)
+ Randomisers for every parameters of this effects
+ Ability to randomise all parameters at once
+ Recording of affected audio to wav
+ Share files to iTunes, AudioCopy 2, AudioShare
+ Audiobus of course
+ 25 non-factory presets slots
+ Stereo/mono

Coming soon:
+ Universal app(Yeah, download once and run everywhere)
+ Audiobus 2 and all slots
+ IAA

Tested on iPhone 4s(iOS 6&7), iPhone 5, iPhone 5s, iPad 2, iPad New and iPod touch 4. And i don't recommend run this app on something lower then 4s. On iPod4 lag is too big, Deregulator need ~100mb ram and more power in heart. iPhone 4s/iPod5 is recommended as low line to work comfortably. 
How To Get Started With Vidibox for your iPad
vidibox is a new and different kind of video remixing app for iPad that lets users create real-time music and video projects from an intuitive drum pad interface. 

It gives DJs, VJs, installation artists, digital storytellers, video mashup fans and music lovers the ability to express themselves easily with intuitive, professional quality video and audio mixing.
Features:

• Transparent drum pad interface. Slots can contain audio, video or both. 
• Easy media import and arranging via drag and drop to slots. 
• Audio and video can be imported separately.
• Play up to 16 tracks simultaneously, freestyle or quantized to the BPM.

• An automatic video composition engine displays multiple videos at once.
• Choose from several video composition layouts.
• Audio and video FX bank.
• Trim and organize media with simple, intuitive gestures.
• Hold, trigger or loop media.
• External screen support to display projects with the app hidden.
• Record videos of performances in real time and easily share them. 
• Compress vidibox projects and share them on Dropbox.
• Audiobus support.
• MIDI in/out support via CoreMidi.