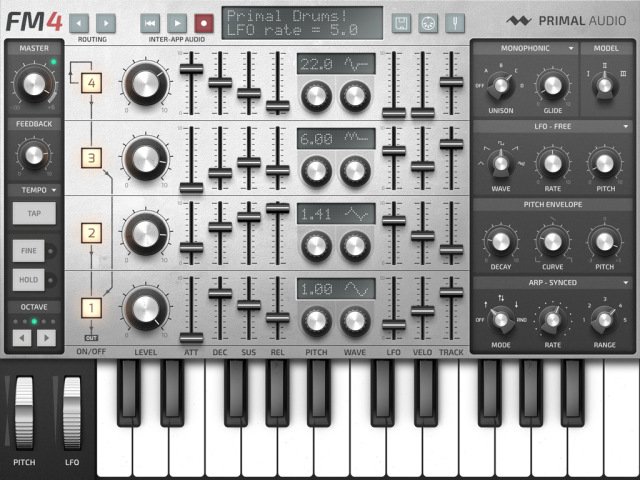 Primal Audio has announced FM4 – a new FM synthesizer for iPad, modeled on classic 1980s Yamaha DX series keyboards.
According to the developers, "Great care has been put into analyzing and replicating inherent sonic characteristics of the original hardware, such as internal quantization errors and digital-to-analogue conversion."
Features:
Four operators configurable via eight different routings
Three sound engines modelled on 1980s hardware units
Eight waveforms derived from classic FM synths
2x, 3x, and 4x polyphonic unison
Tempo-syncable arpeggiator with up, down, up-down, and random patterns
Microtuning with eight different temperaments
Supports Inter-App Audio, background audio, and MIDI (support for Audiobus is planned)
Up to 24 voices of polyphony
Import/export presets through iTunes
Works on all iPads supporting iOS 7.0 and up
FM4 will be available in the App Store in December 2014, with an introductory price of $0.99. See the Primal Audio site for details.
Modern beat making without distraction
Download free from the App Store: http://appstore.com/auxy
Let us know what you think: feedback@auxy.co or https://twitter.com/auxyco
Introducing a new way to make electronic music. Create your own drums, bass lines, and synth melodies. Auxy is modern beat making without distractions.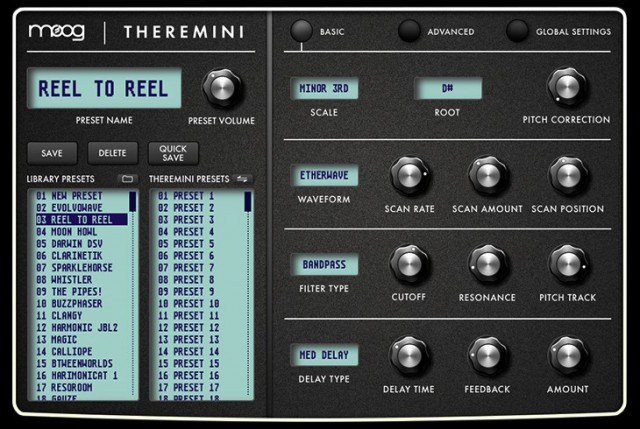 At the 2014 NAMM Show, Moog introduced the Theremini – a new take on the theremin that offers traditional analog control, combined with an advanced synthesis engine. Now they have added an editor for it, details below:
Unlock your Theremini's previously unseen world of sonic features with The Moog Theremini Advanced Software Editor. This editor puts the power of sound design in your hands by allowing you to access new layers of the Theremini's synthesis engine. Easily craft new and exciting sounds for your Moog Theremini, re-sculpt existing presets, and share your sonic creations with others. The Moog Theremini Advanced Software Editor also includes an exclusive library of new presets to kick-start your creative process.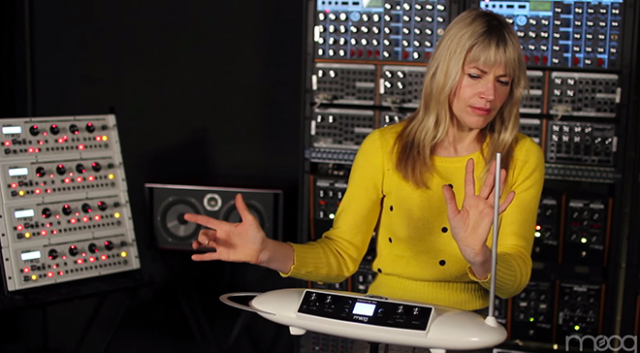 NOTE: This application does not make sound by itself. It is an editor librarian app for the Moog Theremini. To use this app, the user must have a Lightning to USB host adapter (for iPads with Lightning connector) or the Apple Camera Connection Kit (for iPads with 30pin connector) and a mini USB cable.
FEATURES
Create new presets
Edit existing presets
Craft new sounds in real-time while playing your Moog Theremini
Create or edit preset libraries with built in Library Manager
Unlimited preset storage
Share libraries of sounds via email or iTunes file sharing
Edit the Theremini's global settings
Built in Editor User Manual, Theremini User Manual, and Quick Start Guide
Simple drag-and-drop preset library
Quick Save for instantly editing an existing sound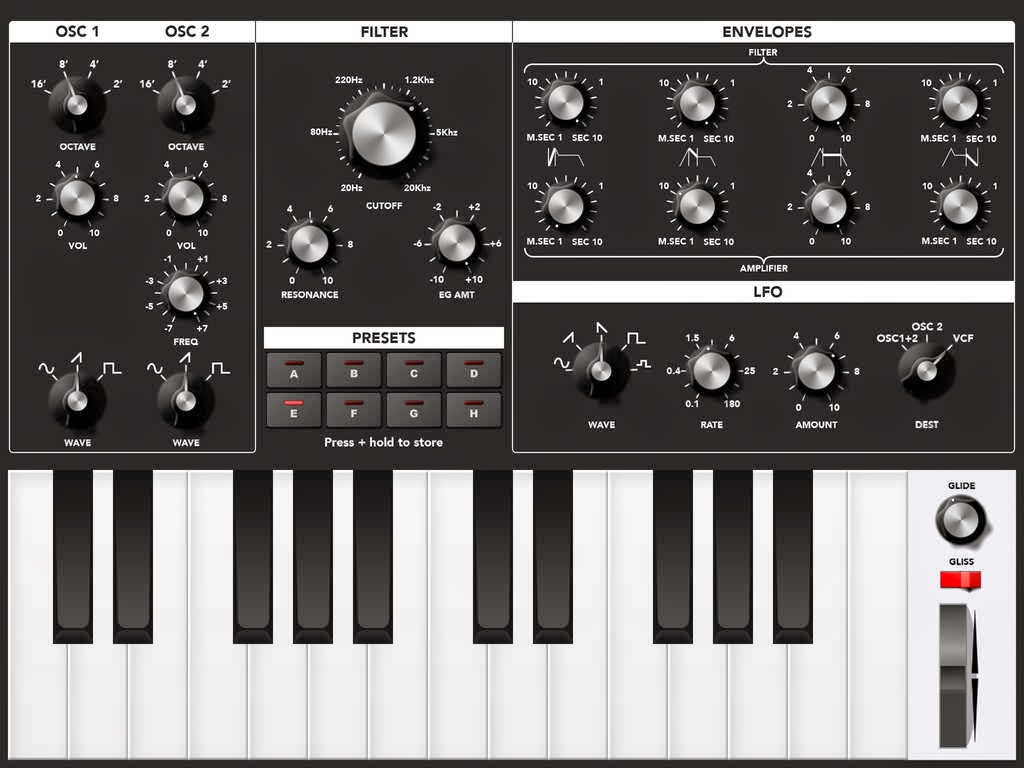 LF1 Monosynth is a new mono synth for your iPad. Here are the details …
Experience and create the classic vintage synth sounds with the LF1 Monosynth.
The LF1 Monosynth is a fully featured analogue–modelling synthesiser, featuring:
2x classic–sounding analogue style oscillators with sin, sawtooth and square waveforms and a four octave range. The frequency of the second oscillator can be adjusted by ±7 semitones.
Analogue–modelled resonant filter with invertible envelope.
Amplitude envelope.
LFO with 5 selectable sources (including Sample + Hold), assignable to pitch or filter.
Glide & Glissando controls.
Pitchbend Wheel.
8 user–preset locations.
Slick, retro-styled UI.
The LF1 is ideal for lovers of classic synths, or indeed for beginners looking to get a taste of analogue synthesis. This app is packed with vintage mojo and ready to go.

LF1 costs $2.99 on the app store:
Mitch Gallagher presents the Arturia iProphet synth app, based on the classic Prophet VS synthesizer. Enjoy the demo, then click the link above for more on this and other music-related apps!
Strom for iPad, 'an incredibly fun sampler' for the iPad that offers tight integration with the Elektron Analog Rytm.
This video focuses on using Strom, independent of the Analog Rytm.
STROM is available now in the App Store for US $4.99. Rytm Upgrade is an In-App-Purchase. Elektron Analog Rytm is a hardware instrument which must be purchased separately. A USB-Lightning Camera adapter is required for the MIDI connection.
Apple Store link:https://itunes.apple.com/us/app/egdr9…
ElliottGarage presents EGDR909, a drum machine that emulates the vintage hardware from the 80's with all the facilities of modern software.
Its realistic and clear interface recalls the analog machine from the past, for all the vintage fanatics.
You can play with the groove presets included or you can create your own beat to play along your favorite song via InterApp, Audiobus, Core MIDI and clock MIDI.
You can also share your drum patterns with iTunes filse sharing or Audio Copy.
Features:
– Interface like the real drum machine from the 80's
– 16 steps sequencer, with variable lenght
– 48 programmable rythm patterns
– Save the pattern you've created and play your songs
– Manual Play, Pattern Write and Pattern Clear mode
– Drumkit pieces parameters control (tuning, decay and snappy)
– Song Mode page (swipe to left to open) with loop option
– Swing and tap tempo
– Core MIDI & clock MIDI (network session, external controller, inter app midi)
– Audiobus
– Interapp (generator)
– Export with iTunes, mail or Audio Copy
– Korg Wist sync
Check the videos on http://www.youtube.com/ElliottGarage
support: info@elliottgarage.com
Advanced Filter
Sneak preview of DensityGS apeFilter, an advanced filter effect of iPad and Audiobus.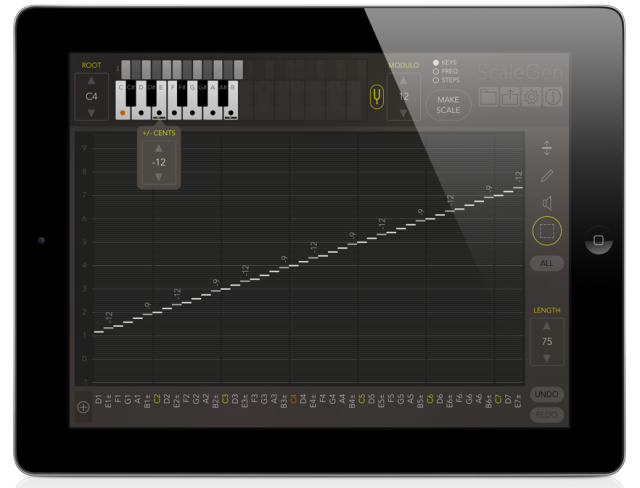 ScaleGen for iPad – described as 'the ultimate tool for musicians who want to explore new ways of thinking about music.'
ScaleGen is a tool for organizing pitches into custom scales and tunings. It lets you create and audition scales within the app, and then export it as a MIDI file or to their gestural music app Gestrument.
It goes far beyond mainstream types of scales, letting you experiment with up to 24 notes per octave, use historical and experimental microtonal tuning and even scales that are different in each octave, like the overtone series.
ScaleGen – musical scales redefined
https://itunes.apple.com/us/app/scale…
You think you know what a scale is – think again. In ScaleGen you can do all that you would traditionally imagine when it comes to scales and pitch organisation, and then much, much more.
This is the perfect tool for experimental composers in any genre as well as for musicians who want to explore new ways of thinking about music. The educational aspects of how pitches can be organised makes ScaleGen a must have for serious music students. But the directness of the app makes the learning both fun and artistically developing.
Define or change scales in the most detailed and intricate way. Audition the scales you make from within the app or export it as a MIDI file or use our iOS app Gestrument to try them out.
This is the tool for anyone who wants to go beyond the traditional tonalities in whichever genre you choose. ScaleGen comes with predefined scales of all kinds – from the traditional Western scales and early music scales to Asian scales from India, Indonesia and elsewhere.
Presenting Wizdom Music's new app Jordantron. This is the first time Jordan Rudess, who is best known as the keyboardist for Dream Theater, has released a complete set of his exclusive sounds to the public. Jordantron will turn your iPad into the grandest and most epic sounding instrument ever!
Developed for Wizdom Music by Omenie, UK-based mellotron specialists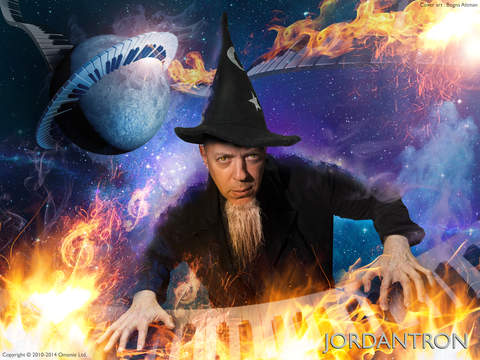 Developed for Wizdom Music by Omenie, UK-based mellotron specialists, Jordantron features :
• 57 sampled stereo instruments, 940MB of samples
• 4 octave samples per voice, 6 playable octaves
• Voices categorized by 'velocity sensitive', 'leads', 'orchestral / choral', 'pads' and 'strings'
• Velocity sensitivity on selected voices
• Decay tails on selected voices
• Octave shift keys to extend range of on-screen keyboard
• 'Half-speed' tape mode
• 12 programmable chord pads
• Warm, lush stereo reverb
• 32 'VOICEBANKs' holding voice, reverb and ABC blend settings for instant retrieval
• Giant 'Jordan-style' whole octave divebombs (configurable as whole tone or whole octave downshift)
• Support for multiple simultaneous instruments via MIDI
'Oscillotron' waveform display
First and foremost, this is a giant sample collection wrapped in its own playable instrument, designed for live and studio use with MIDI control. Jordantron allows its two internal Tron engines to be controlled by a pair of external class-compliant MIDI keyboards for maximum performance flexibility, one controlling the blendable 'ABCtron', the other controlling the 'Dtron' which is usually dedicated to chord pads. A flexible MIDI response allows VOICEBANKs to be retrieved using MIDI Program Change, so the iPad screen never needs to be touched during performance.