Taika Systems has introduced Photophore – a unique instrument that brings 'flock synthesis' to the iPad'. Photophore uses 'flocks' of up to 100 sound generators to create rich, organic synthesizer sounds. By controlling the behavior of the flocks, you can make Photophore sound like a choir of synthesizers or, at more extreme settings, a swarm of angry insects.
**Now available on the App Store at special introductory price of only $4.99!**
Photophore is a unique instrument for iPad that uses flocks of up to 100 sound generators to create rich, organic synthesizer sounds. By controlling the behavior of the flocks you can make Photophore sound like a choir of synthesizers or, at more extreme settings, a swarm of angry insects.
App Store Link: https://itunes.apple.com/us/app/photo…
More Info: http://www.taikasystems.com/photophore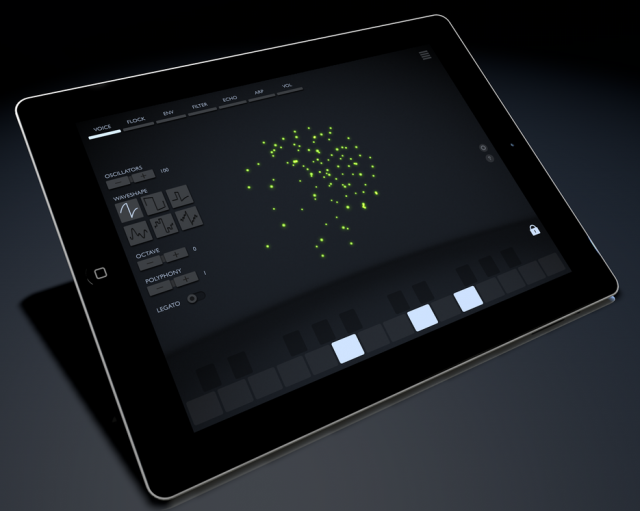 Flock Synthesis
Unlike other digital synthesizers, Photophore creates warmth and character in a new way. Instead of modeling analog circuits, it models animal behavior.
Photophore's sound engine is made up of flocks of oscillators that move through a virtual three-dimensional environment. Their motion is controlled by a behavioral algorithm and physics simulation that keeps the oscillators in tune with each other, but allows for a certain amount of natural drifting and detuning.
You can interact with the oscillator flocks by controlling their behavior – how much they try to flock together, how much they avoid each other, their speed, and how much turbulence is in their environment. Oscillators will 'flee' from your touch, so you can create extreme pitch modulation and more chaotic effects by swiping across the screen.
Features:
Unique flock synthesis engine
Up to 100 oscillators per patch
Monophonic or polyphonic operation (up to 6 voices)
6 oscillator waveforms (saw, square, pulse and more)
Low pass/High pass filter with resonance
Dedicated amplitude and filter envelopes
Stereo echo effect
Arpeggiator
Connectivity:
Use any iPad-compatible MIDI keyboard to play notes and perform pitch bends
AudioBus and Inter-App Audio support for streaming audio to other apps
Control Photophore from other apps via CoreMIDI
Tech Requirements: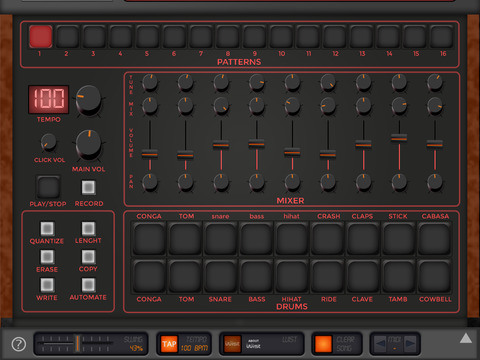 Elliott Garage has introduced EGLM1 – a software drum machine for iPad, inspired by the classic Roger Linn LinnDrum drum machine.
Features:
16 programmable rhythm patterns with variable length
Save the pattern you've created and play songs
Automation of Drumkit parameters (pan, volume and mix)
Song Mode page (swipe to left to open it) with loop option
Swing and tap tempo
Core MIDI & clock MIDI (network session, external controller, inter app midi)
Audiobus
Interapp Instrument
Record and export your performance with iTunes, eMail or Audio Copy
Korg Wist sync
Official audio/video demos are to come.
EGLM1 is available for US $2.99 in the App Store.
Klevgränd has introduced Svep – a stereo modulation filter effect for iPad.
All parameters are easily editable in one screen.
Features:
Inter App Audio (IAA) compatible. Works fine with Garageband and other IAA compatible hosts.
Supports Audiobus 2 including state saving.
Load / Save presets
Remembers IAA hosts (will automatically load last used settings when a host connects)
Low cpu usage
Simple but yet powerful user interface
Svep is available for US $1.99 in the App Store.
Are iPads only good for consuming media? I don't think so!
Everything you see here was created on an iPad Air (first generation), mostly using Sprite Dancer, a great animation app that reminds me of After Effects version 2.0 — 15 or 20 years ago! Other apps used include Procreate, iDraw, FluidFX, Plastic, the iPad Camera, and more. All of the music was created on the iPad using GarageBand, AudioBus, Animoog, Sunrizer, Korg iElectribe, and more.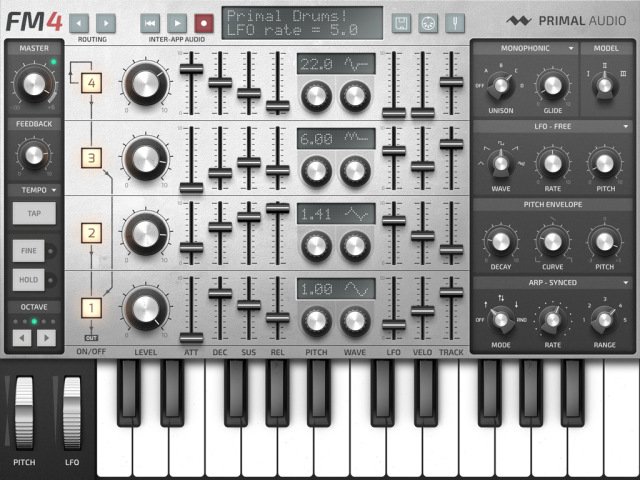 Primal Audio has announced FM4 – a new FM synthesizer for iPad, modeled on classic 1980s Yamaha DX series keyboards.
According to the developers, "Great care has been put into analyzing and replicating inherent sonic characteristics of the original hardware, such as internal quantization errors and digital-to-analogue conversion."
Features:
Four operators configurable via eight different routings
Three sound engines modelled on 1980s hardware units
Eight waveforms derived from classic FM synths
2x, 3x, and 4x polyphonic unison
Tempo-syncable arpeggiator with up, down, up-down, and random patterns
Microtuning with eight different temperaments
Supports Inter-App Audio, background audio, and MIDI (support for Audiobus is planned)
Up to 24 voices of polyphony
Import/export presets through iTunes
Works on all iPads supporting iOS 7.0 and up
FM4 will be available in the App Store in December 2014, with an introductory price of $0.99. See the Primal Audio site for details.
Modern beat making without distraction
Download free from the App Store: http://appstore.com/auxy
Let us know what you think: feedback@auxy.co or https://twitter.com/auxyco
Introducing a new way to make electronic music. Create your own drums, bass lines, and synth melodies. Auxy is modern beat making without distractions.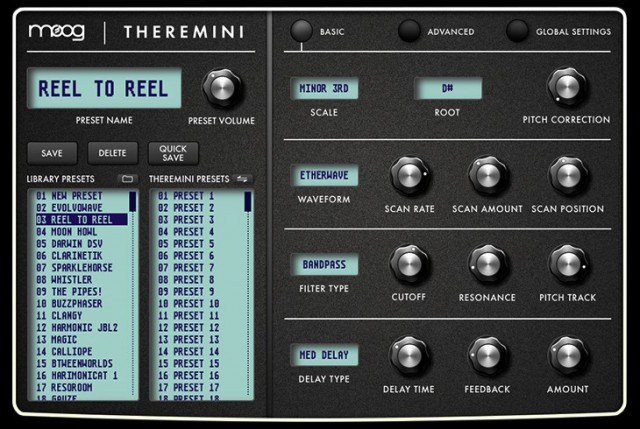 At the 2014 NAMM Show, Moog introduced the Theremini – a new take on the theremin that offers traditional analog control, combined with an advanced synthesis engine. Now they have added an editor for it, details below:
Unlock your Theremini's previously unseen world of sonic features with The Moog Theremini Advanced Software Editor. This editor puts the power of sound design in your hands by allowing you to access new layers of the Theremini's synthesis engine. Easily craft new and exciting sounds for your Moog Theremini, re-sculpt existing presets, and share your sonic creations with others. The Moog Theremini Advanced Software Editor also includes an exclusive library of new presets to kick-start your creative process.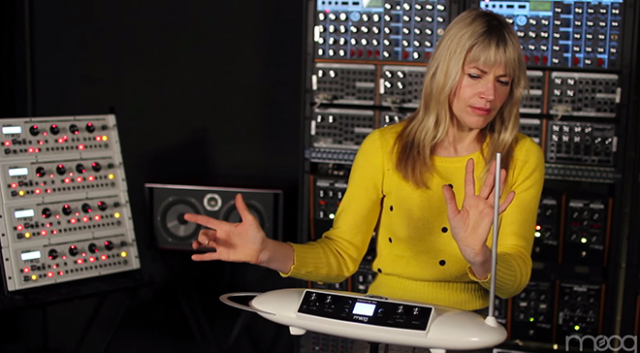 NOTE: This application does not make sound by itself. It is an editor librarian app for the Moog Theremini. To use this app, the user must have a Lightning to USB host adapter (for iPads with Lightning connector) or the Apple Camera Connection Kit (for iPads with 30pin connector) and a mini USB cable.
FEATURES
Create new presets
Edit existing presets
Craft new sounds in real-time while playing your Moog Theremini
Create or edit preset libraries with built in Library Manager
Unlimited preset storage
Share libraries of sounds via email or iTunes file sharing
Edit the Theremini's global settings
Built in Editor User Manual, Theremini User Manual, and Quick Start Guide
Simple drag-and-drop preset library
Quick Save for instantly editing an existing sound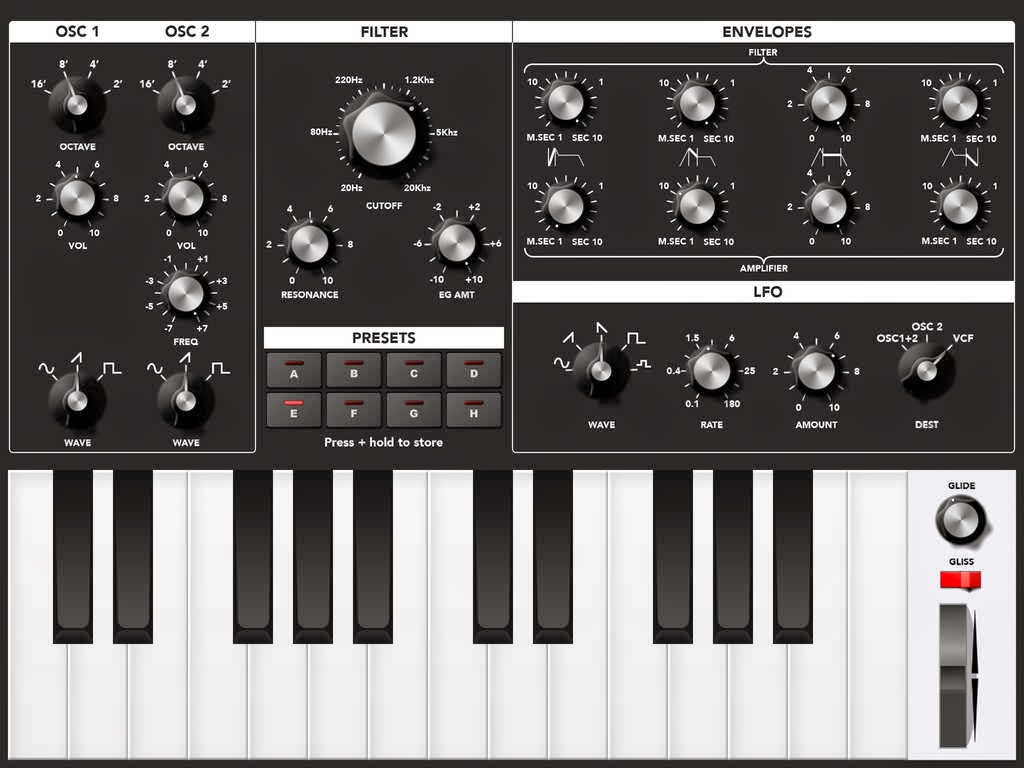 LF1 Monosynth is a new mono synth for your iPad. Here are the details …
Experience and create the classic vintage synth sounds with the LF1 Monosynth.
The LF1 Monosynth is a fully featured analogue–modelling synthesiser, featuring:
2x classic–sounding analogue style oscillators with sin, sawtooth and square waveforms and a four octave range. The frequency of the second oscillator can be adjusted by ±7 semitones.
Analogue–modelled resonant filter with invertible envelope.
Amplitude envelope.
LFO with 5 selectable sources (including Sample + Hold), assignable to pitch or filter.
Glide & Glissando controls.
Pitchbend Wheel.
8 user–preset locations.
Slick, retro-styled UI.
The LF1 is ideal for lovers of classic synths, or indeed for beginners looking to get a taste of analogue synthesis. This app is packed with vintage mojo and ready to go.

LF1 costs $2.99 on the app store:
Mitch Gallagher presents the Arturia iProphet synth app, based on the classic Prophet VS synthesizer. Enjoy the demo, then click the link above for more on this and other music-related apps!
Strom for iPad, 'an incredibly fun sampler' for the iPad that offers tight integration with the Elektron Analog Rytm.
This video focuses on using Strom, independent of the Analog Rytm.
STROM is available now in the App Store for US $4.99. Rytm Upgrade is an In-App-Purchase. Elektron Analog Rytm is a hardware instrument which must be purchased separately. A USB-Lightning Camera adapter is required for the MIDI connection.