Strom – a new iPad application that is designed to augment the Elektron Analog Rytm – using the iPad's large touchscreen to add new options for editing, performing and more.
Twitter: https://twitter.com/stromapp
Facebook: https://on.fb.me/1rcd1XG
Elektronauts discussion: http://www.elektronauts.com/topics/vi…
https://www.elektron.se
Strom is an advanced iPad App, providing unprecedented integration with the most powerful drum machine available, the Elektron Analog Rytm.
Strom makes uploading samples from iPad to Rytm easy.
Its quirky monophonic sampler can can also be used stand-alone.
Furthermore, Strom offers a kick-ass interface to enhance your live performance.
The App is designed to quickly and efficiently bend Rytm's vast sonic space, and to generate and mutate your beats.
Strom will be available at the App Store very soon.
The new symphonic music creation app for iPad, here's a demo of all 10 of the included sounds.EDIT–see my blog at wtomusic.com for a written walk through of the app…no followup video will be posted.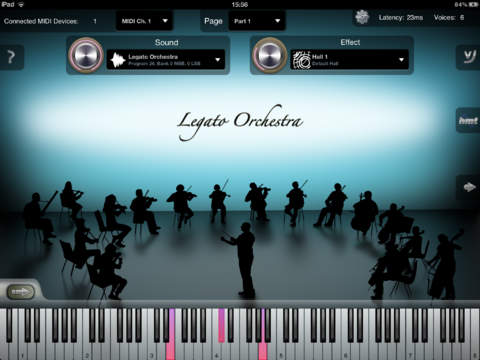 The ultimate orchestra sound app for sophisticated musicians, directed by Kurt Ader, designed as professional sound module for your iPad by connecting an external MIDI keyboard, using the Apple USB camera adapter or another adapter supported by Apple.¹

This app supports Apple's "Inter-App Audio" System (requires iOS 7 or higher) and the "JACK Audio Connection Kit" (up to iOS 6.1.3) for audio & MIDI connections from/to other audio apps!

iSymphonic Orchestra was designed with the goal to deliver you superb, extremely realistic and stunning orchestra sounds, instantly with the first key being pressed by you on your MIDI keyboard. Just select a sound and you are ready for your live performance or for a boost of creativity while composing new songs. The sounds used in this app were explicitly recorded to fulfill these requirements and involved several months of recording and post processing under supervision of Kurt Ader and included a variety of innovative, new recording techniques. So far these sounds were only available to very few, famous movie composers. Now they are finally available for the first time to everybody. The supreme quality of these sounds, combined with the unique way they were recorded and assembled, gives us confidence that you haven't heard anything comparable as of to date, even not on Mac or PC.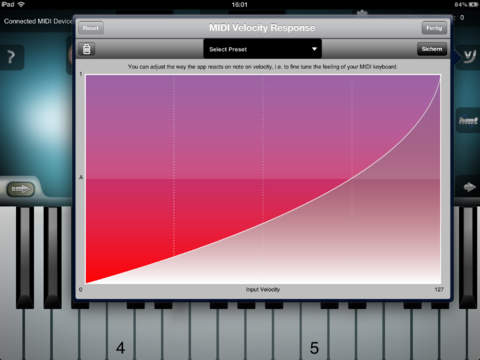 Sounds:
– 1. Orchestra Strings Spiccato & Legato
– 2. Orchestra Strings Slow 1
– 3. Chamber Arco Strings
– 4. Legato Orchestra Strings 1
– 5. Full Sordino Strings 1
– 6. Legato Orchestra
– 7. Staccato Orchestra 1
– 8. Staccato Orchestra 2
– 9. Tremolo Orchestra
– 10. Pizzicato Strings

>General Features:
– Low latency disk streaming.
– Polyphony up to 140 stereo voices.²
– Configurable audio latency down to 5 ms.
– Integrated effects with 18 presets.
– 16 parts.
– MIDI velocity response curve editor to fine tune the feeling of your MIDI keyboard.
– App can keep running in the background, so you can play on your keyboard while e.g. using Safari or another app to display scores or surfing the Internet.
– Hermode Tuning: Makes the sound more brilliant by controlling the pitch of the notes in multivoiced music to better frequency ratios than with fixed tuning. This dynamic tuning imitates the tuning behavior of well educated musicians of i.e. orchestras and choirs.
– Supports Apple's "IAA" system for audio & MIDI streaming between other apps (iOS 7 or higher).
– Supports "JACK Audio Connection Kit" for audio & MIDI streaming between other apps (up to iOS 6.1.3).
– Virtual on-screen piano keyboard with velocity support, scalable & scrollable.

MIDI Player / Recorder:
– Record, save and load your songs in standard MIDI file format.
– Unlimited amount of tracks.
– Configurable target MIDI channel per track.
– Unlimited recording and playback length.
– Download or upload MIDI files with iTunes.
– Load your favorite songs as MIDI files from the Internet, and watch at the virtual keyboard how to play it.
– Use the "Tempo Zoom" dial knob to i.e. slow down playback at any time and learn your favorite songs more easily.

Note: This app requires quite some hardware resources. In case there are problems with this app, please close apps in the background by double pressing the device's home button, the list of active apps appears on the bottom of the screen, tap and hold one app icon in the list, then press the respective app icon "minus" corner to quit those apps.

¹ For more informations about supported adapters and MIDI keyboard devices, please visit our product website.

² Sounds are using several voices per note. Polyphony depends on the exact device model being used. You find a polyphony table on our product website.

Anti-Spy Commitment: We take your privacy very seriously. None of our apps contain so called 'spy' behaviors and we committed ourself to a very high privacy standard. For more informations about our privacy commitment, read our 'Privacy Policy for Mobile Apps'.
The Beijing-based electropop musicians of Yaoband came together to explore new musical frontiers. iPad helps them capture, record, and perform their innovative music.
http://www.apple.com/your-verse/strik…
Olympia Noise Co. has announced Ondes, which they describe as a new electronic instrument for iPad.  It is inspired by the early electronic instruments of the 20th century like the Ondes Martenot and Theremin, Ondes emulates the classic electronic sounds of that era while adding some decidedly contemporary updates.  They say that Ondes is an expressive and extraordinarily fun instrument capable of playing everything from gliding melodies to dense polyphonic sci-fi soundscapes.
App designer Ben Kamen says "I've always been inspired by the sound and expressive potential of those early electronic instruments, and wanted to develop a way to access that sound in a new instrument.  The touch screen turns out to be a very natural fit for emulating the precise but fluid style Ondes Martenot is known for.  I'm really excited about this app and can't wait to hear the music that people make with it."
Coming soon from Olympia Noise Co.
Be the first to get it! Sign up for our mailing list:
http://eepurl.com/LdQYr
Learn more :
http://www.olympianoiseco.com/blog/sn…
DrumORama is an interesting and clever drum machine for your iPad
A drum machine and solo tool. Drum pads have beat sequencers that play programmed rhythm patterns once when you tap them, or can loop. Tapping pads at different times generates interesting asynchronous patterns from simple sequences. Contains hundreds of drum and percussion sounds.
Coming soon from Olympia Noise Co.
Be the first to get it! Sign up for our mailing list:
http://eepurl.com/LdQYr
Learn more :
http://www.olympianoiseco.com/blog/sn…
Follow us:
@olympianoiseco
facebook.com/OlympiaNoiseCo

For those who may be wondering about the name, Ondes is French for "waves."  But if you know a little something about the history of electronic music, you might also recognize the word.  The Ondes Martenot is an early electronic instrument with a sound not dissimilar to that of the more widely known Theremin.  Unlike the Theremin, which is played by moving your hands in space, the Ondes Martenot has a keyboard and a sliding ring which allows the player to glide between pitches.  Below each key is a little indentation for the finger to stop on.  These indentations allow for precise pitch intonation, something that is neary impossible to acheive on the Theremin.  (Unless, of course, your name is Clara Rockmore).   Because several 20th century composers (notably Olivier Messiaen) composed for the instrument, the Ondes Martenot is still taught in some music conservatories to this day, though it's a bit expensive to get a hold of one yourself.  You might also have seen Jonny Greenwood performing one in Radiohead.
One more demo of the recently released Prophet V for iPad
Professor is a Prophet 5 Sim from Alex Smith, the dev who brought us Grit, Interpol, Evil Machine and others.
Professor is a virtual analog polyphonic virtual analog synth inspired by the legendary sequential circuits prophetV!

The waveforms have been carefully shaped to sound a close as possible to the original resulting in a lovely polysynth
Cover of Daft Punk's theme "Around the world", performed and recorded entirely on iPad using Caustic 3 app.
Original video and audio here: https://www.youtube.com/watch?v=s9Msz…
The instruments used were: two beatboxes for the drums and claps (default preset "Drums", slightly tweaked), four subsynths (bass, vibes, synth and noise effect), one vocoder, one kssynth and one fmsynth for guitars. Some effects and lots of automation.
I included the music video as background of the audio for reference and to show the precise timing. Sorry for the bad quality of the image.
(c) 2014 Talicopow
We teased the upcoming release a couple of days ago and here it is – somewhat faster than we thought the new TeraSynth, details below:
Explore new sound spaces with Tera Synth that go beyond the emulation of synthesizer legends. Use the power of analog and digital synthesis combined with new modules for physical modelling. Wireless patching of modules combined with an intelligible modulation routing simplifies the development of new synthesizer designs from scratch. Distortion effect, Delay/Chorus/Phaser and Reverb effects give your sounds the final polishing. Tera Synth gives your music an individual character with its unique fat sound. The well-designed algorithms and the economical modular structure provides you with a comparatively high voice yield. Precise timing with the unique built-in Arpeggiator let you feel the rhythm.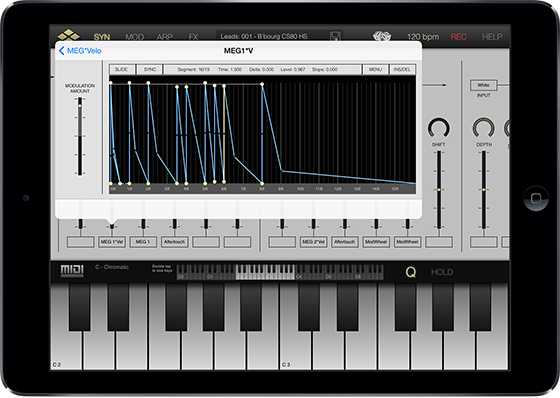 Tera Synth supports Audiobus and Inter-App-Audio for integration with other Music Apps.

Modular Analog Synthesis
• Modular synthesizer with free connections between modules.
• 25 Sound Modules
• 4 Low frequency oscillators
• 4 Standard ADSR Envelope generators.
• 4 Multi Segment Envelopes with tempo sync.
• 64 time/level segments per envelope
• Monophonic or polyphonic with 16 voices.
• More than 920 factory presets, unlimited user presets can be shared.

FX
• Chorus with four delay lines.
• 8 pole Analog Phaser.
• Distortion effect with Tube/Tape emulation
• Stereo Echo/Delay effect.
• Hi end reverberation unit.

Live
• Play melodies live with the onscreen keyboard. Drag fingers for slides and vibrato.
• Optionally use CoreMIDI* compatible hardware keyboard.
• Dozens of scales selectable
• Variable Keyboard layout for scale optimized playing

Full featured programmable Arpeggiator
• Uses programmable sequences with up to 32 steps.
• Can trigger single notes and chords.
• Unique randomizer generates Arpeggios with 100% usability.
• 32 Arpeggios included, unlimited useer arpeggios possible.
• For each step you can program tie, accent, transposition and note order

Global
• Audiobus compatible (Input slot).
• Inter App Audio
• Audio pasteboard. Copy audio recordings to Clipboard for use with other Apps
• Exchange user presets with File Sharing in iTunes.
• Support for virtual MIDI input connections.
• MIDI learn functionality.
• Publish loops and recordings online with the SoundCloud audio platform.