Clare Lindley, ferocious and fabulous fiddler with Stackridge, showcases her mellower classical side in this glorious, rich and nuanced collection of voices for the M3000. Recorded and engineered in Bath at the studio of her bandmate Glenn Tommey, the Clare Lindley Violin Collection is a unique collection of string sounds, and is the first time a large set of 35 semitone mellotron tapes has been created around a single artist's performances.
By recording everything in a single, marathon session, we have maintained excellent tonal consistency of sound between the 7 unique voices, which are also provided pre-mixed as 3 'ensemble' voices to provide 10 voices in total.
As is traditional, the test tune is LJ Rich's wonderful '30 Shades of Tron', the official M3000 HD theme tune. Movement between AB and C is happening during 'Oscillotron' mode (when the touch rotary control is off-screen) by manipulating the the Mod wheel on the attached MIDI keyboard. ABC tron is moving betwen Pizzicato, Spiccato and the 'soft, no vibrato Arco' voices, Tron D plays 'Ensemble1′, which is a blend of 2 different 'soft, no vibrato Arco' voices, and has a remarkable French Horn / Colliery Brass kind of sound. The very soft attacks lead to a surprisingly non-violin sound, which forms beautiful low-level beds underneath just about anything, and the surprising nature of this particular voice was a real bonus, discovered only during mastering of the recordings.
The Clare Lindley Violin Collection is in Review with Apple, and will be available an in-app purchase for owners of Mellotronics M3000 HD running iOS 7 or above.
The Clare Lindley Violin Collection is in Review with Apple, and will be available an in-app purchase for owners of Mellotronics M3000 HD running iOS 7 or above.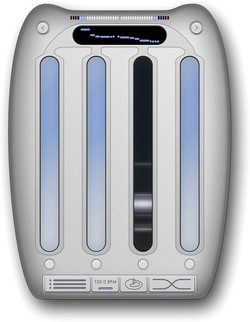 Psicada has launched Earhoof, a virtual instrument for iPad.
A sophisticated instrument creation tool, it allows you to layer multiple audio files and combine them with high quality digital signal processing. By continuously changing the sound parameters along the length of your device, Earhoof allows you to create highly expressive playable surfaces.

Its innovative internal rhythm engine allows you to easily play this surface, switching seamlessly between complex rhythms while remaining in complete control of the generated sounds. The result is a playing experience unlike any other, blurring the line between sequencer and instrument.
Psicada features
Includes over 80 carefully crafted presets, each one a unique multi-sample instrument.
Intuitively draw curves to modulate DSP parameters for Gain, Pitch, Pan, Filters, Delay and more.
Easily import your own WAV and AIFF files with iTunes File Sharing.
Record or manually create your own rhythms.
Audiobus and Inter-App Audio support allows Earhoof to interact with other music apps.
Record your performances as audio files without ever leaving the app.
In-app help manual will help you quickly learn the ins and outs of the program.
The app is available from the iTunes App Store for $4.99 USD.
Birdstepper is a great way to add moving effects over a track or loop.
Tutorial: How to integrate iPad effects apps such as Echo Pad and Swoopster in your productions using the iConnectMidi2+ with Audio passThru, allowing you to route audio and MIDI to and from the iPad with a single cable.
Resources Mentioned:
A Tour and Demo of this amazing simulation of the classic synth from EMS, the VCS 3.
Official EMS VCS3 emulator
The VCS3 was created in 1969 by Peter Zinovieff's EMS company. The electronics were largely designed by David Cockerell and the machine's distinctive visual appearance was the work of electronic composer Tristram Cary. The VCS3 was more or less the first portable commercially available synthesizer—portable in the sense that the VCS 3 was housed entirely in a small, wooden case.
The VCS3 was quite popular among progressive rock bands and was used on recordings by The Alan Parsons Project, Jean Michel Jarre, Hawkwind, Brian Eno (with Roxy Music), King Crimson, The Who, Gong, and Pink Floyd, among many others. Well-known examples of its use are on The Who track "Won't Get Fooled Again" (as an external sound processor, in this case with Pete Townshend running the signal of a Lowrey Organ through the VCS3′s filter and low frequency oscillators) on Who's Next. Pink Floyd's "On the Run" (from The Dark Side of the Moon) made use of its oscillators, filter and noise generator, as well as the sequencer. Their song Welcome to the Machine also used the VCS3. The bassy throb at the beginning of the recording formed the foundation of the song, with the other parts being recorded in response. The VCS3 was also a staple at the BBC's Radiophonic Workshop, and was a regular (and most frightening) sound generator for the Dr Who TV series. Many fo the monsters and atmoshere;s created for the show came directly from the VCS3.
Description
The VCS3 has three oscillators (in reality, the first 2 oscillators are normal oscillators and the 3rd an LFO or Low Frequency Oscillator), a noise generator, two input amplifiers, a ring modulator, a 18dB/octave (pre-1974) or 24dB/octave (after 1974) voltage controlled low pass filter (VCF), a trapezoid envelope generator, joy-stick controller, voltage controlled spring reverb unit and 2 stereo output amplifiers. Unlike most modular synthesizer systems which use cables to link components together, the VCS3 uses a distinctive patch board matrix into which pins are inserted in order to connect its components together.
Keyboards controller
DK1 keyboard controller
Although the VCS3 is often used for generating sound effects due to lack of built-in keyboard, there were external keyboard controllers for melodic play. The DK1 in 1969 was an early velocity sensitive monophonic keyboard for VCS3 with an extra VCO and VCA. Later it was extended for duophonic play, as DK2, in 1972. Also in 1972, Synthi AKS was released, and its digital sequencer with a touch-sensitive flat keyboard, KS sequencer, and its mechanical keyboard version, DKS, were also released."
Used: iPad Mini, Garageband, Amplitube, iRig, Ibanez Mikro, iRig Mic. Music & Lyrics by Kraftwerk Ⓟ
Cover by Alex Agrico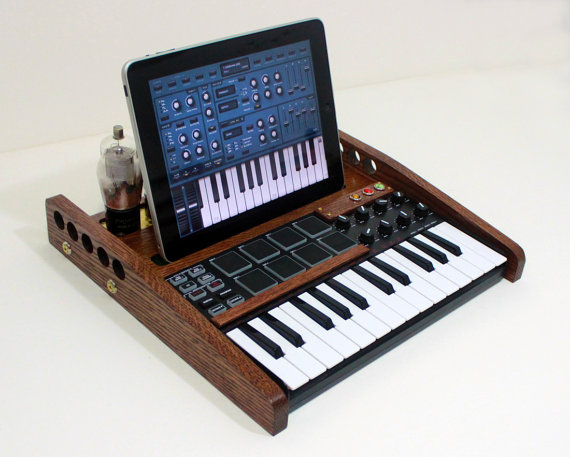 If you're based in the US you can order this handmade beauty to spice up your iPad and Akai keyboard

Background video description:
"This has been around for a while now, but I use this app all the time for chilling out and relaxing, for me this is the best way to just chill."
Take the KORG Gadget master quiz or get in shape with fundamentals.
SECTOR – stochastic sample slice sequencer, for iPad.
Wish List:
Maintain pitch while changing bpm.
Choose probability (as is) OR a definite 1 in X jump OR warp.
Ability to rotate the 'wave form ring' to match the slots better.
Import individual samples into each slot.
Set custom lengths for each slot (perhaps by merging slots): – select when the 'jump' would take place. – enable polyphony or x-fade to continue the sound after the 'jump'
Be a midi controller.