More info: http://bit.ly/10vIReH
In the second part of this two-part video tutorial, Dubspot instructor and course designer Matt Shadetek shows how to control an arpeggiator in Logic's Environment using the iPad as a second monitor.
In this video we'll continue using the iPad as a touchscreen controller and look at how to apply this. If you missed part one of this tutorial please check it out first, it explains how to set up the Air Display app which will allow wireless connection of your iPad to your Mac or PC.
In this example we're going to use Logic's Environment to set up an arpeggiator with large buttons that toggle between different resolutions or arpeggiator rates. We'll learn how to map MIDI control change data to the arpeggiator in the Environment and how to create large visual controls to send that data. We'll take a look at using the button object in the Environment to send MIDI control change data, a technique which could be applied to many different workflows. The goal of the video, beyond the specific application, is to get you thinking creatively about ways to manipulate MIDI data in Logic's Environment to create unique musical tools and customize your own setup. – Matt Shadetek
Introducing Orphion Editor
www.appstore.com/Orphion
Orphion is a musical instrument with a unique sound between string instrument and percussion. Everyone can play expressive, wonderful sounds and easy or virtuosic melodies on it just by moving fingers on virtual pads.
What can I do with it?
• Express the sounds you feel
• Play polyphonic music very expressively
• Crazy drumming
• Dream and relax
• Create soundscapes and melodies without musical knowledge
• Visually explore music and music theory
Features:
• Different articulations from soft to plucked to hardly slapped
• Natural interaction
• Extend your ways of expression as a percussionist, guitarist, pianist or other musician
• 15 transposable pad layouts with different tonalities from easy to complex
• 8 individual voices for 8 fingers (4 on iPad 1)
• MIDI support: Play your favorite synth with the revolutionary Orphion interface
• Audiobus support: Stream live audio from Orphion directly to other Audiobus-compatible apps
• Orphion Editor (availible as upgrade): Create and share your own custom pad layouts. Download new pad layouts from Orphion Universe
"We got our hands on Yonac's miniSynth 2 yesterday and fell in love! Werkbench jam starts at 2:07."
Werkbench: http://www.bolasol.com/werkbench
miniSynth 2: https://itunes.apple.com/us/app/minis…
Product descriptions:
WerkBench is a new and unique type of beatbox that is part loop pedal, part drum machine, and 100% beat-making magic. At the heart of WerkBench are two sequencers that let you instantly sample sounds into any place in the rhythm and then alter those sounds in real-time.
miniSynth 2 continues the spirit of the original, adding advancements we made in DSP, design and features over the last half decade. Simple and easy to use, miniSynth 2 projects a solid, fat tone from a strategic feature set — an "abbreviation" of the sophisticated features we offer in our pro-grade synthesizers. Like all our synthesizers, no compromises are made with sound and functionality. There are NO samples used, just real-time virtual analog synthesis. miniSynth 2 also includes production-friendly features, such as Audiobus output, audio copy/paste, and a MIDI In port for playing miniSynth with an external controller or a virtual-MIDI app.
A demo, sound test and intergration with Audiobus and Cubasis for the excellent MiniSynth 2 from Yonac. A new version of their classic Minisynth from 2008..look how far we have come..
Caelestis sends MIDI messages to two other apps, Arctic Keys and Magellan.
Caelestis is a unique, sample based generative music app that creates sounds with bouncing balls. Three shapes on the screen are used as 'rooms' that contain a sound. Different coloured balls can be thrown around inside these rooms, generating notes when one collides with a side. Using different combinations of balls and sounds, all kinds of beautiful performances can be achieved.
check it out on the app store:
https://itunes.apple.com/ca/app/id581…
A quick composition using the iElectribe app on the iPad.
The piece was 'composed' using the nanoKONTROL as a midi control surface for the sound control functions of the app and then as a pseudo 'mixer' for the video 'performance'.
Synced MPC 500 to the Tenori-On iOS app and sequenced some stuff.
Gear used in this video:
Standuino frauAngelico drum machine (through the Kaosspad Mini) – www.standuino.eu,
Standuino fraAngelico digital synthesizer (through the Korg Monotron filter and Earthquaker Devices Rainbow Machine),
Moog Slim Phatty (Bass),
Kurzweil MicroPiano (E-Piano),
Akai MPC500 (additional drums),
Korg Kaosspad Quad (FX),
The Standuino synths are MIDI-Sequenced with the Tenori-On TNi iPad app and the rest by the Akai MPC500.
Filmed with a GoPro HD Hero and a Canon Rebel t2i (550D).
Features songs from the Cloudseeder community:
Vacationlazy's remix:
https://soundcloud.com/vacationlazy/t…
The original song from Knot Sew Suite:
https://soundcloud.com/theknotsewsuit…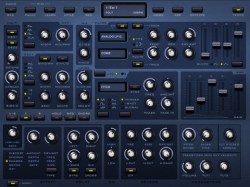 BeepStreet has released an update to Sunrizer, its advanced software synth for the iPad.
Sunrizer is already one of the most advanced synths on iOS, with flexible synthesis options, a flexible arpeggiator and MIDI and AudioBus support. The latest update takes Sunrizer even further, adding new effects, new filter types, DropBox support, new presets and more.
Here's what's new in Sunrizer 2.5:
New effects: rotary speaker, equalizer as a separate module
Dual band effects processing
New filter types: Analog LP12, Waveshaper, Resonator, Resampler, LPF + Resampler, Frequency shifter. Filter key tracking for filter B.
Stereo filters in parallel mode
Phrase sequencer
Keyboard velocity simulation
ARP: random mode added
Recordings export via DropBox
Support for AudioBus v.1.0.1
2 banks added: New Horizon and app-sound.com ( 135 new presets )
Adjustable polyphony
Bug fixes and performance improvements
Sunrizer is available now in the App Store for $6.99.
Background video description:
A demo of 3 iMini's running in Tabletop, with a iMPC playing a beat, then AC into Audiobus and Cubasis. It's also a test video for better sound quality and picture quality as we had a few comments about having better sound, hope this is OK..