Below the comments to the video from MacBeth:
This is the first demo of the complimentary synth to the micromac series. 4 Oscillators, Dual State Variable Filter and 4 Envelope generators should get you started, The touch keyboard rounds it up! See you at NAMM '13!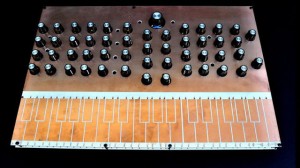 Modular synthesis maestro Ken MacBeth, has revealed this yet-unnamed instrument on Facebook this weekend. Of the new design, MacBeth says that it has "four oscillators, two noise generators, one LFO, a dual stage variable filter, four envelope generators, two VCAs (Stereo) and a stereo tape delay".
It seems that this synth is something that Ken has had in mind for a while, too: "It's been a long term development over years," he says. "The micromac series has been designed for those who wish for the vintage 'Moog-like' sound – this is a completely different design!"
No news on when we can expect the synth to come to market, but SBC will be monitoring its progress.
Here's a quick video demo of a MacBeth Micromac-D being played via the prototype of the up and coming 3 Octave Touch Plate Keyboard…..and another thin that I've been working on- a 'dual tape delay synthesizer'! Playing these things together is a lot of fun!….
Seen here- A Micromac- D Analogue Synthesizer being played via a MacBeth Touch Capacitataive Keyboard and being fed into something that they just knocked up! This is what MacBeth calls a 'Tape Delay Synthesizer'!….it's lo fi- mildly grungy- but mesmorizing to work with! Still to be refined- but I hear the potentiontial- it's 'breaky wakey' at moments- but it seems to work well- this shall be partnered into my complimentary synth to the micromac. It's a twin delay device- stereo in other words- but here we have delay 1 being fed into delay 2- so it's mono…..but mad!
BRUNO ENDER LEE – "Return to the Pleiades" – performed live, October 14. 2012
MacBeth M5N & Doepfer MAQ-sequencer, Synthesizers.com Studio-88, ARP Odyssey, MiniMoog Voyager OS, Moog Little Phatty, Analogue Solutions Vostok, Korg Polysix, Korg DS-8, Korg MS2000, Roland Juno-60
2012 Velvet Voyage Productions, all rights reserved
Yet another promising video with updates from MacBeth, details below:
Life's not all grim! Touch keyboards are real fun and they make you think in a completely different way about keyboard playing- odd at first- but the technique starts to change and grow. Here is me playing the MacBeth micromac-r unit and the olde 'vaporware' protoype unit with the mere 1 octave prototype job. To your right the planned three octave controller- now with now stylus, earthing yourself to ground or anything like that-0 it's now 'touch capacitative' and pure analogue!
Yet another teaser from MacBeth, all looks good apparently

This is the first test that I have done of the micromac-r synthesizer since this test example came back from the assembly plant- all is good! It's working perfectly! One hell of a lot of sound come from a very micro sized unit!
Here is the first demonstration video of the MacBeth micromac -r 3U Eurorack module. This short video will give you some idea of the smooth sound of this synthesizer! There is some interesting lead and bass going on here…I'm using a Korg Prophecy as a keyboard controller and a Kenton Pro4 to drive the micromac!
http://www.spacehardware.co.uk/Products.html
This is a demo of the touch keyboard that MacBeth is working on.
Gone is the physical stylus- now a finger with a small piece of foil is acting as the actuator! It's fun and it works. The touch keyboard is playing the MacBeth micromac desktop unit via it's CV inputs. I'm using a fair bit of sample and hold- LFO1 S&H is sampling the LFO2 Triangle wave- is sounds a little bit like sequences or arpeggios. I'm also usin the CV from the touch keyboard to control the speed of LFO1- at the very bottom of the keyboard- it's 0 Volts- at the top it's about 3 and half volts- so the LFO speeds up and slows down accordinly. I hope that you enjoy the product development!
More from MacBeth:
Here is a very short video fearuring a small two octave stylus control keyboard! The outputs are Glide 1 (1v/octave), Glide 2 (1V/Octave), Standard 1VOctave, Negative (reverse going) 1V/Octave and finaqly +5V gate. The keyboard is driving the soon to be released MacBeth micromac analogue synthesizer. It's a handy accessory for any modular synthesizer user! The copper plate that I'm using is highly reflective!