To give you a flavour of the 5 Oscillator/ 2 filter sound- MacBeth set up this on the M5X prototype. It's pretty massive with hints of spring line reverb and cross modulation from one of the VC Modulators modulating as well as being audio! It's a booming, massive sound!
An experiment here that I recorded to tape- using M5N circuits with some modification- now M5X. There's a lot of resonant spring line reverb on this one!
Here's an experiment with a new flagship product prototype!………..inferno? 6 oscillators, interchangable filters, interchangable touch keyboard with real keys, 2 ring modulators, dual tape delay simulators and more! As said- it's a prototype- but fun to start with- a true stereo synthesizer!
The first of 3 short videos featuring a quartet of the up and coming MacBeth Micromac-D desktop analogue synthesizer.
"I called it The Sweep- two Micromac-D units having their filters swept in stereo! A third unit is doing the lead stuff- and the first one that you see/hear- effects….."
Background description:
Inspired by visits to Santa Monica, and always seeing the 'turn right' sign for a place called Slawson Avenue- I did this track whilst experimenting with the Micromac-D pre factory model. I'm also using a Korg Prophecy as a controller keyboard and a 'scrapper' SH101 as an analogue sequencer. There's a Roland CR8000 on drums. My latest project Nexus 1 fits in here too! The Micromac series and the Nexus 1 basically complete my synth dream wishes!…I hope you enjoy…..Ken
Last Sunday, Paul Hartnoll from the great electronic band Orbital paid a visit for tea and a sandwich, and also to talk synths a play around with some new projects that I'm working on. Here we see him tweaking with the MacBeth NEXUS 1 prototype. All sounds are recorded to the camera mic, as opposed to the desk- so don't expect high quality. It was a fun day and I was a guest in the evening for a fantastic gig that featured the MacBeth M5N played by a master!
Here's an experiment that I did. I replaced one octave of touch keys that I'm working on on an old scrap SH101…..it works perfectly!….my next shot is to give the scrapper SH101 a full three octaves as opposed to the two and a half octave keybed. If this all works- the touch keyboard I'm going to do as a stand-alone will have this built is seq! The sequencer is driving the up and coming Micromac-D synthesizer and I also played here the prototype of the experimental NEXUS 1 analogue touch synthesizer!
Below the comments to the video from MacBeth:
This is the first demo of the complimentary synth to the micromac series. 4 Oscillators, Dual State Variable Filter and 4 Envelope generators should get you started, The touch keyboard rounds it up! See you at NAMM '13!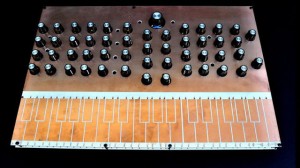 Modular synthesis maestro Ken MacBeth, has revealed this yet-unnamed instrument on Facebook this weekend. Of the new design, MacBeth says that it has "four oscillators, two noise generators, one LFO, a dual stage variable filter, four envelope generators, two VCAs (Stereo) and a stereo tape delay".
It seems that this synth is something that Ken has had in mind for a while, too: "It's been a long term development over years," he says. "The micromac series has been designed for those who wish for the vintage 'Moog-like' sound – this is a completely different design!"
No news on when we can expect the synth to come to market, but SBC will be monitoring its progress.
Here's a quick video demo of a MacBeth Micromac-D being played via the prototype of the up and coming 3 Octave Touch Plate Keyboard…..and another thin that I've been working on- a 'dual tape delay synthesizer'! Playing these things together is a lot of fun!….
Seen here- A Micromac- D Analogue Synthesizer being played via a MacBeth Touch Capacitataive Keyboard and being fed into something that they just knocked up! This is what MacBeth calls a 'Tape Delay Synthesizer'!….it's lo fi- mildly grungy- but mesmorizing to work with! Still to be refined- but I hear the potentiontial- it's 'breaky wakey' at moments- but it seems to work well- this shall be partnered into my complimentary synth to the micromac. It's a twin delay device- stereo in other words- but here we have delay 1 being fed into delay 2- so it's mono…..but mad!