BRUNO ENDER LEE – "Spaceship" – performed live, March 3. 2012
MacBeth M5N, Doepfer MAQ-sequencer, ARP Odyssey, Synthesizers.com Studio-88, MiniMoog Voyager OS, Moog Little Phatty, Analogue Solutions Vostok, Roland Juno-60, Korg Delta, Korg Polysix, Korg MS 2000
(through 5 different stereo-panning-delays, 4 Behringer DD600 & 1 Boss ME-50)
composed, arranged & produced by Bruno Ender Lee; 2012 Velvet Voyage Productions
Here is a video tour of the up and coming MacBeth micromac! We get to see the front panel explained and also get to hear the sounds. NOTE this vid is just over a half hour in time- and sadly the software that I used to compress the file for upload contains one or to artifacts or 'aliases' It may come up as unwanted noise during the oscillator demo.
Background info on the video:
here's a further experiment using the separate Control Voltage Inputs to the 3 Oscillators that micromac has- playing three note chords but recorded as a sequencec! This is the sound of 2 x micromac units with the lead solo sounds coming from the sister unit- the Photon! Occassionaly, I wear a hat…please excuse!
This is another video of the micromac (prototype) in action with the even more compact 21HP 3U X-Series Photon synthesizer module (prototype). Both the micromac and Photon are complete analogue synths! I'm using my all analogue CV and Gate keyboard to drive the micromac and a Korg Prophecy/Kenton Pro Solo to drive the Photon. The Photon is the arpeggiated synth going on here. Again it's fun to do this stuff, and my playing is not the best- but this video does give you a good idea of the power and the sound of these seriously small in size synths doing their job! www.macbethstudiosystems.com
"We caught up with Ken MacBeth from MacBeth Studio Systemsfor a look at his new machines – coming real soon. Ken makes some awesome synthesizers and is exploring the desktop format with his new MicroMac and dot com format machines.
The new Dot Com format synth has a realy cool dual glide feature and features a normalized signal path with full patching too."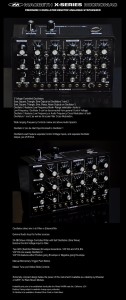 More Information
Here are the details:
Hi there- this is the first *test* of the macbeth micromac- measuring just over a mere 8″ wide- it whacks a punch! This is the first demo that I've done of this 3 Oscillator pure analogue synthesizer and on this video- I'm getting to try out a couple of things. Oscillators 1 and 3 have direct outputs to left and right- the filter section has Oscillators, 1, 2 snd 3 pitched 1 octave apart, and a fifth! I guess then I lose the plot and try other things! Anyway- I put up because some folks have wanted to hear it! The micromac is a project that started well over a year ago….and now it is complete! I'm using the all analogue Vortex keyboard to play this thing!
Nice experiment

Hooked up my mono synths with my Encore Expressionist and recorded a little video to show of the sound. I had the Acidlab Miami triggering the ARP Sequencer which was sequencing the filter cutoff (making that rhythmic sound in the background). The glidey/squelchy bass is the minimoog model D and the 4 voice poly is made up of the 2 ARP 2600′s and 2 voices from the Macbeth M5 – osc 1 and 3 through filter 1 and oscillator 2 through filter 2. It makes for a rather unsurprisingly fat sound and the expressionist makes it really easy to set everything up (I just need some more long 1/4 cables)! The Acidlab Miami was the drum accompaniment. Anyways, hopefully I can record more soon.
http://youtu.be/QbgdF_idbgg
VELVET VOYAGE – "Astral Landscape" – performed live by Bruno Ender Lee; December 27. 2011
Synthesizers.com Studio-88, MiniMoog Voyager (OS), Moog Little Phatty Stage II, MacBeth M5N (& Doepfer MAQ-sequencer), ARP Odyssey, Analogue Solutions Vostok, Roland Juno-60, Korg Delta, Korg Polysix, Korg MS2000, Korg DS-8 & MoonSonoSx (VST)
…please take a look at the video-response "Surreal Landscape" by JampyKeys
Ready or not, here it comes: a smal live demo of MacBeth's Dual VCO & Backend Filter modules. These fantastic sounding modules are some of my most essential sound sources

I played 'em with Vermona's new Quad MIDI-Interface and as additional modulation source I used Doepfer A-145 LFO and A-132-1 Linear VCA. Both are controlled by CV & modwheel from the interface.
External soundprocessing (delay) by EVENTIDE TimeFactor (effect: vintage delay)
A very quick demo of the both the desktop and keyboard prototypes of the MacBeth Mk1 VORTEX Synthesizer. Both instruments are completely analogue- including the keyboard section! Excuse the playing- and more to follow!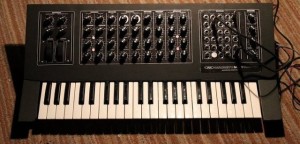 MacBeth Studio Systems' Ken MacBeth has released a couple of teaser shots of his prototype for the 'all analogue' Macbeth Mk1 VORTEX Keyboard Synthesizer, a new monophonic analog synth.
Specs and availability are to come, but MacBeth says that 'the sound is top, featuring a pure analogue circuits keyboard" and that he hopes to be able to build it at "just under the £2KGBP mark."