Here's what they have to say about it:
As we hit production of the micromac- her's one of the last videos from the prototype units- this video features the desktop version doing baqss lines and the 3U format version doing some strange glide stuff! It's been an interesting experiment- the keyboard controllers are 2 x Korg Prophecies doing the arpegiation thing at different timings! Apart from my own designs featured here- I'd highly recommend 2 x Prophecies as keyboard controllers! I guess all this sound coming from such small units….starts to erase the need for the massive modular…especially if you after this kind of sound! All played live….and yes, the video needs a touch of brightening slash contrast!
Background data:
Here's a short video where I am using both the 3U Eurorack version and the Desktop version of the up and coming MacBeth micromac! This is pretty standard stuff- but this morning I switched the gear on before work and came up with these rather vintage minimoog like sounds! The 3U Eurorack version is on the left side- the Desktop version on the right side!
Short info on the Micromac:
The long-awaited Micromac by MacBeth is a small and yet powerful, full analog standalone desktop synthesizer because unlike his competitors  it has three voltage controlled oscillators and a classic Moog lowpass filter. Never before it was more affordable to purchases a true MacBeth synthesizer!
technical details
The desktop version of the Micromac has not only CV and gate inputs to play the synth but also a MIDI/CV interface from Kenton, who stand for very reliable and stable interfaces.
3VCOs: VCO1 and 2 have saw, pulse, triangle and sine waveforms and the pulse width can be voltage controlled by external CVs. A low frequency noise with level control is available as well. VCO 1 can hard sync VCO2. VCO3 can be used as a modulation oscillator and can be disconnected from the master CV. Modulation targets are filter cutoff frequency and/or pitch of VCOs1&2. All VCOs have individual outputs, coarse and fine frequency controls, separate CV inputs for controlling frequency and pre-filter level controls.
The filter is a Moog 24dB lowpass filter. It´s input is a mixture of all three VCOs and noise. The cutoff frequency can be controlled by the first envelope generator as well as by an external CV. The filtertracking is switchable between off / half / full (0%, 1V/oct and 1.5V/oct).
The envelopes are ADSRs with a switchable release parameter thats time is depending on the decay parameter, just like the Minimoog. The filter envelope can be also used to control VCO2´s pitch what sounds great when VCO2 is synchronised. Furthermore you can invert this envelope´s characteristic. The second envelope modulates the VCA. If an external CV is patched to the VCA the internal modulation is broken up. A momentary button allows for manual triggering of the envelopes
Background info:
Here's a video that I've just done of the micromac prototype loaded into a 3U Eurorack housing- Featured with it is the MacBeth X-Series Dual SV Filter- they make an interesting match! At times there is plenty of 'ah yah ah yah ah yah' sounds! Two oscillators were taken from the micromac and plugged into the Dual SV- the Vortex prototype pvides us with LFO modulation here!
Apologies for the indistinct talking through this one- toothache!! has set in! Anyway- I hope you enjoy this pure analogue example of synth stuff!
BRUNO ENDER LEE – "Spaceship" – performed live, March 3. 2012
MacBeth M5N, Doepfer MAQ-sequencer, ARP Odyssey, Synthesizers.com Studio-88, MiniMoog Voyager OS, Moog Little Phatty, Analogue Solutions Vostok, Roland Juno-60, Korg Delta, Korg Polysix, Korg MS 2000
(through 5 different stereo-panning-delays, 4 Behringer DD600 & 1 Boss ME-50)
composed, arranged & produced by Bruno Ender Lee; 2012 Velvet Voyage Productions
Here is a video tour of the up and coming MacBeth micromac! We get to see the front panel explained and also get to hear the sounds. NOTE this vid is just over a half hour in time- and sadly the software that I used to compress the file for upload contains one or to artifacts or 'aliases' It may come up as unwanted noise during the oscillator demo.
Background info on the video:
here's a further experiment using the separate Control Voltage Inputs to the 3 Oscillators that micromac has- playing three note chords but recorded as a sequencec! This is the sound of 2 x micromac units with the lead solo sounds coming from the sister unit- the Photon! Occassionaly, I wear a hat…please excuse!
This is another video of the micromac (prototype) in action with the even more compact 21HP 3U X-Series Photon synthesizer module (prototype). Both the micromac and Photon are complete analogue synths! I'm using my all analogue CV and Gate keyboard to drive the micromac and a Korg Prophecy/Kenton Pro Solo to drive the Photon. The Photon is the arpeggiated synth going on here. Again it's fun to do this stuff, and my playing is not the best- but this video does give you a good idea of the power and the sound of these seriously small in size synths doing their job! www.macbethstudiosystems.com
"We caught up with Ken MacBeth from MacBeth Studio Systemsfor a look at his new machines – coming real soon. Ken makes some awesome synthesizers and is exploring the desktop format with his new MicroMac and dot com format machines.
The new Dot Com format synth has a realy cool dual glide feature and features a normalized signal path with full patching too."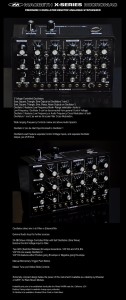 More Information
Here are the details:
Hi there- this is the first *test* of the macbeth micromac- measuring just over a mere 8″ wide- it whacks a punch! This is the first demo that I've done of this 3 Oscillator pure analogue synthesizer and on this video- I'm getting to try out a couple of things. Oscillators 1 and 3 have direct outputs to left and right- the filter section has Oscillators, 1, 2 snd 3 pitched 1 octave apart, and a fifth! I guess then I lose the plot and try other things! Anyway- I put up because some folks have wanted to hear it! The micromac is a project that started well over a year ago….and now it is complete! I'm using the all analogue Vortex keyboard to play this thing!
Nice experiment

Hooked up my mono synths with my Encore Expressionist and recorded a little video to show of the sound. I had the Acidlab Miami triggering the ARP Sequencer which was sequencing the filter cutoff (making that rhythmic sound in the background). The glidey/squelchy bass is the minimoog model D and the 4 voice poly is made up of the 2 ARP 2600's and 2 voices from the Macbeth M5 – osc 1 and 3 through filter 1 and oscillator 2 through filter 2. It makes for a rather unsurprisingly fat sound and the expressionist makes it really easy to set everything up (I just need some more long 1/4 cables)! The Acidlab Miami was the drum accompaniment. Anyways, hopefully I can record more soon.