A very quick demo of the both the desktop and keyboard prototypes of the MacBeth Mk1 VORTEX Synthesizer. Both instruments are completely analogue- including the keyboard section! Excuse the playing- and more to follow!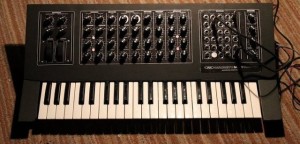 MacBeth Studio Systems' Ken MacBeth has released a couple of teaser shots of his prototype for the 'all analogue' Macbeth Mk1 VORTEX Keyboard Synthesizer, a new monophonic analog synth.
Specs and availability are to come, but MacBeth says that 'the sound is top, featuring a pure analogue circuits keyboard" and that he hopes to be able to build it at "just under the £2KGBP mark."
Background info: This is first short intro vid for the new Macbeth X-Series Modules in 3U- more to follow- but I like the slightly heavy feel to this! You are basically listening to one oscillator triggering two dual EGs sweeping the the dual SV filter- so it's one filter module that you are hearing!
Available from Analogue Haven and Schneidersladen very shortly!
This vid gives a short demonstration of the quality of sound driving this thing straight from 2 x 9V batteries! To the left of the synth, you can see wires attached to the two batteries. For me- very interesting as the synth stay in tune very well here. Also tech folks please note- there are neither smoothing capacitiors or regulators of any kind used here!
The batteries at this point were sitting at around the 8.5V mark!
Here we have a demo of the Macbeth Mk1 VORTEX Desktop Analogue Synthesizer Module. For those who know the format- this is a 5U, 6 Space compact flat unit! It started out as the 'micromac'- an ambitious idea. This is a a complete **starter** modular synthesizer in a very small area. Anyway, well it's done. Here is a video of this thing. Personally I'm pleased- this small unit can provide the user with the sound of a big modular system- it's an entry point fot those wondering. The video content itself meanderders and only the die-hard will watch to the end! Some synth manufacturers give tiny examples of the sound of their gear- I tend to long drawn out stuff to give the potential user the feel of the instrument being used in a permance way. I'm rock and roll myself, so please excuse the personal feel to this thing!
VELVET VOYAGE – "Kristallwald" (Crystal Forest) – Performed by Bruno Ender Lee, August 13. 2011
The Crystal-Sequence and some FX are pre-recorded, from the 2004-CD "Traummaschine", with Arturia Modular Moog V. The Live-Part: Moog Little Phatty Stage II, Synthesizers.com Studio-88, ARP Odyssey, MacBeth M5N, Roland Juno-60, Roland JP-8000, Analogue Solutions Vostok, Korg MS-2000, Moog Etherwave Theremin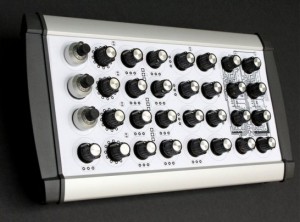 Ken MacBeth, of MacBeth Studio Systems, is working on a new synth, the MacBeth Micromac desktop analogue synthesizer.
MacBeth says:
Behind the scenes I have still been concentrating on the MacBeth Micromac desktop analogue synthesizer!
Here is a picture of the casing that I have just received from a German metalwork company that will ultimately be the the Micromac enclosure. I have place a PCB layout diagram (partially complete) on the top surface to guage positioning…
Feature overview:
3 x VCOs with multiturn pots
1 x LFO
Mixing
X-Modulation
24dB/O?ctave Filter
2 x Transistor based EGs
MIDI
The MacBeth Micromac is under development, so pricing and availability are TBA.
VELVET VOYAGE – "Music Of The Spheres" – Performed live by Bruno Ender Lee, July 10. 2011
ARP Odyssey (& Doepfer MAQ-Sequencer), MacBeth M5N (Bass), Synthesizers.com Studio-88 (Leads & FX), Moog Little Phatty & Absynth 4 (Leads), Roland Juno-60 (Wind-FX), Roland D-70 & Korg MS2000 (Pads), Moog Etherwave Theremin
Here is a quick video of the MacBeth Mk1 'Majestic 12′ System in operation. It's basically four Analogue Syntrhesizers in one! Each synth features 3 x VCOs/1 x Mixer/1 x 24dB/Octave Transistor Ladder Filter/1 x 12dB/Octave State Variable Filter and 2 x Dual Envelope Generators with built in output VCAs.
This was recorded directly into the Canon 60D that I use- and on edit- as scene fades into scene- the sounds overlap a bit.
The sequencer here is an ensoniq ASR-10- a fantastically easy sequencer to use. Also used is a four channel MIDI to CV converter- a Kenton Pro4.
It's a short vid- shot in HD, hence the size!
Here is the first demo- if not basic- of the the new Macbeth X-Series Dual SV (State Variable) Filter module. Being used in conjucntion with it are 2 x X-Series Oscillators (along with sub octaves) giving a very rich sound! Listen out for the stereo sample and hold modulation. When the switch is thrown to invert on one modulation channel- the stereo becomes very aparent. Remember- this is just one module doing the proccessing!Also seen here is a prototype idea for a six input mixer with noise- not dissimilar to the 8 input Mixer 'A' from my Mk1 Series…..
The Dual SV Filter is being swept by one EG from the Mk1 Dual EG module. Audio and control jacks in the the Dual SV Filter are normalised.
Here is a demonstration of the MacBeth M5N being played in 3 note polyphonic via a Kenton Pro4 in polyphonic cyclic mode! I believe that the Pro2000 unit will also do the same thing.
Each of the oscillators on the M5N gets its own CV from the Pro4. I wish my keyboard skills were a little bit better- but this will give you some idea!
Ised three cams for this- a Canon 60D, a Nikon D90 and my small Sanyo Xacti camera that sat on a tripod above things!
Hope you enjoy, Ken M
PS- Sadly, there is a squawky 'artifact' on this vid……=/