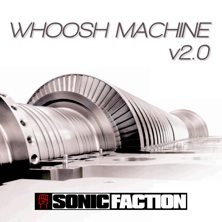 Sonic Faction has introduced Whoosh Machine v2.0 for Ableton Live 9, an effects creation tool designed for creating 'face-melting' transitions.
Key Features:
Major update to the original instrument? 'this is the Whoosh Machine on steroids'.
Live 9 browser support: Search for effects based on keywords and categories.
High quality sampled white noise and sampled analog oscillators.
Built in Filter & Pitch Envelopes for one-push auto sweeping.
Integrated LFO's for rhythmic textures and pitched mayhem.
8 filter types, built in Multi FX Rack.
Includes 50 custom made clips for drag/drop whoosh intervals.
Here's an audio demo of Whoosh Machine v2.0:
Subatomic Software has announced the release of Audulus 2.1 for iPad and Mac. This update to the modular music processing app adds support for JACK on iPad, as well as five new nodes for both iPad and Mac versions.
JACK for iOS is a free app that allows JACK-compatible apps such as Audulus to be connected in any way, with the only restriction being CPU power.
"JACK is a mature, powerful inter-app audio system," explains Audulus developer W. Taylor Holliday. "It's great to see it ported to iOS."
Audulus 2.1 introduces the Poly Pack, an In-App-Purchase upgrade consisting of four new nodes which facilitate stereo and quadraphonic processing of audio input. Audulus nodes can process multiple channels of audio.
"Previously, the only way to generate a polyphonic signal in Audulus was via the Keyboard node in Poly Mode," explains Holliday. "Now, you can do polyphonic processing of audio input. You can even use the QuadToMono node to apply separate processing chains to each voice of a synth."
"I'm not aware of another app on iOS that gives you this fine-grained control of multi-channel processing," adds Holliday.
Version 2.1 also adds a phasor node (not to be confused with the phaser effect), which outputs a phase angle suitable for driving custom oscillators.
Audulus development is user-driven, and these new features were requested by users on the Audulus forum.
Audulus for iPad is available on the App Store for $9.99, 30% off for the remainder of June to celebrate JACK support.
Audulus for Mac is available on the Mac App Store for $29.99.
Koushion was just updated, adding a host of new features that make it an even more powerful music composition and production tool. It now has eight independent layers, each with its own MIDI Channel, Scale, Octave, Clock Divider and more. Each layer can have a different number of scenes (up to eight), making long, evolving patterns possible.
It works great with external hardware synths and softsynths, as well as other iPad music apps. Use this link to download Koushion: http://appstore.com/koushion
Some extra footage from a video that 'Experimentalsynth' created for the Koushion Step Sequencer app.
Fingerlab has announced Musyc, the a fun and innovative music application where touch turns into music, details below:
Discover the new music application by Fingerlab, winner of the Apple Design Award 2012 for DM1 – The Drum Machine.
Musyc on the AppStore :
https://itunes.apple.com/us/app/musyc…
Musyc is a fun and innovative music application where touch turns into music.
No use of piano keyboard or partitions, draw shapes and listen to your piece of music while viewing sounds bouncing on the screen.
Enjoy the 64 instruments (organized into 16 groups) exclusively created and produced at Fingerlab music studio as well as all the exciting and new physical and music tools provided in Musyc.
Musyc is free and its full version is available through in-app purchases.
WARNING: Musyc is not compatible with iPhone 4, iPhone 3GS, iPod touch 3 and iPod touch 4.
Features:
-Graphic design by Jonas Eriksson
-Retina Display
-Optimized for iPhone 5 and new iPad
-High quality sound engine
-Ultra-realistic physical engine
-Audio track mixer (level, pitch, length, pan, mute)
-2 effect channels with 5 effects (Delay, Overdrive, Reverb, Dalek, Compressor)
-Physical sequencer
-Motion recorder
-Advanced physical objects (planet, black hole, modulator, …)
-Real-time audio recording
-High-quality or compressed exports (DropBox, SoundCloud, Mail, AudioCopy and iTunes)
Watch Musyc video trailer:
http://vimeo.com/channels/musyc
Coming soon in next updates:
-iPhone4 & iPodTouch optimization
-Import & Export song project (DropBox, Mail, iTunes)
-User sound kit with samples import
-Audio background support
-Wist synchronization
-Midi synchronization
-AudioBus support
More info: http://bit.ly/175awvf
In this video, Reason guru James Bernard takes a look at Propellerhead Reason 7′s new features including MIDI / CV output, the spectrum EQ analyzer, parallel processing, some new retro effects, and the addition of ReCycle to the already powerful music production and sound design software.
Just a test! For more info see:
http://www.apple.com/ipad/
http://www.faberacoustical.com/ios_ap…
http://www.behringer.com/EN/Products/…
http://cs80-com.myshopify.com/product…
http://www.synthtech.com/motm.html
And ALL your questions can be answered on the best forum on Earth (especially for modular synthesizers and cats . . . . but mostly cats . . . ):
http://www.muffwiggler.com/forum/inde…
Music Creator 6 Touch is now available on Steam!
http://store.steampowered.com/app/222…
Music Creator 6 Touch makes it fun and easy to create original music or remix your favorite songs – with no musical experience required. Transform any Windows 7 or 8 computer into your own personal music studio. Music Creator has all the tools, loops, instruments, and FX you need to create, edit, and mix great music. And when you're ready to share your music with the world, you can burn a CD or use SoundCloud to post your music on Facebook and Twitter.
Music Creator 6 Touch also adds touch support for Intel-inspired Ultrabooks and other Windows 8 touch enabled devices. Use the same multi-touch gestures you've grown accustomed to on your smartphone to interact with Music Creator 6 Touch.
Watch the new promo video which features the song "Want You Gone" which was created using Music Creator 6 Touch
Get Frame at http://www.reaktortips.com/2013/05/fr…
Frame is a simple Reaktor sampler Peter Danes has created to implement a type of freeform looping and creative sampling he felt was missing from most other software samplers on the market. Frame allows you to define a window of sound and sweep it across the sample as it plays without glitching or popping.
Covering the basic creation of a new pattern using the Quicksilver 303 CPU upgrade for the TB-303. Notice that the pattern can be programmed while the sequencer is running, which wasn't possible on the original 303.
Just playing with some of the factory preset FX from this great app by Sugar Bytes
Turnado is a revolutionary multi-effect tool, crafted especially for massive real-time audio manipulation. It combines unique and dynamic effects with the most intuitive and immediate control you can imagine. Just turn it on and crank it up.
In the studio, simply dial in your effect from a super-sweet selection of 24 pro-quality algorithms, then mash up your audio content with minimum fuss, quickly adding dynamic variation to your arrangements. Take it to the stage and unleash Turnado's true power. With instant access to eight effects and immediate control over key parameters, Turnado is guaranteed to cause devastation on the dance floor, shredding beats and crunking breaks to insane proportions.
The idea is simple:
Turn a knob and the effect is on.
Turn the knob further to adjust effect parameters and apply modulations.
Turn the knob down and the effect is off.
With its instantaneous, one-knob, multi-parameter modulation features, Turnado will lay waste to the audio landscape. Giving you the power to crunch, chop, twist, mash and elevate your music to new levels, Turnado will have you creating wicked new sounds that will blow any crowd away.
Unlocking the power of your MIDI controller each effect requires only one knob to control it. Underneath this simplicity lies a matrix of effect parameters and modulation engines, all controlled by the main knob. This control matrix provides serious depth to the plugin and gives you the ability to create original and truly unique effect programs.
If the power of one-knob action still doesn't rock your boat, the awesome "Dictator" mode will sink your battleship. It allows you to animate all the main knobs and run that animation with just one fader. That's one fader, controlling up to 8 different effects, with potentially hundreds of parameter changes!
Turnado's primary focus is on beat manipulation, so you will find lots of loopers, slicers and grain tools in the rack. Alongside these beat-mashing effects are an arsenal of distortions and filters as well as first-class delays and reverbs. With extensive modulation possibilities each effect can produce millions of unbelievable variations that can be morphed and twisted into something new every time you tweak those knobs.
Turnado will inspire you again and again, delivering completely new variations of your original sounds and grooves every time, so what are you waiting for…turn it on.
Turnado comes for Mac/PC as Standalone application and VST/AU/RTAS/AAX plugin.
Turnado takes realtime audio manipulation to the next level.
Just assign effects to knobs and crank them up! Lots of new
granulizing, freezing, filtering, slicing, looping and scratching effects
have been developed to make Turnado the best effect you ever had!