July 10, 2013 · Posted in
Uncategorized
·
Comments Off

on Experiemental: Blue Beat
Blue Beat is a collective, collaborative, choreographic, giant orchestra. By moving over the instruments, registered by a camera, different sounds are triggered from a music computer. At the same time a video beamer mapped to paintings on the wall lit up as a visual reference for the performers. Blue Beat is a part of the Mini Maker Space project at Sweden's National Museum For Technology And Science and one of 3 projects invented and built by Håkan Lidbo and a team of collaborators. Per-Olov Jernberg did the programming and built the electronics, Tom Walston did the paintings and Frida Vega Salomonsson took the photos in the film below. The project can been experienced at the museum June- December 2013.
July 4, 2013 · Posted in
Uncategorized
·
Comments Off

on Beat Making – Using iPhone Sounds
For more information:
Anything can be used to make beats, just using your imagination!
eBook – http://howtomakeverysickbeats.com/hip…
Follow us Twitter @JFilt
Like us Facebook @ http://www.facebook.com/pages/Verysic…
Soundcloud- http://www.soundcloud.com/verysickbeats
Bandcamp- http://verysickbeats.bandcamp.com
I decide to test myself with using only sounds from the iphone and a familiar breakbeat.
June 30, 2013 · Posted in
Uncategorized
·
Comments Off

on Twelve Tones – an introduction
This video is a nice introduction to dodecaphonic music theory
Twelve-tone technique—also known as dodecaphony, twelve-tone serialism, and twelve-note composition—is a method of musical composition devised by Austrian composer Arnold Schoenberg (1874–1951). The technique is a means of ensuring that all 12 notes of the chromatic scale are sounded as often as one another in a piece of music while preventing the emphasis of any one note through the use of tone rows, an ordering of the 12 pitches. All 12 notes are thus given more or less equal importance, and the music avoids being in a key. The technique was influential on composers in the mid-20th century.
Schoenberg himself described the system as a "Method of Composing with Twelve Tones Which are Related Only with One Another". However, the common English usage is to describe the method as a form of serialism.
Schoenberg's countryman and contemporary Josef Matthias Hauer also developed a similar system using unordered hexachords or tropes—but with no connection to Schoenberg's twelve-tone technique. Other composers have created systematic use of the chromatic scale, but Schoenberg's method is considered to be historically and aesthetically most significant.
June 28, 2013 · Posted in
Uncategorized
·
Comments Off

on Roland GR-700 Turbo PLUS – Vintage GR-700 with GR-100 Polydistortion and 13-pin Input
http://www.joness.com/gr300/GR-700.ht…
The GR-700 Turbo PLUS adds the sound of the GR-100 hexaphonic polydistortion to the Roland GR-700, with all the original features of the GR-700 Turbo. This includes a modern 13-pin input, top panel controls for string level and filter cutoff and EDIT parameters. The PLUS also adds a latching sustain input. The GR-700 Turbo PLUS has the ability to blend analog distortion with synthesizer tones for new synth sounds never heard before.
June 26, 2013 · Posted in
Uncategorized
·
Comments Off

on MikroWave – music sequencer for Android now w/ renewed audio engine
Demo of MikroWave 1.5.0 running on a Asus Nexus 7 tablet (though it will run fine on mobile phones as well). As of this version, the audio engine has been overhauled to run in a native layer for high performance audio with low latency (the delay between an action and hearing the result).
Devices running Android 4.2 (Jelly Bean) should benefit greatly with an extra increase in performance, while the application runs from Android 2.3.3 (Gingerbread) upwards.
You can try it for free (NO ads, NO time limits) on Google Play:
https://play.google.com/store/apps/de…
June 25, 2013 · Posted in
Uncategorized
·
Comments Off

on mikrosonic RD4 Groovebox for Android
Get the free demo version on Google Play: https://play.google.com/store/apps/de…
Turn your phone or tablet into a musical instrument! RD4 – Groovebox is a music making app with virtual analog synthesizers, drum machines and effects.  Compose and arrange your music in real-time. Choose instruments individually for the 4 channels. Record live or set notes with the dedicated sequencer or piano roll of each instrument. This multi-touch enabled app makes it simple to invent unique loops and musical phrases. Manipulate the sound of the synthesizers by tweaking the oscillators, resonant filters and audio envelopes. Add audio effects like reverb, distortion, phaser, filter and delay to your sounds. Appropriate both for experienced musicians and beginners. Loops you've created and exported with RD4 can also be automatically integrated into mikrosonic's audio mixer app SPC – Music Sketchpad.
Feature Overview
Mixer:
– 4 channel rack mixer
– Instrument selection for each channel
– Volume control with level meter per channel
– Direct audio effect channel assignment
– Tempo control with tap tempo
– Channel mute and solo
Sequencer:
– 2 banks with up two 8 bars per instrument
– Adjustable play modes from 1 to 8 bars and random modes
– Song Mode with a length of up to 99 bars
Choose between two virtual analog synthesizers and the drum machine for each channel:
Analog
– Modeled after legendary monophonic synths of the '70s
– For fat sounding bass and powerful lead sounds
– 3 oscillators with 6 different waveforms
– Each oscillator can be tuned precisely and has a warmth control for the typical analog sound
– Attack, Decay, Sustain and Release envelope generator
– Pitch wheel
– Low-pass filter (24dB/oct, 4-pole) with knobs for cutoff, resonance and an Attack/Decay/Sustain envelope generator
– Recording of played notes in real-time (depending on devices capabilities)
– Piano roll for editing recorded notes comfortably
– Or compose by drawing notes directly with the piano roll in 1/16 or 1/32 resolution
– Piano roll editing features: Transpose Pattern, Shift Sequence and Quantize Pattern
Bassline
– Reminiscent of the legendary 303 synthesizer
– Create bubbling basslines and screaming lead sounds
– High-quality low-pass filter with resonance, cut-off, and envelope controls
– Oscillator with 4 types of waveforms
– Real-time step sequencer with accent and slide
Beats
– Program beats with 10 classic drum kits: 808, 909, 606, CR-78, Linn, KR55, RX11, RZ1, DMX, DPM48
– Booming kick drums, snappy snares and throbbing percussions
– 8 channels per drum kit
– Punch control for volume and envelope adjustments
– Accent programmable for each drum channel
– Free assignable effects for each drum sound
– Channel mute, Closed Hi Hat can mute the Open Hi Hat
– Real-time pattern based step sequencer
Audio effects:
– 5 effects: Reverb, distortion, filter, phaser and delay
– Real-time controllable
– X/Y control field for each effect
– 4 effect sends
– Chaining of 2 effects
Technical features:
– Customized layouts for phones, 7 and 10-inch tablets
– Special additional rack view in portrait mode for 10-inch tablets
– Multi-touch control
– Live session recording
– Audio loop export feature
– SoundCloud Sharing Kit integration
– Session save capability
– Cut/copy/paste pattern
– OpenSL support for low latency*
– App2SD
System Requirements:
– Android 4.0 or higher
– Screen resolution 800×480 (WVGA) or higher
– 1 GHz CPU or faster supporting ARMv7
* Please note that for recording in real-time with the Analog synthesizer you will need a low latency Android device with Android 4.2 like the Google Nexus 4 or 10 or the Samsung Galaxy Nexus. Read more about audio latency on our FAQ: http://www.mikrosonic.com/faq
More details at: http://www.mikrosonic.com/rd4
June 25, 2013 · Posted in
Uncategorized
·
Comments Off

on Yello: The Yellofier App – Anything becomes music
Yello's Boris Blank has teamed up with Swedish producer Håkan Lidbo for the new Yellofier app, which can turn any sound into music.
Use preinstalled tracks by music giants like Carl Craig, Trentemøller, Booka Shade, Matt Johnson and many more and take them to where you like or upload and mash your own tracks!
Head over to the App Store and try it out!
For everything else, head over to electronicbeats.net, follow us on facebook or Twitter @EBnet !
June 20, 2013 · Posted in
Uncategorized
·
Comments Off

on Sonos Playground Deconstructed – Museum of the Moving Image
Sonos Playground Deconstructed is a site-specific installation in the Nam June Paik / HBO Production Lab at the Museum of the Moving Image. It is presented in conjunction with the exhibition Spectacle: The Music Video, April 3–June 16, 2013
Visitors are able to select any song from an iPad and watch a visualization of the music projected onto the surrounding walls. Through motion-capture technology, visitors can interact with and manipulate the animation through movement.
The installation aims to bring minimalist art to life as an immersive music video environment. Inspired by the wall drawings of Sol LeWitt and the room-flooding sound of the Sonos Playbar, Sonos Playground was originally installed in a 250 sq. ft shed at the Sonos Studio at the 2013 SXSW festival. At Museum of the Moving Image, Sonos Playground Deconstructed has re-imagined the experience using five detached walls suspended above a reflective floor. Each of the walls has been painted with 27 1-inch wide white lines and 26 2-inch wide black lines. By mapping the white lines set between black lines we were able to create a more immersive and surreal environment.
Installation by Aramique, Red Paper Heart, Fake Love
Fabrication by 11th St Workshop.
Music by Gary Gunn.
Director of photography Sesse Lind.
Editor Nathan Punwar
June 15, 2013 · Posted in
Uncategorized
·
Comments Off

on SoundMorph's Galactic Assistant Synthesizer
We've written about this interesting tool in a previously, but Soundmorph has decided to make it available outside of the library it is normally bundled with. $19 for a UI synth anyone? Check it out here.
Galactic Assistant is a synthesizer tool used for creating high-tech sci-fi interface sounds. It's free for a limited time with the "Users of Tomorrow" sound effects library.
visit www.soundmorph.com for more details.
June 13, 2013 · Posted in
Uncategorized
·
Comments Off

on Reason Rack Extension: AutoTheory Harmonic Engine – generating melodies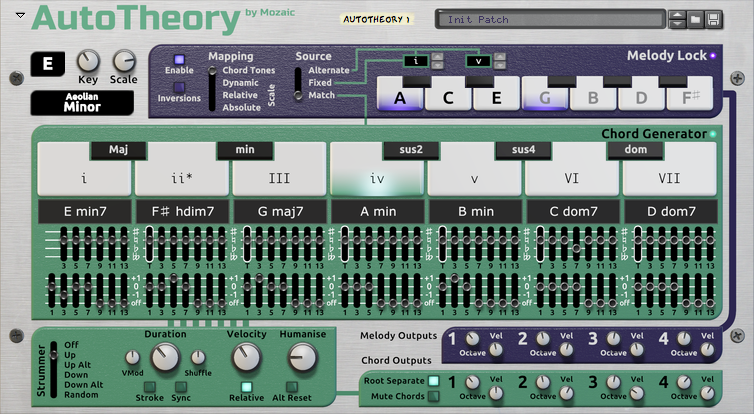 The AutoTheory Harmonic Engine enables anyone, regardless of musical theory or keyboard training, to easily create professional-sounding melodies and harmonies.
AutoTheory makes it easy to play in harmony. Simply choose a key and a scale and AutoTheory will map all relevant chords and notes to the keys of your keyboard. Connect it to one or more Reason instruments and it will transform the way you play.  Play full chords with just one finger. Experiment by modifying chords with the chord sliders and modifier keys. Adjust individual chord note voicings and transpose or remove any note to create a customised chord. Create your own scales or select one from the many provided. Use what sounds good to you.
AutoTheory automatically remaps notes to match your chords. Now you can easily improvise melodies that sound good. Maintain your hand in the same position while composing melodies over different keys, scales and chord configurations. Optionally lock specific chord tones to fixed white keys. Four mapping modes accommodate different levels of user experience.  All controls in AutoTheory can be automated for easy transitions anywhere in a song. This means you can change the key or scale in the middle of a song without moving your hands.
AutoTheory also provides a Strum effect that can be used to add drama to any chord. Subtle and extreme timing changes are easily applied and fully CV-controllable.  AutoTheory can control multiple instruments at once. One option sends the root note of chords to a dedicated bass instrument. Four chord and four melody channels provide independent control of velocity and octave for each connected instrument. This allows you to create a rich soundscape – all from a single sequencer lane or just your own hands.  CV inputs are provided, which are useful for driving AutoTheory with Arpeggiators and Pattern sequencers.
Check out the included Demo Songs that demonstrate how to use AutoTheory. A set of useful Combinators is also provided.
This guide shows how Mozaic's AutoTheory Rack Extension applies to music theory.
For a free demo of AutoTheory please visit http://shop.propellerheads.se/product…
For the main tutorial, please watch http://youtu.be/hQVnfd3WGyM.