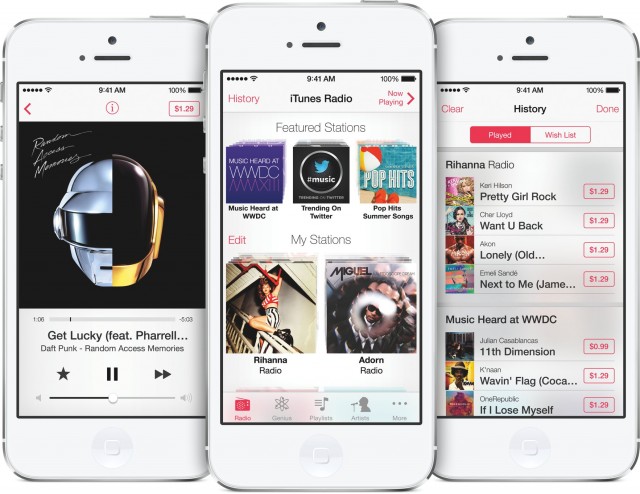 "Whether it's an exclusive single from an up-and-coming band or a pre-release stream of an entire album, iTunes Radio has it all. iTunes Radio will also be home to special events including live streams direct from the iTunes Festival in London and other exclusive iTunes Sessions."
So will this be the death sentence for the likes of Spotify, Pandora and Last.fm – perhaps / perhaps not. It will all boil down to the catalogues available, niche segmentation on music, ability to differentiate and size of user base, but it is clear that this will have an impact going forward. What may lie in favor of the existing players is that Apple will most likely not be an indie lover, as share holder profits come first and one may expect that there will be room for those who really differentiate on music – not just music for the masses. There's reason to assume this may be a long game going forward. While musicians may well wind up being as impoverished as always, the companies serving up the streams might eventually want to profit – Spotify for one is still chasing growth rather than profit, something that might have to change now.
"It's the music you love most and the music you're going to love, and you can easily buy it from the iTunes Store with just one click."
Apart from iRadio we were also treated with the all time fattest Mac Pro to date: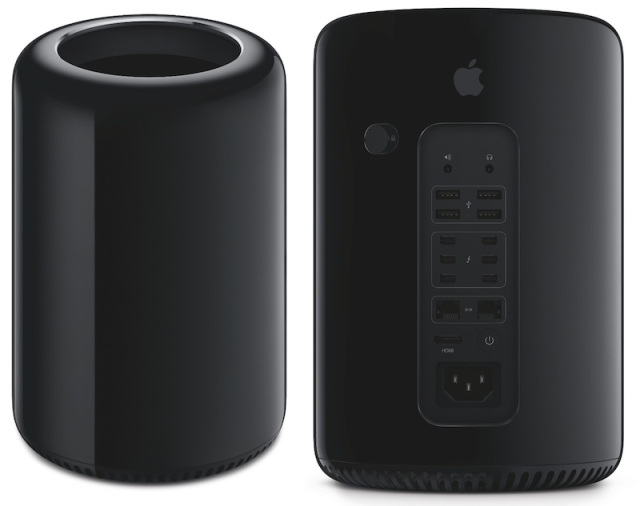 The next generation Mac Pro is architected around an ingenious unified thermal core that allows the desktop to efficiently share its entire thermal capacity across all the processors. The result is a pro desktop with breakthrough performance packed into a design that is one-eighth the volume of the current Mac Pro.
face-meltingNext generation Intel Xeon E5 processors with up to 12 core configurations deliver double the floating point performance. With two AMD FirePro workstation-class GPUs, the all-new Mac Pro is up to 2.5 times faster than the current Mac Pro and delivers up to an amazing 7 teraflops of compute power.
The new Mac Pro also features PCIe-based flash storage that is up to 10 times faster than conventional desktop hard drives and includes the latest four-channel ECC DDR3 memory running at 1866 MHz to deliver up to 60GBps of memory bandwidth. With all that power, the new Mac Pro lets you seamlessly edit full-resolution 4K video while simultaneously rendering effects in the background.
The next generation Mac Pro is the most expandable Mac® ever built. With six Thunderbolt 2 ports that can deliver up to 20Gbps of bandwidth to each external device, Mac Pro is perfect for connecting to external storage, multiple PCI expansion chassis, audio and video breakout boxes, and the latest external displays, including 4K desktop displays. Each of the six Thunderbolt 2 ports supports up to six daisy-chained devices, giving you the ability to connect up to 36 high-performance peripherals. Thunderbolt 2 is completely backwards compatible with existing Thunderbolt peripherals, and allows you to transfer data between Macs faster and easier than ever.
iOS 7: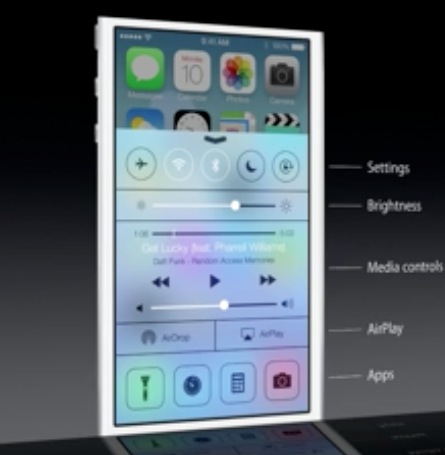 Well of course iOS has gotten a well deserved and long awaited face lift, but looking specifically at it from a music creation perspective the news are meager, but three things stand out though –
Multiple pages in folders
Multitasking for all apps
Automatic app updates will be a good thing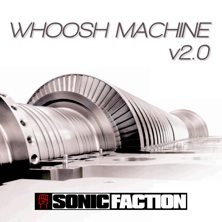 Sonic Faction has introduced Whoosh Machine v2.0 for Ableton Live 9, an effects creation tool designed for creating 'face-melting' transitions.
Key Features:
Major update to the original instrument? 'this is the Whoosh Machine on steroids'.
Live 9 browser support: Search for effects based on keywords and categories.
High quality sampled white noise and sampled analog oscillators.
Built in Filter & Pitch Envelopes for one-push auto sweeping.
Integrated LFO's for rhythmic textures and pitched mayhem.
8 filter types, built in Multi FX Rack.
Includes 50 custom made clips for drag/drop whoosh intervals.
Here's an audio demo of Whoosh Machine v2.0:
Subatomic Software has announced the release of Audulus 2.1 for iPad and Mac. This update to the modular music processing app adds support for JACK on iPad, as well as five new nodes for both iPad and Mac versions.
JACK for iOS is a free app that allows JACK-compatible apps such as Audulus to be connected in any way, with the only restriction being CPU power.
"JACK is a mature, powerful inter-app audio system," explains Audulus developer W. Taylor Holliday. "It's great to see it ported to iOS."
Audulus 2.1 introduces the Poly Pack, an In-App-Purchase upgrade consisting of four new nodes which facilitate stereo and quadraphonic processing of audio input. Audulus nodes can process multiple channels of audio.
"Previously, the only way to generate a polyphonic signal in Audulus was via the Keyboard node in Poly Mode," explains Holliday. "Now, you can do polyphonic processing of audio input. You can even use the QuadToMono node to apply separate processing chains to each voice of a synth."
"I'm not aware of another app on iOS that gives you this fine-grained control of multi-channel processing," adds Holliday.
Version 2.1 also adds a phasor node (not to be confused with the phaser effect), which outputs a phase angle suitable for driving custom oscillators.
Audulus development is user-driven, and these new features were requested by users on the Audulus forum.
Audulus for iPad is available on the App Store for $9.99, 30% off for the remainder of June to celebrate JACK support.
Audulus for Mac is available on the Mac App Store for $29.99.
Koushion was just updated, adding a host of new features that make it an even more powerful music composition and production tool. It now has eight independent layers, each with its own MIDI Channel, Scale, Octave, Clock Divider and more. Each layer can have a different number of scenes (up to eight), making long, evolving patterns possible.
It works great with external hardware synths and softsynths, as well as other iPad music apps. Use this link to download Koushion: http://appstore.com/koushion
Some extra footage from a video that 'Experimentalsynth' created for the Koushion Step Sequencer app.
Fingerlab has announced Musyc, the a fun and innovative music application where touch turns into music, details below:
Discover the new music application by Fingerlab, winner of the Apple Design Award 2012 for DM1 – The Drum Machine.
Musyc on the AppStore :
https://itunes.apple.com/us/app/musyc…
Musyc is a fun and innovative music application where touch turns into music.
No use of piano keyboard or partitions, draw shapes and listen to your piece of music while viewing sounds bouncing on the screen.
Enjoy the 64 instruments (organized into 16 groups) exclusively created and produced at Fingerlab music studio as well as all the exciting and new physical and music tools provided in Musyc.
Musyc is free and its full version is available through in-app purchases.
WARNING: Musyc is not compatible with iPhone 4, iPhone 3GS, iPod touch 3 and iPod touch 4.
Features:
-Graphic design by Jonas Eriksson
-Retina Display
-Optimized for iPhone 5 and new iPad
-High quality sound engine
-Ultra-realistic physical engine
-Audio track mixer (level, pitch, length, pan, mute)
-2 effect channels with 5 effects (Delay, Overdrive, Reverb, Dalek, Compressor)
-Physical sequencer
-Motion recorder
-Advanced physical objects (planet, black hole, modulator, …)
-Real-time audio recording
-High-quality or compressed exports (DropBox, SoundCloud, Mail, AudioCopy and iTunes)
Watch Musyc video trailer:
http://vimeo.com/channels/musyc
Coming soon in next updates:
-iPhone4 & iPodTouch optimization
-Import & Export song project (DropBox, Mail, iTunes)
-User sound kit with samples import
-Audio background support
-Wist synchronization
-Midi synchronization
-AudioBus support
More info: http://bit.ly/175awvf
In this video, Reason guru James Bernard takes a look at Propellerhead Reason 7's new features including MIDI / CV output, the spectrum EQ analyzer, parallel processing, some new retro effects, and the addition of ReCycle to the already powerful music production and sound design software.
Just a test! For more info see:
http://www.apple.com/ipad/
http://www.faberacoustical.com/ios_ap…
http://www.behringer.com/EN/Products/…
http://cs80-com.myshopify.com/product…
http://www.synthtech.com/motm.html
And ALL your questions can be answered on the best forum on Earth (especially for modular synthesizers and cats . . . . but mostly cats . . . ):
http://www.muffwiggler.com/forum/inde…
Music Creator 6 Touch is now available on Steam!
http://store.steampowered.com/app/222…
Music Creator 6 Touch makes it fun and easy to create original music or remix your favorite songs – with no musical experience required. Transform any Windows 7 or 8 computer into your own personal music studio. Music Creator has all the tools, loops, instruments, and FX you need to create, edit, and mix great music. And when you're ready to share your music with the world, you can burn a CD or use SoundCloud to post your music on Facebook and Twitter.
Music Creator 6 Touch also adds touch support for Intel-inspired Ultrabooks and other Windows 8 touch enabled devices. Use the same multi-touch gestures you've grown accustomed to on your smartphone to interact with Music Creator 6 Touch.
Watch the new promo video which features the song "Want You Gone" which was created using Music Creator 6 Touch
Get Frame at http://www.reaktortips.com/2013/05/fr…
Frame is a simple Reaktor sampler Peter Danes has created to implement a type of freeform looping and creative sampling he felt was missing from most other software samplers on the market. Frame allows you to define a window of sound and sweep it across the sample as it plays without glitching or popping.
Covering the basic creation of a new pattern using the Quicksilver 303 CPU upgrade for the TB-303. Notice that the pattern can be programmed while the sequencer is running, which wasn't possible on the original 303.