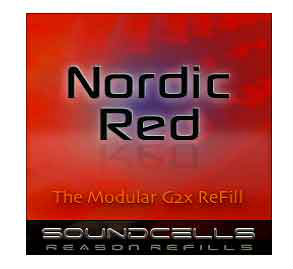 Soundcells has released Nordic Red version 2, a ReFill based on samples from the Nord Modular G2x synthesiser. They believe that it is especially great for film scores, game music, ambient and experimental music.
Version 2 adds 250 Mb of new Nord Modular G2 samples, new combinator patches and changes in detail.
Nordic Red v2 Contents:
•  140+ impressive combinator patches.
•  170+ NNXT patches containing the basic patches which were used to build the combinators.
•  850+ 44 khz 24bit samples, 1.3 GB uncompressed.
•  Great for film scores, game music, ambient & drones but also modern dance styles.
•  11 demo files with 'tutorialesque' value are included.
Pricing and Availability:
Introductory price is 18.90 EUR (normally 24.90 EUR).
'Prepare yourself for a journey where your creativity can reach new levels' – this statement from the 'Welcome' section of the G2 manual is a perfect description of what you can expect from the Nordic Red ReFill. The ability to create an unlimited range of individual sounds will not only provide you with "otherworldly" atmospheric stuff, the deepest textures and great keys, but also with surprisingly "in-your-face" bass patches and wonderful pads when diving into this ReFill. The "self-playing" patches (called "Noodles" in the G2), for example, are great starting points to create some ultra-deep atmospheric textures – an ideal entry for composing film scores or game music. Or simply pitch down the samples to listen to the "hidden magic" inside these up to 90 seconds long 'Noodle' recordings. Version 2 adds 20 combinator patches based on 250 mb of new Modular G2 samples …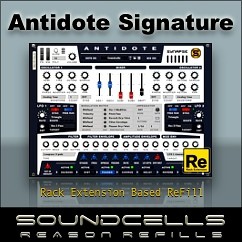 Soundcells has announced version 2 of the Antidote Signature ReFill for Propellerhead Reason.
Antidote Signature is based on the Antidote Rack Extension from Synapse Audio and it brings highly playable and great sounding patches to the user's hand.

It´s not genre-specific, so Wurlitzer-like pianos, modern screaming but also classic hardware-like leads, punching basses, warm & rich pads and surprising textures emphasize why this little gem should be part of everybody´s portfolio … Version 2 features 15 new combinator & 20 new Antidote patches …
Antidote Signature v2 features
85 combinator patches.
120 individual Antidote patches: Atmos & Textures, Bass, Keys, Leads, Pads, Rhythmic, SFX.
Well balanced volume settings & carefully assigned modwheel and combinator buttons and knobs.
The ReFill is available to purchase for 9.90 EUR.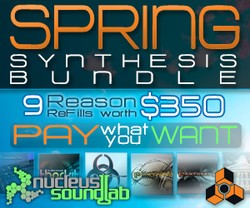 Nucleus SoundLab has announced that it has added Viral Outbreak to the Spring Synthesis ReFill Bundle.
Another Reason ReFill has been added to Nucleus SoundLab's Spring Synthesis ReFill Bundle. Viral Outbreak ($69 value) is now available for all purchasers who pay $49.99 or more!

Viral Outbreak brings the Virus TI synthesizer to Reason. 2.5Gb of samples and 180+ soundsets of cutting-edge electronica sounds are included. Not only that, a brand-new expansion bank of 32 patches is exclusively available with the bundle! These new patches by Tom Pritchard are highlighted by a focus on new Reason effects, including Alligator, Pulveriser, and The Echo.

The Spring Synthesis now encompasses 9 ReFills with a regular price of over $350 – at a Pay-What-You-Want price. Remember, the sale ends May 28th, 2012.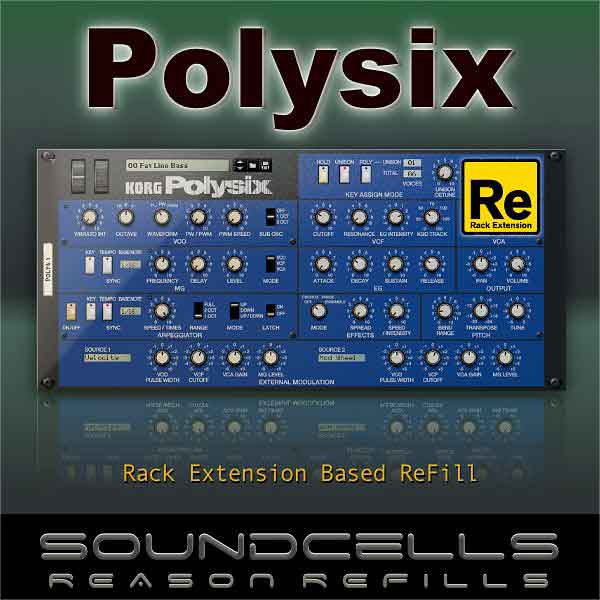 Just released in version 2 is Soundcells' PolysixRE Refill.
Here's the details:
The original Polysix, introduced in 1981, was a big success because of its warm sound character (as well as other features, of course) – and the same applies to the Polysix Rack Extension. Despite this synth`s quite simple architecture, the Polysix is capable of producing wonderful warm sounding pads, very responsive keys, but also super-dry and fat basses. This Polysix-based ReFill is a proof of this, and it is pure fun to use the 85+ combinators. These combinators, based on 60 new Polysix patches (and a handful others for Reason´s own synths) are sitting extremly well in any mix. Using all the modularity Reason has to offer, this ReFill will please you with really nice retro but also many modern sounds. No matter your preference – the patches will always do a great job in your tracks.
Further the modwheel & the combinator buttons and knobs are carefully assigned to allow dramatic and effective changes to the default sounds you´ll be hearing initially.
Version 2 simply offers more of everything: 15 new combinator patches, 15 new Polysix patches and a re-worked folder structure…
PolysixRE v2 Contents:
• 87 combinator patches – from retro to modern.
• 60 Polysix patches containing the basic patches which were used to build combinators.
• Carefully assigned modwheel & combinator button and knobs.
• CPU-friendly and fast loading patches.

Pricing and Availability:
9,90 EUR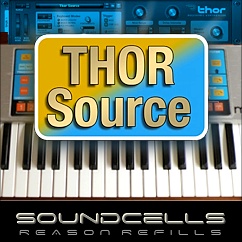 "Thor Source v4" is adequately emulating a well known classic from Moog: the Source. Thor's modular design gave us the chance to rebuild the Source's details with great accuracy. Then we copied our favorite Source patches with great ease into Thor and after this we managed to take those sounds numerous steps further. The sounding results however stayed amazingly close to the Source's character. In this ReFill's documentary folder you'll find proof of this. Thor makes the Source polyphonic and velocity sensitive as well. By now you'll understand that this ReFill goes way beyond only emulating the past. Thor Source offers you deep and fat basses, retro and nu style leads, wonderfull keyboard sounds, mouth watering pads, analog drums and more. Version 2 & 3 added four sampled raw oscillator settings from the original synthesizer as also fully sampled Moog Source sounds, new combinator patches and new backdrops.
Version 4 adds 15 new combinator patches, 10 new rex loops and a reworked folder structure for a much easier use of this ReFill.
Thor Source v4 Contents:
– 229 combinator patches:
25 original documentary patches each in 4 versions.
74 combinator patches making full use of Reason's devices.
55 combinator patches based on the sampled raw oscillator settings and the fully sampled ones.
– 40 new rex loops.
– 370+ Moog Source samples in 44Khz / 24 bit.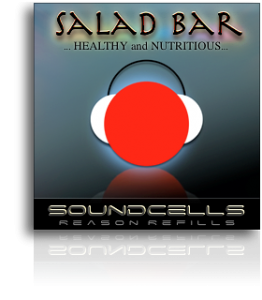 Soundcells tells us that Version 8 of their evergrowing ReFill project, Salad Bar, is stuffed with 30 new combinator patches coming from the Soundcells ReFills "PolysixRE" and "Antidote Signature", plus 15 new Salad Bar exclusives. They say that Salad Bar´s patches will cover all kinds of music styles showing you the very best Soundcells has to offer.
A spokesperson told us, "With its almost 380 combinators in total, this ReFill simply is a "must-have" for every producer´s collection."
Salad Bar v8 Contents:
• 252 combinator patches coming from all Soundcells ReFills.
• 125 Salad Bar exclusive combinator patches.
• 359 well balanced patches for Thor, Malstroem, Subtractor, NNXT, Antidote, Polysix and ReDrum.
• 60 rex loops.
• The modules folder contains the basic synth and NNXT patches which were used for the combinator sounds.
• 8 tracks in RNS format – inspiring with highl 'tutorialesque' value.
Pricing and Availability:
14,90 EUR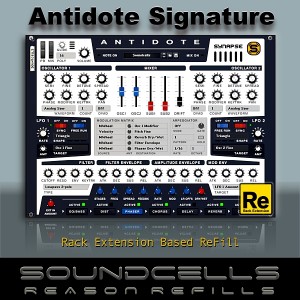 Soundcells has announced Antidote Signature, a ReFill for the Antidote Rack Extension by Synapse Audio.
Antidote Signature for Reason 6.5 and up is based on the Antidote Rack Extension from Synapse Audio – a synthesizer that offers a powerful architecture to produce more than mere 'bread and butter' sounds, combined with a clear and logical user interface. Thanks to its high quality oscillators and the zero-latency filter design – among some other great features -, the user can be sure always to get a very clear and powerful sound out of Antidote.

The Antidote Signature ReFill is an impressive proof of this, and it brings highly playable and great sounding patches to the user´s hand. It´s not genre-specific, so Wurlitzer-like pianos, modern screaming but also classic hardware-like leads, punching basses, warm & rich pads and surprising textures emphasize why this little gem should be part of everybody´s portfolio…
Antidote Signature features
70 Combinator patches.
100 Antidote patches: Atmos & Textures, Bass, Keys, Leads, Pads, Rhythmic, SFX.
Well programmed mod matrix assignments.
Well balanced volume settings & carefully assigned modwheel and combinator buttons and knobs.
The ReFill is available to purchase for 8.90 EUR (requires Synapse-Audio Antidote RE, not included).
Peff provides a little teaser for an upcoming Reason Refill:
A demo of various drum patterns using the 606 samples in Reason's Kong Drum Designer. This is for a little refill offering which will be available soon.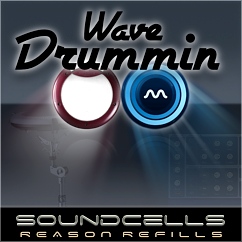 Soundcells has a new release out called "WaveDrummin v2" – which is not just another percussion ReFill.
By finding a whole new continent Columbus redrew the map of our planet. Now it´s your turn to do so. By making use of this ReFill you can combine enchanting and haunting rhythms coming from all continents, maybe even from other planets as well as Wavedrummin opens doors to percussive bliss that have never been opened before. At the studio in Central Europe Soundcells recorded their favorite hits and bits coming from the Wavedrum by Korg and – since version 2 – the incredible Impaktor by BeepStreet. The result has become this ReFill – a work of art, a tool that lets you draw your own restyled map of our precious planet.
Realism vs mixability
Lots of samples taken from acoustic, real percussion instruments have the tendency to sound kind of dull in your mixes. The power of their sound often gets mudded by the rest of your instruments. With this in mind all loops and samples are processed in such a way that the sounds will always sit conveniently in your mixes. Their impact and power will never get lost. Another point that needs to be highlighted is this special stereo knob coming with lots of combinators that works wonders for the mixability of our loops. Check it out!
Genre Crossover
The sounds of this percussion library are as authentic as you wish and at the same time they can be as electronic as you wish. There is no limit to their sonic possibilities. So whether you are a dance producer druling over techno or electro beats or you are a vegetarian ethno guru spiritualist… WaveDrummin will help you getting there. Check out the demos!
Version 2 is stuffed with 33 new Impaktor rex loops, new combinator patches, new Kong kits and more…
WaveDrummin v2 Contents:
• 150 combinator patches stuffed with inspiring new energy (35 new ones since version 2).
• 143 rex loops that range from authentically acoustic to crazy electronic stuff, 20 Kong kits, 20 NNXT patches and 7 Redrum kits.
• 210 single hits to build your own kits from.
• Recorded impact noises coming from Brushes, Rods, Sticks and Fingers to add extra realism to the loops. The combinators carry knobs to control their volumes.
• All single loops and samples are included into this download in Rex and Wave format.
By purchasing this pack you are not restricted to Reason only. However there is a lot more magic to be found within the ReFill.
A web address to link to for more info and many "WaveDrummin v2" only MP3s:
Offering price per unit is 14,90 ,- EUR (normal price is 19,90 ,- EUR)

Soundiron has announced the arrival of their first two ReFill Packs for Reason. They tell us that they've worked with Propellerhead to carefully optimize and redesign their  Old Busted Granny Piano and Tuned Micro libraries specifically for the Reason 6 platform, with Combinator and NN-XT presets that truly capture the playability and advanced control functionality that people have come to love with these popular instruments.
A spokesperson told SBC, "While ReFills and Kontakt presets have very different capabilities and strengths overall, you'll find many of the same familiar UI features, a variety of matching presets, stylized artwork and the same great sound. And don't worry, we'll be adding new offerings to our Reason catalog as time goes on to expand the selection for our Reason users. And existing customers of the Kontakt versions of these libraries are eligible to receive low cost cross-grades to the Reason version."
Here's Soundiron's description of the new ReFill packs…

Tuned Micro Reason ReFill Edition
Tuned Micro is a compact yet powerful multi-instrument collection focuses on a variety of our unique stringed and tuned percussion instruments. We took a dozen of the popular instruments found in our Stringed and Tuned Percussion Bundles for Kontakt and selected a core set of samples from each that offer a good introduction to the signature style, flavor, tone and quality you can expect from our full libraries. You'll find a useful variety of bamboo log drums, wooden box drums, plucked zithers, prepared piano, steel bells, music box, PVC tube drums, wine glasses, kalimba/mbira, toy glockenspiel, waterharp and a modified twine-strung cello.
We've designed a dual-layer mix control for each instrument category preset that allows you to create custom blends with selected layered pairs from the 20 different articulations. Each preset comes with dual layer volumes, attack, release gating, filter, Echo, Reverb and other shaping and special FX parameter controls that can be automated and changed in real-time, allowing truly unique sonic possibilities.
Granny Piano Reason ReFill Edition
The Old Busted Granny Piano is a unique instrument that goes way back with us. This classic beat-up, worn-down, rickety upright piano is just the kind of faded old beauty that your grandmother had collecting dust and creepy porcelain dolls in her living room when you were a kid. With a watery and faded tone, wobbly hammers and a few broken strings, you'll hear and feel every creak and groan as it plays. Clearly, the years have not been kind to her looks or her voice, but her soul truly has aged like a fine wine. This old girl has heart, so give her a whirl.
We've included plenty of Combinator patches that feature front panel controls to easily reshape the action and tone right at your fingertips, with note attack to simulate pad-like sounds, note release, release sample volume and the volume of the pedal sound effect that plays when you use the sustain pedal. We also included a couple of nifty reverb effects and an awesome "Grahammy" mode which makes Granny sound like she's coming out of an old phonograph, complete with vinyl record pops. We also included a selection of ambiences we call Geriatrocities – various sustaining pads and evolving drones derived from the source.
Pricing and Availability:
You can download each for $29. Existing owners of the Kontakt version of each library can order the Reason ReFill Edition as an add-on for only $9. All ReFill Editions require Reason version 6.0.2 or later.
More information: