November 19, 2012 · Posted in
Uncategorized
·
Comments Off

on Soundcells has released Digital Genome v3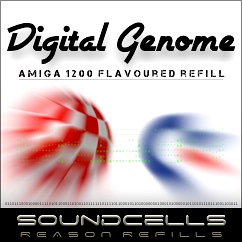 In modern molecular biology, the genome is the entirety of an organism´s hereditary information. It is encoded either in DNA or in case of this fine ReFill it´s the AMIGA1200 encoded in Reason´s NNXT samples. The AMIGA1200 with it´s 8-bit Paula chip was extremely popular among producers all over the world in the early nineties. "Digital Genome" picks up the thread where Soundcells left with "bitBUMPER deluxe" with it´s funky, housy and spacy lo-fi character! Warm, gritty, sleezy, dangerous and nostalgic are the keywords. This ReFill can be used as a full workstation since everything the old Amiga had to offer is in there: basses, keys, lead synths, warm pads and enough drums and percussion to eat your heart out. And do not forget the wonderful FX section. The 200+ Genome combinators are conveniently built up with the right button functionality. Version 3 adds 25 new combinator patches, new NNXT patches as well as revised backdrops…
'Digital Genome v3' Contents:
• 203 combinator patches in 6 folders, great for many different styles of music.
> 36 Basses
> 28 SFX
> 43 Keys
> 18 Leads
> 27 Misc
> 51 Pads
• 208 NNXT patches containing the basic sounds which were used for the combinators.
• 230 original AMIGA1200 samples, 178 MB uncompressed.
• 21 fresh and great useable rex loops.
November 12, 2012 · Posted in
Uncategorized
·
Comments Off

on Modular Percussion Reason ReFill from Audiovapor
Modular Percussion is a Reason Refill of unique sampled percussive sounds from a modular EuroRack synthesizer. Modular Percussion contains 581mb of content sampled at 24bit 96khz, 50 combinators, and 3 full Kong kits.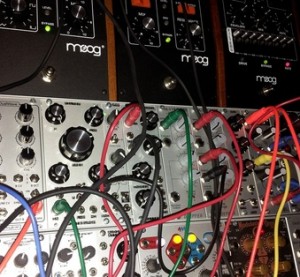 The percussive samples were created with the MakeNoise Optomix triggered by an MFB Uzewerg Pro. The sound sources were the WMD Phase Displacement Oscillator, Modcan Dual Wave, Moog Freqbox and Doepfer A-118. The Optomix is an analog, vactrol based voltage controlled Low Pass Gate. Low Pass Gates are commonly used for creating classic modular percussive timbres. The vactrol creates a natural, musical decay, perfect for percussive hits. The MFB Urzwerg Prong" the Optomix with 5 different CV damping amounts, multisampled and layered within Kong. The result is a dynamic, unique percussion soundset simply unavailable anywhere else.
The 50 LPG combinators heavily feature the Echobode and Pulsar Reason Rack Extensions. You must own the Echobode and Pulsar Rack Extensions to use these combinators properly. The combinators feature arppegiators, sequences, effects and filters that create inspirational percussive loops. The 3 Kong kits are all of the multisamples mapped across the pads.
Features:
-581mb of content sampled at 24bit, 96hz. ReFill download size is 284mb.
-50 multisampled percussive hits with 5 layers of Optomix damping (246 samples total).
-50 combinators, 3 kong kits.
-The root note of all the percussive sounds was sampled at "C" at the source. This enables the end user to tune the Kong kits to their preference, perhaps to match the key of their song. The percussion sequences are also all in the key of "C" for easier tweaking.
-For use in Reason 6.5.1 and above.
October 22, 2012 · Posted in
Uncategorized
·
Comments Off

on New Reason Refill from Soundcells: PolysixRE ReFill – Retro Meets Modern!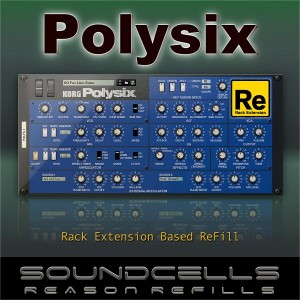 The original Polysix, introduced in 1981, was a big success because of its warm sound character (as well as other features, of course) – and the same applies to the Polysix Rack Extension. Despite this synth`s quite simple architecture, the Polysix is capable of producing wonderful warm sounding pads, very responsive keys, but also super-dry and fat basses. This Polysix-based ReFill is a proof of this, and it is pure fun to use the 70+ combinators. These combinators, based on 40+ new Polysix patches (and a handful others for Reason´s own synths) are sitting extremly well in any mix. Using all the modularity Reason has to offer, this ReFill will please you with really nice retro but also many modern sounds. No matter your preference – the patches will always do a great job in your tracks.
Further the modwheel & the combinator buttons and knobs are carefully assigned to allow dramatic and effective changes to the default sounds you´ll be hearing initially.
PolysixRE ReFill Contents:
• 72 combinator patches – from retro to modern.
• 45 new Polysix patches containing the basic patches which were used to build combinators.
• Carefully assigned modwheel & combinator button and knobs.
• CPU-friendly and fast loading patches.
Price per Unit is 7,90 ,- EUR
Listen and download it here >>
Soundcells is a long time provider of high quality refills for the Propellerhead Reason DAW, to know more about Soundcells you may want to check out our previous interview with the guy behnd it all – right here >>
October 17, 2012 · Posted in
Uncategorized
·
Comments Off

on Propellerhead Releases Soul School 2
Propellerhead Software today announced the immediate availability of the Soul School 2 ReFill for Reason. They tell us that, as the sequel to its best-selling Soul School ReFill, Soul School 2 is an organic sounding and extremely flexible collection of soul loops and samples. They say that it's a perfect starting point for song creation, creating new instrument performances with a vintage sound, or adding "classic spice" to any style of music.
Here's more details:
Consisting of nine grooves, all recorded live without overdubs, broken up into individual instruments and tempo-independent loops, Soul School 2 is a playable collection of old school sounds, with tons of loop and sample content ready to be played, tweaked and turned into songs.
All the loop content in Soul School 2 comes readymade for Reason's Dr. Octo Rex loop player, for quick arranging of drum tracks, bass grooves and guitar licks on the fly. Additional construction kits for the Kong Drum Designer effectively turns the loops into playable building blocks for new performances. As a bonus, the Reason Soul Keys ReFill comes as a free download, with patches based on the Soul School sound for the Reason Factory Sound Bank, Propellerhead's free Electromechanical ReFill, Reason Pianos and the Radical Piano Rack Extension.
Pricing and Availability:
The Soul School 2 ReFill is available exclusively for download through Propellerhead's web shop today, at a price EUR €79 / USD $99.
The Soul School 1 & 2 ReFills are available together in a discounted bundle in the Propellerhead web shop.
More information:
September 18, 2012 · Posted in
Uncategorized
·
Comments Off

on Afterglow version 3 – Soundcells explores new colors in the Reason rack!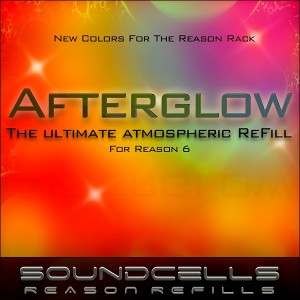 "Afterglow v3" – the ultimate atmospheric resource ReFill for trance producers, jungle heads and ambient artists. It's analog, it's digital, it's tender and raw, glitchy at times but above this all: Extremely Atmospheric !
All sounds have been meticulously designed to be combined with eachother in the exact way the user would like it to be heard. Get great malstroem-, suprising subtractor- and fantastic thor patches, furthermore 280 samples from analog and digital gear, physical modeling synths and also field recordings.
Version 3 adds 25 inspiring combinator patches mainly based on the new field recordings which are included in this version (the patch name addition "v3" makes clear which patches are the new ones).
A lot of awesome tracks are available on the website to demonstrate the stunning quality of this ReFill.
Afterglow version 3 Contents:
• 279 combinator patches in 6 folders: Atmospheres & Textures, FX Style, Keys, Miscellaneous, Pads, Rhythmic.
• 120+ NNXT patches, 60+ Malström patches, 50+ Thor patches and 15 Subtractor patches.
• Analog leads and basses, lots of atmo textures and pads, bleeps, glitches and field recordings.
• Especially great for designing / composing game and film scores.
• 11 great demo tracks included.
A web address to link to for more info and many "Afterglow" only MP3s:
Offering price per Unit is 29,90 ,- EUR (normally 39,90 ,- EUR)
August 23, 2012 · Posted in
Uncategorized
·
Comments Off

on SoundCells releases Boost 309 Version 4 – redefine your beat making!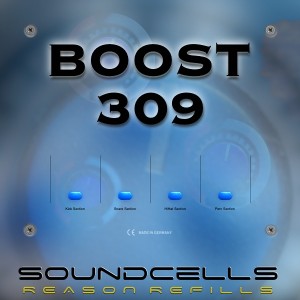 "Boost 309 v4" is based on the complete sample set of the vintage, lo-fi but charmingly sounding machine Rave-o-lution 309 by a company named Quasimidi. Soundcells has created 100 brand new combinator drum machines for you with these samples.
It all ranges from the old original 309 thing to amazing and unique patches that could have never been created within the 309 itself. Besides cool beats and complex, crazy rhythms Boost 309 will offer the user even more! Version 4 is an awesome update which adds 20 combinator patches: 5 combinator drum machines (plus their 5 shuffled counterparts) & 10 great playable combinator synth patches. Not to forget about the new Kong & ReDrum kits..
Boost 309 version 4 Contents:
• 230 combinator patches in 4 folders: Bass, Leads, Pads, Polyphone Synths.
• 100+ NNXT patches, 20 Kong kits, 26 ReDrum kits and over 300 samples from the original 309.
• 60+ rex loops making use of the "Boost 309" drum machines as also the original machine.
• 5 tracks in RNS format – inspiring with highly 'tutorialesque' value.
A web address to link to for more info and many "Boost 309" only MP3s:
Offering price per Unit is 19.90 ,- EUR (normally 29,90 ,- EUR)
July 18, 2012 · Posted in
Uncategorized
·
Comments Off

on The ever growing Salad Bar – now in version 7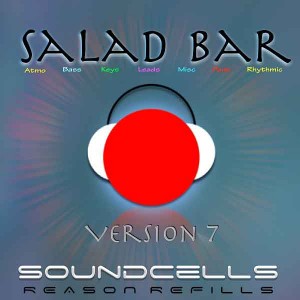 Soundcells latest version of  Salad Bar showcases a magnificent collection of Reason patches brought together in this ever growing ReFill.
They say that with the coming of Nordic Red it was clear that it wouldn´t take very long for the Salad Bar ReFill to get its latest update and that Version 7 is filled with 20 awesome Nordic Red patches as well as 15 exclusive Salad Bar only ones (111 SB-exclusives in total now).
Soundcells told us, "With its nearly 340 combinators this Reason 6 ReFill is stronger than ever before. Apart from that it´s a real bargain and must-have for the user and an excellent ambassador for Soundcells. Salad Bar's patches will cover all kinds of music styles showing you the very best Soundcells has to offer. It's a great ReFill to get to know Soundcells' work, introducing you to their signature dimension in designing sound."
Salad Bar v7 Contents:
332 combinator patches in 8 folders: Atmospheres & Textures, Bass, Keys, Leads, Miscellaneous, Pads, Rhythmic, SaladBar_exclusive (currently 111 'Salad Bar Only' ones).
391 well balanced patches for Thor, Malstroem, Subtractor, NNXT and ReDrum and also 60 rex loops.
The modules folder contains the basic synth and NNXT patches which were used for the combinator sounds.
8 tracks in RNS format – inspiring with highl 'tutorialesque' value.
Pricing and Availability:
9,90 EUR
More information:
June 6, 2012 · Posted in
Uncategorized
·
Comments Off

on Voyager – new analogue synth ReFill based on the sounds of the famous Minimoog Voyager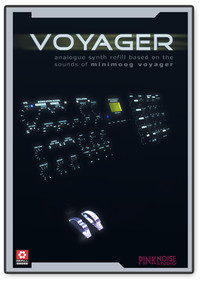 ReasonBanks has announced the release of Voyager, an analogue synth ReFill based on the sounds of the famous Minimoog Voyager synthesizer.
VOYAGER refill provides vivid, dynamic and rich-sounding real analogue leads, bass, polyphonic keys and pads, giving you a new powerful synth in your Reason rack.

Our concept has never targeted the development of the 100% perfect software emulation of Minimoog: it is practically not possible. A sample library is a bit similar to the photo album: they contain series of snapshots. It will sound but never work as the original hardware. Bearing this constraint in mind, we wanted to create a synth in Reason that sounds like a real Moog, but acts like Reason's instruments.
Voyager features
1.78 GB multi-samples (over 2400 wav files) in 24 bit wav format.
All samples are perfectly looped and contain the unity note info for quick and proper automapping.
124 REX loops: melodic bass, arp & noise sequences for KLP (keyboard loop player).
339 NN-19 patches, 412 NN-XT patches, 128 Combinator presets.
Refill size: 1.22 GB (24 bit).
The ReFill is available to purchase for the introductory price of 28.80 EUR through June 2012 (regular 36 EUR). Requires Reason 6 or above.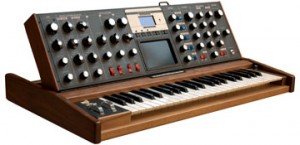 The Minimoog Voyager is a true analog monophonic synthesizer (probably the most expensive one of its kind) and is based entirely on the original classic Minimoog Model D, which was on the production line of Moog Music, Inc. from 1970 to 1982. It's cased in a beautiful, solid hardwood cabinet with a multi-position hinged control panel.
Just like the original, the Voyager has three analog wide-range voltage controlled oscillators, one noise source, as well as one audio preamplifier for externally-applied audio signals.
Two resonant Moog-style filters are on-board and function in dual lowpass or lowpass/highpass modes and can be modulated by one of the two ADSR envelopes, the LFO, or external control.
Minimoog Voyager is a first class synth; every bit as elegant in look as sound and quality. It is highly streamlined and offers all the functionalities of a modern day (mono)synth with the classic, warm, unforgettable Moog sound.
May 21, 2012 · Posted in
Uncategorized
·
Comments Off

on Nordic Red – the new Modular G2x ReFill from SoundCells
'Prepare yourself for a journey where your creativity can reach new levels' – this statement from the 'Welcome' section of the G2 manual is a perfect description of what you can expect from the Nordic Red ReFill. The ability to create an unlimited range of individual sounds will not only provide you with "otherworldly" atmospheric stuff, the deepest textures and great keys, but also with surprisingly "in-your-face" bass patches and wonderful pads when diving into this ReFill: 
The "self-playing" patches (called "Noodles" in the G2), for example, are great starting points to create some ultra-deep atmospheric textures – an ideal entry for composing film scores or game music. 
By using Reason's fantastic timestretch algorithm (loading the waves as audio files), all samples can be tweaked further, diving deeper into the recordings, bouncing preferred parts and coming up with even more brilliant ambient gems…
But that´s not all that version 1 of Nordic Red has got to offer:
If you are looking for quality bass patches, classic (or modern) keys, huge pads and more, you will not be disappointed! 
As usual, the combinator buttons and knobs were carefully assigned to allow dramtic changes to the default sounds you´ll be hearing initially. 
•  126 impressive combinator patches subdivided in 6 folders: 
•  149 NNXT patches containing the basic patches which were used to build the combinators.
•  600+ 44 khz, 24bit samples, 1.1 GB uncompressed.
•  Great for film scores, game music, ambient & drones but also modern dance styles.
•  11 demo files with 'tutorialesque' value are included.
A web address to link to for more info and many 'Nordic Red' only MP3s:
Offering price is 19.90 ,- EUR per Unit (normally 24.90 ,- EUR)
May 9, 2012 · Posted in
Uncategorized
·
Comments Off

on Missing Pieces – new Reason Refill
This Refill was designed to deliver a ground breaking filter sweeps and sound effects to your music productions inside Reason 6.
Analog Sweeps Refill, will bring back your memories, about that unworldly oldschool modular synthesizers, noise and glitch generators.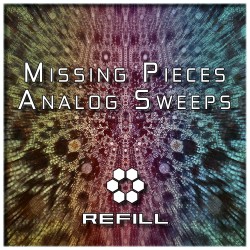 The complexity of combinator patches included in this refill will astonish you. Don't be afraid. Included PDF documentation explains everything, and makes it easy to use. You might be surprised how much it can absorb you into sweet analog synthesis madness.
These patches are perfect for crisp lead melodies, deep or distorted bass lines and epic noise transitions. You can use it in all kind of music genres, from psychedelic trance to drum and bass to dubstep and up to progressive rock.
This is a review of Missing Pieces new Refill Analog Sweeps done by www.learnhowtoreason.com
Missing Pieces is available now for US $49.
Details:
Total 270 Combinator patches for Reason 6 or above.
67mb of extra RAW samples.
Free "MultiRefill" updates and Bonus content.
30 Combinator skins in ART and reason clip colors style.
Reason Demo Songs.