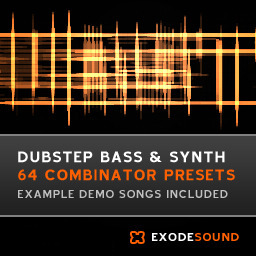 A new Steelberry Clones review featuring eXode's latest Reason Refill "Dubstep Bass & Synth" for the Propellerhead Reason DAW. The Refill consists of 64 carefully crafted Combinator patches, in about a 50/50 split between bass sounds and synth lead sounds. Dubstep is a genre of electronic dance music that originated inthe UK. Its overall characteristics sound has been described as "tightly coiled productions with overwhelming bass lines and reverberant drum patterns, clipped samples, and occasional vocals". I believe this definition is quite critical when reviewing eXode's Refill since it is very much tailored to work smoothly and be easily incorporated into Dubstep productions.
When we walk through the different Combinator presets the first thing that strikes us is the crispness of the sound; all CMBs uses all the right effects, including several of the new additions in the latest R6 release, such as the Echo; and the tight feeling you get when listening both in headphones and speakers. The Dubstep bass synth sounds stand out us the most creative part of eXode's Refill, several of the bass sounds – often coupled with arpeggio effects – gnerate their own little sound universe. Robotic sounds, synthetic noise, paired with that characteristic and often evil sounding bass commonly heard in Dubstep productions. The Dubstep bass sounds are truly a treat for anyone doing Dubstep and as we mentioned in the beginning these hard, noisy bass sounds do incorporate that tight level of intensity that we would look for if we would make a track in this genre, not saying that you cannot use them elsewhere.
The Synth section is overall good and will fit many electronic tracks, however they do somewhat lack that creativity that eXode has become renown for. They are all high quality tailored and easy to configure and adapt to suit your needs, whether it be lead sounds or simply flavoring the overall mix. Something that would be a good complement to this section of the Refill would be if eXode actually also could include some of his effect settings in a separate folder, like an mixing and mastering effects folder. Since a good portion of the strength in eXode's Refills is his work on the overall sound quality and tight use of dynamics.
Below are a couple of sound examples from the Refill, both from the bass section and the synth section.
Overall verdict then: Definitely a very tight and powerful Dubstep Refill and as eXode puts it himself:
"These sounds are sick, brutal, raw and in your face!"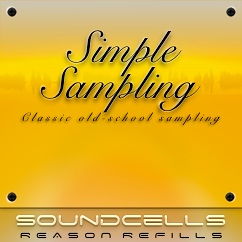 Here's some info on SoundCells' latest release – Simple Sampling is an awesome ReFill which is your best friend
If you are looking for classic old-school sampled sounds instead of huge patches built by hundreds of individual samples. Patches are super-fast laoding, CPU-friendly and they are full of 'retro' character. Using Simple Sampling means that you will surprised by fat basses, great playable and funky keys, super-deep atmospheric textures, 'simple' pianos full of character and huge pads – stunning quality in every aspect!
And lets not forget about the note-by-note sampled Stylophone…(the 'Stylofunk' mp3 track on the product page is – apart from the drumloop – entirely based on stylophone samples)
Version 3 is an awesome update which adds 25 new combinator patches based on lots of new samples, and includes 9 great demo tracks.
Simple Sampling v3 Contents:
• 151 combinator patches for many different styles of music, subdivided in 6 folders: Bass, Drum Machines, FX & Atmo, Keys, Leads, Pads.
• A note by note (a2 – e4) sampled and looped Stylophone including it´s typical release click.
• 'Simple Samples' coming from the Rhodes Mark 1, Doepfer MS404, Supernova 2, microKORG, G2, Kawai K5000…
• The modules folder contains the basic NNXT patches which are used for the combinator sounds.
• 10 Rex loops, 5 Redrum kits.
• 9 great demo tracks included.
More info and many 'Simple Sampling' only MP3s: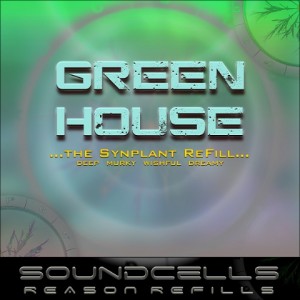 • 37 drum samples and 11 Rex loops coming from the MicroTonic plugin.
• 5 demo tracks are included.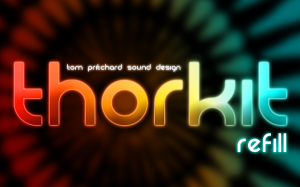 Tom Pritchard Sound Design has announced ThorKit, a new ReFill for the Thor synthesizer in Propellerhead Software's Reason.
Tom Pritchard Sound Design presents ThorKit – 200 patches that push Reason's Thor synthesiser to its limits!

Compatible with versions 4.0 and above, this ReFill contains 20 juicy monosynths, 94 punchy percussion patches, 54 deep polysynths, and 32 massive sequence synths.

With a mix of clean, crisp sounds and mashed, gritty tones, these patches are programmed to inspire with their expressive playability and evocative timbres.
ThorKit for Reason is available to purchase for £15 GBP.
Listen to samples and get it here >>

Time again for a review here at Steelberry Clones – this time we have taken a closer look at Nucleus SoundLabs' new Reason Refill called Celluloide Beats.
To begin with Celluloide Beats consists of around 50 (x8) or so Combinator patches and associated sounds recreated as REX-files. Due to the way they are built they may easily be run in anything from 60/70 BPMs up to 270 > or so BPMs – it will still sound great. To get an overview of what you are getting I would loosely categorize it as multi-sampled drums, beats and percussions into a massively unique and powerful mix of rhythms and sounds that would easily fit into dubstep, electro, house, techno type music, but I would not limit it to that since there are several intriguing ambient type sounds with a real sci-fi / cinematic approach to them.
A good thing with the CMBs are that they are very easy to work with, partly because each CMB is more or less a full mix in itself with limited need for further mixing and mastering, and partly because they are using fairly common rhythms meaning that the tempo and the sequenced beats are not overly experimental. Each Combinator patch in a Celluloid Beats contains 8 loops – 1 original loop and 7 creative loop remixes. This is achieved, according to Nucleus, by using the Slice Edit Mode on Dr. OctoRex to change filtering, decay, volume and more on a per-step basis for each loop. Going farther than that, unique FX are added to each patch which are used to effect specific loop slices – so each slice in a loop can have a different distortion, filtering or delay. The resulting loop remixes sound incredibly complex, but they certainly aren't complicated to use.
To purchase the product use the link below:
Click here to view more details
Steelberry Clones got an exclusive talk with the critically acclaimed Reason Refill producer Harald Karla at Soundcells. Soundcells has been active for a long time in developing quality Refills for Propellerhead's DAW Reason, many of which has been featured and reviewed on this blog. Soundcells' Reason Refills covers most angles of electronic music – featuring everything from 8-bit / chip tune type sounds to high quality emulations of classic analog hardware synthesizers like Moog Source to the KORG MS-20, but also a vast amount of very complex ambient pads that would fit any sci-fi movie on the planet. We at Steelberry Clones are happy users ourselves of Soundcells ever growing library of Reason Refills and therefore we thought it about time to dive a little bit deeper into the minds of Soundcells by asking Harald Karla who founded the company in 2008 all those questions that make up the unique sounds of the Soundcells' Refills. Harald Karla have worked as a successful freelance sound designer for quite some time but is now focusing on Soundcells full time.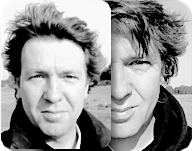 You can visit Soundcells webshop via this link to find out more about the various Reason Refills of Soundcells or simply use the Soundcells banner in the right hand side column to explore further >>>>
You have been active making Reason Refills for a long time – where do you find your inspiration
First and foremost, Soundcells ReFills are products that meet my personal taste. And that is an inspiration and first of all motivation – not just to create a product that the market demands immediately, but to follow your own preferences. Since I prefer to be within Reason, I'm trying to do everything possible there, of course. Also this is the reason for the content of the ReFills. The more I can put in a single environment – the more energy, concentration and creativity remains for the music …
When producing the Refills you often stay true to the original analog synths, for example the MS-20, how do you go about re-creating these sounds
Well – actually that is not my intention to emulate certain classics – it's more the intention to preserve the typical sound characteristics. "Analog Signature" for example is a ReFill, essential to sample those classics – which thus serve as a sound basis and shaping the sound of the ReFills. In this ReFill the analog sound-feeling is in the foreground, and therefore the sampling here was comparatively expensive: In order to have vibrant aesthetics of sound each individual note is played three times and recorded. The capabilities of the NNXT sampler can be heard by repeating a note played on the same sample twice in a row …
The result is a vivid sound that raises a very analog feeling. One should not forget that real analog sounds are not only created by "fluctuating" oscillators, but also generated by other components such as filters, envelopes, modulations of various kinds. And here some analog synthesizer sounds incredibly strong, which can not be done simply by multi-sampling individual notes … At this point, it simply ends the emulation. If you wanted to create the typical sound with all its inaccuracies of the original, it would ultimately imply sampling note for note – very expensive and a different topic …
The Soundcells studio
We know of you as a high-end producer of Reason Refills and more, but can you tell us a little more about your musical background
A story of many – I had a very early interest in the creation of sounds, and in the beginning I did experiment with various instruments, but very early on I ended up focusing only on electronic instruments. From the time of the summer jobs I put all my money in (initially) keyboards, then synthesizers, drum machines, mixers, effects, etc.
I have never taken any lessons. The keyboard I've taught myself and I have always played by ear. Over the years I have dealt extensively with many types of music and electronic sounds, later on I started to create backing tracks to produce dance music with DJs, etc. … – And then finally spent all my time in music. Basically, the years were something of a "full study," which continues to this day … : 0)
Read the full interview here >>
Nucleus SoundLab would like to introduce you to a brand-new ReFill exclusively built for Propellerhead Reason 6 – Celluloid Beats. Celluloid Beats features an amazingly unique set of cinematic percussion loops suitable for filmscoring, game sound design, IDM and other electronic genres. The loops inside have been specially processed using a proprietary additive vocoding techique to emphasize long, smooth decay stages. Beyond the high-quality loops themselves, Celluloid Beats is also the first ReFill in an innovative new series called Modular Grooves.
Modular Grooves ReFills are meant to provide musicians and producers with a infinitely configurable palette of loops. These loops sound great at virtually any tempo thanks to being sampled using Wide BPM technology – anywhere from 60bpm to 300bpm is fair game. There is no reason to be limited by the original tempo of a loop any more!
Each Combinator patch in a Celluloid Beats contains 8 loops – 1 original loop and 7 creative loop remixes. This is achieved by using the Slice Edit Mode on Dr. OctoRex to change filtering, decay, volume and more on a per-step basis for each loop. Going farther than that, unique FX are added to each patch which are used to effect specific loop slices – so each slice in a loop can have a different distortion, filtering or delay! The resulting loop remixes sound incredibly complex, but they certainly aren't complicated to use. A single Combinator Rotary switches between all 8 loops; and you can also easily dive into Dr. OctoRex to tweak any loop remix to taste! To help users understand the Modular Grooves technology and get the very most out of it, PDF documentation is included.
Celluloid Beats also comes packed with all its loops in raw REX2 format outside the ReFill itself at no additional charge. So users can easily load these loops into other sampler, such as Kontakt, Ableton Live, Battery and more without any hassles.
40 24-bit 44khz REX2 loops form the base of Celluloid Beats
280 loop remixes using all 8 loop slots on Dr. OctoRex
Each patch built exclusively for Reason 6
All REX2 loops included outside the ReFill, for use in other samplers
Detailed PDF documentation on the creation and operation of the ReFill
Download the free Demo ReFill right here.
Salad Bar from Soundcells showcases a magnificent collection of Reason patches brought together in this ever growing ReFill since many future patches in the upcoming ReFill range from Soundcells will be added to Salad Bar…
• 297 combinator patches in 8 different folders: Atmospheres & Textures, Bass, Keys, Leads, Miscellaneous, Pads, Rhythmic, SaladBar_exclusive (currently 95 'Salad Bar Only' ones).
• 279 well balanced patches for Thor, Malstroem, Subtractor, NNXT and ReDrum and also 60 rex loops.