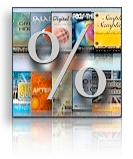 Soundcells announces their ReFill summer sale 2011: 20 % discount on the single ReFills, and 15 % discount on the Soundcells bundles until the end of August. Customers are always welcome to ask for a specific combination of products!
For more information please visit: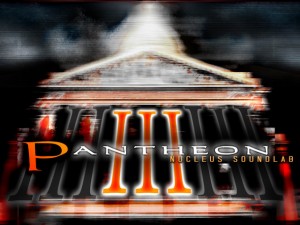 Nucleus has released a new version of their magnificent refill Pantheon, this is an evolution of the version II that has been reviewed by us earlier (read the previous review here), here is what they have to say about the new version:
Nucleus SoundLab proudly releases Pantheon III, the next evolution in their series of ultimate Thor ReFills for Propellerhead Reason 5. Pantheon III expands on the concepts and standards set by the first two ReFills with the largest amount of unique Combinators yet. As always, the Pantheon III sound designers continue to reveal their patching secrets with refined and detailed PDF documentation.
Pantheon III is comprised of Combinator and Thor patches created by a dream-team of Reason sound designers.  Tom Pritchard, Adam Fielding, Kirke Godfrey, Joseph Mizelle, Clint Grierson Lewis Osborne and Shaun Wallace – Many of these designers have released a number of their own ReFills, both free and commercial.  Now all have come together, united by the incredible quality standards of Nucleus SoundLab's Lead Designer Jeremy Janzen, to create the highest-quality Thor ReFill – ever.
Pantheon III is built from the ground up for both Reason 5 and Record.  This means that Kong effects are put to good use, as well as the new Combinator CV inputs.  As well, 36 patches have been specifically built for those who own both Record + Reason 5 – though they will also work great for Reason 6 owners.  These patches use the Line6 amps and Neptune pitch-shifter to take Thor to a completely new level!
Pantheon III is genre-agnostic – its not a pack of sounds specifically designed to create one sub-genre of electronic music.  Instead, the patches inside are applicable to many different styles such as ambient, IDM, trance, electro, dubstep, filmscore and downtempo.  Some sounds fall well outside these genre boundaries as well, and are suitable for exploring totally new sonic territory!  Inside you'll find an incredible aural landscape of sounds – such as huge modular chords, 'workstation'-esque pads, filmscore FX, dirty amped leads, and wavetable arpeggios of all stripes.
Details:
260 fresh and unique Combinators
36 Combinators built for Reason 5 + Record (or Reason 6)
300 Thor patches.
8 .rps demo songs.
All Combinator and most Thor rotaries/buttons uniquely mapped.
All Combinator and Thor patches categorized intelligently.
PDF Design documentation for each patch, detailing important aspects of its design, inspiration and performance.
Listen to what Pantheon III offers by downloading the videos and MP3 demos on the product page. In addition, a Demo ReFill (w/ 20 Combinators) is available for free download.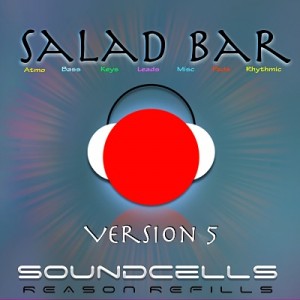 Reason Refill maestros Soundcells are at it again

Salad Bar from Soundcells showcases a magnificent collection of Reason patches brought together in this ever growing ReFill since many future patches in the upcoming ReFill range from Soundcells will be added to Salad Bar…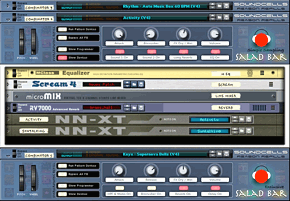 Every time when a new Soundcells ReFill will be released, Salad Bar will get its next update. And in this way Salad Bar versions 2, 3, 4 etc, will be created. Besides this, Soundcells will also be developing lots of unique 'Salad Bar Only' patches. With the coming of Greenhouse (http://www.soundcells.de/Soundcells_Greenhouse.html) it was clear that it wouldn´t take very long for Soundcells´ evergrowing Salad Bar ReFill to get its latest update. So they put 20 Greenhouse patches in there and they also added 15 exclusive Salad Bar patches (75 SB-exclusives in total now). With its 260+ combinators this ReFill becomes more and more a fully-fledged workstation. Apart from that it´s a real bargain and "must-have" for the user and an excellent ambassador for Soundcells.
Soundcells' Signature Sound:
Salad Bar's patches will cover all kinds of music styles showing you the very best Soundcells has to offer. It's a great ReFill to get to know Soundcells' work, introducing you to their signature dimension in designing sound.
Salad Bar v5 Contents:
• 262 combinator patches in 8 different folders: Atmospheres & Textures, Bass, Keys, Leads, Miscellaneous, Pads, Rhythmic, SaladBar_exclusive (currently 75 'Salad Bar Only' ones).
• 261 well balanced patches for Thor, Malstroem, Subtractor, NNXT and ReDrum and also 45 rex loops.
• The modules folder contains the basic synth and NNXT patches which were used for the combinator sounds.
• 8 tracks in RNS format – inspiring with highl 'tutorialesque' value.
A web address to link to for more info and many "Salad Bar" only MP3s:
Price per Unit is 9,90 ,- EUR
Introducing the new Fairlight XXL refill for Reason 5.
Bitley has introduced Fairlight CMI Legacy XXL for Reason 5 or Reason 5 & Record 1.5. It offers about 3,000 individual patches..

Features:

All sounds from II+ – demos and info here
3,04 Gb of files unpacked
About 3,000 patches for all Reason instruments

The Fairlight CMI Legacy XXL Refill is priced at 100€ (100 Euros).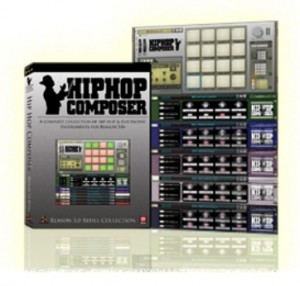 Goodness Gracious Productions and Quicktrackz Entertainment is a new team based out of the US delivering their first Reason Refill focusing on Hip Hop and electronic music artists, check it out
Here's what they have to say about it:
Goodness Gracious Productions and Quicktrackz Entertainment announce the release of Hip Hop Composer v1.0 – The Refill Collection.  Containing an arsenal of custom created new sounds for any Propellerhead Reason 5 User, the unmatched quality and sonic presence in this Refill sets this sound library in a class of its own.  Select recordings picked from over 5000+ hours of studio sessions with some of the hottest names in the business along with the high quality multi-sampling of select instruments have led to the creation of this unique sound library.  Perfectly
matched for today's modern Hip Hop, Electronic and Dance producers Hip Hop Composer is its own virtual workstation of sounds.
* Two Reason 5 Refills – A total of 3.7GB
* Complete with Drums, Leads, Basses, Keys, Pads, Strings, Brass, Bells and Arpeggio Instruments.
* Featuring over 1,000 playable instruments patches in Kong, Combinator, NNXT, Malstrom, Subtractor, Thor and Redrum formats.
* Over 700 One-Shot Drum and Percussion samples.
Right out of the box Hip Hop Composer instruments have been layered and crafted for a thicker radio ready feel over other sound libraries that may need a lot of mixing of tweaking for a sound to fit into your production.  If you're looking to step-up your tracks and are in need some of the hottest sounds, less hassle and an all-in-one sound library solution for Reason 5, then Hip Hop Composer is for you! Look out for it at your favorite Music Retailer or visit www.HipHopComposer.com to order, download or for more information.
* Audio Demo's available at: www.HipHopComposer.com
* Price:  $199.99 MSRP
* Available Now at www.HipHopComposer.com

In modern molecular biology, the genome is the entirety of an organism´s hereditary information. It is encoded either in DNA or in case of this fine ReFill it´s the AMIGA1200 encoded in Reason´s NNXT samples. The AMIGA1200 (code-named 'Channel Z') with it´s 8-bit Paula chip was extremely popular among producers all over the world in the early nineties. "Digital Genome" picks up the thread where Soundcells left with "bitBUMPER deluxe" with it´s funky, housy and spacy lo-fi character! Warm, gritty, sleezy, dangerous and nostalgic are the keywords. This ReFill can be used as a full workstation since everything the old Amiga had to offer is in there: basses, keys, lead synths, warm pads and enough drums and percussion to eat your heart out. And do not forget the wonderful FX section. The 170+ Genome combinators are conveniently built up with the right button functionality. Version 2 adds 25 new combinator patches, some minor additions/changes in detail as well as great new backdrops…
'Digital Genome v2' Contents:
• 178 combinator patches, great for many different styles of music.
• 6 different folders: Bass, FX, Keys, Leads, Miscellaneous, Pads.
• 189 NNXT patches containing the basic sounds which were used for the combinators.
• 230 original AMIGA1200 samples, 178 MB uncompressed.
• 21 fresh and great useable rex loops.
A web address to link to for more info and many "Digital Genome v2″ only MP3s:
Offering price is 23,90 ,- EUR until July 31 (normally 29,90,- EUR).
Make your dance music sparkle with Reason Disco School, the new ReFill from Propellerhead Software that recreates the classic sounds of disco. There will be fever. Propellerhead Software has released Reason Disco School – a new ReFill that explores the classic sounds that came out of three of Disco's biggest capitals: New York, Los Angeles and Philadelphia.
Ranging from old school Philadelphia layers of lush strings, through club beats of New York in the late 1970?s to the slick styles of Los Angeles, Disco School features six songs in three different keys, from simple two-chord progressions to more complex themes.
http://www.propellerheads.se/reason-disco-school/
All sounds of Reason Disco School are sourced from the complete songs; each composed, arranged and produced for Reason Disco School. The musical elements – bass, drums, guitars, strings, keyboards, percussion and horns – are provided in Propellerhead's tempo-independent REX format, designed to fit into modern club tracks or old-school hip hop productions.
Included in the ReFill is also a collection of multisampled drums for use with Reason's NN-XT sampler and powerful Combinator device. Additionally, for club music, Disco School comes packed with electronic drums, claps and toms designed by electronic music artist, DJ and producer Sharooz.
On top of all the disco grooves and loops, Reason Disco School provides a collection of instruments based on the ElectroMechanical ReFill (a free downloadable ReFill for any registered Reason owner). Reverb and distortion effects are included, as well as "needle drop" snippets of sampled grooves to round out the library.
The Reason Disco School ReFill is available now at the Propellerhead site for US $99/€79 EUR.
This is preview of "XYZ- Tablet Synth" combinator device from Navi Retlav – Missing Pieces Refill.
If you have tablet, or any device with multi axis controls like kinect and software for transforming it in to midi controller, this combinator will help you to play music and fx-es with your favorite synth sound. Audio Samples from this video are not included in this refill.
New Reason Refill Coming Soon !
Subscribe for more videos and feel free to give comments.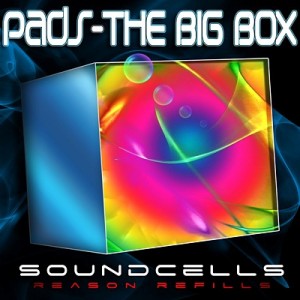 "Pads – the BIG box V2″ contains all patches from the three Mystic Dream Pads – 2, 4 and 5 – in ONE really big ReFill with (since version 2) 62 new combinator patches that have not been released before – and all this at a sharp "bundle"-price. All patches were revised to match perfectly together. This ReFill gives you all you need when searching for atmospheric patches, conventional pads – bright or dark, inspiring soundscapes, rhythmical pads, fx & experimental sounds and more… The variety of sonic atmospheres coming from three original ReFills makes this collection very complete so chances are big that you´ll find what you are looking for while browsing for the right pad. Version 2 is adding 30 new combinator patches, furthermore every original combinator patch has been reworked – same sound as before, but highly expanded button / knob assignment, consistent naming of the functions and new backdrops…
'Pads – the BIG box' Contents:
- 447 combinator patches (62 "BIG box" only ones).
- 11 different folders: Ambient, Atmospheres, Electric Keys, Exclusive Big Box Patches, FX & Experimental, Miscellaneous, Old MDP Reminiscence, Pads Conventional, Pads Dark, Pads Light, Rhythmic.
- The modules folder contains the basic synth and NNXT patches which are used for the combinator sounds:
183 Thor patches, 156 NNXT patches, 105 Malstroem patches, 59 Subtractor patches, 38 RV7000 patches
- All patches & demo tracks coming from MDP2, MDP4 & MDP5 are included.
More info here:
Offering price is 44.90 ,- EUR per Unit (normally 59.90 ,- EUR)
"Greenhouse" is an awesome ReFill which is based on samples coming from the popular Synplant software synthesizer which is without any doubt one of the most innovative plugins of recent years. 125+ combinator patches provide an insight into the great and highly characterful sound capabilities Synplant has to offer. Greenhouse patches sound deep and murky, sometimes wishful and dreamy, but overall atmospheric and full of the typical and widely acclaimed Synplant character… In addition, some "One-Shot-FX" kits are included to let you produce some glitchy electro beats. The 24 bit samples were recorded through an analog mixing console to bring the "real world" flavour into our digital world – ready-to-use within this ReFill. And let´s not forget about he 35+ drum samples (as well as 11 Rex files highly processed with additional EQing, compressing…) from the MicroTonic PlugIn which has been recorded the same way as the Synplant samples…
Greenhouse Contents:
- 129 combinator patches full of the typical and widely acclaimed Synplant character.
- Deep, murky, evil but also wishful and dreamy are the main keywords.
- 114 NNXT patches containing the basic sounds which were used for the combinators, 7 Redrum kits.
- 432 Synplant samples, 392 MB uncompressed.
- 35+ drum samples & 11 Rex loops coming from the MicroTonic PlugIn.
A web address to link to for more info and many "Greenhouse" only MP3s:
Offering price is 18.90 ,- EUR per Unit (normally 24.90 ,- EUR)