The first additive synth for Propellerhead Reason is now available – the Parsec Spectral Synthesizer. Now, Nucleus SoundLab has released Hyperdrive, the first Reason ReFill created specifically for Parsec.
Here's what they have to say about it:
Hyperdrive contains a full palette of new sounds for Parsec, suitable for a variety of electronic music genres – such as ambient, IDM, trance, or filmscore.  Nucleus SoundLab has employed five experienced sound designers to produce a ReFill of truly varied scope.  Inside Hyperdrive you'll find their work has produced Blade Runner-esque FX, piercing psychedelic leads, glassy sweeping pads, hybrid Parsec/Thor duets as well deep sci-fi atmospheres.
The same quality customers have come to expect from Nucleus SoundLab is well-represented in Hyperdrive:  Unique Combinators with unique Combinator controls; Parsec patches that make up each Combinator are individually available; full categorization of both Combinators and device patches; careful volume-balancing for every single patch.  Together, Parsec and Hyperdrive are the perfect combination to propel your electronic music productions to vast new aural galaxies!


Features:
128 unique Combinators across eight categories
178 Parsec device patches
2 demo songs packed inside the ReFill
All Combinator rotaries/buttons/modwheel uniquely mapped.
Patches designed by veteran Reason sound designers – Adam Fielding, Shaun Wallace, Lewis Osborne, Navi Retlav, James Miles and Jeremy Janzen.
Requires: Parsec Rack Extension.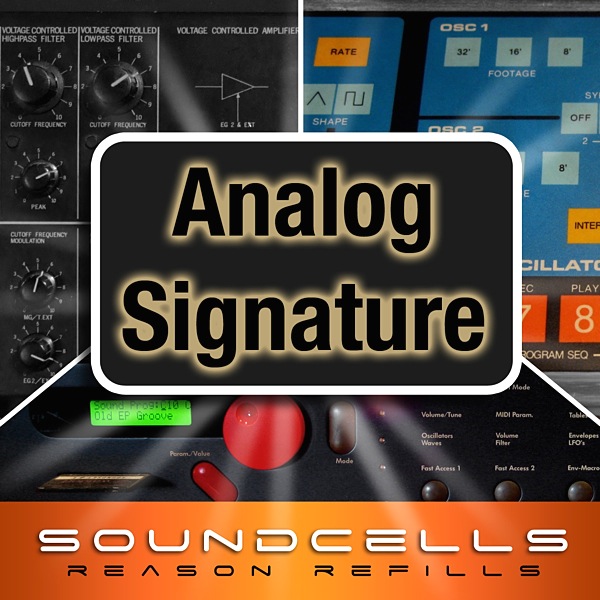 With version 4 of Analog Signature a new member is added to the family: the ROLAND Jupiter 6!
Moog Source, Korg MS20, the Waldorf Microwave 1, the Waldorf Pulse 1, and – from version 4 onwards – the Roland Jupiter 6 have been accurately sampled in such a way that their charming inaccuracies are still there in this perfect Reason environment in which Soundcells took their chance to add polyphony and velocity. A good balance of retro 1970′ s and 80′ s analog / digital sounds with modern programming makes this ReFill versatile for current styles of music as well as retro …
Analog Signature v4 Contents:
• 540 combinator patches.
• 276 NNXT patches containing the basic patches which were used to build the combinators.
• 1792 samples, 44 khz / 24bit.
• Samples coming from five classic synthesizer.
• 10 demo tracks in Reason format included.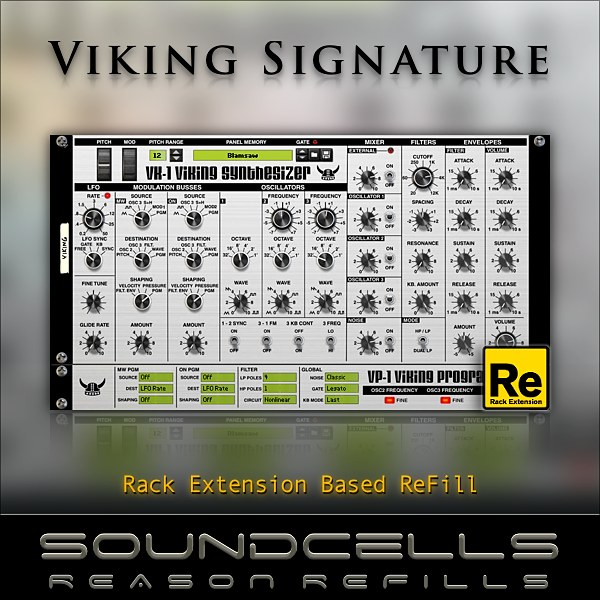 Viking Signature is based on the Viking Rack Extension synthesizer – a great sounding emulation of the Moog Voyager. The Viking Signature ReFill convinces with its funky and soulful leads, authentic sounding bass patches with an awesome bottom end and several wired SFX patches.
If you own Viking be sure to complete your ReFill collection with Viking Signature – a powerful soundset at a 'knockdown' price …
Viking Signature Contents:
• 45 combinator patches.
• 70 Viking patches full of soulful leads and great basses.
• Authentic Moog character for your Reason Rack.
• Well balanced volume settings & carefully assigned modwheel and combinator buttons and knobs
Introductory price is 7.90 ,- EUR (normal price 9.90 ,- EUR)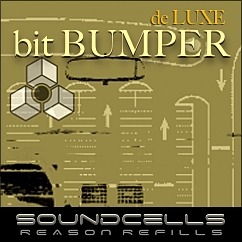 "bitBUMPER deluxe v3" – the ultimate 4 and 8 bit Pandora Box filled with hundreds of low bit surprises.
This ReFill is your best friend when you´re looking for inspiring new sounds with a character and a bite. To catch this character some amazing sources were sampled: RozzBox One v2, QuadraSID, the old grey Gameboy from 1989 with "Nanoloop 1″ and "Littlesounddj", the Gameboy Advance SP from 2003 with "Nanoloop 2″ and the Nintendo DS Lite from 2006 with "DS Electroplankton" and "Korg DS-10″.
Version 3 adds new rex loops, 20 new combinator & 25 NNXT patches, as also lots of new samples …
bitBUMPER deluxe v3 Contents:
• 382 combinator patches.
• 185 NNXT patches, 138 rex loops, 650 unique samples.
• 12 demo tracks in Reason format included.
Offering price per unit is 27,90 ,- EUR (normal price is 39,90 ,- EUR)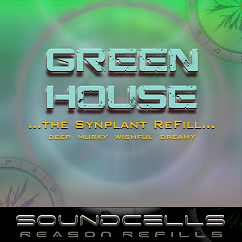 Greenhouse v3 – Synplant Flavour For The Reason Rack!
"Greenhouse v3" is an awesome ReFill based on samples coming from the popular Synplant software synthesizer. The 174 combinator patches provide an insight into the highly characterful sound capabilities Synplant has to offer …

In addition, some One-Shot-FX kits are included to let you produce some glitchy electro beats.

Version 3 adds 15 combinator patches based on 140+ new Synplant samples, 10 new MicroTonic rex loops and re-worked backdrops for a better and much clearer look.
• 174 combinator patches:
• 151 NNXT patches containing the basic patches.
• 21 rex loops and 37 drum samples coming from the MicroTonic drum syntheszer.
• 990+ Synplant samples in 44Khz / 24 bit, 1030 mb uncompressed.
A web address to link to for more info and many "Greenhouse v3″ only MP3s:
Offering price per unit is 19,90 ,- EUR (normal price is 24,90 ,- EUR)

Poly Ensemble gives you expertly multisampled and looped sounds from the venerable Korg Lambda, utilizing all sorts of tricks and possibilities with Reason 7 without the need for extra rack extensions.
"The Combinator graphics took us quite a while to design, making it possible for the user to experience even more than the original (1979) Lambda provides, by laying out all the 8 base sounds / sound types across the four knobs. It's then very easy to tweak it 'on the fly' while producing music. The button assignments have also been carefully done and the arpeggios are playing in different speeds and types to create really lush arpeggiated sounds."
The refill is now available as a preorder, and while it is cheaper than the final version, it will of course include the final update. The current revision is number three, and it comes with just about everything the final version will have, only that the final version will contain more patches. The current patch count is 132. The refill also contains a few drumkits to really make it like a complete "Poly Ensemble workstation".
Here's the brand new demo track, "Emotional".
The refill is available here: http://bitley.laconicsounds.net/"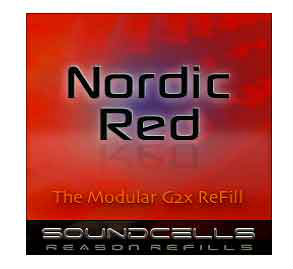 Soundcells has released Nordic Red version 2, a ReFill based on samples from the Nord Modular G2x synthesiser. They believe that it is especially great for film scores, game music, ambient and experimental music.
Version 2 adds 250 Mb of new Nord Modular G2 samples, new combinator patches and changes in detail.
Nordic Red v2 Contents:
•  140+ impressive combinator patches.
•  170+ NNXT patches containing the basic patches which were used to build the combinators.
•  850+ 44 khz 24bit samples, 1.3 GB uncompressed.
•  Great for film scores, game music, ambient & drones but also modern dance styles.
•  11 demo files with 'tutorialesque' value are included.
Pricing and Availability:
Introductory price is 18.90 EUR (normally 24.90 EUR).
'Prepare yourself for a journey where your creativity can reach new levels' – this statement from the 'Welcome' section of the G2 manual is a perfect description of what you can expect from the Nordic Red ReFill. The ability to create an unlimited range of individual sounds will not only provide you with "otherworldly" atmospheric stuff, the deepest textures and great keys, but also with surprisingly "in-your-face" bass patches and wonderful pads when diving into this ReFill. The "self-playing" patches (called "Noodles" in the G2), for example, are great starting points to create some ultra-deep atmospheric textures – an ideal entry for composing film scores or game music. Or simply pitch down the samples to listen to the "hidden magic" inside these up to 90 seconds long 'Noodle' recordings. Version 2 adds 20 combinator patches based on 250 mb of new Modular G2 samples …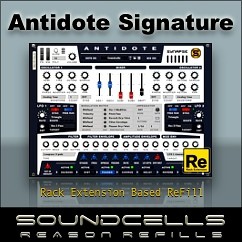 Soundcells has announced version 2 of the Antidote Signature ReFill for Propellerhead Reason.
Antidote Signature is based on the Antidote Rack Extension from Synapse Audio and it brings highly playable and great sounding patches to the user's hand.

It´s not genre-specific, so Wurlitzer-like pianos, modern screaming but also classic hardware-like leads, punching basses, warm & rich pads and surprising textures emphasize why this little gem should be part of everybody´s portfolio … Version 2 features 15 new combinator & 20 new Antidote patches …
Antidote Signature v2 features
85 combinator patches.
120 individual Antidote patches: Atmos & Textures, Bass, Keys, Leads, Pads, Rhythmic, SFX.
Well balanced volume settings & carefully assigned modwheel and combinator buttons and knobs.
The ReFill is available to purchase for 9.90 EUR.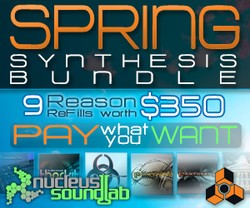 Nucleus SoundLab has announced that it has added Viral Outbreak to the Spring Synthesis ReFill Bundle.
Another Reason ReFill has been added to Nucleus SoundLab's Spring Synthesis ReFill Bundle. Viral Outbreak ($69 value) is now available for all purchasers who pay $49.99 or more!

Viral Outbreak brings the Virus TI synthesizer to Reason. 2.5Gb of samples and 180+ soundsets of cutting-edge electronica sounds are included. Not only that, a brand-new expansion bank of 32 patches is exclusively available with the bundle! These new patches by Tom Pritchard are highlighted by a focus on new Reason effects, including Alligator, Pulveriser, and The Echo.

The Spring Synthesis now encompasses 9 ReFills with a regular price of over $350 – at a Pay-What-You-Want price. Remember, the sale ends May 28th, 2012.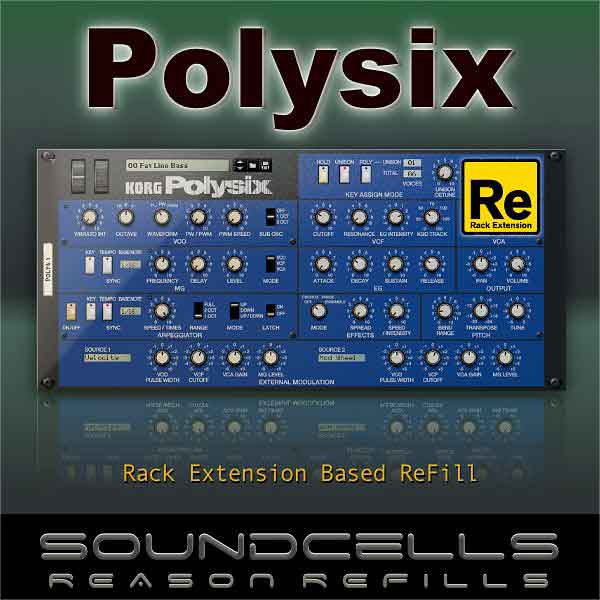 Just released in version 2 is Soundcells' PolysixRE Refill.
Here's the details:
The original Polysix, introduced in 1981, was a big success because of its warm sound character (as well as other features, of course) – and the same applies to the Polysix Rack Extension. Despite this synth`s quite simple architecture, the Polysix is capable of producing wonderful warm sounding pads, very responsive keys, but also super-dry and fat basses. This Polysix-based ReFill is a proof of this, and it is pure fun to use the 85+ combinators. These combinators, based on 60 new Polysix patches (and a handful others for Reason´s own synths) are sitting extremly well in any mix. Using all the modularity Reason has to offer, this ReFill will please you with really nice retro but also many modern sounds. No matter your preference – the patches will always do a great job in your tracks.
Further the modwheel & the combinator buttons and knobs are carefully assigned to allow dramatic and effective changes to the default sounds you´ll be hearing initially.
Version 2 simply offers more of everything: 15 new combinator patches, 15 new Polysix patches and a re-worked folder structure…
PolysixRE v2 Contents:
• 87 combinator patches – from retro to modern.
• 60 Polysix patches containing the basic patches which were used to build combinators.
• Carefully assigned modwheel & combinator button and knobs.
• CPU-friendly and fast loading patches.

Pricing and Availability:
9,90 EUR