Background video description:
Primeaudial Reprise – (Part two of this music set – a take on Primordial) – Video is scrolling text with a story in two parts.
All music and Video is the Sole Property of myself, no one Else's music or media was used.
Music and Video is sole property of ©2013 Andy Barrow
The big mixer in Reason is where your songs really find their full potential – sonically speaking. The powerful EQ, channel dynamics, bus channels, parallel channels, spectrum EQ, and oh-so-lovely Master Bus Compressor are all designed with one thing in mind: making you sound great!
In this walkthrough of the big mixer, we take a look at the major sections of the mixer and what they mean for your mix.
This video features "Outside In" by Atom, mixed by Gary Bromham inside Reason 7. The track is available for download as a Reason demo song here:
http://www.propellerheads.se/demo-songs/
Reason's virtual rack is the heart and soul of Reason. Synths, drum machines, samplers, effects, and little gadgets that tweak and freak one another are the building blocks of your music.
In this walk-through, we check out the Reason rack in more detail and get you up to speed on the powerful tools in your toolbox.
This video features "Syndrome" by Mikkas and "Bobo by Schpilka:
http://www.mikkasmusic.com
http://www.schpilkas.com
Inspiration can be a tricky thing. You either feel it or you don't. So much of music making is about either capturing inspiration when it happens or making it happen through new sounds, new techniques, or new ways of processing sound.
In this video, we take a look at all the ways that Reason can inspire your music.
This video features "Be Like You" by Olivia Broadfield and "English" by Ali Payami:
http://www.soundcloud.com/oliviabroad…
https://www.facebook.com/ali.payami.f…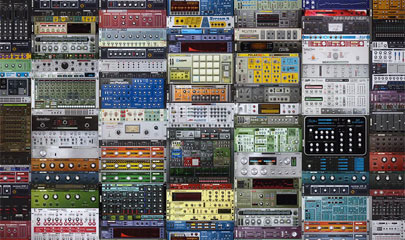 Today Propellerhead has released their latest incarnation of their popular DAW – Reason 7
Reason 7 brings tons of new improvements for the mixer, the rack and the sequencer. Integrate your instruments into Reason with MIDI out, audio slicing and audio quantize. Turn your recordings into REX loops. For mixing, we're introducing a spectrum analyzer with visual EQ, group and parallel channels and workflow improvements. To inspire, Reason 7 imports audio from your music library and web formats. The enhanced Factory Sound Bank comes fully loaded with tons of new loops and drum kits. The new Audiomatic Retro Transformer effect adds a futuristic-vintage sound to any tracks.
Reason Essentials 2 is a free upgrade for all owners of Reason Essentials, bringing audio slicing and quantizing to the sequencer. Create REX files from your recordings directly in Reason Essentials. Import audio files from your music library and the web with improved file format support. Workflow enhancements in the rack and sequencer make writing, producing and mixing music in Reason Essentials even faster, easier and more fun.
All details can be found here >>
Our Pyramind friends made this intro to getting the Midi Fighter Pro set up with Reason's Kong. Learn more about Pyramind's tutorials + download a Reason demo: http://bit.ly/15Y9wZ4
In this Micro Tutorial we take a look at audio slice markers in Reason 7. Whether you're quantizing your audio tracks for flawless timing, adjusting individual notes to re-imagine your phrasing, or just looking to experiment into unknown realms Audio Slice Markers are a powerful tool. And the best part? Thanks to Reason's legendary time stretch, it sounds amazing.
Ever since Reason 1.0 beatmakers, producers, and button-mashers alike have all loved the venerable old Redrum Drum Computer. And it's easy to see why. Step sequencing drum machines like Redrum or even the classic Roland 808 offer a nearly perfect layout for programming the rhythmic syncopated beats used in so many popular music genres. The 16 buttons, representing the 16 steps in the beat, provide the right blend of predictable beat construction and random experimentation when you want to spice up your beats.
In this micro tutorial, we'll get you started with drum step sequencing and get familiar with the Redrum's layout. You'll soon learn why producers the world over love Kong but also keep coming back to Redrum for that special creative simplicity.
You've spent hours on your track? Working and reworking every part to bring your musical vision to life. And you know that the quality of your reverb can be the difference between the rich sounding mix you're after and one that comes off as flat and artificial.

Face it: When it comes to pristine, authentic reverb, it's the algorithm that counts. RP-Verb is the fruit of Rob Papen's decades-long study of reverb and endless hours of exploring, testing, and tweaking by Rob and Jon Ayres. The result is exactly what you would expect: a stunning, musical reverb that brings unmatched dimension and fullness to your mixes.

RP-Verb is the reverb you've waited years to have in your Reason setup. Try it out for yourself and see why pros describe it with one word: amazing.

Introduction price until 30 April: Euro 49 / USD 59 (normal price Euro 65 / USD 79)
For nearly as long as dubstep has gone from being an experimental subgenre to the juggernaut world-dominating scene that it is today, Grime has been its lesser known cousin – developing right alongside dubstep but staying safely in the underground. It's not that we haven't all heard grime beats before but masterful grime producers have been weaving the sounds into pop songs and remixes in ways we don't realize, effectively sneaking grime into our playlists.
Propellerheads recently met up with respected grime producer, Preditah, to walk through his latest instrumental beat.
Propellerhead has announced a new major version of its Reason music software. With over 90 third party Rack Extensions expanding Reason's rack of instruments and effects already available, Propellerhead has focused its attention on new creative and inspirational improvements for the mixer, the rack and the sequencer.
With Reason 7, users can integrate all their instruments into Reason with MIDI out, automatic audio slicing and audio quantize, and even convert their recordings into REX loops for further creative possibilities in the rack. For mixing, Propellerhead is introducing a spectrum analyzer with visual EQ controls; group and parallel mix channels; and many workflow improvements to help users sound better, easier. To inspire, Reason 7 makes it easier to import audio from users' music libraries and the web with support for mp3, aac, wma and more. The enhanced Factory Sound Bank comes fully loaded with tons of new loops and drum kits, while the new Audiomatic Retro Transformer effect unit adds a futuristic-vintage sound to any tracks, never more than a mouse-click away.
Reason users are invited to sign up for the limited public beta testing at the Propellerhead web site.
Pricing & Availability
Reason 7 and Reason Essentials 2 begin limited public beta testing today and will be available for purchase worldwide in Q2 of 2013 at the following suggested retail pricing:
Reason 7 €405 / $449.
Reason Essentials 2 €120 / $129.
Reason 7 Upgrade (from any previous Reason version) €129 / $129.
Reason Essentials 2 upgrade from previous versions free.
Balance (includes upgrade to Reason 7 for owners of previous versions of Reason) €429 / $449.
Propellerhead is also offering a grace period for purchasers of current versions of Reason, Reason Essentials and the Balance audio interface. Purchasing and registering a qualifying product today makes users eligible for a free upgrade to Reason 7. For details see: www.propellerheads.se/freeupgrade
Buffre Beat Repeater is an audio looping device that repeats and scrubs audio in sync with song tempo. Buffre is a performance effect, playable from a MIDI keyboard or control surface, and supports Reason control voltage routings for automated looping, stutter and glitch effects.
When you download a full license, please opt-in for special promotional offers by clicking the check box and REGISTER button.