Working with Propellerhead Reason on iPad with Parallels Access app that allows to use iPad as wireless touch monitor for Mac/Win apps. The Propellerhead Reason is running on the Macbook pro but controlled from the iPad. Also the sound goes wirelesly to the iPad with just a little latency.
Put the "sproing" in your mix with Softube's Spring Reverb. Spring Reverb is now avaialbe for Reason Rack Extensions, as well as VST, AAX, AU and RTAS formats.
More information on Spring Reverb and Softube's other products at http://www.softube.com.

Softube has announced that its Spring Reverb is now available in the Rack Extensions format for Propellerheads Reason.
Spring Reverb is an authentic spring reverb recreation that will add vintage character and grit to any audio track.

It also includes novel features such as a fully automatable Shake control that will shake the virtual springs around for those thunderous spring effects.

Get some recognizable character in your mix with the Spring Reverb!
Spring Reverb RE is available to purchase for $79 USD / 65 EUR.
Background video description:
Do you find yourself exploding with creativity but unsure of how to get it out? Think you'd do a bang up job making beats that would be blowing up, if only you knew how to get started? Well we've got a dynamite new tutorial for you beginners called "Your First 10 Minutes in Reason." Carlo Nuevo (M.Born) will take you from the first launch of Reason, through setup, and right up to mixing his first track complete with drums, synths, and vocals. It all happens in just 10 minutes and it'll get you making music in no time. We think you'll agree. This tutorial is da bomb.
Erik Hawkins (a.k.a. Erik Hawk) of Berklee Online shows you how easy it is to convert an audio loop into a REX loop directly in Reason 7. You no longer need ReCycle to author REX loops!
Erik Hawkins (a.k.a. Erik Hawk) of Berklee Online shows you how easy it is to set up sub mixes, using bus paths, in the Main Mixer of Reason 7.
Erik Hawkins (a.k.a. Erik Hawk) of Berklee Online shows you how easy it is to work with parallel channel effects in the Main Mixer of Reason 7, and how this type of processing can fatten up your tracks.
Background information:
I've got to say, the new features in Reason 7 are killer!  I'm having a whole lot of fun working with everything from the new Spectrum EQ Window, to the buses and parallel channels on the Main Mixer.  And of course all the rocking Rack Extension devices, especially the Korg Polysix and Propellerhead PX7 instruments, and the Pef Buffre and FXPansion Etch Red Filter effects, and iZotope Ozone for mastering.  Way too much fun and not enough time in a day to play with all these new shiny toys!
This is the latest trailer for professional musician Jared Meeker's set of tutorials on recording and producing in Reason 7, available at Music-Courses.com: http://www.music-courses.com/product….
The course is a step-by-step guide to creating a funky, melodic, broken beat track with Reason, including recording in of parts, as well as programming of instruments within the software. All the while, Jared considers musical elements, such as melody, harmony, rhythm, form and timbre, sharing his wealth of experience performing and composing alongside notable artists and establishments in the music industry.
Producertech are happy to announce a brand new course on Reason 7 by Jared Meeker, a professional musician and composer who's performed with LA hiphop artists Nate Dog and the Eastsidas, Snoop Dogg and Myka Nine, and has a string of sound design credits that include Dexter and Smash. In this comprehensive set of tutorials, Jared shows how to record and process live parts, like the guitar lines that form the basic structure and embellish the song, as well as focusing on the 5 major elements of composition – melody, harmony, rhythm, timbre and form. The lessons teach a wide variety of subjects, including instrument programming, numerous mixing and production techniques, creative audio editing and also many of the new features in Reason 7, like the Audiomatic Retro Transformer and updates to the main mixer.

Signing up to the courses not only allows unrestricted 24/7 access to the tutorials for as long as you need but also means you can download the Reason song file made throughout the course and 300MB of extra bonus samples from the Loopmasters packs used in the movies.
For more information about Reason:
http://www.propellerheads.se/tryreason
Max Rehbein just might be the best thing to come out of Germany since the pretzel! Never short on amazing sounds and a willingness to share his knowledge, Max is back with another sound design tutorial. This time he'll show you how to make an Electro Bass sound using amplitude modulation in Thor. Sound complex but it's freakishly easy. Throw on a little distortion and you're off to the races. We'll let Max explain the rest but if you hear those Electro bass sounds and want to learn how to make your own, this tutorial is for you!
Numerical Sound has announced Tone Mutation: Vocals, a Rack Extension for Reason and Reason Essentials.
Numerical Sound Tone Mutation: Vocals (TMV) contains 36 human vowels and animal resonances designed to greatly expand the range of your synthesizer and audio tracks by transforming them into vocal sounds.
High precision resonances dramatically enhance vibrato – giving accurate vibrato tone from any synth. Elevated high frequencies allow TMV to work with maintain clarity and impact on any percussion sound. Dramatically changes the sound of your existing patches, especially pads and full-frequency sounds. The available combinator patch allows smooth morphing through 8 different selectable vocal sounds on any Reason instrument.
Tone Mutation: Vocals features
36 Timbral Impulses cover a wide range of vowels and semi-vowels as well as a selection of Walrus, Whale, Alligator, Leopard and Panther vocalizations snapshots.
The Convolution approach enables capabilities and precision sound that is impossible with parametric and multiband EQ's.
Stereo Width, Gain, Pan and Dry/Wet controls make it easy to mix and shape the sounds.
Audiophile design supports 44.1, 48, 88.2, 96 and 192 KHz sample rates, with processing transparently optimized for each sample rate.
Bonus: Find different ways to use TMV instantly with the free combinator instrument patches. Some patches are available to trial users to get started quickly, but registered users get even more, including intermittent e-mailed updates from Numerical Sound
The Rack Extension is available from the Propellerhead Shop for 55 EUR.
For more information on Reason:
http://www.propellerheads.se/tryreason
When Adam and his brother tried programming their own computer games as kids his own attempts were terrible. Fortunately however, the music Adam made for those games using ProTracker software on the old Atari ST computer wasn't terrible. In fact, it was so good he quickly outgrew what he could achieve on such a basic set up. After a recommendation from a friend and seeing the rack cables in action for himself, Adam was quickly a Reason user and now even pushes Reason to its limits with his epic full-bodied synth soundtracks.
After a couple independent releases, Adam Fielding's music caught the attention of Distinctive Records in the UK who promptly signed him for those and future releases. Now Adam splits his time between producing his own albums and soundtracks for TV and film use.
We caught up with Adam to check out how he builds up his ideas and arranges them in Reason using Blocks.
——————-
Project Genesis appears with permission from Conspiracy – www.conspiracy.hu
http://peff.com/cv
#6 observing how various CV source types affect oscillator pitch
Electronic music instruments rely on control voltages in some form or another. Both analog and digital systems require a means of changing pitch, timbre, loudness, and other sonic characteristics. This is achieved using control voltage, or in the case of software like Propellerhead Reason, a digital representation of control voltage.

A powerful feature of Propellerhead Reason is the implementation of signal routing in the virtual rack environment. This system includes both audio cabling and control voltage cabling. A single modulation source, such as an LFO, can control several other synths that react the instant you alter the LFO settings. This ability to have a signal from one software synthesizer control a different software synth, is an amazing feature that often goes overlooked.

For Reason users, interested in learning about control voltage routing, this on-going series will provide an introduction to the terminology and protocols in using this feature in Propellerhead Reason. The tutorials are presented as individual Reason Song Files and require various Rack Extensions that help illustrate active processes. Each lesson is embedded in the session file, so you actively experience control voltage at work, or you can quickly copy and paste patches to your own projects.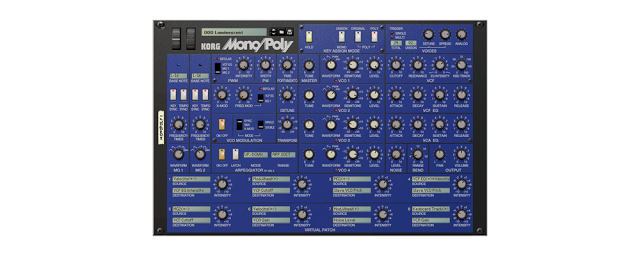 Korg's original Mono/Poly, released in 1981, was a monophonic/polyphonic behemoth that was popular worldwide. It provided four oscillators, a resonant filter, dual EGs and Modulation Generators, plus 4-way Synchro and Cross Modulation capability for creating aggressive and signature tonal effects. Mono/Poly was reborn as software as part of Korg's Legacy Collection – Analog Edition 2007.
The new Mono/Poly for Reason is a software version specially developed for Propellerhead's Rack Extension Plugin format for Reason. In addition to faithfully replicating the original sounds, the Mono/Poly for Reason also adds enhancements such as 128-voice polyphony (max), up to 16-voice unison, Mono/Poly up to date for use in modern music production.
Beyond perfectly reproducing the original, this version of Mono/Poly also greatly extends its sound-creating potential. An eight virtual patch matrix lets users route 159 modulation sources to modulate 35 destinations for creating complex, diverse sounds. Two integrated multi-effects and an arpeggiator deliver modern performance power and flexibility.
The software interface provides reorganized knobs and switches that resurrect the MonoPoly in a contemporary "rack-mountable" form for intuitive operation and sound-creating versatility.
Mono/Poly for Reason will be available for download at Propellerhead's web-shop shop.propellerheads.se on June 20th for U.S $49.00. Additional product information can be found at: www.korg.com/MonoPolyforReason