More info on Reason: https://www.propellerheads.se/product…
Thor sounds like no synthesizer you've ever heard before – and every single one of them. Where other synths use one specific form of synthesis and one single filter, the Thor polysonic synthesizer features six different oscillator types and four unique filters. Unlimited sound design potential at your fingertips.
In this micro tutorial we'll take a look at how to maneuver this unstoppable force of synthesis and give you an overview of its main features.
Last week Sonic State had a visit from Ryan Harlin – he's the guy behind Propellerheads Music Making Month and also puts together the ongoing video content for Propellerheads.
"He showed us around the new features in the just released Reason 7, including (finally) the introduction of MIDI, some neat mixer functions – Spectrum EQ, bussing and parallel processing, plus the new audio processing module – Audiomatic."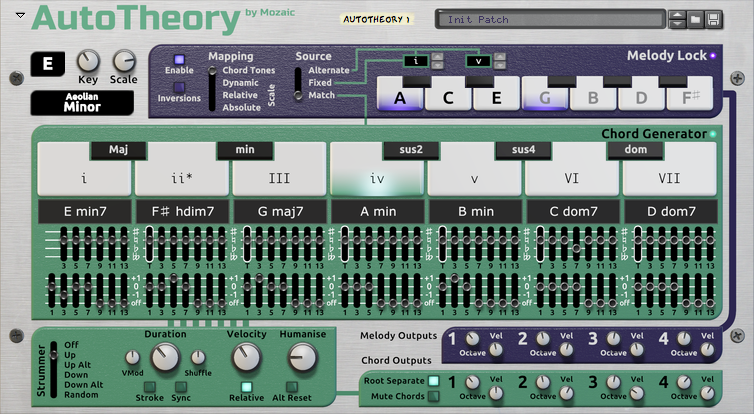 The AutoTheory Harmonic Engine enables anyone, regardless of musical theory or keyboard training, to easily create professional-sounding melodies and harmonies.
AutoTheory makes it easy to play in harmony. Simply choose a key and a scale and AutoTheory will map all relevant chords and notes to the keys of your keyboard. Connect it to one or more Reason instruments and it will transform the way you play.  Play full chords with just one finger. Experiment by modifying chords with the chord sliders and modifier keys. Adjust individual chord note voicings and transpose or remove any note to create a customised chord. Create your own scales or select one from the many provided. Use what sounds good to you.
AutoTheory automatically remaps notes to match your chords. Now you can easily improvise melodies that sound good. Maintain your hand in the same position while composing melodies over different keys, scales and chord configurations. Optionally lock specific chord tones to fixed white keys. Four mapping modes accommodate different levels of user experience.  All controls in AutoTheory can be automated for easy transitions anywhere in a song. This means you can change the key or scale in the middle of a song without moving your hands.
AutoTheory also provides a Strum effect that can be used to add drama to any chord. Subtle and extreme timing changes are easily applied and fully CV-controllable.  AutoTheory can control multiple instruments at once. One option sends the root note of chords to a dedicated bass instrument. Four chord and four melody channels provide independent control of velocity and octave for each connected instrument. This allows you to create a rich soundscape – all from a single sequencer lane or just your own hands.  CV inputs are provided, which are useful for driving AutoTheory with Arpeggiators and Pattern sequencers.
Check out the included Demo Songs that demonstrate how to use AutoTheory. A set of useful Combinators is also provided.
This guide shows how Mozaic's AutoTheory Rack Extension applies to music theory.
For a free demo of AutoTheory please visit http://shop.propellerheads.se/product…
For the main tutorial, please watch http://youtu.be/hQVnfd3WGyM.
Silent Way Voice Controller, part of the Silent Way plug-in suite, will soon be available as a Rack Extension for Propellerhead Reason. Silent Way offers deep control over analog synthesizers direct from your DAW.
For more information on Silent Way, see
http://www.expert-sleepers.co.uk/sile…
Silent Way is a suite of plug-ins designed for use with analogue synthesisers, and especially as part of a modular analogue synthesiser system. The plug-ins produce no sound themselves, nor do they process sound – rather, they generate signals to be used as control voltages (CVs), which can be patched into the control inputs of oscillators, filters, VCAs etc. of an analogue system. Also, with the addition of the CV Input plug-in, it is possible to bring CVs from the synth into the computer, for recording or processing.
There are currently eighteen plug-ins in the Silent Way suite – Silent Way AC Encoder, Silent Way CV Input, Silent Way CV To MIDI, Silent Way CV To OSC , Silent Way DC, Silent Way ES-4 Controller, Silent Way ES-5 Controller, Silent Way ESX-4CV Combiner, Silent Way Follower, Silent Way Learner, Silent Way LFO, Silent Way Quantizer, Silent Way SMUX, Silent Way Soundplane, Silent Way Step LFO, Silent Way Sync , Silent Way Trigger and Silent Way Voice Controller. These are described in more detail below. It is anticipated that more plug-ins will be added to the suite in the future – watch the website for product announcements.

Numerical Sound has announced the release of ReBass Narrow, a Rack Extension for the Reason music production software by Propellerhead Software.
ReBass uses convolution to target bass frequencies with extreme precision, emphasizing just a perfect fifth while leaving the surrounding material untouched.

This means no messing around with endless sweeping and tweaking – just target the range you want from C0-G0 (31-46Hz) to B3-F#4 (233-394Hz) by picking one of the 36 impulses. Each impulse is one semitone higher than the last, so you don't have to think like an engineer to get a great sound – it's quick, clear and free of the phasing artifacts and imprecision EQ can introduce.
ReBass Narrow features
Extreme precision bandpass, rolling off 110 dB within 1.5 semitones from the target range, only possible through convolution and something that traditional EQs cannot match.
36 impulse organized by starting pitch cover 3 octaves from C0-G0 (31-46Hz) to B3-F#4 (233-394Hz).
Audiophile Design: Supports 44.1, 48, 88.2, 96 and 192 KHz sample rates, with accurate detail, ultra-low noise floor and utmost transparency.
Easy to Use Controls: Impulse List, Stereo Width, Gain, Pan and Dry/Wet controls make it easy to mix and shape the bass.
Smooth CV based automation can be used Stereo.
Width, Gain, Pan and Dry/Wet to creatively change your sound.
ReBass Narrow is available to purchase for 55 EUR.
More info on Reason: https://www.propellerheads.se/product…
The Audiomatic Retro Transformer is a new Rack Extension that comes free with Reason 7. Audiomatic is for your music what those insta-hipsta-analogififcation apps are for your cellphone pics. It's about taking your sounds and making them a little bit wrong in the right way. Color your sounds, add extra grit, or indulge in the lo-fi goodness.
In this microtutorial, we'll show you how Audiomatic was deployed across an entire mix to bring authenticity to the retro vibe. A little retro here… a little retro there… and it adds up to a dramatically awesomized mix.
Here's a walk-through of all the functionality in Repeat, a 4-channel, real-time, live-looper for Reason. If you'd like to see Repeat in action, check out this video: https://www.youtube.com/watch?v=EQUOS…
Repeat is available for purchase here: http://shop.propellerheads.se/product…
Demo of the Repeat Looper Rack Extension for Reason. Live-looping cover of such Great Heights by The Postal Service.
More info on Reason: https://www.propellerheads.se/product…
Scream 4 Sound Destruction Unit is a multi-mode sound mangling utility that adds all kinds of distortion — from the gentle tape compression to full-on sonic mayhem. Relatively simple to use but satisfyingly nasty, in this video we cover the basics of this destroyer of sounds.
More info: http://bit.ly/175awvf
In this video, Reason guru James Bernard takes a look at Propellerhead Reason 7's new features including MIDI / CV output, the spectrum EQ analyzer, parallel processing, some new retro effects, and the addition of ReCycle to the already powerful music production and sound design software.
Jim Aikin shows how to conform audio files (such as drum loops) to MIDI grooves, and how to export and work with the results as a sliced REX file in Reason's Dr. OctoRex instrument.
Reason 7 brings tons of new improvements for the mixer, the rack and the sequencer. Integrate your instruments into Reason with MIDI out, audio slicing and audio quantize. Turn your recordings into REX loops. For mixing, we're introducing a spectrum analyzer with visual EQ, group and parallel channels and workflow improvements. To inspire, Reason 7 imports audio from your music library and web formats, the enhanced Factory Sound Bank comes fully loaded with tons of new loops and drum kits and the new Audiomatic Retro Transformer effect adds a futuristic-vintage sound to any tracks.
Learn more about what's new in Reason 7