New in the Propellerhead Shop—Red Queen 10 Band 3 Mode Equalizer. 10 Bands, 3 Modes, 9 filter types and various internal processing paths are at your disposal, plus the ability to record non-destructive MIDI automation with the additional Consort MIDI Recording Control Unit—Red Queen has far more to offer than most.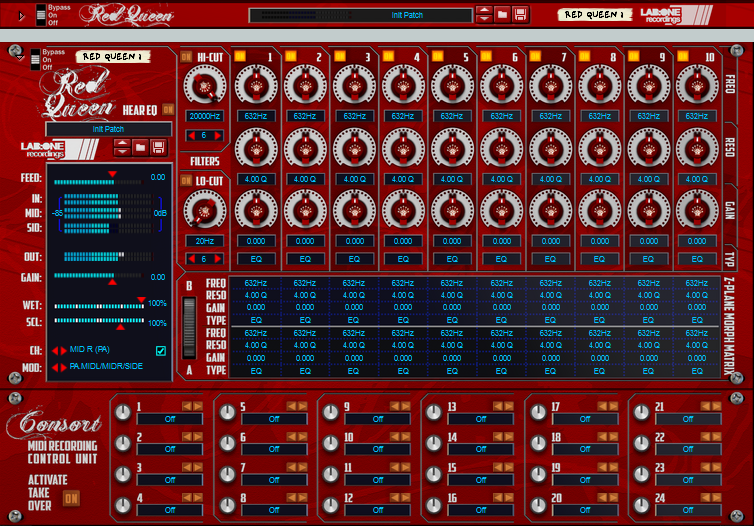 Red Queen 10-Band 3-Mode Equalizer, brought to you by LAB:ONE RECORDINGS, is a totally new powerhouse EQ for the rack; a unit designed to cover all your possible needs, including colouring your sound to give it character, surgical corrective work for those tricky frequencies, and to become a creative filtering device for those extra special effects.

10 Bands, 3 Equalizer Modes, 9 filter types, and up to 6* internal processing paths per EQ mode are at your disposal, plus the ability to record non-destructive MIDI automation with the additional Consort MIDI Recording Control Unit, Red Queen has far more to offer than most – totalling more than 800 controls under the hood, Red Queen is one for your toolbox, whatever you use her for – totally your freedom to colour, control and create.

Quadelectra has launched CV Suite Parametrix, a Rack Extension for Propellerhead Reason that lets you control any CV Input signal as if it was a parameter.
CV Suite Parametrix is the third "child" of our CV Suite Line series…

This is a simple straightforward and very handy device that will turn any CV Input in an automatable parameter.
CV Suite Parametrix features
Four individual parameter to CV converters can be controlled per device.
You can select whether each parameter will expand across bipolar or unipolar range…
All parameters can be named by clicking to the label tapes next to the headings.
An additional dedicated CV Modulation Input is provided per parameter, the range (trim knob) and the appliance of which you can set and automate too from the front panel.
The Rack Extension is available to purchase for 7.50 EUR.
Track composed (just a jam) using only presets made by Alba Ecstasy.
You can find the packs right here: http://goo.gl/Eg4I08
The drums are from the "71 presets" pack.
71 patches for Thor – compatible with Thor for iPad and Reason 4 and up. 100% royalty free! The patches will be sent via e-mail. After you made the payment, the pack is sent via e-mail within max. 24 hours (also check spam).  For iPad, the Thor patches can be loaded only via iTunes.
I guess this one is a must have for anyone enjoying the Reason DAW, however it is expensive (as with everything else in the Prop Rack extension shop !!!) – its 99€
Parsec is available in the Propellerhead Shop
http://shop.propellerheads.se/product…
Propellerhead proudly presents Parsec Spectral Synthesizer—the futuristic sound of additive synthesis for the Reason Rack. With two independent sound engines, up to 1024 oscillators per voice, a wide range of sound sculpting tools, built-in effects and free modulation routing, Parsec won't leave you wishing when it comes to sonic horse-powers.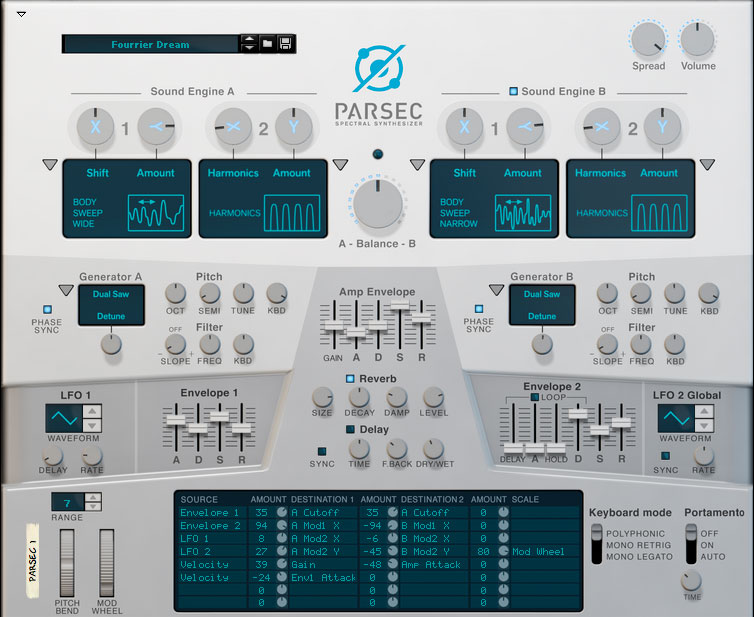 Boasting a state-of-the-art synthesis engine and an inviting user interface, Parsec was designed for the novice and the PhD of sound synthesis alike. The comprehensive sound bank with patches spanning everything from crisp, digital sounding leads to lush and evolving pad sounds, rich sonic textures and instrument sounds, will make an excellent starting point to explore the sounds of Parsec. Once you are ready to dive further, the easy to grasp interface will have you creating your own otherworldly sounds in no time.
Features:
– Extremely powerful and easy to use additive synthesis.
– Amazing sound bank with inspiring sounds for electro house, bass music, minimal techno, electronic indie and pop, far-out experimental, and more.
– Two sound engines that make up a single sound. Use one engine for the attack and another for sustain. Or use both at the same time for ultra thick tones!
– Up to 1024 oscillators per voice.
– It's a vocoder too, with modulation from Parsec's audio input.
– Built in high quality reverb and delay.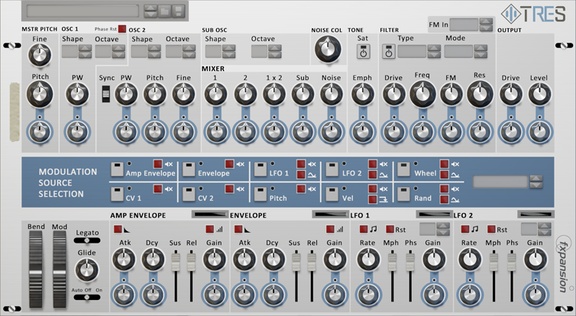 FXpansion has announced the release of Tres, a monosynth Rack Extension for Reason powered by DCAM analogue circuit-modelling technology.
Tres features our powerful TransMod modulation system and a wide variety of timbral flexibility and tone sculpting – a deep two-oscillator synth capable of deep basses, biting leads, strange drones, warped percussion and twisted SFX.

Tres' modelled VCOs can interact at audio rate to produce complex tones; a filtered noise generator and sub-oscillator round out the oscillator section. A keytracking, time-variant shelf-EQ allows you to emphasize or cut higher harmonics before a switchable multimode filter with huge resonance, self-oscillation, FM, adjustable drive and 3 distinct classic synth filter models. Tres' final output VCA provides a non-linear analogue drive stage for a variety of tonal colours from warm and smooth to gritty and aggressive.

Most of Tres' parameters can be modulated simultaneously by any of 10 available modulation sources including Tres' built-in dual envelopes and LFOs and external CV sources from elsewhere in your Reason project. You can also route external sources for audio-rate filter FM and use Tres' built-in envelopes and LFOs to modulate other devices within your session.

Tres comes with a comprehensive library of over 200 unprocessed and Combinator patches, developed in conjunction with Nucleus Sound Lab.
Tres is available to purchase for $49 USD / 39 EUR inc. VAT where applicable.
EQ is probably the most important tool to make sure your mix sounds good. But how do you know where to cut or boost? What frequencies are important? In this video Propellerhead product specialist Mattias lets you in on four EQ tips for a better mix. Learn basic EQ usage, what frequencies matter in a kick drum and more!
The Propellerhead crew got a Hot Hand USB MIDI controller sent to the office. It's a wireless motion sensor you put on like a ring that can then control parameters via MIDI. Of course Mattias had to give it a try! Here he's controlling filter frequency, noise level and phase on a Subtractor.
And AskAudio has a new tutorial out: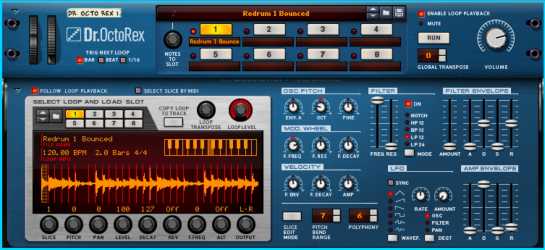 Reason 7: Creating REX Files
Oh, it's hard to believe it. The reason to own Recycle, that *ahem* older once-miracle of modern sampling has now past. No longer do you need to encode audio files in another application, outside of Reason. Now, you can convert audio files within Reason, into Rex files. Which, of course, are the loop files that Dr. Octo Rex eats for breakfast.

So, why, with Reason's amazing time stretching ability would this feature even be relevant? Well, if you've ever gone into the editor of Dr. Octo Rex, and have actually messed around with features like the Amp envelope, Filter envelope, or you've applied an LFO to a loop. Or, if you've ever modified the pan, pitch, or filter frequency of individual slices within a REX file… Well, you know you can take loops to a very different place.

In short, REX files are still amazing, relevant and because you can now easily create your own REX files life has gotten much better.

So, how do you do it?
Introduction to AS-16 Analog Sequencer for Reason
Features:
16 CV channels with separate CV outputs
Skip, Jump and Pad features for each channel
Unipolar, Bipolar and Note output modes
Common musical scales, with selectable root note via UI or MIDI
Octave and range controls when in Note mode
Normal, One Shot and Random modes
Selectable slide
Pattern reverse and bounce modes
Synchronise with sequencer, external clock or free run
Swing control
Audio envelope and chopping facility
CV add and multiply
Chaining of devices for unlimited channels
Pricing and Availability:
€ 25.00
Available in the Propellerhead shop.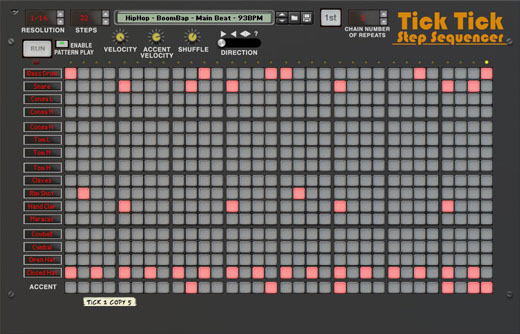 Josh Levy has released the Tick Tick Step Sequencer, a pattern sequencer Rack Extension for Reason.
Tick Tick is a polyphonic button-style step sequencer designed to control your BOOM 808 Percussion Synth as well as other Reason drum machines, and monophonically send notes to other Reason synthesizers and devices.

Chain multiple Tick Tick units together, each with its own pattern, to create complex combinations, and even entire songs.

Tick Tick includes a full beat pack by Reason Refill maker -008′. Also included are contributed demo beats, combis, and over 1,500 scales and modes.
Tick Tick Step Sequencer features
16 note polyphonic step sequencer, with editable names and assignable midi notes.
Up to 32 steps per pattern, from whole notes to 1/128th notes.
Shuffle control.
Forward, reverse, pendulum and random repeat modes.
Two velocity levels.
Chain multiple units together to create whole songs or complex patterns.
Automation and cv control for starting and stopping.
Individual cv outs for each instrument.
Massive beat pack by -oo8'.
More than 1,500 scale and mode patches for use as a note sequencer or arpeggiator.
Run and stop controls for previewing Tick Tick patterns.
The Tick Tick Step Sequencer is available to purchase at the Propellerhead Shop for 32 EUR.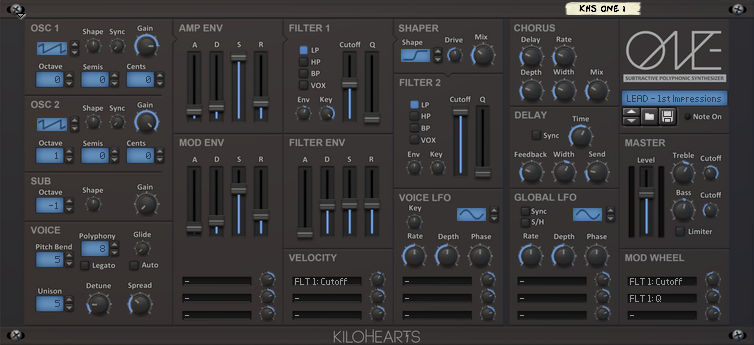 kiloHearts has released a Rack Extension version of the kHs ONE virtual synthesizer instrument.
Whether you want a thumping bass, squelching lead or a smooth pad, kHs ONE stands ready to serve! But don't worry, it won't get sad if you just throw it in for a simple sine sub. Not visibly, at least.

With highly morphable oscillators and a vast array of modulation options all fit into an easy to understand GUI, kHs ONE is the perfect synth for both users new to subtractive synthesis as well as hardened veterans.
kHs ONE RE features
2 Main oscillators (saw/square/noise).
Sub oscillator.
2 multi mode filters (including vowel filter).
Per voice wave shaper.
2 LFOs.
3 Envelopes (amp/filter/mod).
8 voice unison.
24 voice polyphony.
Env/LFO legato on/off.
Portamento/Glide.
Onboard FX: Chorus, Delay, Equalizer and Limiter.
The kHs ONE Rack Extension is available to purchase from the Propellerhead shop for 79 EUR.
Kilohearts' acclaimed synthesizer plugin "kHs ONE" is now also available as a Rack Extension for Reason!
http://shop.propellerheads.se/product…
http://kilohearts.com/products/one