September 27, 2012 · Posted in
Uncategorized
·
Comments Off

on Electronic pop: Vanguard – Goodbye
New electronic pop video from Vanguard, modern synth music a bit on the slow side

Vanguard is Jonas Olofsson & Patrik Hansson
Like them on facebook for more information and news: http://www.facebook.com/vanguardofficial
Website : http://www.vanguardmusic.se
Director, Producer & Script writer
Nicolina Sturesson, Svalorna Mediaproduktion
Photo, Editing & Grading
Eric Hasso, Igelkott Film
September 25, 2012 · Posted in
Uncategorized
·
Comments Off

on Low key ambient EBM synth music: HAPPINESS PROJECT – Heights
From the album 9th Heaven [BDMCD19] out on BOREDOMproduct november 5. 2012
Happiness Project is a singular band… First there is the choice of a surprisingly joyful name for such a melancholic music. Happiness Project is the combination of electronic sounds, DiY attitude and cold-wave influences. Then, the band's organisation itself is atypical, with two lead singers: Christelle and Fred bringing alternatively their personalities and providing duality and different emotions. Cyrille, the instrumentist of the trio, alternately programs machines and synthesizers or plays bass guitar.
September 24, 2012 · Posted in
Uncategorized
·
Comments Off

on New video from Swedish synth pop act Daybehavior – Godspeed
This is a fan video for the song Godspeed by the Swedish act daybehavior that we here at SBC interviewed about a year ago, you can read it here >>
Visit www.daybehavior.com for info and please support the band! Buy the album! The song "Godspeed" is taken from the album "Follow That Car!", released in september 2012
Biography:
It all started with the two friends Carl and Tommy who had both been making music in various constellations since the early eighties. In 1988 they met at a party and found out they shared similar musical references, particularly synthesizer-pop music from the early Eighties. In the summer of '93 they got together and seriously started to consider the possibilities of making music together. They decided in what way they wanted to work and a music project slowly took form at their own Graplur Studios. In the winter of '93 they started the search for a vocalist, and a little more than one year later, after having tried out more than 40 different vocalists, Paulinda entered the studio and the last piece of the Daybehavior puzzle fell into place. Half Italian, half Swedish Paulinda was able to add even more beauty to the Daybehavior sound, turning their music into something really special with her melodic voice, and her lyrics which she mainly writes in English, but sometimes in Italian. The first album was released by the indie-label North of No South (NONS) and was distributed and released in Europe, Australia and Japan.
Enjoy
September 21, 2012 · Posted in
Uncategorized
·
Comments Off

on New electronic pop video: Scarlet Soho – "Solo KO"
True to electronic synth pop traditions here's a brand new video from Scarlet Soho, details below:
Full EP available at www.scarletsoho.com from 26.10.12
See the band live www.facebook.com/scarletsoho
Directed by Steve Hogg
VIDEO IRSC – GBCZ61200012
Booking Contact – mirrormanagency@gmail.com
PR Contact – mirrormanpr@gmail.com
Additional thanks to – Millbank Gym, Steve Hogg, Andy Wilkin, Jack Hannaway, Driss Oulahen and Blaise Gresley
September 5, 2012 · Posted in
Uncategorized
·
Comments Off

on New material from French electro act THE NAME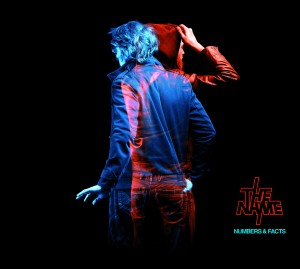 The French act THE NAME has released a new full length album, featuring several nice analog synths analog synths (Pro One, TB 303, SH 101, Juno 60, MiniMoog, TR 707…), more details below and an exclusive teaser from the album on the Stereoklang Radio player, enjoy:
Follwing 2 renowned eps, the duo THE NAME (drums and analog keyboards) presents their first album. Resolutely Electronic, this masterpiece revolves round catchy Disco/House tracks, the technological simplicity of Rebotini, the straight lyricisms of Zombie Zombie and the effervessence of Siriusmo. Ten dancy, epic, troubling tracks, brush up a collection of dark disturbing nocturnal heroes. Personified on this project by José Reis Fontao (Stuck in the sound), Christine & The Queens, About The Girl, Richard Allen (Wolves & Moons), PopClo (We are enfant terrible), and Linda Lamb (Vitalic). Having been selected in the « Découvertes Printemps de Bourges 2012 » (emerging artists in 'Bourges' Festival) and regulars in the famous french TV series « Bref », where they maintain musical synchronisation. The Name continues its extraordinary momentum, alternating between musical production, remixes (Museum, Léonard de Léonard, We Are Enfant Terrible…) and firey concerts.
www.thename.fr
listen to the full album here : http://thenameband.bandcamp.com/album/numbers-facts
August 30, 2012 · Posted in
Uncategorized
·
Comments Off

on Space music: S.P.O.C.K – First ever promotional video from 1996
If you are into glittering and bleepy synth pop, here's a nice treat for you all.
This was the first promotional video made for Swedish spacepop group S.P.O.C.K. It contains footage from some of the TV-shows the band appeared in 1996:
1) "All ETs Aren't Nice (A.R.M. Mix)" – Fritt Fall, SVT2, Sweden
2) News At Night, MTV Europe
3) "Astrogirl" – MC, SVT2, Sweden
4) News At Night (with excerpts from "Astrogirl" and "Strange Dimensions", MTV Europe
5) Sydnytt, SVT, Sweden
Enjoy
August 24, 2012 · Posted in
Uncategorized
·
Comments Off

on 30 years has gone since Yazoo's Upstairs at Eric's hit the stores – Interview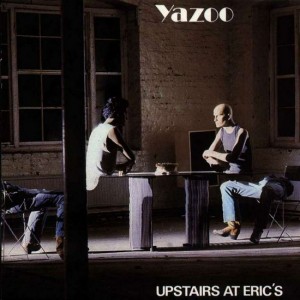 On the 30th anniversary of its release, Vince Clarke tells John Freeman how Yazoo's groundbreaking debut album was all about "the singing and the tunes".
Excerpt from the interview:
What were your first impressions of Alison?
Vince Clarke: By the time Alison and I started working together I did kind of know her. I'd seen her perform in a couple of local R&B bands and a punk band [The Vandals], so I knew she had a great voice. When I finally got to meet her I found her to be incredibly shy, which was opposite to her personality in this particular punk band.
What was it about Alison that made you want to work with her?
VC: Well, I only had one song, 'Only You', which I wanted to demo and that was the sole purpose of hooking up in the first place. I knew that she could sing with a lot of emotion and this particular track was a love ballad. I was looking for someone who could put that across.
What was that very first practice session like?
VC: It was great. We were using this tiny four-track tape recorder and I had the backing track already done. She came around to my flat in Basildon and just sang it in one or maybe two takes. The song wasn't particularly challenging for someone of Alison's abilities. But immediately in the recording there was this sense of seriousness and almost pathos – it was a really great performance.
You then played 'Only You' to Daniel Miller at Mute and he wasn't immediately impressed. I've read that you were pretty close to quitting music at that point. Was that the case?
VC: Pretty much. When I first played the track to Daniel I had gone to his office and he was busy messing about with a synthesizer, as usual, and he didn't seem to be particularly interested. I did think to myself that that was the end of my musical career and I'd need to get a proper job. But that the same evening, the publisher came into the office and he was with a load of other publisher associates and they heard the track and were really enthusiastic about it. That possibly influenced Daniel's opinion.
As you began to create songs for Yazoo, did your songwriting change compared to how you'd written previously for Depeche Mode?
VC: No, I don't think my writing changed. Hopefully my songwriting was getting better but I wasn't writing songs for Alison's voice per se, I was just writing what I thought at the time were quite good songs. I knew that Alison had some ideas for songs as well – she plays piano better than I do – so we just came together and it was a bit of a mish-mash really. There was no concept or theme running through the album; we were just messing about in the studio.
Part of the charm of that album is a naivety. There really wasn't a profound concept that was running through the recording. I didn't really know what I was doing in the studio and Alison hadn't much experience of being in a recording studio, so everything was new. We'd make one sound and we'd think it was great and just stop there and wouldn't make any more sounds. It wasn't like we were continually honing or over producing songs because everything at the time sounded fresh. That's why a lot of the tracks only have eight or nine elements to them.
The title of the album refers to the studio in which you used. What are your memories of the recording process?
VC: We were recording at Blackwing Studios where I recorded the first Depeche Mode album. It was the only studio we knew and the engineer, Eric Radcliffe, was – and is – fantastic. Back then, Blackwing was the studio that Mute were using for all their artists so Fad Gadget was recording his second album at the same time. He was doing the regular hours of 11 in the day until 11 in the evening and so we would get there at about five or six in the morning and just do that early shift.
Ouch.
Read the full interview here >>
August 20, 2012 · Posted in
Uncategorized
·
Comments Off

on Teaser: First new track from I Satellite in 8 years
First song by I SATELLITE in over 8 years. This is a cover version of "This Heart's Not Made of Stone" by Television Personalities. Preliminary demo vocal.
Instruments used: Minimoog (x2), Roland VP-330, Minikorg, Oberheim DX, Roland MC-4b MicroComposer, MPC-3000.
August 16, 2012 · Posted in
Uncategorized
·
Comments Off

on DEVO goes dog hunting in the presidential elections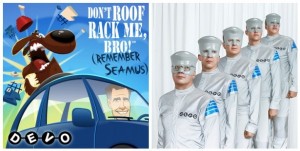 DEVO is taking a swipe at Mitt Romney with a track titled, "Don't Roof Rack, Me Bro! (Remember Seamus)". If you're dodgy on the reference, the forthcoming political anthem revolves around a 1983 incident involving Romney's family dog, a kennel crate, and the roof of their family station wagon.
The track spearheads a new campaign led by Devo founder Gerald V. Casale called Remember Seamus, whose main cause is to "make 2012 the year where animals like Seamus are valued and honesty is praised." It's no surprise then the band's also fully supporting Dogs Against Romney, and is also behind a forthcoming mobile app/game titled, The Crate Escape: Seamus Unleashed. Actually, that last part just has to be surprising.
Fans can look for the track on August 25th via The Orchard. However, the following day, National Dog Day, will see the release of the aforementioned game.
Devo's Jerry Casale wants it to be known that their newest song, "Don't Roof Rack Me, Bro," isn't meant as a partisan statement – even though it viciously mocks Mitt Romney for strapping his Irish Setter, Seamus, to the roof of his car for a 1983 family vacation.

"This isn't a red-state thing or Devo stumping for Obama," he says. "But I think any animal lover that hears the story will learn so much about the character flaw of Romney. It's just a deal-breaker about the man. My God, the world is a scary place with seven billion people. What you want in a leader is a guy with some humanity at his core. I just don't feel that Mitt does."
August 8, 2012 · Posted in
Uncategorized
·
Comments Off

on Synth pop act Mirrors in a 4Play documentary
Enjoy