METROLAND – 'Mixing The Gap' EPCD
Out now is a brand new video from the Kraftwerkian Belgian duo Metroland. The video "Harry Beck" (in a remix by Növö) is dedicated to Harry Beck, an English engineering draftsman best known for creating the present London Underground Tube map in 1931.
http://www.alfa-matrix.com/shop_comments.php?id=2242_0_8_0_C
Original version taken from album Mind The Gap
Remixed by Laurent Boudic under Növo
Edited from EPCD Mixing The Gap
Video edit by HC Carbo
http://www.metrolandmusic.com/
https://www.facebook.com/metrolandmusic
Harry Beck (real name Henry Charles Beck), is a name you most likely will not know, even though a great deal of us have already been using his creation or have seen alternative versions of it.
Neither did we know Mr Beck, but at the time when we were figuring out what to take as art for the album we went on the internet looking for some interesting pictures. It is there where we stumbled upon Beck and his 'creation'.
Harry Beck was an English engineering draftsman best known for creating the present London Underground Tube map in 1931. This map seems so common to every one of us these days, but in the early 1930′s it wasn't. The company of 'London Underground' was initially skeptical of Beck's radical proposal — it was an uncommissioned spare-time project, and it was tentatively introduced to the public in a small pamphlet in 1933. It immediately became popular, and the Underground has used topological maps to illustrate the network ever since.
Beck had the idea of creating a full system map in color. He believed that passengers riding the trains were not too bothered about the geographical accuracy, but were more interested in how to get from one station to another, and where to change. Thus he drew his famous diagram, looking more like an electrical schematic than a true map, on which all the stations were more or less equally spaced.
Knowing this, we were sure it was a nice idea to pay homage to such an interesting character, which eventually inspired us, convinced no one has ever done this before. So we looked for more information, films, documentaries, whatever we could find on Harry Beck. And from a shipload of information, we distillated that sample that to us seemed the essence behind the complete story: 'form followed function'. At the same time we decided to take this slogan as the essence of our project and album.
This song was the last addition to the album. It was first intended to be part of a download EP, but the final result was so good that we both decided that Harry Beck deserved a spot on the album.
As for the remix, we asked Laurent Boudic from NÖVÖ again, as he already delivered us a true marvel of 'Theme For Metroland'. The result is stunning: a surprising remix which brings you back to the late 80′s when the famous UK electro label Mute Records released their limited 12inches. They always contained that sort of remixes that had a hint of the original, still containing enough interesting other sounds on top. Massive rework, great style, but what else would you expect ? Laurent is Belgian as well !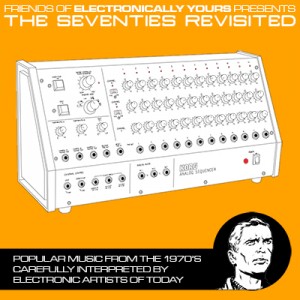 As reported on earlier, the electronica project 'Electronically Yours', is now being covered across several leading electronic music magazines, below are a couple of links, and if you are in Sweden on Dec 15th make sure to watch their live performance at ElectriXmas

It is a secret group on Facebook called Electronically Yours that has released an album featuring classic 70′s songs and remixed to fit an electronic audience of the 21st century. And it is not an anonymous bunch of musicians on this album – among the secret members you will find Joakim Montelius (Covenant) under his alter ego Tectonic Knights, Eddie Bengtsson with PAGE, Diskodiktator, computer and Steelberry Clones, to name but a few.
Side-Line reports:
You might know, or might not know that Joakim Montelius (Covenant) is a member of a secret society called Electronically Yours, a bunch of (mostly) Swedish geeks and electronic music aficionados. Some are famous, some are merely notorious. A few of them are both.
Sinzine reports:
Joakim Montelius (Covenant) and others featured on charity compilation 'Friends of Electronically Yours – The Seventies Revisited'
And for those of you who know Swedish there are two more in depth articles at HD and Zero Music Magazine:
http://hd.se/noje/2012/12/04/facebook-forenade-15-musiker/
Page, Diskodiktator, Compute, Covenant-Joakim och ett flertal andra kreativa artister på en och samma skiva? Elektroniska nytolkningar av sjuttiotalshits från bland andra Deep Purple, Sweet, Neil Young och Curtis Mayfield? Ett välgörenhetsprojekt som stöder världens barn? Samlingen Friends of Electronically Yours – The Seventies Revisited sprudlar av nytänkande och värmer frusna hjärtan i vinterkylan. Zero har pratat med Facebookgruppen bakom verket.
http://www.zeromagazine.nu/art.asp?id=359
Listen to snippets of the full length album by clicking the album cover in the right hand column >>>>>>>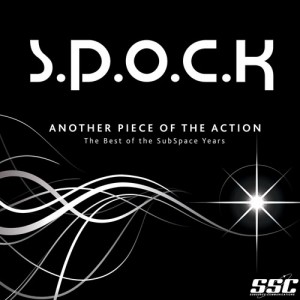 S.P.O.C.K. is probably well known all around the world with their Star Trek-inspired Synthpop. This release is however, the first one released in North America. "Another Piece Of The Action – The Best Of The Subspace Years" is an 18-track greatest hits compilation with some of the bands most successful songs through the years.
The project launched in the late 80′s and the debut album "Five Year Mission" saw its release in 1993 through Swedish label Energy Rekords, including hits like "Never Trust A Klingon" or "Last Man On Earth". The band released one more album on Energy before moving to Subspace Communications and released "Assignment: Earth" in 1997 followed by three more albums. The last release from the band was the "2001: A S.P.O.C.K Odyssey" in 2001 and since then no new music have been released by the band.
This "best of" album include lots of great songs and some of them are rare versions of which was only released on EP or singles; "E.T. Phone Home", "Klingon 2000″, "All The Children Shall Lead", "Not Human" and "Alien Attack".
Tracklist:
01. The Awakening (Intro)
02. Reactivated
03. E.T. Phone Home (Radio C-C-Cut)
04. Dr. McCoy (Classic)
05. Mr. Jones
06. Alien Attack
07. Queen Of Space (Single Version)
08. Wolf In The Fold
09. Astrogirl's Secret
10. All The Children Shall Lead
11. Not Human
12. Spacewalk
13. Satellites (Single Version)
14. Speed Of Light
15. Out There
16. Where Rockets Fly (Original Version)
17. Star Pilot On Channel K
18. Klingon 2000 (Radio Mix)
19. Dream Within A Dream
Helen Marnie, main vocalist of the electronic band Ladytron, has made a solo album. Recorded in Reykjavik, Iceland the album is untitled so far. Expect an electronic album with more of a pop element and 'pristine' vocals.
The release will be out via Pledge Music.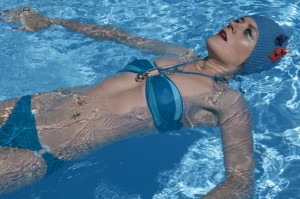 Note that it seems that Marnie has taken the occasion to hold a real boot sale as the packages hold several things which you wouldn't really expect when buying an album. Or what did you think of getting a designer dress or a bikini she wore, or … a Rover Mini Cooper from 1998. The latter is yours for 5000 UK Pound.
Kid Kasio's video for Telephone line from the album Kasiotone available now on itunes.
Video shot in Brixton London, Directed by Nick Gough and Nathan Cooper.
Vocals Kid Kasio
Drums Marcus Mozley
Synths William Robertson
Guitar Ben Todd
http://www.kidkasio.com/
"KRAFTWERK new song 2012 Musique Electronique"
Regardless if it is a fake (which I am quite sure it is) it is still a nice electronic synth pop tune and a good reason to invest in Synth-Werk if you have done so already
New electronic pop video from Vanguard, modern synth music a bit on the slow side

Vanguard is Jonas Olofsson & Patrik Hansson
Like them on facebook for more information and news: http://www.facebook.com/vanguardofficial
Website : http://www.vanguardmusic.se
Director, Producer & Script writer
Nicolina Sturesson, Svalorna Mediaproduktion
Photo, Editing & Grading
Eric Hasso, Igelkott Film
From the album 9th Heaven [BDMCD19] out on BOREDOMproduct november 5. 2012
Happiness Project is a singular band… First there is the choice of a surprisingly joyful name for such a melancholic music. Happiness Project is the combination of electronic sounds, DiY attitude and cold-wave influences. Then, the band's organisation itself is atypical, with two lead singers: Christelle and Fred bringing alternatively their personalities and providing duality and different emotions. Cyrille, the instrumentist of the trio, alternately programs machines and synthesizers or plays bass guitar.
This is a fan video for the song Godspeed by the Swedish act daybehavior that we here at SBC interviewed about a year ago, you can read it here >>
Visit www.daybehavior.com for info and please support the band! Buy the album! The song "Godspeed" is taken from the album "Follow That Car!", released in september 2012
Biography:
It all started with the two friends Carl and Tommy who had both been making music in various constellations since the early eighties. In 1988 they met at a party and found out they shared similar musical references, particularly synthesizer-pop music from the early Eighties. In the summer of '93 they got together and seriously started to consider the possibilities of making music together. They decided in what way they wanted to work and a music project slowly took form at their own Graplur Studios. In the winter of '93 they started the search for a vocalist, and a little more than one year later, after having tried out more than 40 different vocalists, Paulinda entered the studio and the last piece of the Daybehavior puzzle fell into place. Half Italian, half Swedish Paulinda was able to add even more beauty to the Daybehavior sound, turning their music into something really special with her melodic voice, and her lyrics which she mainly writes in English, but sometimes in Italian. The first album was released by the indie-label North of No South (NONS) and was distributed and released in Europe, Australia and Japan.
Enjoy
True to electronic synth pop traditions here's a brand new video from Scarlet Soho, details below:
Full EP available at www.scarletsoho.com from 26.10.12
See the band live www.facebook.com/scarletsoho
Directed by Steve Hogg
VIDEO IRSC – GBCZ61200012
Booking Contact – mirrormanagency@gmail.com
PR Contact – mirrormanpr@gmail.com
Additional thanks to – Millbank Gym, Steve Hogg, Andy Wilkin, Jack Hannaway, Driss Oulahen and Blaise Gresley