Sunday synth morning focusing on the KONG drum machine in Reason 5. Using MIDI and an AKAI MPK I tried to see how you could experiment around with the KONG as a means of generating more experimental sounds. All in all 5 different KONGs are used in this song, paired with additional Combinators and one Dr OctoRex for adding more punch. The video is merely a live shoot in order for you to get a feel for the basic set up in creating this type song and which filters and effects are used.
The song is called "Sisters", I might do a more robotic version of it at a later stage, we'll see
More Steelberry Clones tunes can be found here:
http://soundcloud.com/stereoklang-produktion/sets/steelberry-clones
We have reported on the Bluebox before, here's another demo:
The bluebox pocket synthesizer can also be used as a drum box, that can synthesize drum sounds that you simply can't make on any other drummachine. Unlike most synthesizers it can also process noise in all stages in the synthesis.
* 72 preset sounds, that can be edited and saved.
* Sounds are saved and retained in flash memory.
* One octave keyboard, with real-time access to 3 octaves.
* Free sound editor for MIDI control via your computer.
* MIDI-in: Syncs to MIDI clock, Responds to Program Change, Pitch Bend, Note Velocity, Expression Controller, Breath Controller, full parameter control by CC messages and more.
* MIDI-out: Notes, Program Change, mod. wheel, CC and more is available via breakout cable.
KICKWOrK is a kick drum synthesizer plugin. From deep hiphop basses to hard rave kicks – everything available with the turn of some knobs. A clear and easy GUI helps you to find your bass drum sound quick. No samples inside – pure analogue emulation. A minimum of knobs for a maximum of variations. Kick sound can be triggered by any incoming MIDI note or by an audio input (bass drum of a drumloop). Available for Windows PC as VST-plugin.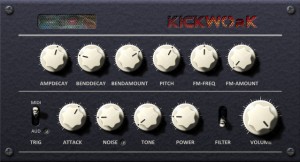 Special intro offer: PAY WHAT YOU LIKE !
(later normal price will be 19 €) Listen to demos and learn more at http://music.service-1.de/ht…
http://www.youtube.com/watch?v=EPrdz1aYjSo

Puremagnetik has announced the released of MachineKits, a collection of classic drum machines for Ableton Live.
MachineKits brings together six classic drum machines, over 1900 high quality samples, and a huge selection of clips. MachineKits is a perfect add-on to Ableton's drum machines, programmed by the same sound designers.

Kits include lifelike re-creations of a complete MFB modular percussion system, the Simmons SDS-1, and Ace Tone Rhythm Ace.
MachineKits features
An integrated add-on to Ableton's drum machines, programmed by the same sound designers.
6 sophisticated kits.
Over 120 intricately programmed Live Clips.
Close to 1GB of over 1900 high quality Samples (24-bit 96khz).
Advanced Macro mappings for precision sound tweaking and performance.
MachineKits is now available through the Ableton and Puremagnetik web shops, priced at the introductory price of $29 USD / EUR 19 until 19 December, 2010 (regular price $39 USD / EUR 29).
More information: Puremagnetik / MachineKits
Music composition featuring synths, sequencers & drum machines.
Featuring the Metasonix D 1000 vacuum tube drum machine and some other cool synths, enjoy
Via HOX808
Low.budget movie showing off Moby's huge collection of drum machines and what talks on what they really are
a tiny movie about old drum machines, with some new music i made playing in the background.
ok, thanks.
-moby
Marvin Pavilion has released version 1.0 of Hexagon '85, and version 1.2 of Tromine Z, two virtual drum synthesizer instruments for Windows.
Looking pretty cool to me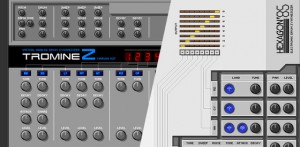 Changes in Hexagon '85 v1.0
Minor sound changes for drum sounds.
Some parameter changes.
MIDI CC support.
Automation support.
Fixed some issues.
Changes in Tromine Z v1.2
Minor sound changes for drum sounds.
Some parameter changes.
Fixed some issues.
Hexagon '85 and Tromine Z are available to download as freeware VST instrument plug-ins for Windows PC.
More information: Marvin Pavilion
The Novation drum station in full action, check it out
bassdrum is on output 1 and in a different input on my emu1616 so i have some distortion on it. further no effects where used. sounds are from 909 and 808. thanks for listening