SPARK Vintage Drum Machines brings 30 legendary drum machines to the musician.
Intuitive and powerful, this software is much more than your typical sample player. By mixing high quality samples and virtual analog synthesis (based on TAE®), Spark Vintage Drum Machines manages to capture the unique soul of these instruments.
More details : http://www.arturia.com/sparkvdm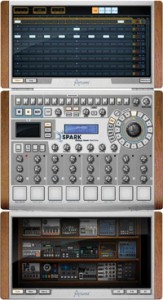 MAIN FEATURES:
30 legendary drum machines including: Roland TR-808, TR-707, TR-909, CR-78, Korg KPR-77, Mini Pops 7, LinnDrum, Yamaha RX5, Maestro Rhythm King MKII, Simmons SDS V,…
Easy workflow: one interface to learn, thirty drum machines to play
Made for live performance: XY Pad, Beat Looper, Slicer, Real-time automation on all parameters
14 high quality effects : Multiband Compressor, Reverb, Bit crusher, Multiband EQ, Chorus, Delay, Distortion, Phaser, Plate reverb, Destroyer, Flanger, Space pan, Limiter, Sub generator
Spark's Step Sequencer makes track creation a breeze
Perfect integration: 16 independant audio outputs, midi I/O
Unparalleled sound quality based on virtual analog synthesis (TAE®) and high resolution sampling
64 patterns pre-programmed for each drum machine
Some silverboxes from the early eighties.
FX:
Roland RE-201
Roland RE-501
Dynacord TAM-21
Dynacord SRS-56
Lexicon Model 200
TC Electronic D-Two
Empirical Labs Distressor
Tube-Tech SMC2B
Impressions from the Dark Side.
– Rytmik DSiWare (Original Edition)
– JVC HD Camera
– Audacity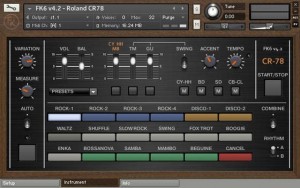 Forgotten Keys has updated the Roland CompuRhythm CR-78 drum machine sample library for Native Instruments Kontakt.
Roland CompuRhythm CR-78 library updated with Kontakt 4 style graphics, new samples taken at various accent levels, more control over individual sound parameters and a Presets menu. Kontakt 3 version also updated.
The CompuRhythm CR-78 library is available to purchase for £5.50 GBP.
More information: Roland CompuRhythm CR-78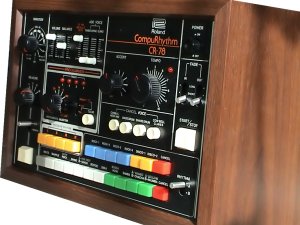 The Roland CompuRhythm CR-78 was released in 1978 and was Roland's first drum machine to feature user-programmable rhythms along with its 34 pre-sets. Each of the four programmable rhythm slots could hold either four sound tracks, or three sounds and an accent track.
There are 14 analogue instrument voices which have their own distinctive sound. One such sound is METALLIC BEAT which has its own volume slider and attempts to add a more realistic metallic attack to the CYMBAL sounds and always plays the same pattern as those sounds.
Roland also released a cut-down version of the CR-78: the CR-68. Although it had the same pre-set rhythms, it lacked programmability and was missing the METALLIC BEAT, TAMBOURINE and GUIRO sounds.
Famous users include Gary Numan (Mainly his Dance album and also live), Genesis (Duchess) Phil Collins (In the Air Tonight) and of course, the most famous of all: Many Others. Blondie (Heart of Glass intro) is often attributed to the CR-78, but a quick listen tells me that it isn't. The sounds are not the same. It's possibly the RHUMBA rhythm from a Home Organ or another Drum Machine.
The Model used to produce this Kontakt Instrument was an eBay purchase, and right at the top-end of the going rate. It is absolutely immaculate however. You could take it back to 1979, box it up and sell it as new. I'd take it back and give it to myself as a present of course!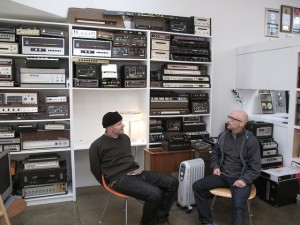 Excerpt:
Rick Moody: So when you say you obsessively collect drum machines, just how obsessively do you mean?
Moby: There are seven billion people on the planet, and I realize I will never ever be the best at anything. But I can potentially have the world's largest collection of drum machines. So when I say obsessively, it's obsession with a purpose. Ultimately, I want to have one of every drum machine made up until 1982. After 1982, they became more digital, and I sort of lose interest. But the old analog ones, I have always loved them.
Moody: What would the last one be, in 1982, the Roland 808?
Moby: The end point would be the very early digital drum machines, like the Linn Drum. So I collect the early digital ones like the DMX, which is an early hip-hop drum machine, and the 808 and the 909, but then, after that, the digital drum machines started to get a little too fancy, and a little too slick.
Moody: So when you collect all these things is it with the intention of actually using them in your own work or is this a collection just for the sake of a collection?
Moby: I love to use them in my own music. The great thing about a drum machine is that you just kind of turn it on, and it does quite a lot of the work for you. But the old drum machines were never that good. The drum machines post-1982, 1983, actually sort of tried to sound like drummers. But what I liked about the old drum machines is that they never sounded like a drummer, they sounded like a drum machine.
In the sixties and seventies, drum machines were just compared to other drum machines, they weren't compared to real drummers. And they were never supposed to replace a real drummer. And then, in the eighties, with digital technology they could actually have drum programs that in a crummy sort of way tried to sound like a real drummer. That's when I lost interest. I liked them when they sounded more synthetic and electronic. Also, nowadays, a lot of electronic music is produced exclusively on the computer, so there's no physical sound production. So no one makes drum machines anymore.
I'm almost a custodian of these old drum machines that have been in church basements and lounges at Marriott hotels, somewhere in New Jersey. And a lot of them have notes written on them, like this one, I don't know if it works or not, but someone at some point put masking tape on it, with a little note to himself. This one, down here, see, someone again, someone wrote their own little codes in pencil. Samba, here, they put a red X there, and wrote a note that says, "No." Clearly, whoever it was hated the samba?
Sunday synth morning focusing on the KONG drum machine in Reason 5. Using MIDI and an AKAI MPK I tried to see how you could experiment around with the KONG as a means of generating more experimental sounds. All in all 5 different KONGs are used in this song, paired with additional Combinators and one Dr OctoRex for adding more punch. The video is merely a live shoot in order for you to get a feel for the basic set up in creating this type song and which filters and effects are used.
The song is called "Sisters", I might do a more robotic version of it at a later stage, we'll see
More Steelberry Clones tunes can be found here:
http://soundcloud.com/stereoklang-produktion/sets/steelberry-clones
We have reported on the Bluebox before, here's another demo:
The bluebox pocket synthesizer can also be used as a drum box, that can synthesize drum sounds that you simply can't make on any other drummachine. Unlike most synthesizers it can also process noise in all stages in the synthesis.
* 72 preset sounds, that can be edited and saved.
* Sounds are saved and retained in flash memory.
* One octave keyboard, with real-time access to 3 octaves.
* Free sound editor for MIDI control via your computer.
* MIDI-in: Syncs to MIDI clock, Responds to Program Change, Pitch Bend, Note Velocity, Expression Controller, Breath Controller, full parameter control by CC messages and more.
* MIDI-out: Notes, Program Change, mod. wheel, CC and more is available via breakout cable.
KICKWOrK is a kick drum synthesizer plugin. From deep hiphop basses to hard rave kicks – everything available with the turn of some knobs. A clear and easy GUI helps you to find your bass drum sound quick. No samples inside – pure analogue emulation. A minimum of knobs for a maximum of variations. Kick sound can be triggered by any incoming MIDI note or by an audio input (bass drum of a drumloop). Available for Windows PC as VST-plugin.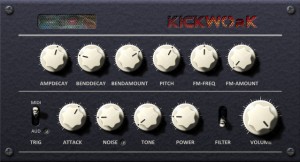 Special intro offer: PAY WHAT YOU LIKE !
(later normal price will be 19 €) Listen to demos and learn more at http://music.service-1.de/ht…
http://www.youtube.com/watch?v=EPrdz1aYjSo

Puremagnetik has announced the released of MachineKits, a collection of classic drum machines for Ableton Live.
MachineKits brings together six classic drum machines, over 1900 high quality samples, and a huge selection of clips. MachineKits is a perfect add-on to Ableton's drum machines, programmed by the same sound designers.

Kits include lifelike re-creations of a complete MFB modular percussion system, the Simmons SDS-1, and Ace Tone Rhythm Ace.
MachineKits features
An integrated add-on to Ableton's drum machines, programmed by the same sound designers.
6 sophisticated kits.
Over 120 intricately programmed Live Clips.
Close to 1GB of over 1900 high quality Samples (24-bit 96khz).
Advanced Macro mappings for precision sound tweaking and performance.
MachineKits is now available through the Ableton and Puremagnetik web shops, priced at the introductory price of $29 USD / EUR 19 until 19 December, 2010 (regular price $39 USD / EUR 29).
More information: Puremagnetik / MachineKits