Music composition featuring synths, sequencers & drum machines.
Featuring the Metasonix D 1000 vacuum tube drum machine and some other cool synths, enjoy
Via HOX808
Low.budget movie showing off Moby's huge collection of drum machines and what talks on what they really are
a tiny movie about old drum machines, with some new music i made playing in the background.
ok, thanks.
-moby
Marvin Pavilion has released version 1.0 of Hexagon '85, and version 1.2 of Tromine Z, two virtual drum synthesizer instruments for Windows.
Looking pretty cool to me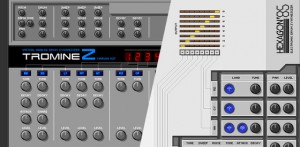 Changes in Hexagon '85 v1.0
Minor sound changes for drum sounds.
Some parameter changes.
MIDI CC support.
Automation support.
Fixed some issues.
Changes in Tromine Z v1.2
Minor sound changes for drum sounds.
Some parameter changes.
Fixed some issues.
Hexagon '85 and Tromine Z are available to download as freeware VST instrument plug-ins for Windows PC.
More information: Marvin Pavilion
The Novation drum station in full action, check it out
bassdrum is on output 1 and in a different input on my emu1616 so i have some distortion on it. further no effects where used. sounds are from 909 and 808. thanks for listening
In calling their new single Doncamatic (All Played Out), Gorillaz are drawing attention to a vintage range of Korg rhythm machines. However, what's less widely known is that the song features a vocal sample of Korg founder and chairman Tsutomu Katoh.
Doncamatic (All Played Out) features British singer/songwriter Daley and will be released on 22 November. Gorillaz are currently on tour in North America, and will kick off their UK and Ireland dates in November.
The shown Doncamatic in the entry area of the headquarters of the Japanese company KORG and was restored in early 2001. The Doncamatic was one of the first products of the then young company Korg. This is a very flexible for damailige Verhälnisse and good sounding rhythm machine with built-in amplifier system. More similar videos are on the www.KORG.de! Between 1963 and 1966, Katoh oversaw the production of four DoncaMatic rhythm machines, and it's him that you can hear saying 'DoncaMatic' on Gorillaz' single. What's not clear is whether or not Damon Albarn and co used any DoncaMatic hardware in the creation of the track
Than check this page out, it is really nice. It is not new but if you haven´t seen it before

They have recreated some of the Drum Machines from the Audio Playground Museum. The virtual machines run with Shockwave/Flash so if don't have the flash plugin for your web browser you will not be able to see and run the drum machines.
The machines are as close to the real thing as they could get them (so far). Some are large files and can take a few minuets to download others are smaller and only take a few seconds to download.
Here is one sample of what you can find:
The Eletro-Harmonix Rhythm 12 Virtual Drum Machine Ver. 1.0