http://youtu.be/84glhn_NIzY
TB & TT. The TT is value for money v the price of a TB. If you own a TB you will notice the slight differences but man that TT is impressive. The bass end blows the TB away but the TB still has those strange idiosyncrasies that the TT just can't quite replicate albeit it does come very close – only a TB owner will notice this. The TT certainly sends the x0xb0x to third place! Build quality is just like a new original, the tunning-accent pots are higher thus easier to turn but may feel a little wobbly for it!! I think TB owners will be shocked at how good it is = I was!.
Note: I've used the mxr distortion on the TB (perfect combination) and the boss distortion on the TT as it worked best on that unit. The mxr didn't sound that good with the TT.
The TB is still the king but not by much.
This was recorded on a small camera so the sound and images aren't great. The TB sounds quieter because it was coming from the right hand monitor that happened to be further away. This isn't a definitive comparison, it's just to let you hear the TT along side a TB.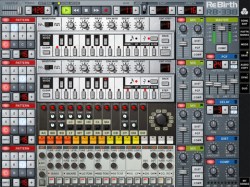 ReBirth – the seminal software studio  – has gotten some love from Propellerhead, with a new update.
Here's what's new in ReBirth 1.3:
Duo Mode – flip instruments around and jam with a friend on the same iPad
MIDI sync – sync ReBirth to your DAW, MIDI hardware or other apps
Background mode – keep ReBirth playing in the background when slaved to other apps
SoundCloud Sharing – share your ReBirth music on SoundCloud
iTunes export – export your track to iTunes on your computer
Various bug fixes and performance enhancements
Propellerhead describes ReBirth as a 'Techno Micro Composer', emulating three of the backbone devices of electronic dance music: the Roland TB-303 Bass synth and the Roland TR-808 and 909 drum machines.
More info: http://bit.ly/TIfQZj
During Dubspot's recent trip to Seattle's Decibel Festival, our video team caught up with Roger Linn, the godfather of the modern drum machine, Carl Craig, one of Detroit's most talented producers, for a lecture/discussion about the history and evolution of the rhythm machines that have shaped our musical world.

One of the most inspiring elements of Seattle's annual Decibel Festival is the conversations that transpire between some of the world's most talented musical thinkers. Decibel acts as a catalyst for these moments, with lectures and demonstrations taking place throughout the festival. We were especially excited to catch a workshop where drum machine creator and pioneer Roger Linn joined Detroit techno innovator Carl Craig for a talk on the evolution of drum machines and the future of electronic rhythm.
In this video, Linn explains that our assumption of drum machines appearing in the early 80s is incorrect, and he takes us on a tour of early electronic rhythm devices such as Leon Thermin's Rhythmicon (1930), the Chamberlin Rhythmate (1957), Raymond Scott's Bandito the Bongo Artist (1963), Seeburg's Select-A-Rhythm (1964), the PAiA Programmable Drum Set (1975) and the CompuRhythm CR-78 (1978). Craig probes with questions regarding interface design for musicians vs. engineers, discusses the development of drum interfaces, and talks about how the Akai MPC changed his production and composition techniques.
Music Ipad App first look at Funkbox drum machine.
"This is a great app that includes many classic drum machine. My favourite: Yamaha RX11 just because I know the machine so well and the sounds are great."
Product description:
Funkbox contains all your favorite vintage drum machine sounds in one funky quirky little app! FunkBox has been used by Gorillaz on their album "The Fall", Joan Osborne ("What If God Was One Of Us") and Glenn Tilbrook (Squeeze) live in concert, Africa Hi-Tech (Warp Records), and by many other musicians both live and in the studio. It was also featured in Computer Music Magazine's "Amazing Music Apps" special issue and Electronic Musician magazine's "Attack of the Killer Apps" best music tools for the iPad.
We designed the FunkBox drum machine to look, feel, and sound like a classic beatbox from the 70s and 80s. It uses audio samples recorded by us directly from our own personal collection of vintage drum machines. It also features advanced MIDI and audio features that allow you to use it in a music studio alongside your "real" gear. Or just keep it in your pocket to sketch out some dope beats in your spare time.
FunkBox 3.0 features:
The look, feel, sound and quirks of a classic vintage drum machine.
iOS 6 compatible, iPhone 5 retina graphics compatible, iPad retina graphics compatible.
Universal app that works great on iPad, iPhone, and iPod Touch. Buy it once and you can use it on all your iOS devices.
Fourteen classic boxes to choose from, including favorites like the 808, 909, CR-78, LM-2, MRK-2, DX, TOM, and more.
Create your own custom boxes by mix and matching preset samples, or even import and use your own custom samples.
Includes 36 preset rhythm patterns, plus several more bonus banks. Easily edit the included patterns to create your own beats.
Export your drum loops as audio or midi via email, audio pasteboard, or the iTunes folder.
Easily share your custom boxes and patterns via email with your friends, or between your devices.
Use CoreMIDI to sync up with "real" music equipment or other music apps, multi-tasking in the background or on other nearby iOS devices.
Use the bonus MIDI bass sequencer to play a bassline along with your beat using another iOS app or a "real" hardware synth!
"The Gogotribe"
The new analogue drum machine from Korg
Impaktor is a drum modeller from Beep Street (www.beepstreet.com) that uses the mic input as an impulse to generate and trigger drum synthesis.
"I started playing it on my desk, then triggered by my tabla, and finally with TC-11 alongside."
Jordan Passmore demo of the Roland TR-808, Akai MPC-60 and Roland SC-880. SC-880 is playing the rave patches, MPC-60 is loaded full of TR-909 samples and is also sequencing 909/synth, TR-808 is doing 808. All held together by a Garfield Nano Doc Sync/Clock adapter. All sounds are mixed live on an old Studiomaster mixing board; from there they pass through an Electra EQ, then finally into my Native Instruments Kore Audio Interface. The SCC-80 has an analog delay attached to it, which when I'm out of the shot, I'm usually messing with. I also have a Behringer Virtualizer Pro Reverb on an effects send (a bit of the 909 and SC-880 are send to this).
The MPC-60 loaded with 909 samples is pretty hard to beat for completely cutting through a mix. I personally love the 808 so of course I threw that on top as well. The SC-880 is very interesting and totally useful (multitimbral and full of many very usable effects). I found these patches on it and decided to do a short demo from there.
TM404 provides some nice electronic sounds. PS. TM404 is the alias for one of Sweden´s top electronic musicians 😉
Background data:
If you dislike this, you might also dislike:
http://www.youtube.com/watch?v=ykcWdR-ewGw
http://www.youtube.com/watch?v=IaR7gVJn0t8
http://www.youtube.com/watch?v=CW4HOSBZ770
Some silverboxes from the early eighties.
FX:
Roland RE-201
Roland RE-501
Dynacord TAM-21
Dynacord SRS-56
Lexicon Model 200
TC Electronic D-Two
Empirical Labs Distressor
Tube-Tech SMC2B
Checking out the Beatsurfing app:
New set up test three. Now that other gear can be used in conjunction with the op1, I was able to try out a new midi controller app for the iPad : Beatsurfing.
Imho, its the best 'build a midi controller' app that has been made so far. It is designed in a way that is more conducive to working with a PC and software synths, however, there is still a lot that can be done in an all hardware setup like mine.
This video shows a template I have created. In this test of the app, I chose to try and keep it simple with focus on being musical rather than create a complex setup where I tend to lose the music along the way.
A show and tell review of Arturia Spark Vintage Drum Machines.
SPARK Vintage Drum Machines brings 30 legendary drum machines to the musician.
Intuitive and powerful, this software is much more than your typical sample player. By mixing high quality samples and virtual analog synthesis (based on TAE®), Spark Vintage Drum Machines manages to capture the unique soul of these instruments.  From the classic percussion sounds of the Roland CR-78 and Korg Mini Pops 7 to the heavy punch of the TR-series, all the top producers' boutique models are available in one single easy-to-use interface.
Add to this the lightning-fast workflow, in-depth tweaking possibilities, and live features of Spark, and you get a true must have for any demanding beat maker.